Top Seaside Beaches in Makadi Bay
Imagine a place where the sand is so soft and white that it feels like walking on clouds. A breathtaking destination where the water is so clear, and blue, and the sky is like a pure crystal mirror where the coral reefs create an amazing view for the visitors that seems like a fairy tale. This is the wonderful Makadi Bay which is a breathtaking beach that offers more than just sun, sea, and sand.
Makadi Bay is a gateway to a whole new world of marine adventure and natural beauty. Trips In Egypt Team will take you on a journey between our attractive lines to discover the secrets and wonders of the top seaside beaches of Makadi Bay choose the top seaside beaches, and explore the hidden treasures and attractions that make this place a paradise on Earth. COME ON!

The Criteria Used for Selecting the Top Seaside Beaches in Makadi Bay
As one of the top travel agencies in Egypt, we care about the satisfaction of our readers as it is our top priority. That is why we examine various criteria when picking the top beaches along the seafront in Makadi Bay. We want our readers to have an amazing time when they explore this gorgeous location. By focusing on these criteria, they will choose one of the top seaside beaches in Makadi Bay such as:
The quality and cleanliness of the water and sand, we look for beaches that have clear, blue water and soft, white sand that are suitable for swimming, and snorkeling. The facilities and services are available on the beach, we look for beaches that have amenities such as sunbeds, umbrellas, showers, toilets, changing rooms, lifeguards, and security. We also look for beaches that offer activities such as water sports, diving, fishing, or boat trips, parking options at the beaches are important to make sure that these beaches and safe. It is important to look for beaches that have amazing views of the sea, the mountains, or the sunset, and check the popularity and crowd level of the beaches to make sure that they are not too noisy or crowded.
The main criterion involves the sparkling transparency of the water, the quality of the sand, and the surrounding landscape. Water that is clean and transparent improves the beach experience, and, water that is immaculate suits more tourists to offer them the optimal experience.
The existence of lifeguards, the clarity of signage, and the enforcement are very important safety rules. Trips In Egypt Team has evaluated beach accessibility by considering other criteria such as transportation options and the state of infrastructure to make sure that visitors can easily reach and enjoy the beach in Makadi Bay.

The Best 8 Beaches in Makadi Bay
Makadi Bay is a well-known destination that offers a peaceful and beautiful environment, as well as enjoyable activities to suit your preferences. You can enjoy water sports and entertainment facilities, or relax in one of the many luxurious hotels and resorts with many breathtaking beaches.
Makadi Bay also has a colorful marine life with wonderful coral reefs that you can explore. Here are some of top best beaches in Makadi Bay that meet the standards already mentioned.
1. Serenity Makadi Beach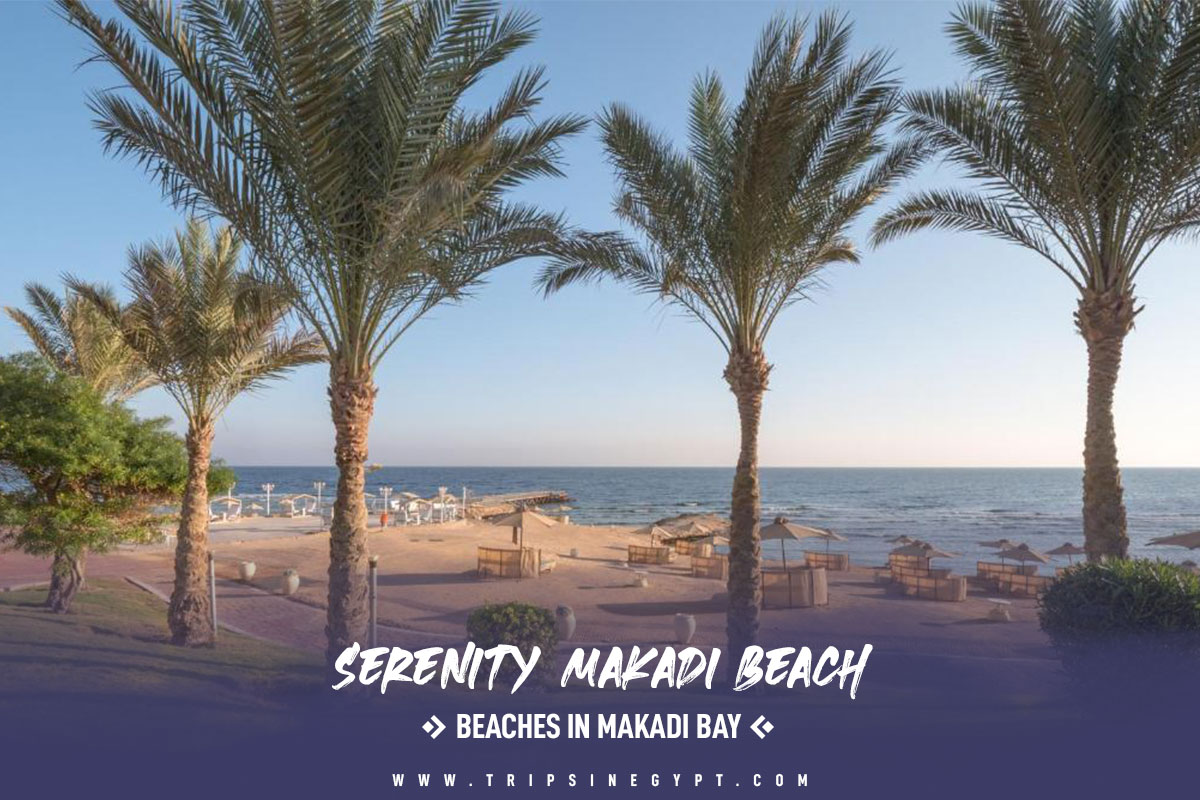 If you are looking for an elegant and luxurious experience in Makadi Bay, then you should stay at Serenity Makadi Beach. The resort has a unique Moroccan-style architecture and decor that transports you to another universe. Imagine a beach that is so peaceful and beautiful that it feels like a dream, at Serenity Makadi Beach, you can walk on the soft white sand, stare out at the brilliant blue sea, and enjoy the seaside experience. You can also see the amazing dawn over the sea, which will touch your heart and spirit. 
The resort also has its own beach with a diving center where you can discover the beautiful marine life of the coral reef, as well as three restaurants that provide a range of dishes such as an international buffet, Italian specialties, and seafood delicacies. The resort also provides you access to an aqua park at the sister hotel Serenity Fun City, where you can have a great time with your family or friends, as well as a spa that offers a range of massages, body treatments, and relaxing therapies by using natural local ingredients, herbs, and oils, so you can treat yourself with a facial, a scrub, a wrap, or a hot stone massage, or try the traditional hammam and sauna. 
Serenity Makadi Beach is an excellent choice for those seeking luxury, as the resort is located on the Red Sea where visitors take in the breathtaking surroundings and explore the amazing coral reefs that draw snorkelers and divers from all over the world. The resort offers top facilities such as large rooms, a variety of cuisines, and a peaceful spa that offers a wonderful experience. For those who wish to keep active and fit, the resort provides a fitness center and a tennis court. Serenity Makadi Beach is a destination where you can experience the best of both worlds: the beauty of nature and the comfort of contemporary comforts. Serenity Makadi Beach is more than a resort; it is a tropical paradise where you can live out your beach fantasies. Just come and experience the beauty, and joy of this magnificent spot.
2. Sunrise Royal Makadi Resort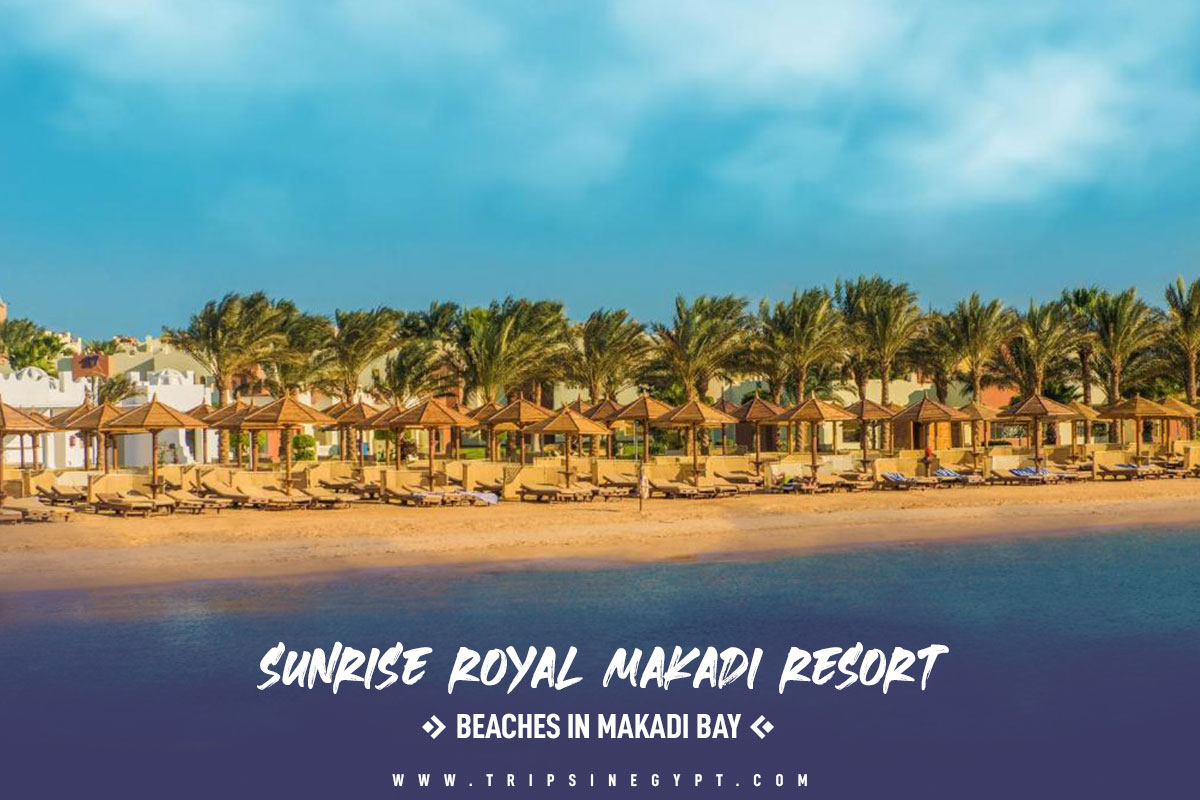 Sunrise Royal Makadi Resort is a place where you can enjoy a variety of activities for guests to enjoy during their stay. The resort is located on the magnificent shores of Makadi Bay which is one of the greatest beaches in the area, so, you can enjoy the wonderful views of the white sand, and the blue water while participating in fun activities like jet skiing, snorkeling, diving, fishing, and parasailing.
The Sunrise Royal Makadi Resort is an excellent choice for your family holiday in Egypt that combines fun and relaxation. This is a 5* resort that has immediate access to the beach, two outdoor pool areas, an amazing spa, and an aqua park. The resort has also six restaurants that serve different types of cuisines such as Italian, Mexican, Mediterranean, Greek, and Asian. You can also order room service at any time and explore seven amazing theme bars, such as an English pub, a pool bar, and an Oriental café. The resort has five swimming pools including two heated pools for winter months and a pool for youngsters. The spa provides wonderful packages of beauty treatments, the resort offers a premium all-inclusive package that includes unlimited food and beverages, free entrance to the Aqua Park, free Wi-Fi, free airport shuttle, and free use of the tennis court, fitness center, and kids club.
You can also enjoy daily entertainment at Sunrise Royal Makadi Resort such as important events, parties, weddings, and excursions. When night falls, Sunrise Royal Makadi Resort becomes a lively and exciting venue as visitors and locals congregate to have a good time. You have the option of dancing, drinking, or resting beneath the sky, your night in Sunrise Royal Makadi Resort will be an experience to be remembered. Sunrise Royal Makadi Resort provides more than a beach holiday; it provides exciting nights that will make your stay memorable, you can reserve your room online or call the resort for more details.
3. Iberotel Makadi Beach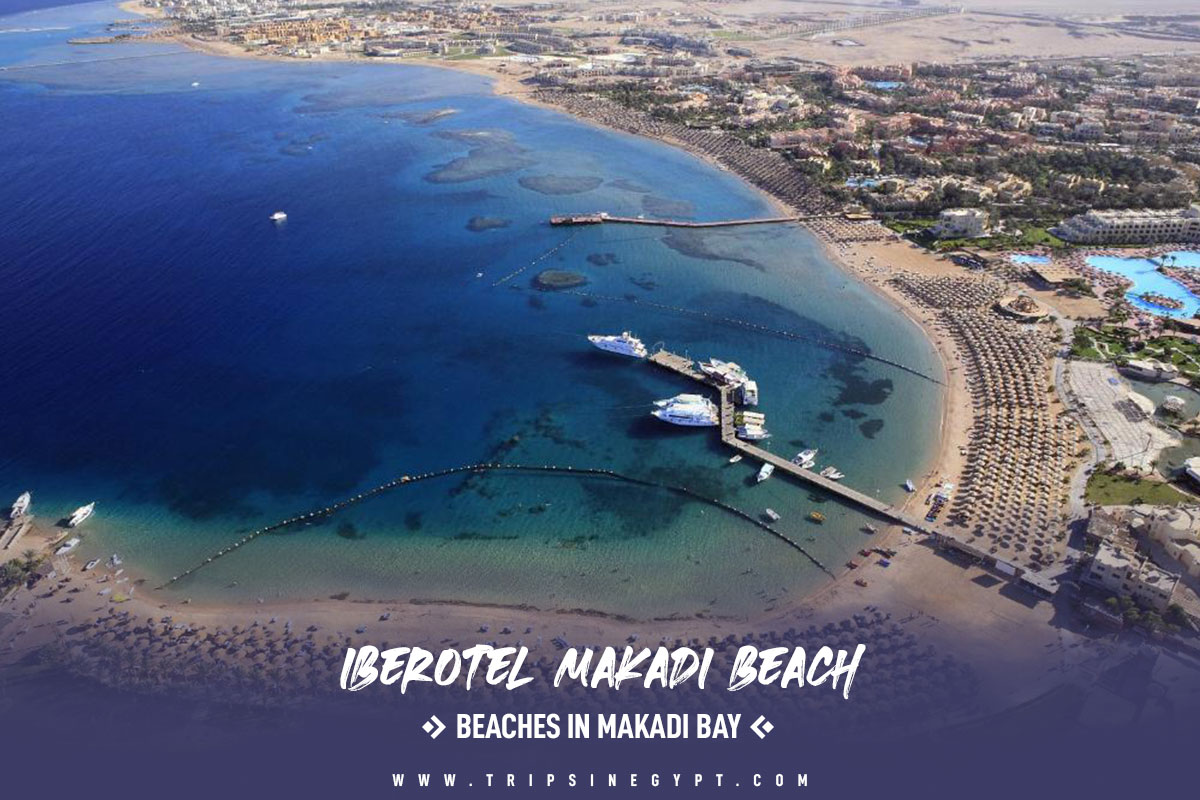 You will love the private beach where you can sunbathe, swim, relax, or enjoy the view of the Red Sea. Iberotel Makadi Beach is a 5* resort that has wonderful luxurious rooms with satellite TV and balconies. You can enjoy modern amenities at the resorts such as tennis courts, an outdoor pool, and an 18-hole golf course with a Pro Shop.
The beach also has a jetty that leads to a coral reef where you can explore the underwater world with colorful fish and corals, you can also join the animation team for some fun games and activities on the beach. The resort has entertainment options for you and your family, you can watch live shows, music, and dance performances at the amphitheater or join the disco nights at the club. You can also play billiards, table tennis, darts, or chess in the games room, and for children, there is a kids club that has supervised activities, playgrounds, and a mini disco.
You can also try the traditional shisha pipe with different flavors at the oriental corner. The lobby lounge also has a library where you can read books or magazines and a souvenir shop where you can buy gifts and handicrafts. You can choose from romantic packages that include candlelight dinners, spa treatments, and flowers, and you can also choose from adventure packages that include quad biking, desert safari, or camel riding. The rooms of the resorts are comfortable with air conditioning, minibars, and safes. You can choose between rooms with garden views or sea views. The resort also has a spa that provides different treatments, massages, and beauty services for an extra fee.
You can have fun with activities like water polo, aqua gym, windsurfing, diving, snorkeling, and horse riding. You have plenty of choices for dining at the resort, with four restaurants that serve different cuisines including oriental food. The resort also arranges a shuttle service to Hurghada Airport which is about 30 km away. You can also have fun in the nearby town of Hurghada where you can discover the local culture and attractions.
4. Hilton Long Beach Resort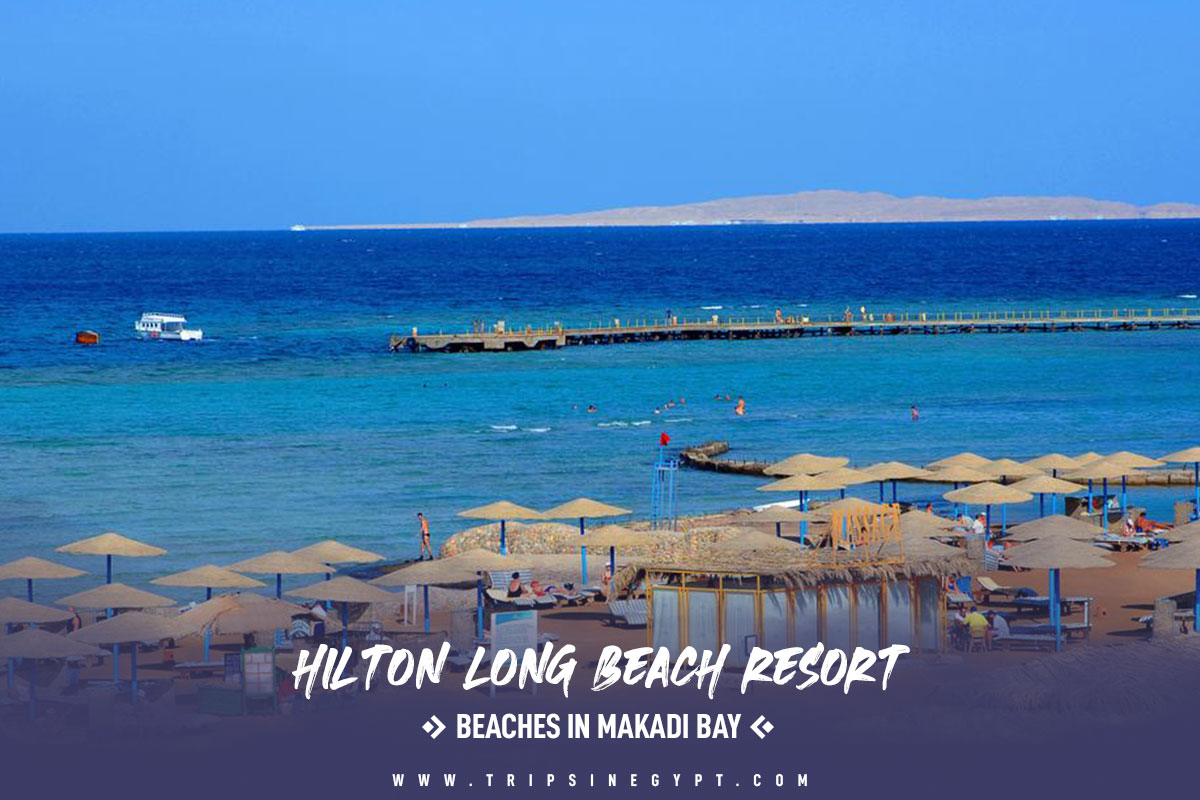 You can discover the ultimate vacation destination at the Hilton Long Beach Resort where you can enjoy an amazing holiday by the Red Sea the resort has everything you need for a wonderful stay from stylish rooms that are designed to make you feel at home to breathtaking views of the sea. You can choose from different types of rooms, such as standard, deluxe, or suites, depending on your needs. You can treat yourself to delicious food at dining venues, and relaxing spas, and discover the fascinating marine life of the Red Sea with enjoyable water sports. 
All rooms have modern amenities, such as air conditioning, Wi-Fi, TV, minibar, and coffee maker. You can also taste the flavors of the world at the Hilton Long Beach, and enjoy a buffet breakfast, lunch, or dinner at the main restaurant, or order room service at any time of the day. You can also relax with a drink or a snack at the pool bar, beach bar, or lobby lounge, and have fun and adventure at the sports center. You can try different activities such as snorkeling, diving, kayaking, parasailing, or banana boat riding at the wonderful beach. You can also explore the amazing coral reefs and colorful fish of the Red Sea with professional instructors and guides, and rent equipment and boats at the center for your convenience. 
At the Hilton Long Beach Resort, your stay will be as enjoyable and memorable as possible. No matter what your interests and preferences are, the resort has everything you need. The resort also has excellent facilities, such as a shimmering pool, spa, and fitness center that make the Hilton Long Beach Resort an ideal place for a relaxing and unforgettable vacation. Your perfect holiday is waiting for you at Hilton Long Beach Resort where you can find comfort, and fun in one place.
5. Fort Arabesque Resort, Spa & Villas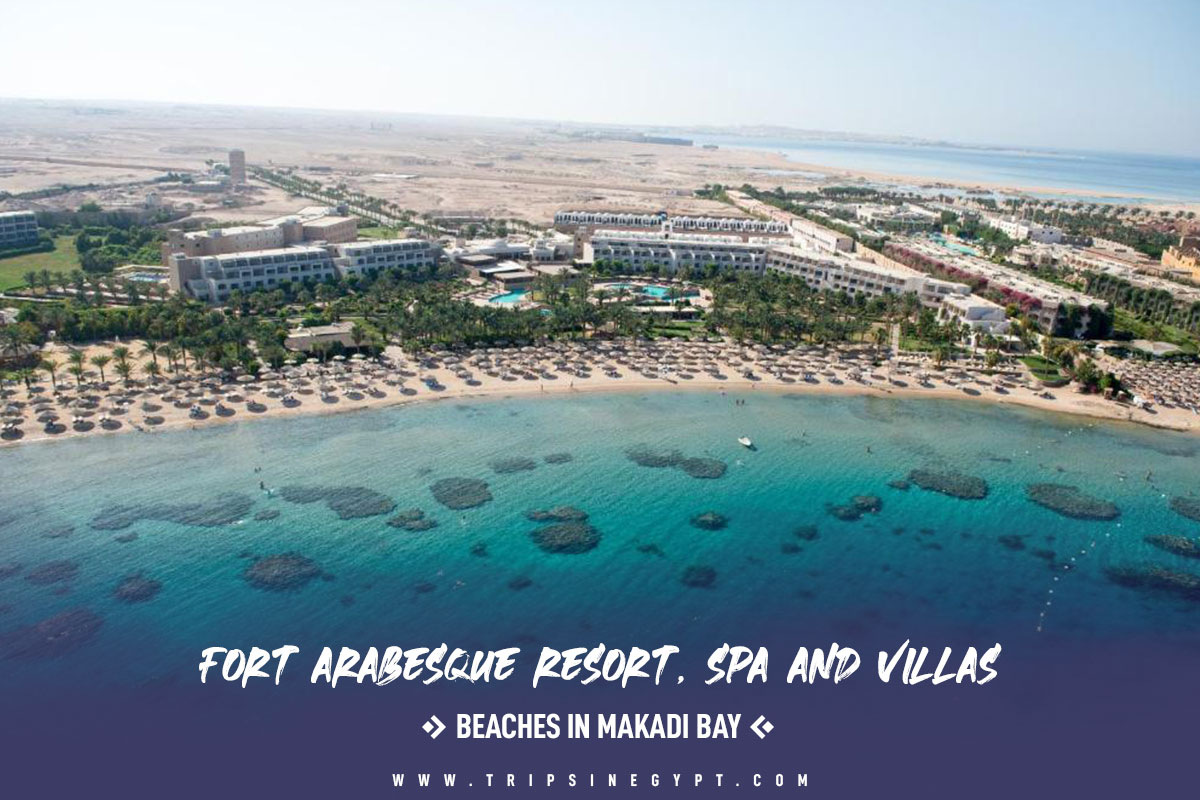 If you love water sports, you will enjoy the amazing private beachfront of Fort Arabesque Resort, Spa, and Villas. The resort also has a range of dining options with bars and restaurants to cater to your taste. You can have fun with your family in one of the five swimming pools, three of which are heated, and a separate pool for the children. All the rooms at Fort Arabesque have air conditioning and beautiful views of the sea, pool, or garden, so you will have amazing views from your room. The rooms of the resort are decorated with warm colors and have modern amenities such as satellite TV, a mini-bar, and a private bathroom, villas also have a living room for more space.
Fort Arabesque has something for everyone when it comes to dining as you can enjoy delicious meals at the East & West Wing Restaurant or the Blue Mirage Beach Grill. You can also relax with a drink at one of the bars such as the Red Rocks Bar, Swim-Up Bar, or Cappuccino Bar. The private beach area of the resort is ideal for water sports lovers as they can snorkel, windsurf, or dive. You can also request other activities such as horse rides, pedal boats, and canoes. If you want to relax, you can treat yourself to the spa or work out at the gym for an extra fee.
Fort Arabesque is only fifteen minutes away from Hurghada International Airport, and you can request airport pick-up and drop-off services. The resort also has free valet parking to make your stay easy from start to finish. Visit Fort Arabesque Resort, Spa & Villas if you want to have an adventure in the water, a tasty dining experience, or a peaceful getaway, Fort Arabesque Resort, Spa & Villas has it all in a breathtaking setting.
6. Siva Grand Beach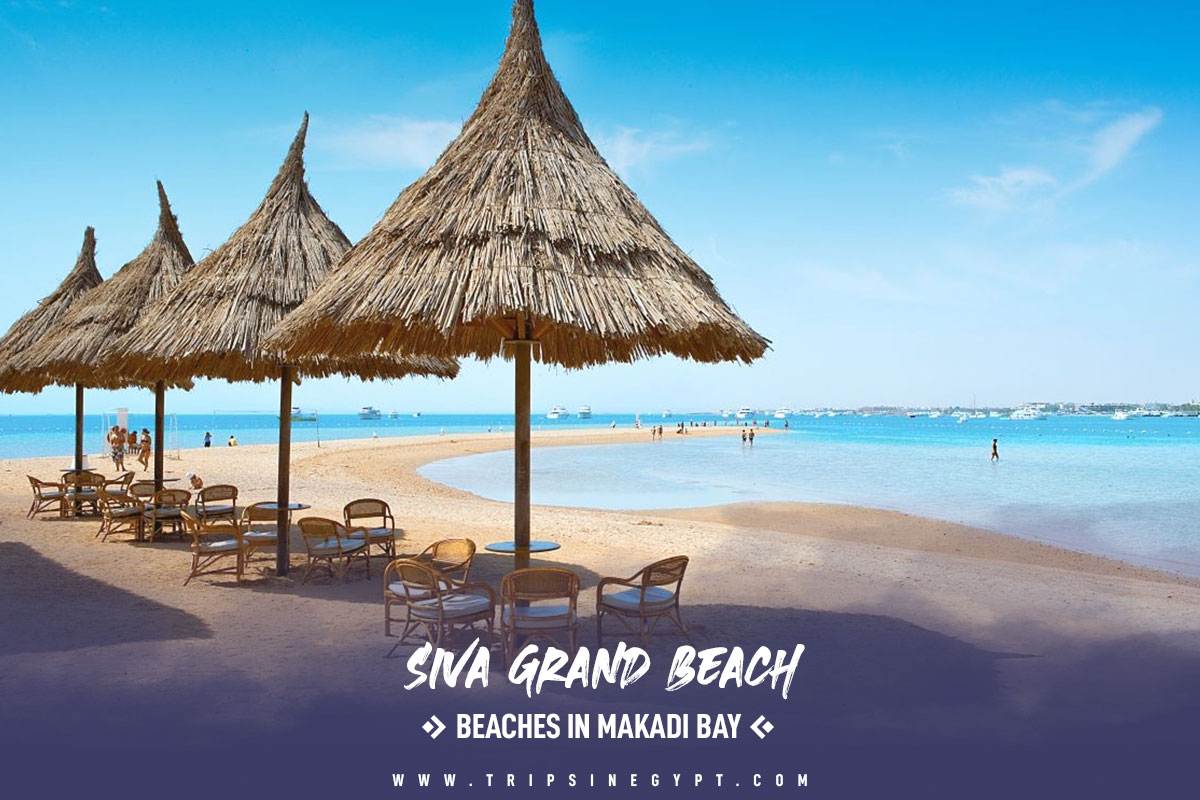 Siva Grand Beach Hotel is your ideal destination for a beachfront getaway. The hotel is located in the Al Mamsha El Seyahi district where you can enjoy a peaceful retreat close to the amazing Beach at Sindbad Club Beach Resort. The unique location has something for everyone whether you want to relax or have some fun.
During your stay, you can discover the amazing attractions of Makadi Bay. The Marine Sports Club Public Beach is only 18 minutes away by foot from the hotel, and great for those who love water sports. For those who want to experience the lively city life, Makadi Downtown is just a 10-minute drive away. Plus, you can easily reach Hurghada International Airport which is only 0.5 km away from the hotel.
The hotel has 235 rooms, some with balconies and sitting areas, and were designed to make your stay comfortable. Each room has modern amenities such as a minibar, hairdryer, and towels. As a guest of the Siva Grand Beach Hotel, you can enjoy a tasty buffet breakfast at the Oasis restaurant which serves a variety of international dishes. If you need to relax, the poolside bar is the perfect place for a cool drink. And if you want to try different cuisines, you can find a nearby restaurant that offers delicious Asian food.
7. The Three Corners Fayrouz Fanadir Beach Resort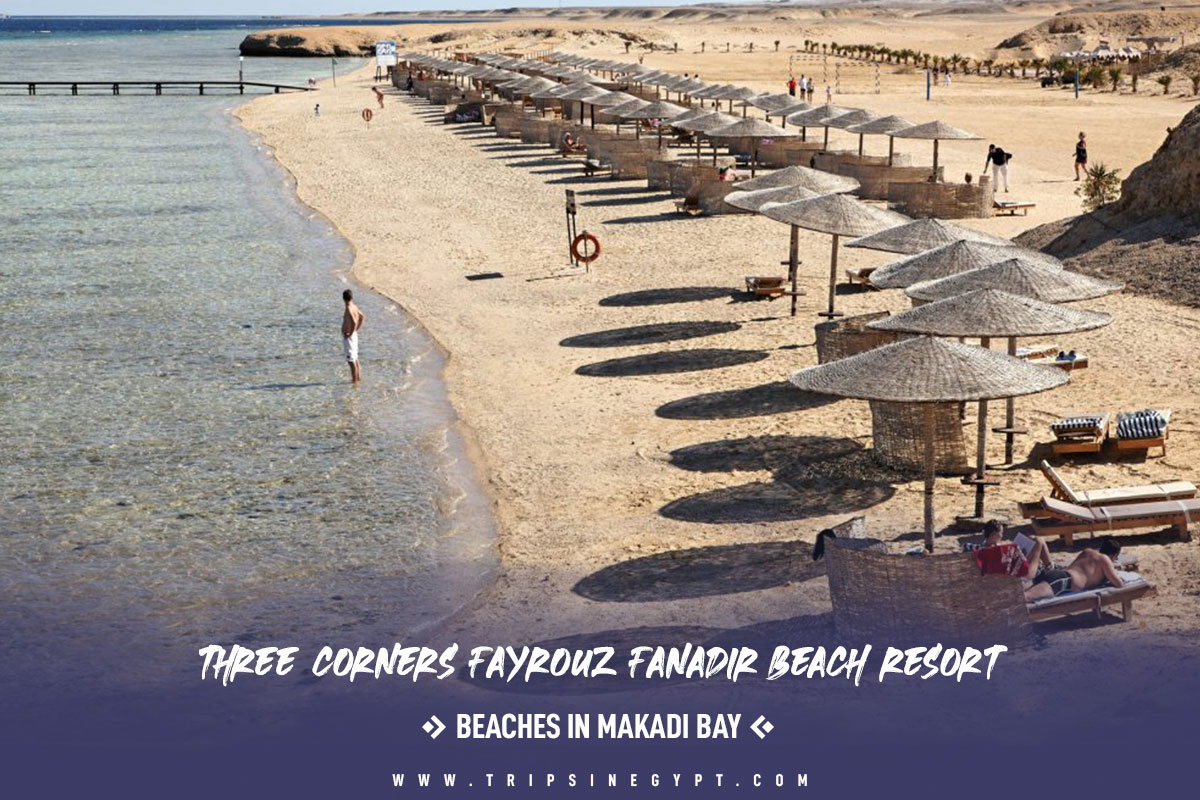 The Three Corners Fayrouz Plaza Beach Resort is a new destination that offers you the best of both worlds which are a breathtaking beachfront location and a charming marina walkway. The resort is located only 5 km away from Marsa Alam Airport, and close to Port Ghalib International Marina where you can enjoy the lively atmosphere and the scenic views. The beach is eight hundred meters long and one of the finest in the area, with clear water and colorful coral reefs that you can explore by snorkeling or diving from a 368-meter-long jetty. You can also relax in the main pool which is heated in winter and connected to a second pool area, or enjoy the sun on our terrace, where they offer free sunbeds, sunshades, towels, and Wi-Fi.
That is why we invite you to enjoy the beauty of the Red Sea while relaxing in our Jacuzzi or having a drink at our pool bar. The Three Corners Fayrouz Plaza Beach Resort also has a special play zone for children, so they can have as much fun as you do. The ambiance of the resort is designed to make your holiday unforgettable. The Three Corners Fayrouz Plaza Beach Resort is the perfect place for your vacation. Whether you love swimming, snorkeling, or just chilling out, our resort has something for everyone. Come and discover the wonders of the Red Sea, soak up the sun, and create lasting memories at our resort. Your holiday dreams come true at The Three Corners Fayrouz Plaza Beach Resort.
8. Sunrise Tucana Beach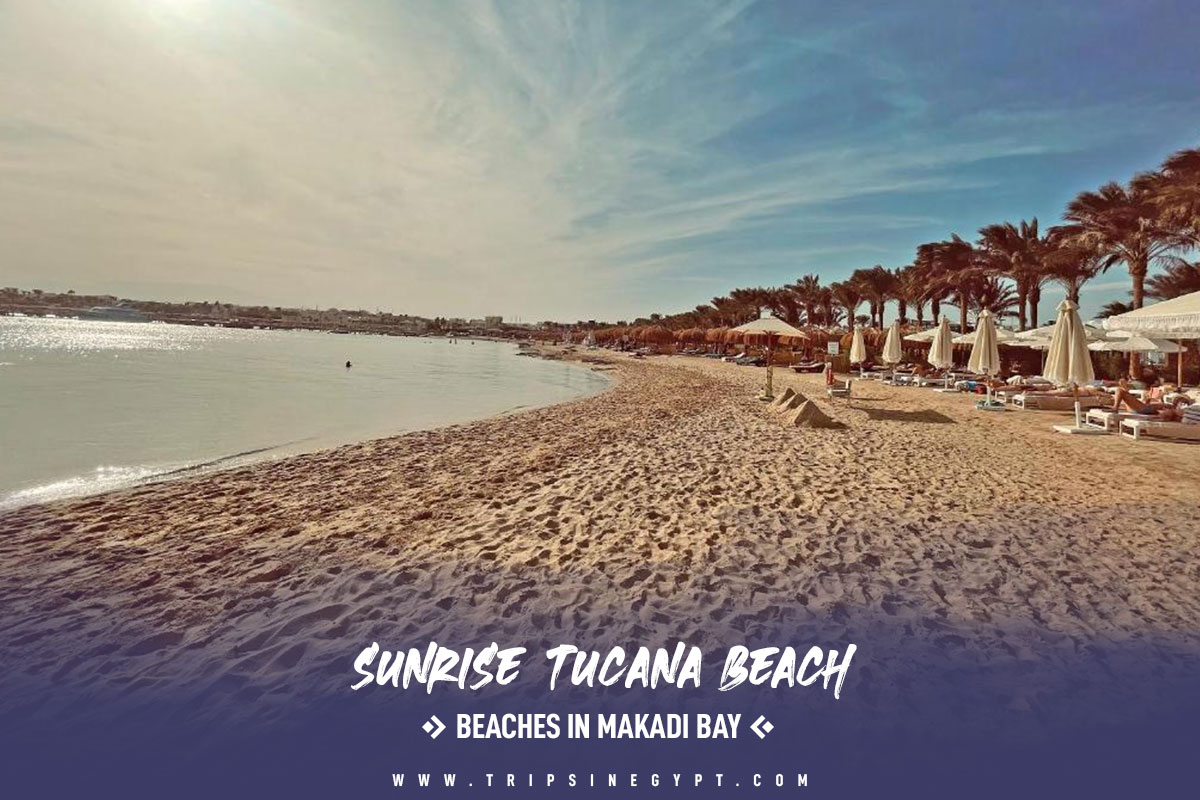 If you are looking for a premium all-inclusive resort, you will love Sunrise Tucana Resort. Sunrise Tucana Resort is located only 17 miles from the lively New Marina and the beautiful Giftun Island.  You will have a great time at Sunrise Tucana Resort with its amazing amenities and dining options. You can treat yourself to delicious food at our five A la carte restaurants which offer different cuisines such as international, Italian, Greek, and seafood. You can also relax and enjoy premium imported drinks at any of our seven bars.
You can have fun in our three heated pools during the winter months and join various activities such as snorkeling, diving, gym sessions, spa treatments, aerobics, darts, tennis, and even football. For families, Sunrise Tucana Resort has a huge aqua park for unlimited fun. Your friendly reception team is ready to give you some local tips and help you plan your daily adventures.

Makadi Bay Marvels: Dive into the Red Sea's Wonders
Makadi Bay offers a perfect balance of relaxation and adventure for your holiday. You can discover the beauty and mystery of the desert and mountains with a safari trip, where you can ride a camel or jeep. You can also visit the ancient ruins of Luxor and Karnak which are only a few hours away by bus or car, or take a cruise along the Nile River from Makadi Bay to see the temples and tombs of the pharaohs. Makadi Bay has something for every guest whether you are traveling with your family, friends, or your partner. Contact our operation department now and do not let this opportunity pass you by. Book your wonderful trip to Makadi Bay today and discover the wonders of this coastal paradise.
FAQ
What Should I Wear While Being in Egypt?
You should wear whatever you want. It is advised to wear something light from cotton or linen, comfortable and put on sunblock during your time in Egypt in the summer and wear comfortable footwear like a closed-toe shoe to sustain the sandy terrain.
What to Pack for Your Egypt Tour?
You should bring a brimmed hat and sunglasses if you not used to the Egyptian sun &pack everything you could ever need and put in a small bag so you could move easily between your destinations.
Are All Nile Cruises Available at Any Time?
Yes, it is available all years. as the Nile from Aswan to Luxor takes three to four days of sailing on Monday, Wednesday and Friday for the total cost of 600$ and the Nile cruise from Luxor to Aswan take four to five days in Saturday, Monday and Thursday for the coast of 650$.
We have experience in vacation planning for more than 10 years & our staff consists of the most professional operators, guides and drivers who dedicate all of their time & effort create the perfect vacation. All of our tours are customized by Travel, Financial & Time advisors to fit your every possible need during your time in egypt. we always keep in mind that your safety & comfort are our main priority until you return home.
Is it safe to travel to Egypt?
Yes, it is absolutely safe to travel to egypt, You will feel secure in Egypt as the current atmosphere of the country is very peaceful after the government took powerful measures like restructuring the entire tourist police to include all the important and tourist attractions in Egypt and construct an entire environment dedicated for ensuring the lives of all tourists.
What are Egypt's Visa Requirements?
They are very simples, If you want to apply for a Visa On Arrival that lasts for 30 days then you should be one of the eligible countries(check the link), have a valid passport with at least 6 months remaining and pay 25$ USD entry fee in cash. As for the E-Visa for 30 days, you should have a valid passport for at least 8 months, complete the online application, pay the e-visa fee then print the e-visa to later be presented to the airport border guard. You could be one of the countries eligible for a free visa for 90 days.
What is the Weather is Like?
The temperature of Egypt ranges from 37c to 14 c, Summer in Egypt is somehow hot and winter is cool and mild but sometimes it becomes cold at night. The average of low temperatures vary from 9.5 ¡ÆC in the wintertime to 23 ¡ÆC in the summertime and average high temperatures vary from 17 ¡ÆC in the wintertime to 32 ¡ÆC in the summertime while the temperature is moderate all along the coasts.
What is the Best Time of Visit Egypt?
It is known the best time to travel to Egypt is in the winter from September to April as the climate becomes a bit tropical, a warm atmosphere with a winter breeze. You will also be notified a week before your trip if the weather is unsafe or if any changes have been made.
Should I Give Tips in Egypt?
It is totally up to you, but if you choose to you can tip the servers at your restaurant 5-10% by handing it to them directly and 5 Egyptian Pounds as a general tip of anyone.
Can I Enter the Pyramids?
Yes, you can enter the pyramids for the small fee of 20$.
How to Enjoy Egypt During Ramadan?
Ramadan is a special time of year for Muslims that should be celebrated by non-Muslims and feel the essence of the Islamic culture. You can fast with the Muslim or just observe but you are always welcome to join the celebrations and festivals.