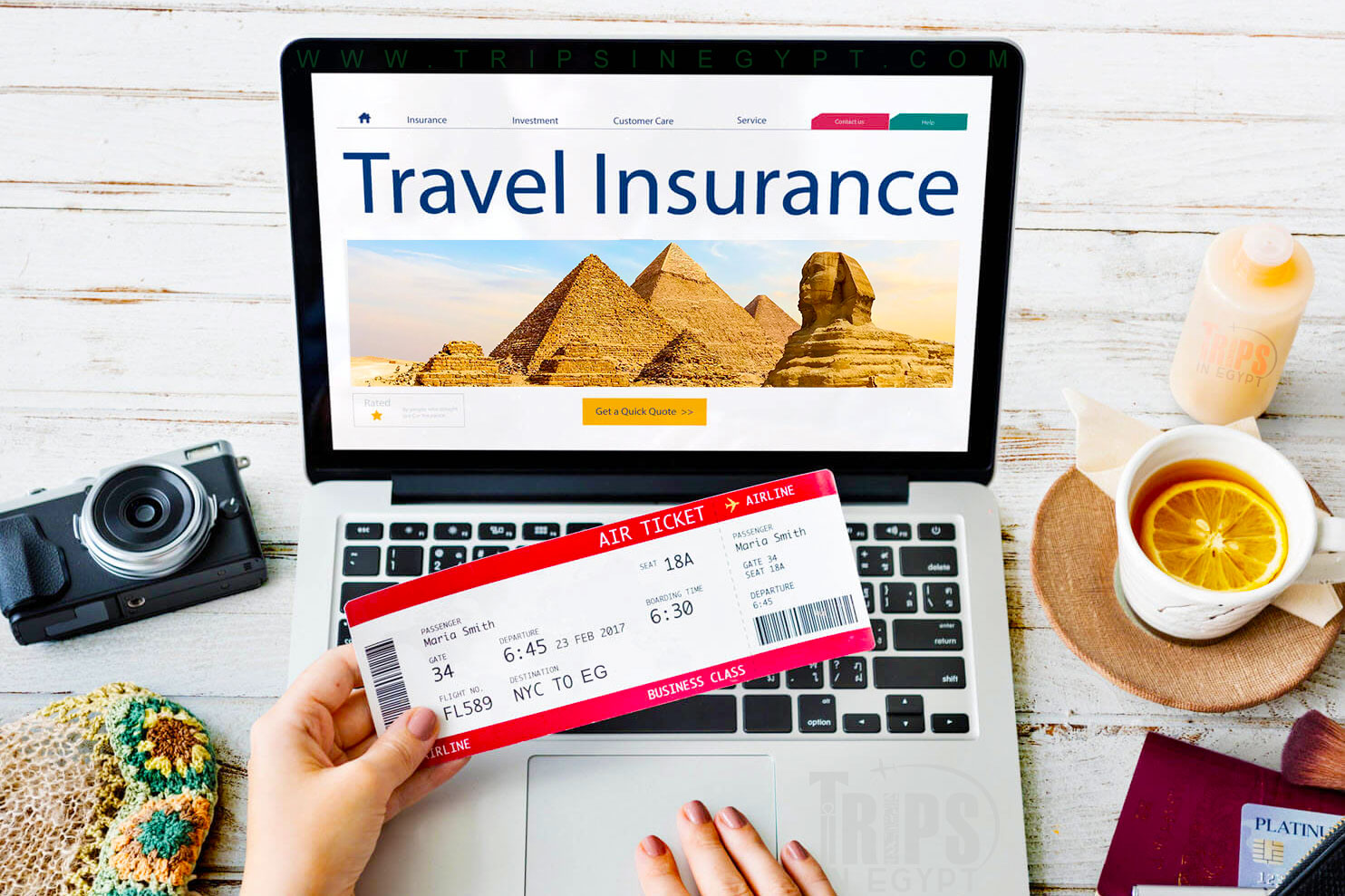 Travel Insurance for Egypt
Trips In Egypt strives to provide our dear customers with a flawless travel plan that covers all areas of their dream trip to Egypt which is one of the most amazing tourist destinations in the whole world. Once you plan your adventure to Egypt, just do not forget to prioritize your peace of mind first with comprehensive travel insurance for Egypt.
This great investment takes care of every step you take along the Nile River, exploring the Pyramids of Egypt, and enjoying amazing activities in the Red Sea is protects against unexpected circumstances even for medical emergencies and trip cancellations, travel insurance provides you also with a safety net, and allows you to enjoy the magic of Egypt without worry. Now, let your wanderlust guide you, and let travel insurance for Egypt be your trusted friend on this Egyptian adventure.

What is Travel Insurance?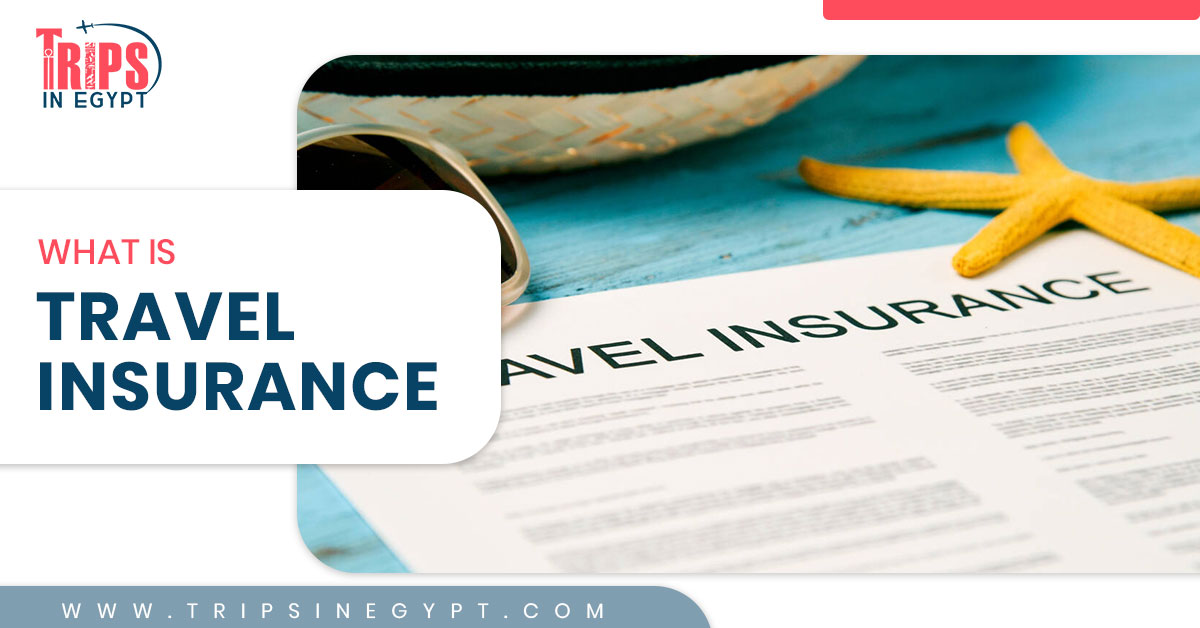 Travel insurance is a form of financial protection that covers unexpected circumstances and emergencies that may occur during your trip in Egypt. You can protect yourself from the financial consequences of these situations by buying travel insurance as it covers the costs of medical care, trip changes, cancellations, and lost luggage.
You do not have to worry about the money you might lose or spend due to accidents, illnesses, natural disasters, or travel delays when you have travel insurance, so you can travel with confidence and enjoy your trip in Egypt knowing that you have a safety net for unexpected circumstances.

What Does Egypt's Travel Insurance Cover?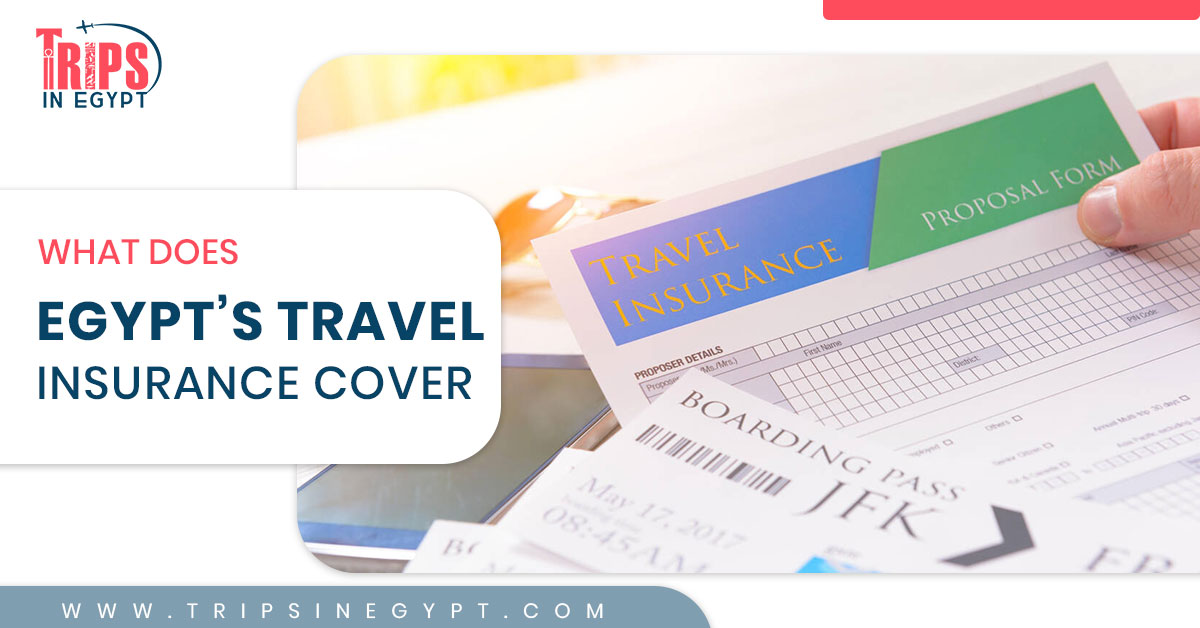 If you are willing to visit Egypt, you can get travel insurance that covers different types of situations and costs that might happen while you are in Egypt such as:
If you get sick or hurt while visiting Egypt then travel insurance can help you pay for things like hospital stays, operations, medicine, and ambulances.
If something unexpected happens before or during your trip like getting sick, hurt, or death then travel insurance can help you get back the money you spent on your trip.
Travel Insurance can help you cover the extra costs you may have to pay if your trip is delayed by something you cannot control such as bad weather, mechanic breakdowns, or strikes such as meals, accommodations, and transportation.
Travel insurance can help you pay for the emergency transportation you may need if you have an injury, it could help you to back to your country, however, it depends on the situation.
Travel insurance can help you get back the money for your things if they go missing, get stolen, arrive late while you are traveling to Egypt, or pay for the things you need until you get your baggage back.
Travel insurance can help you pay also if you accidentally hurt someone or break something while you are in Egypt.

Types of Egypt Travel Insurance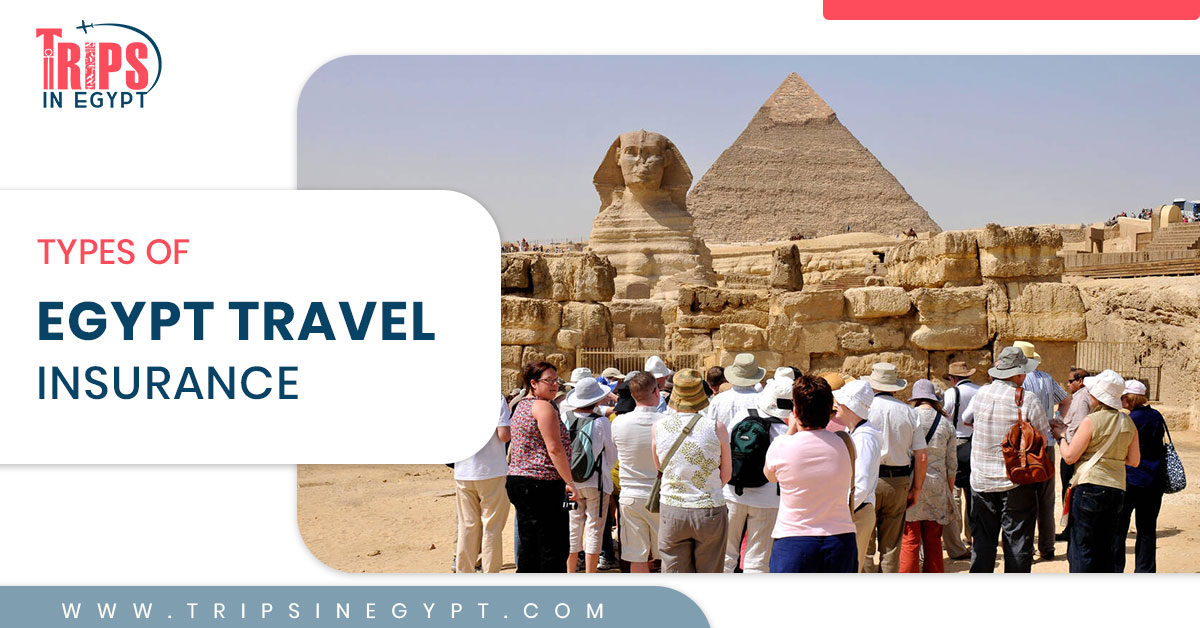 Things do not go as expected when you decide to explore the world, so travel insurance can help you feel more secure when you book your dream trip to Egypt, no matter if you travel for work or to enjoy, as a solo traveler or with your family, there is a travel protection plan that suits your travelers such as:
Travel Insurance For Families
Travel insurance is a great way for families who want to enjoy a magical trip in Egypt without worrying about unexpected circumstances. You can buy a policy that covers you and your family members who are traveling with you such as your partner and your children who depend on you. Travel insurance policy for a family vacation can help you in many situations such as paying for medical bills, helping in an emergency, getting reimbursed if you have to cancel your trip, and protecting you from legal claims, keep in mind that not all policies of travel insurance are the same, so you need to make sure that the policy you choose matches the needs of your family, and you should search well before buying it and compare different options to find the best insurance for you and your family members.
To Procedure:
You should make sure that all your family members are included even if they are not listed on the Passport.
Be aware of how much insurance each family member requires as a family member with a chronic condition may require more insurance than a healthy family member.
Select a provider that provides family discounts and make sure that you are getting the greatest offer.
Pay special attention to the specifics and use caution as there are some items that may be excluded or limited.
Be Aware of:
The length of your trip will affect the entire cost.
The activities that you are willing to do such as diving, scuba, or desert safari.
The ages of the members of the group as adults will have their special policy.
Travel Insurance For Individuals
This type of insurance provides its holder protection against unexpected events such as medical emergencies (medical expenses), trip cancellations, and more during their stay in Egypt to guarantee full financial protection for the person in case of unexpected challenges. You should read the policy of your travel insurance very well to understand the coverage details and to choose a plan that suits your individual needs in Egypt.
To Procedure:
Choose a trusted travel company as it is important to make your search so you can choose a trusted company that offers the coverage you need.
After selecting the most suited company for you, it is important to read the terms and conditions carefully to understand the policy of the company.
You have to give your details about yourself like your name, birthday, age, passport number, and your trip length, when you are going, and where you are going.
Once you finalize entering you are entering the required information, you will need to pay for the insurance.
Finally, you will need to provide documents such as medical bills, receipts, and police reports.

Difference Between Single-trip Insurance & Annual Multi-trip Insurance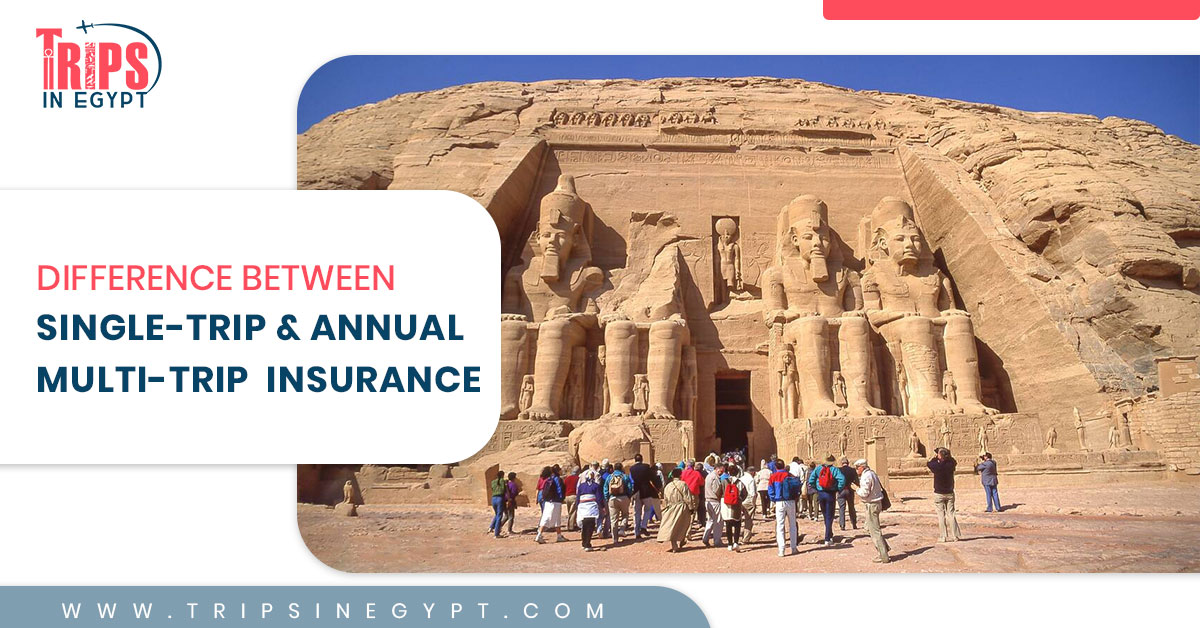 Single-trip Insurance
If you are willing to visit Egypt only once and have a fixed travel schedule, then the single-trip insurance will be the perfect choice for you, however, you should keep in mind that:
Your specific trip will be covered by single-trip insurance from the day you leave to the day you come back home, and it will start and end on those dates.
You can decide how long you want the insurance to last based on your trip duration as the insurance will only apply to that specific trip.
Single-trip insurance costs less than annual multi-trip insurance because it only covers only one trip during your stay in Egypt.
There are some insurance providers who may let you extend the insurance duration if you prolong your trip, but you have to follow their own rules and requirements.
Multi-trip Insurance
If you visit Egypt more than once time in a year, you can save money by getting annual multi-trip insurance. This type of insurance covers you for several trips that you take within a year, but you should consider these items when choosing Multi-trip insurance:
Annual multi-trip insurance lets you take several trips within a year and still be covered, the policy lasts for one year, but each trip has a time limit (30 or 60 days).
You do not have to buy insurance every time you travel if you have this type of insurance, you are covered for the whole year, as long as each trip does not exceed the time limit set by the policy.
Annual multi-trip insurance seems more expensive than single-trip insurance at first, but it can be cheaper in the end if you travel a lot within the year of coverage.
You may have to buy extra insurance for a specific trip if it lasts longer than the time limit of your annual multi-trip policy.

The Travel Insurance Cost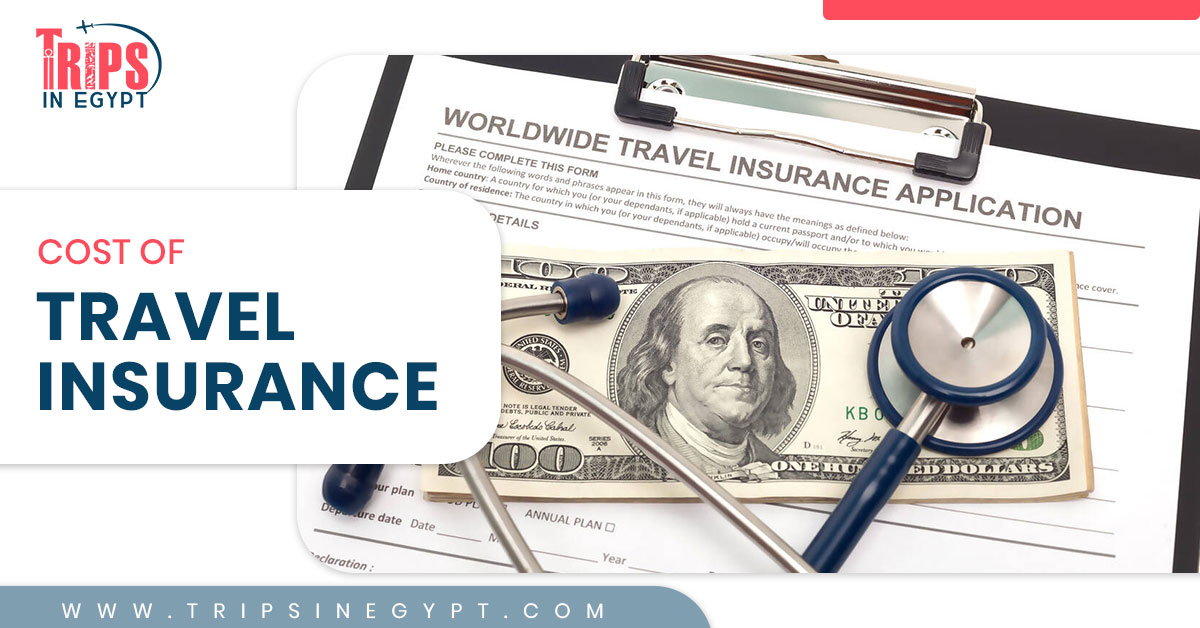 Many factors determine the cost of travel insurance when visiting Egypt such as:
The Length of Your Trip: Your travel insurance will become more expensive as you travel for longer.
The Activities You Are Willing to Enjoy: The activities you plan to do will also influence how much you pay for travel insurance, and you will require a higher level of coverage for any high-risk activities, such as scuba diving or hiking.
Your Age: The cost of your travel insurance depends on how old you are, parents can include their children in their travel insurance policy, but adults have to get their policy.
Your Health: The cost of your travel insurance depends on your health, you may have to pay more for your coverage if you have any medical conditions that existed before you bought the policy.
The Insurance Company: The cost of your travel insurance also depends on the insurance company you will pick as some insurance companies charge more than others.
The expense of travel insurance for Egypt ranges from $50 to $200 per person for each trip.

How to Choose the Best Travel Insurance for Your Egypt Trip?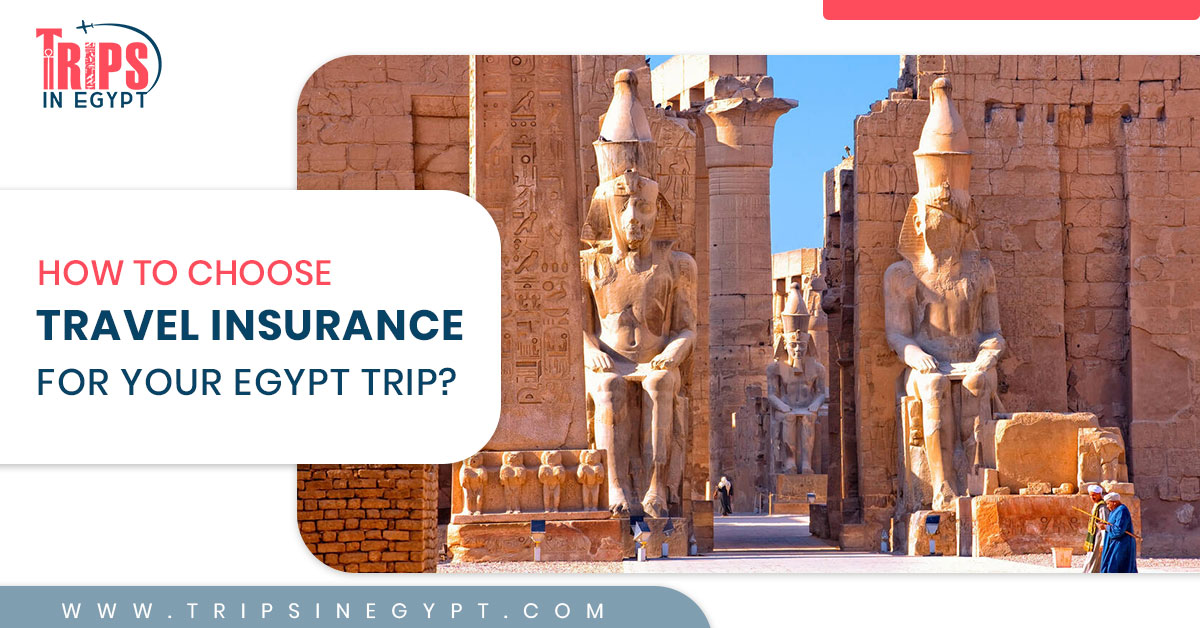 You need to select suitable travel insurance that covers your needs to travel with confidence and protection in Egypt. Here are some factors to keep in mind when choosing a Travel Insurance company:
1. Define Your Needs
You should think about what you need for your trip before you travel to Egypt such as how long will you stay there, what kind of things you want, how much are your belongings worth, and do you have any medical issues that might affect you.
2. Research Coverage Options
Be aware of travel insurance that protects you from risks such as getting sick or injured, having to cancel your trip, losing or damaging your luggage, or causing harm to others, and make sure the plan includes the activities you want to do such as scuba diving or other adventure sports.
3. Compare Policies
You should ask for prices from different insurance companies and see what they offer, what they cover, and what they do not cover during your stay, and look at the highest amounts they will pay the amount you have to pay first, and any special rules or limits they have. You should also check how trustworthy the insurance companies are by reading reviews of customers.
4. Medical Coverage
Make sure that the insurance covers enough of your medical costs such as staying in a hospital, getting urgent medical care, or being transported to another place if you need. You should have coverage for medical costs that result from injuries, sicknesses, or any health problems you already have.
5. Trip Cancellation
Just see if the insurance covers you if you have to cancel or end your trip early because of things you cannot control such as getting sick, hurt, or affected by natural disasters. This coverage can help you save money if you cannot go on or finish your trip.
6. Baggage Coverage
Find a plan that pays you back for your luggage if it gets lost, taken, or broken, and make sure that the plan pays enough to cover how much your things are worth.
7. Emergency Assistance
Check if the insurance company has a service that can help you anytime in an emergency, as it is very important when you need help.
8. Exclusions and Limitations
Read the policy of the company and details carefully to know what it does not cover, what it limits, and what else you need to do and pay attention to any rules about health problems you already have, things it does not cover for certain activities, or large amounts you have to pay before it covers you that may change your claims.
9. Cost and Value
Do not make your decision only through the price, compare the benefits and protection that each policy offers and choose the one that suits your situation.
10. Seek Advice
A professional company can give you advice based on your circumstances, and this can be useful if you are not sure or have specific concerns about some aspects.

How Do I File a Claim for Travel Insurance in Egypt?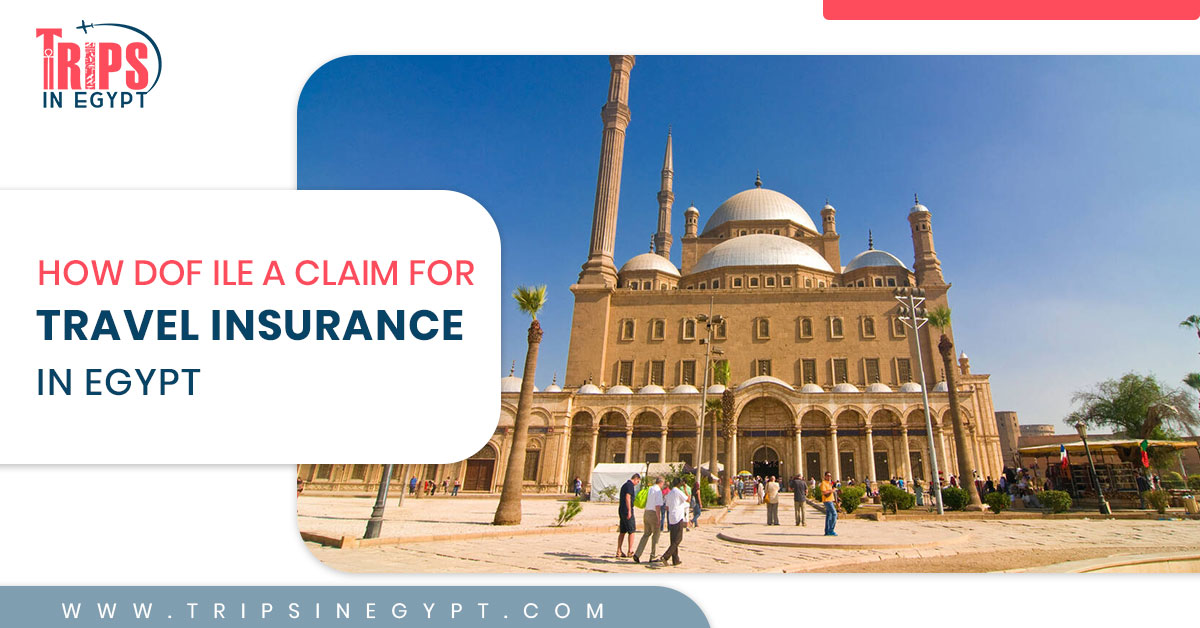 1- Check Your Policy: You should check your policy documents to see what your insurance covers and how to file a claim, checking your policy before filing a claim is very important.
2- Gather the Required Documentation: You will need different documents for different types of claims such as:
Travel insurance policy.
Medical records for a medical claim.
Receipts for any costs you want to claim.
A police report if you lost something or someone stole it.
3- Contact Your Insurer: You have to tell your insurer about your claim by calling them when you have all the documents you need by sending an email, or a letter.
4- Contact Your Travel Insurance Provider: You have to give your insurer the documents they need when you talk to them to know more about your claim.
5- Fill Out the Form: You will have to fill out some claim forms for your insurance provider. Fill them out carefully and add any documents they need.
6- Wait for a Decision: Your insurer will check your claim and decide what to do when they get all the documents they need.
7- Receive Your Payment: How much they pay you will depend on your policy and your claim.

Do I Need a Visa for Egypt?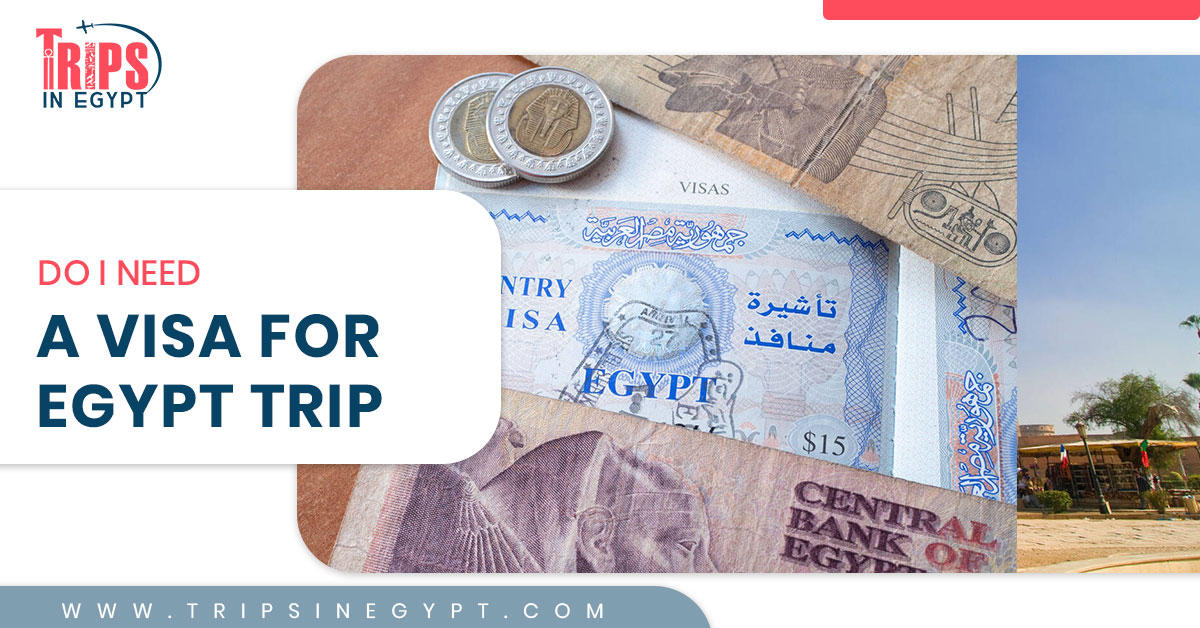 You can get a visa for Egypt when you arrive at Cairo International Airport or online from the official e-visa website of the Egyptian government. Your nationality determines whether or not you need a visa to enter Egypt, for a short period, citizens of only ten countries can visit Egypt without a visa (Kuwait, Lebanon, Bahrain, Hong Kong, United Arab Emirates, Saudi Arabia, Macao, Oman, and Malaysia).
There are citizens of over 70 countries including the United Kingdom, Australia, The United States, and Canada applying for an Egypt visa online. For more details about Egypt's entry visa "Click here".

Conclusion
To put it simply, let travel insurance be your trusted companion on your unforgettable Egyptian adventure. Do not miss this chance to book one of our amazing tours with our operation department and experience the magic of Egypt. Trips In Egypt offers unforgettable Egypt travel packages & Nile River cruises that will make your Egyptian dream come true whether you are looking for adventure, relaxation, or a combination of both, and we are committed to making your Egypt trip safe, enjoyable, and unforgettable.
FAQ
What Should I Wear While Being in Egypt?
You should wear whatever you want. It is advised to wear something light from cotton or linen, comfortable and put on sunblock during your time in Egypt in the summer and wear comfortable footwear like a closed-toe shoe to sustain the sandy terrain.
What to Pack for Your Egypt Tour?
You should bring a brimmed hat and sunglasses if you not used to the Egyptian sun &pack everything you could ever need and put in a small bag so you could move easily between your destinations.
Are All Nile Cruises Available at Any Time?
Yes, it is available all years. as the Nile from Aswan to Luxor takes three to four days of sailing on Monday, Wednesday and Friday for the total cost of 600$ and the Nile cruise from Luxor to Aswan take four to five days in Saturday, Monday and Thursday for the coast of 650$.
We have experience in vacation planning for more than 10 years & our staff consists of the most professional operators, guides and drivers who dedicate all of their time & effort create the perfect vacation. All of our tours are customized by Travel, Financial & Time advisors to fit your every possible need during your time in egypt. we always keep in mind that your safety & comfort are our main priority until you return home.
Is it safe to travel to Egypt?
Yes, it is absolutely safe to travel to egypt, You will feel secure in Egypt as the current atmosphere of the country is very peaceful after the government took powerful measures like restructuring the entire tourist police to include all the important and tourist attractions in Egypt and construct an entire environment dedicated for ensuring the lives of all tourists.
What are Egypt's Visa Requirements?
They are very simples, If you want to apply for a Visa On Arrival that lasts for 30 days then you should be one of the eligible countries(check the link), have a valid passport with at least 6 months remaining and pay 25$ USD entry fee in cash. As for the E-Visa for 30 days, you should have a valid passport for at least 8 months, complete the online application, pay the e-visa fee then print the e-visa to later be presented to the airport border guard. You could be one of the countries eligible for a free visa for 90 days.
What is the Weather is Like?
The temperature of Egypt ranges from 37c to 14 c, Summer in Egypt is somehow hot and winter is cool and mild but sometimes it becomes cold at night. The average of low temperatures vary from 9.5 ¡ÆC in the wintertime to 23 ¡ÆC in the summertime and average high temperatures vary from 17 ¡ÆC in the wintertime to 32 ¡ÆC in the summertime while the temperature is moderate all along the coasts.
What is the Best Time of Visit Egypt?
It is known the best time to travel to Egypt is in the winter from September to April as the climate becomes a bit tropical, a warm atmosphere with a winter breeze. You will also be notified a week before your trip if the weather is unsafe or if any changes have been made.
Should I Give Tips in Egypt?
It is totally up to you, but if you choose to you can tip the servers at your restaurant 5-10% by handing it to them directly and 5 Egyptian Pounds as a general tip of anyone.
Can I Enter the Pyramids?
Yes, you can enter the pyramids for the small fee of 20$.
How to Enjoy Egypt During Ramadan?
Ramadan is a special time of year for Muslims that should be celebrated by non-Muslims and feel the essence of the Islamic culture. You can fast with the Muslim or just observe but you are always welcome to join the celebrations and festivals.