The Dazzling Muhammad Ali mosque is located in the northwestern corner of Cairo's Citadel and was established by Mohammed Ali pasha between 1830 and 1848. It is the largest Ottoman mosque to be built in the first half of the 19th century. It is a very important touristic attraction in Cairo and the most visible one in Cairo's skyline. It is Turkish in its style and the evidence is its minarets, large chandeliers, decorated walls, and beautiful hanging lamps of the globe. It is also called the Alabaster Mosque reliance on the gorgeous alabaster stone quarried from Beni Suef.


The History of Muhammed Ali Mosque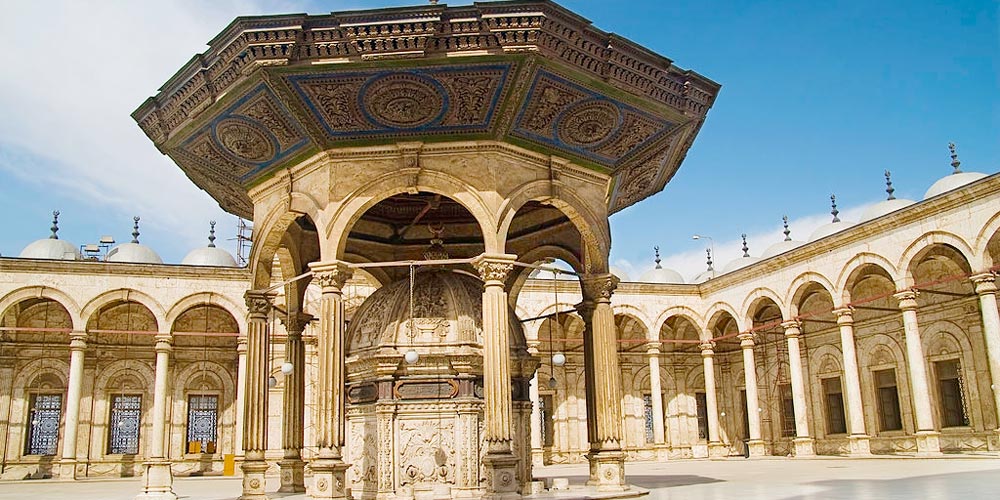 The great mosque of Mohamed Ali was designed by the Turkish architect Yousif Boushnaq, who designed it just like mosques in Turkey and was built by Mohammed Ali Pasha who ruled for about 45 years. When the Ottoman Muhammad Ali assumed the throne of Cairo in 1800, he had all the Mamluk buildings of the Citadel ruined. Muhammad Ali mosque was built as a memory of the oldest son of Mohammed Ali Pasha, Tuson pasha, who died in 1816. Mohammed Ali Pasha demolished all Mamluk buildings in the area to build such a magnificent mosque.


The Description of Muhammad Ali Mosque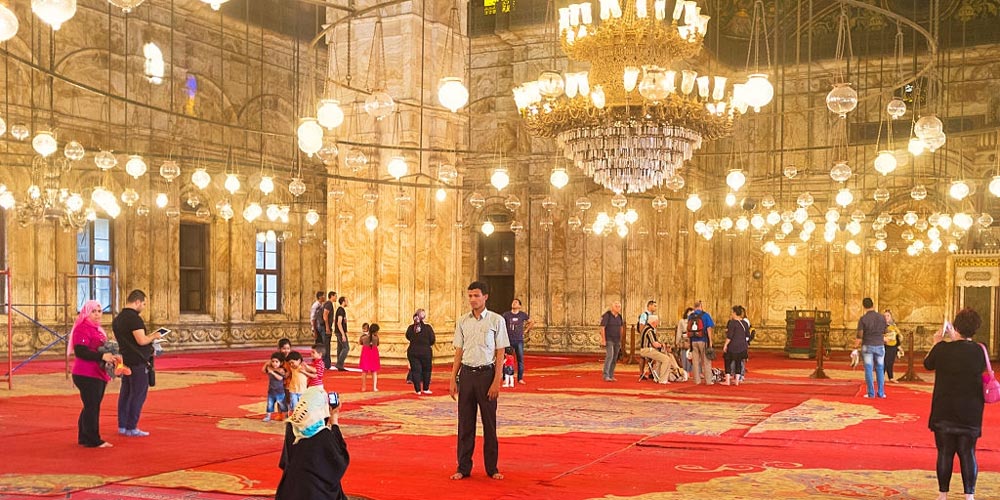 Muhammad Ali mosque is a very important touristic and historic landmark in Cairo. It has a style of the Mosque of Sultan Ahmed in Istanbul. The Mosque is composed of four stone facades. The northeastern façade is the main one of the mosque. The eastern section consists of the prayer hall and the western section of the mosque contains a courtyard, which is surrounded by four colonnades. The colonnades' arches are supported by marble columns. The main material used in building this mosque was limestone. There is a central dome that has 6 medallions around it that has the name of Allah and his prophet Muhammed and four semicircular domes around the central dome, which are painted and gives the feeling of relief.
Muhammad Mosque has two sections, the western section that was called "The Courtyard" and the eastern section "The House of Prayer", it is square. Mohammed Ali has built two Minarets, which means that he did not want to remain submissive to Istanbul. Its inner part reflects some French rococo influences. There is also a gold scalloped mihrab. Mohammed Ali Pasha is buried beneath the white marble monument on the right side of the entrance.


Experience the Class and Allure of Egypt with "Trips in Egypt"
Egypt welcomes its dear guests with its mighty Nile River, the beguiling desert & lush Delta and with no doubt its unique impressive attractions & landmarks which you will be able to explore the best enchanting sites of the land of Pharaohs through our Egypt tour packages where you will visit the famous Giza pyramids, the Sphinx, Abu Simbel temples, Karnak temples, and much more. Also, the Nile nowadays is considered the perfect place from which you can enjoy one of our Nile river cruises around the most spectacular ancient monuments between Luxor & Aswan. The chance is now between your hands so don't miss it and book us now: