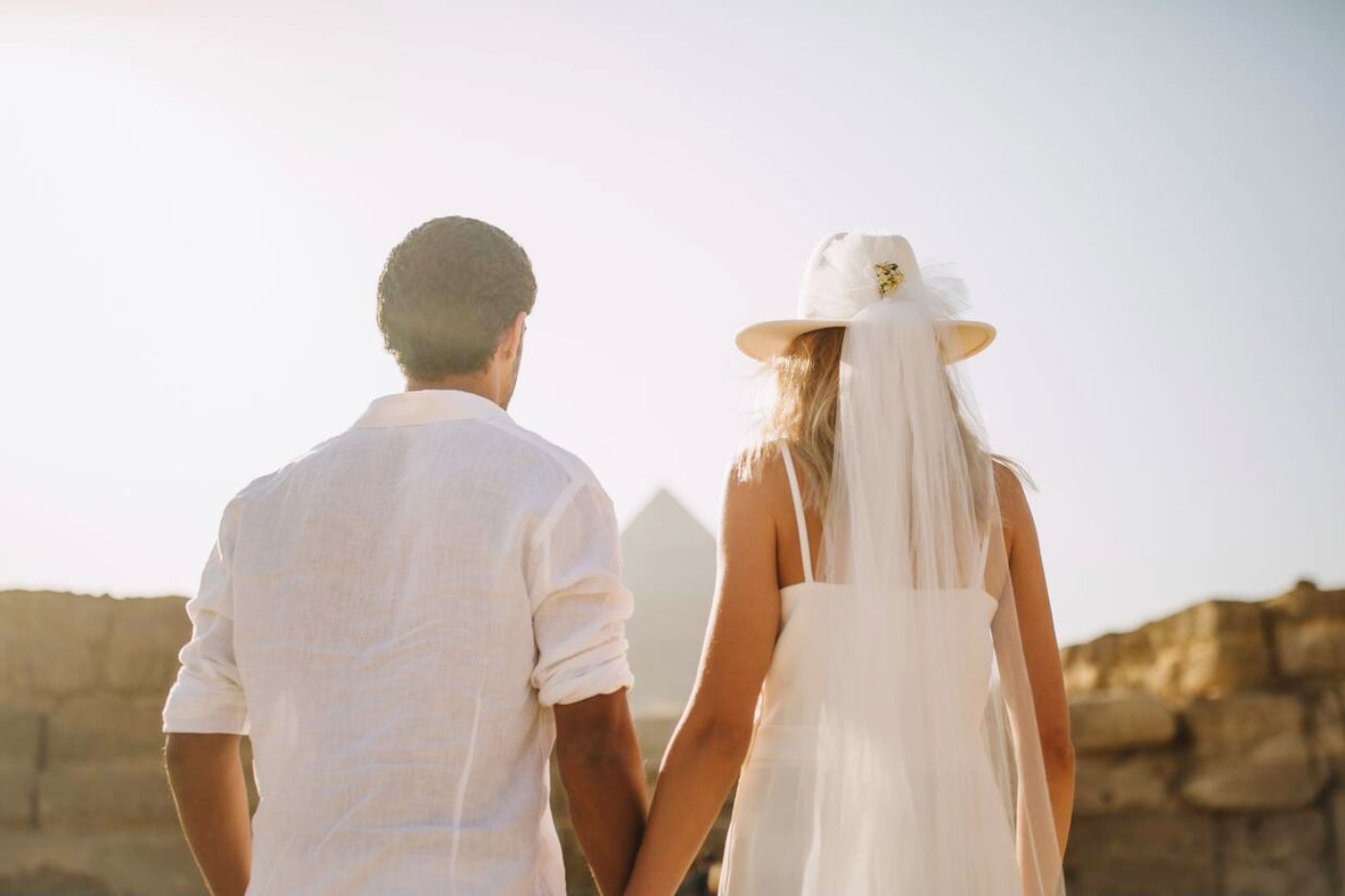 Romantic Things to Do in Egypt for Honeymooners
Egypt is a country that has it all: culture, history, nature, and adventure; this is what this fantastic land offers for you and your lover: a land of legends and love that will make your honeymoon a trip to remember. You are about to enjoy a journey of romance and wonder; imagine spending such an occasion in a place where you can explore the wonders of ancient civilizations and enjoy the beauty of nature. Egypt can offer romantic activities that suit couples, such as exploring ancient temples that tell stories of love across the ages and enjoying a magical camel ride through the desert.
You can enjoy a relaxing and luxurious experience by cruising along the Nile River and witnessing the beauty of Egypt from a different perspective, you can also relax and enjoy the weather and the refreshing breeze on the Red Sea while enjoying exciting activities with your loved one, and make sure that the Red Sea coast is a paradise for water lovers. Your honeymoon will become a lasting chapter in your love story. So, let the Trips In Egypt team begin your journey to enjoy the top romantic things to do in Egypt.
Trips In Egypt Team is here to help you how enjoy the best honeymoon vacation in Egypt, where you can enjoy the romance and beauty of this ancient land. You can explore its culture, beauty, history, and unique nature, and create unforgettable memories with your partner in Egypt. By choosing Egypt as your honeymoon destination, you will not only have a great adventure but also honor the connection you share in this magical country. You can have a wonderful honeymoon in Egypt with these romantic things to do. Here are some of the best choices:

1. Witness the Pyramids of Giza With Your Second-half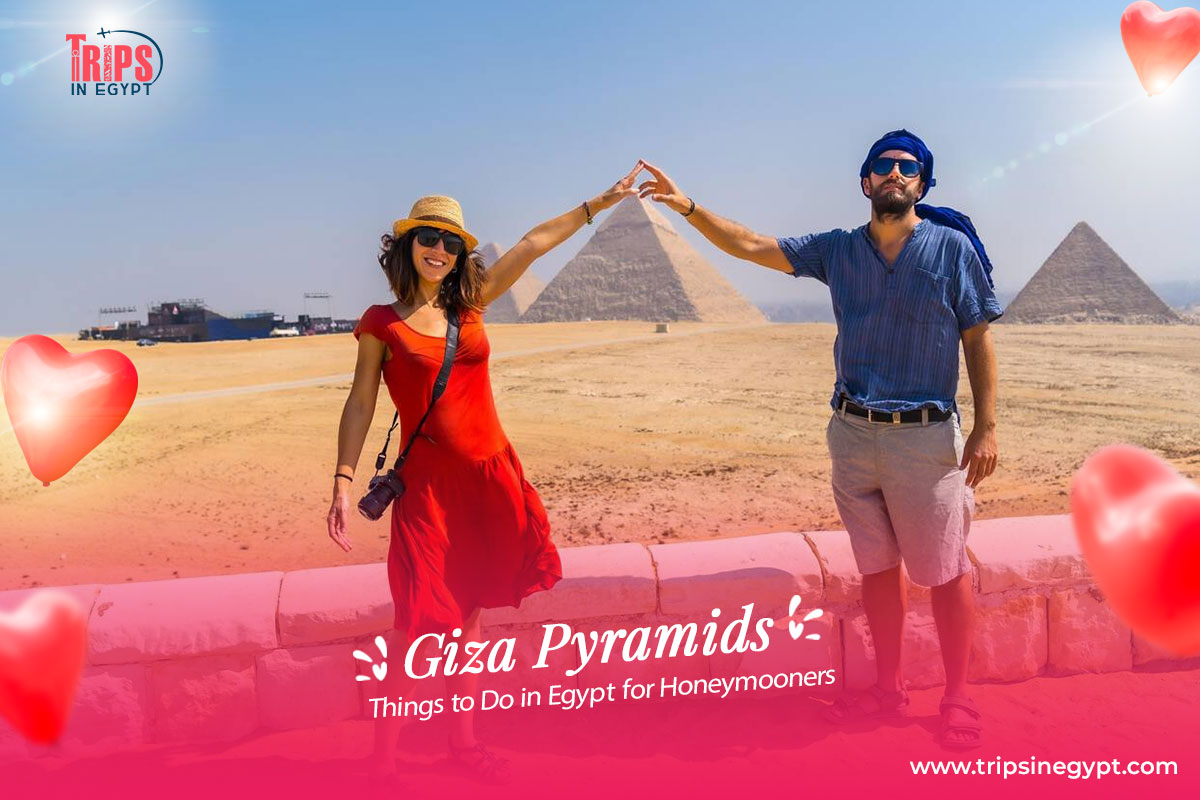 The ancient wonders of Giza have a perfect blend of romance and adventure for your honeymoon. This ancient site has three great pyramids, the Great Sphinx, and the Valley Temple. The most impressive of them all is the Great Pyramid of King Khufu, which demonstrates the skills and achievements of ancient civilizations, and it is one of the last surviving wonders of the ancient world. You will also witness the mysterious Great Sphinx which is the oldest known statue in the world that guards Egypt, especially King Khafre, and learn more about the fascinating beliefs of the ancient Egyptians who revered their rulers as gods on earth. If you are looking for more adventure in Giza, you can also visit the Valley Temple where the ancient Egyptians performed the mummification rituals for their pharaohs and Queens. 
Just imagine walking with your partner among these magnificent monuments and feeling the presence of centuries of history around you. You can enjoy a camel ride around the pyramids for a romantic touch, and watch the sound and light show that illuminates the pyramids and tells their stories with music and narration. This is a rare opportunity to experience a wonder that has survived through time, this is not just a honeymoon, but a journey that will take you to the past while enjoying the wonders. This is a magical way to end your day and enjoy comfort and luxury while creating unforgettable memories with your partner.

2. Discover Love on the Nile Cruise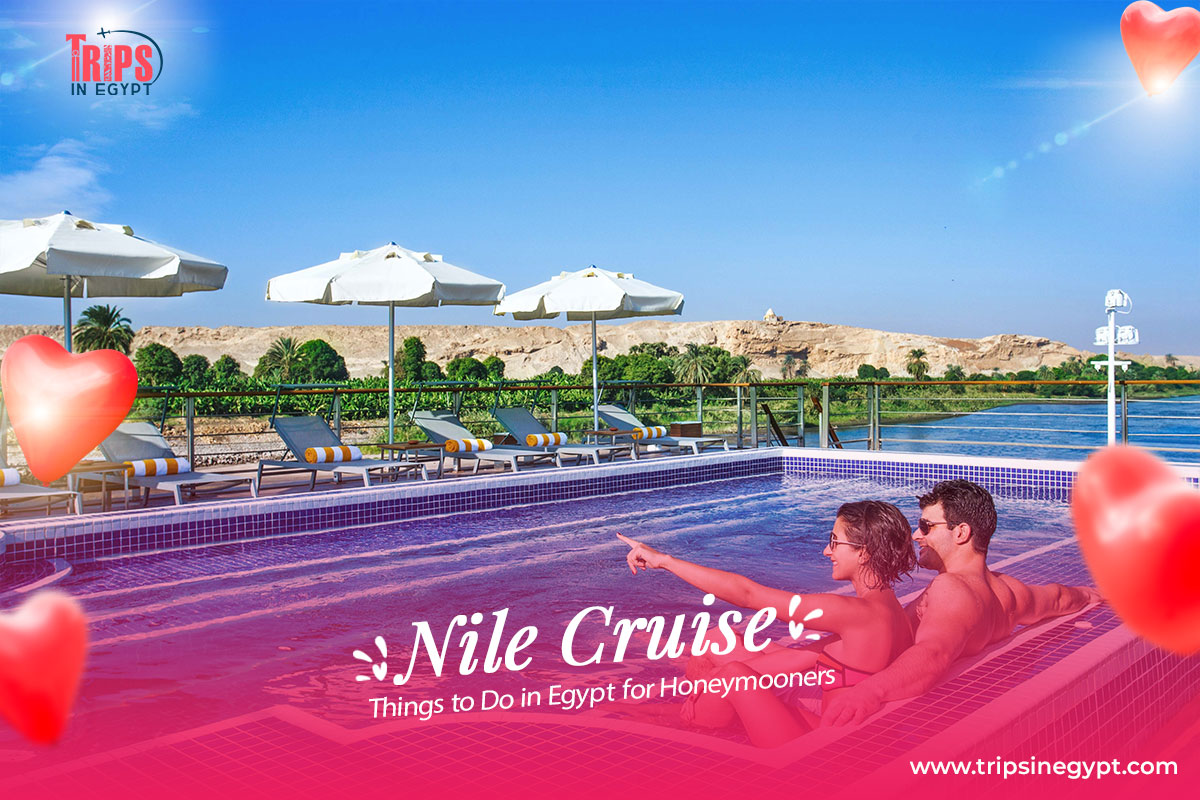 Egypt has long been a coveted destination for honeymooners who dream of spending their romantic moments. One of the things they do is enjoy a Nile River cruise in Upper Egypt, which is a journey that transforms dreams into reality. The Nile River is a serene oasis that demonstrates the beauty of paradise. On board the Nile cruise, you will find a perfect balance of elegance and historical wonders that will make your trip unforgettable. The Nile cruise takes you on a unique adventure through ancient civilizations while enjoying modern amenities. The tour begins in Luxor which is a mystical land that is decorated with structures and was called the city that has a hundred doors. You will wonder at the Valley of the Kings in Luxor, the magnificent Karnak Temple, the Hatshepsut Temple, the Luxor Temple, and many other sights that tell stories of the past of ancient Egypt.
Once you continue your trip, the Nile cruise sails to the city of Aswan, and along the way, you will discover treasures such as the Kom Ombo temple and Edfu temple, which are a symbol of victory. The Philae temple will inspire you with its unique beauty, and the Abu Simbel temple will astound you with its wonderful structure. The Nile cruise will take you to wonderful attractions to discover the magic and the secrets of history, while also creating a romantic vibe for honeymooners who seek a combination of culture and romance. Every moment on board the Nile cruise is a celebration of romance that is designed especially for making unforgettable memories. As you and your partner glide through the landscape where history and beauty meet, you will create memories that will last forever while experiencing the excitement of romance in this magical land.

3. Travel to the Magical of Hurghada City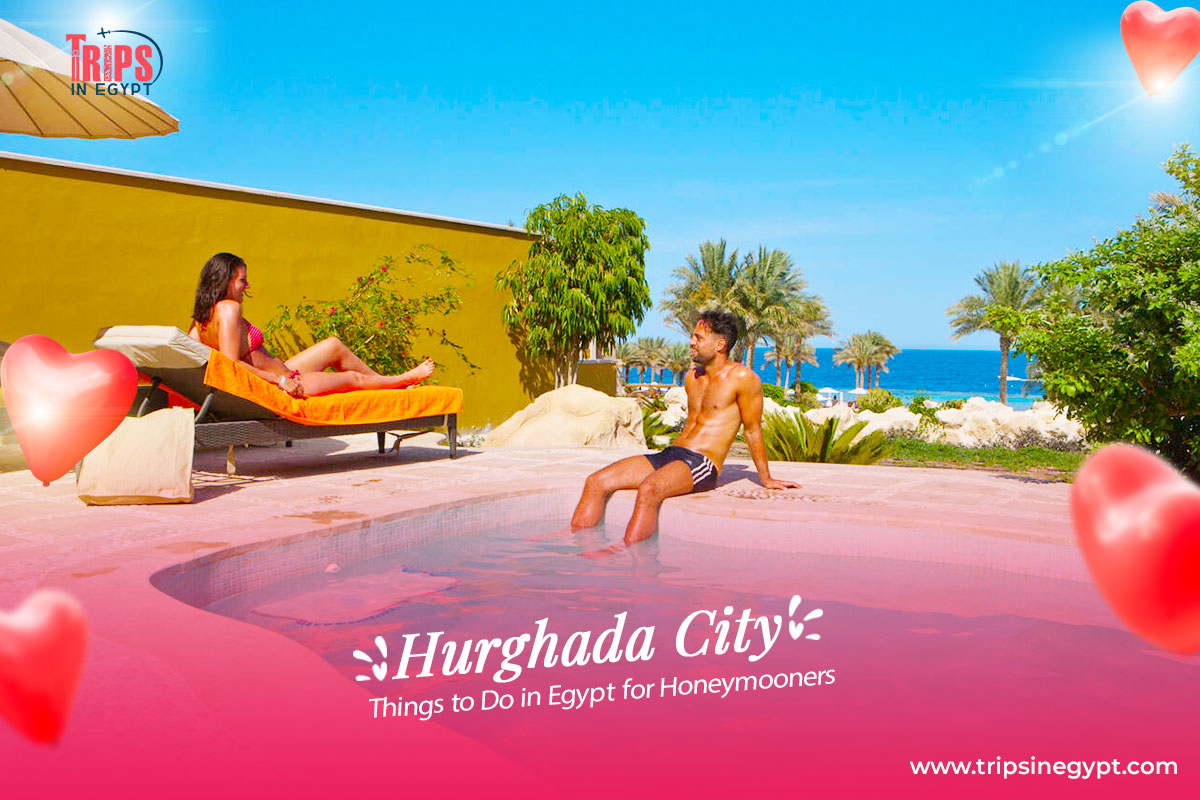 Experience the magic of the Red Sea with a honeymoon in Hurghada that will take your breath away. This wonderful city is a slice of heaven on earth where you can enjoy the best of romance. It stretches along 60 miles of breathtaking coastline and contains 7.5 miles of golden Hurghada beaches and Desert Mountains. You can dive into the amazing marine world of the Red Sea and try out amazing water sports such as flyboarding, windsurfing, kitesurfing, diving, and snorkeling. Hurghada also offers lively vibes as it has many amenities, such as luxurious hotels, delicious restaurants, sunbeds, relaxing spas, and nightlife. You can enjoy your holiday in Hurghada by visiting the Giftun Islands which is a paradise of tropical fish that will amaze you with their beauty, you can snorkel in the clear blue water and see the amazing underwater world, or just relax on the soft white sand and enjoy the air and sun.
The Giftun Islands are a wonderful place to enjoy as they are a protected area, so you can experience the untouched beauty of nature. You will discover in the beautiful city of Hurghada a stylish complex that has different dining, and entertainment options, you can walk along the pier and see the impressive yachts, or have a romantic meal with a view of the harbor, plus, Hurghada Marina also has live music and entertainment events, so you can have some fun and dance with your love the night away. You can also explore the many attractions around Hurghada such as visiting the beautiful Lighthouse Reef, discovering the ancient temples of Luxor and Aswan, going fishing, witnessing the largest dam in the world, and experiencing the Bedouin Fishing Village. Hurghada is also famous for its diving sites, as it has some of the best diving sites in the world, where you can see colorful corals, dolphins, turtles, and amazing fish. You can also enjoy Dahab and explore safari tours by riding camels, taking jeep rides, or enjoying boat trips.

4. Explore Luxor Where Brilliance Meets Beauty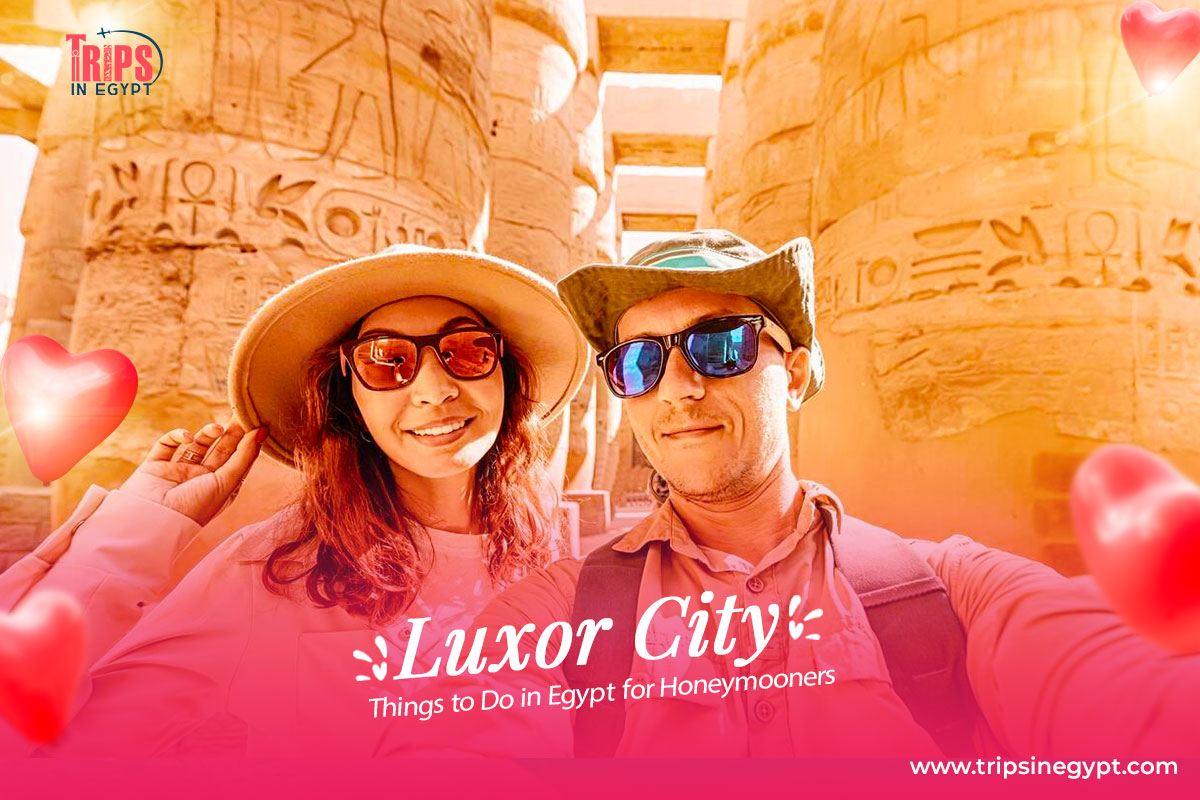 In Luxor, you will discover the ancient secrets of love and beauty while exploring the greatest monuments of the past. Luxor is located on the east bank of the Nile River in southern Egypt, it is called the world's largest open-air museum, as it contains many ancient monuments and tombs of pharaohs and nobles. Luxor is now also a modern city as it has a lively atmosphere where you can enjoy local cuisine, luxurious hotels, markets, and nightlife. It is a popular destination for tourists who want to experience the best of both ancient and modern Egypt. This beautiful city is the final resting place of many Kings and Queens from the New Kingdom of Egypt era (1570-1050 BC). Their tombs are hidden inside a mountain in the Valley of the Kings where you can find over 60 decorated with mystery. Some of the most famous tombs belong to Amenhotep I, Thutmose, Tutankhamun, Seti I, and the Ramses II dynasty. You will be greeted by the colossal statues of Memnon in Luxor that were carved under the rule of Amenhotep III. These giant statues are the guardians of the city of Luxor, and they are waiting to welcome you to enter a world of Egyptian grandeur. The temple of Queen Hatshepsut also was built in 1479 and was one of the most successful pharaohs in Egyptian history.
This beautiful temple shows the vision and leadership of Queen Pharaoh through its beautiful architecture. Luxor transforms into a magical place when night falls, so you can see its giant, magnificent temples decorated with amazing lights. You can enjoy the best things to do in Luxor at night, which is visit Luxor Temple, which was dedicated to the Sun God Amon, the Moon God Khonsu, and the Mother Goddess Mut of ancient Egyptian religion. The highlight of Luxor is the Karnak temple, which is a masterpiece of love among the gods and goddesses of ancient Egypt. Luxor temple is one of the oldest and largest religious complexes in the world. Make sure to visit Luxor on your honeymoon as this amazing destination is perfect for honeymooners who want to experience something unforgettable, this amazing city tells a story of ancient love, and mystery through its temples and tombs.

5. Experience Lots of Sunbaths in Siwa Oasis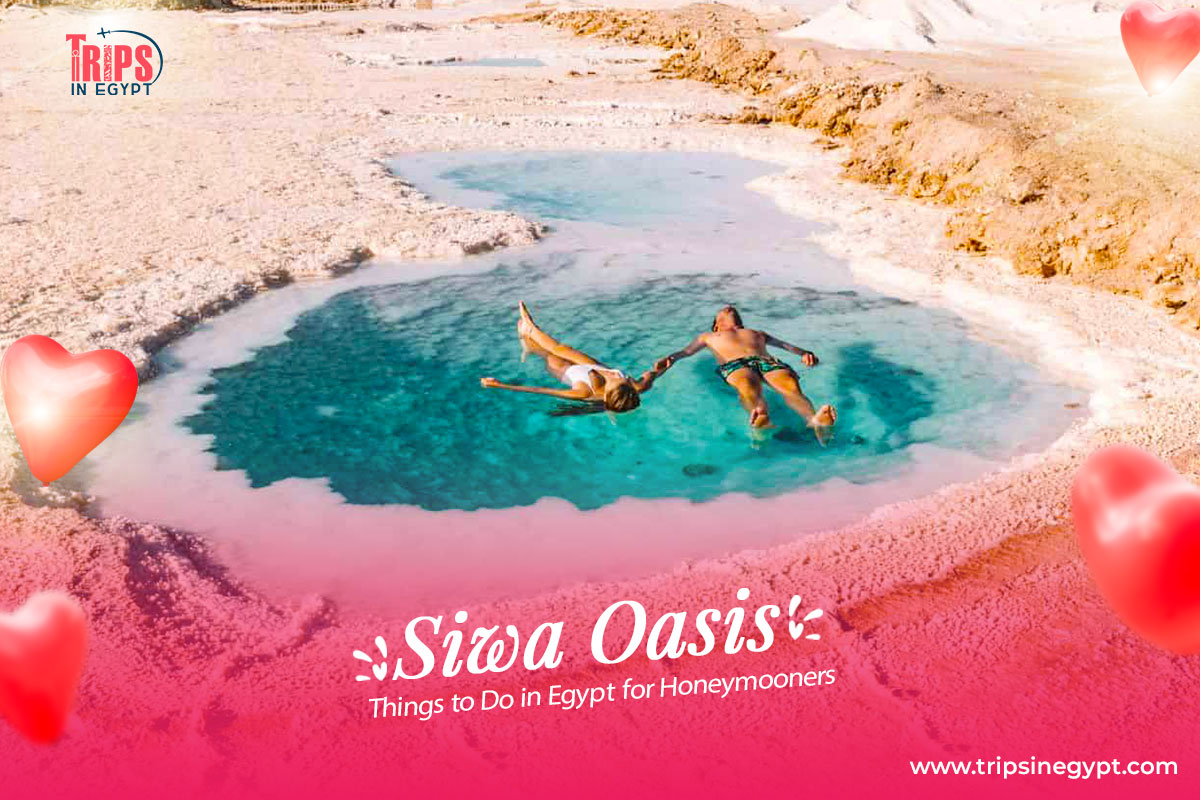 If you are looking for a honeymoon that is both romantic and unique, then you will love visiting Siwa Oasis in Egypt. Siwa Oasis is a true wonder that will make your honeymoon unforgettable, as you and your partner will enjoy the beauty of the Western Desert where Siwa Oasis is located. Your package will include a sand bath experience, this is a wellness ritual that will relax and rejuvenate you and your partner so you can feel the warmth and healing of the sand. Siwa Oasis is not only a place of peace and relaxation but also of adventure and discovery. You will be amazed by the views of the Great Sand Sea and the Qattara Depression. Siwa has hundreds of natural springs that offer refreshing water for bathing, and swimming such as the Spring of Queen Cleopatra.
If you want to explore the history of Egypt, you can visit the Temple of the Oracle, the Fortress of Shali, Az Zeitun, Bilad Ar-Rum, and Gebel Al Mawta. The Siwan people are Berbers who speak a special language and have their own traditions, so you can learn more about their way of life by visiting the House of Siwa Museum, and exploring their traditional clothing, and jewelry. You can also shop at the markets, and buy souvenirs for your beloved ones such as baskets, carpets, clothes, perfumes, pottery, and silverware. You will enjoy with your partner delicious Egyptian local food, which includes dishes such as tagen, Bishara, and Agwa. Along your stay in Siwa, you will meet nice locals who love the travelers, and learn about their traditions. Just focus on celebrating your love and making wonderful memories with your love in Siwa.

6. Dive Into the Blue Hole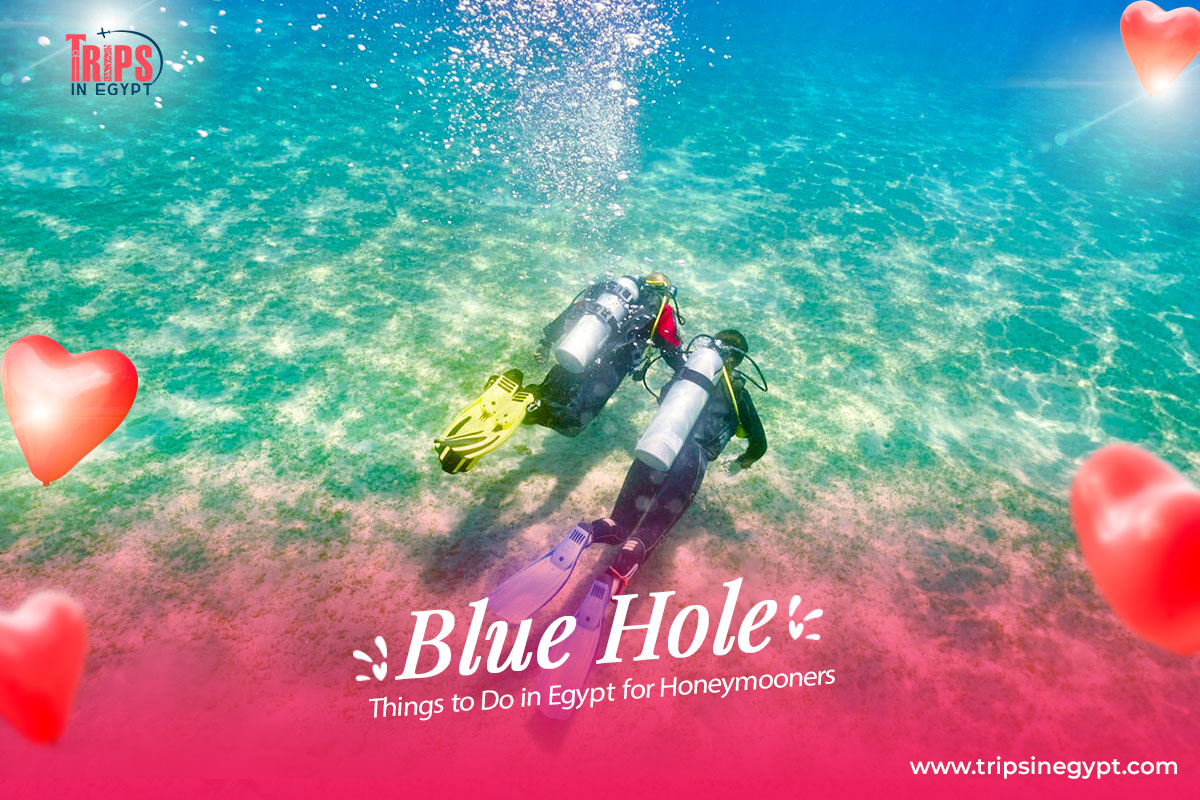 Dahab is a wonderful town in the southeastern of the Sinai Peninsula where couples can enjoy a romantic retreat or a memorable honeymoon. You can also visit the Dahab Art Center where you can admire the local art and culture, or buy some souvenirs for your loved ones. Dahab is also a great place to learn more about the history and traditions of the Sinai Peninsula, you can visit the Monastery of Saint Catherine which is one of the oldest Christian monasteries in the world, or the Nabq Protected Area which is home to rare plants and animals. You can also experience the Bedouin lifestyle by joining a desert safari or a dinner under the stars. You can also have some fun and excitement with your partner, or just relax and enjoy each other's company. Dahab has a wonderful vibe as it has many dining options such as Ali Baba, Yalla Bar, and Churchill's.
This beautiful town also has many amazing activities for couples to have fun. One of the most romantic activities in Dahab is diving at the Blue Hole, as it is the deepest and most amazing underwater attraction. You can dive into its blue waters and enjoy your honeymoon adventure. You can try your fishing skills at the Bedouin Fishing Village for some adventure, but the most exciting part of Dahab is its diving spots where you can discover some of the most amazing underwater wonders in Egypt. Dahab also offers you the chance to experience safaris, you can ride a camel on the golden sands, or camp at Mount Sinai. If you are looking for a place with romance in every corner, Dahab has it all.

7. Enjoy the Unique Beauty of Sahl Hasheesh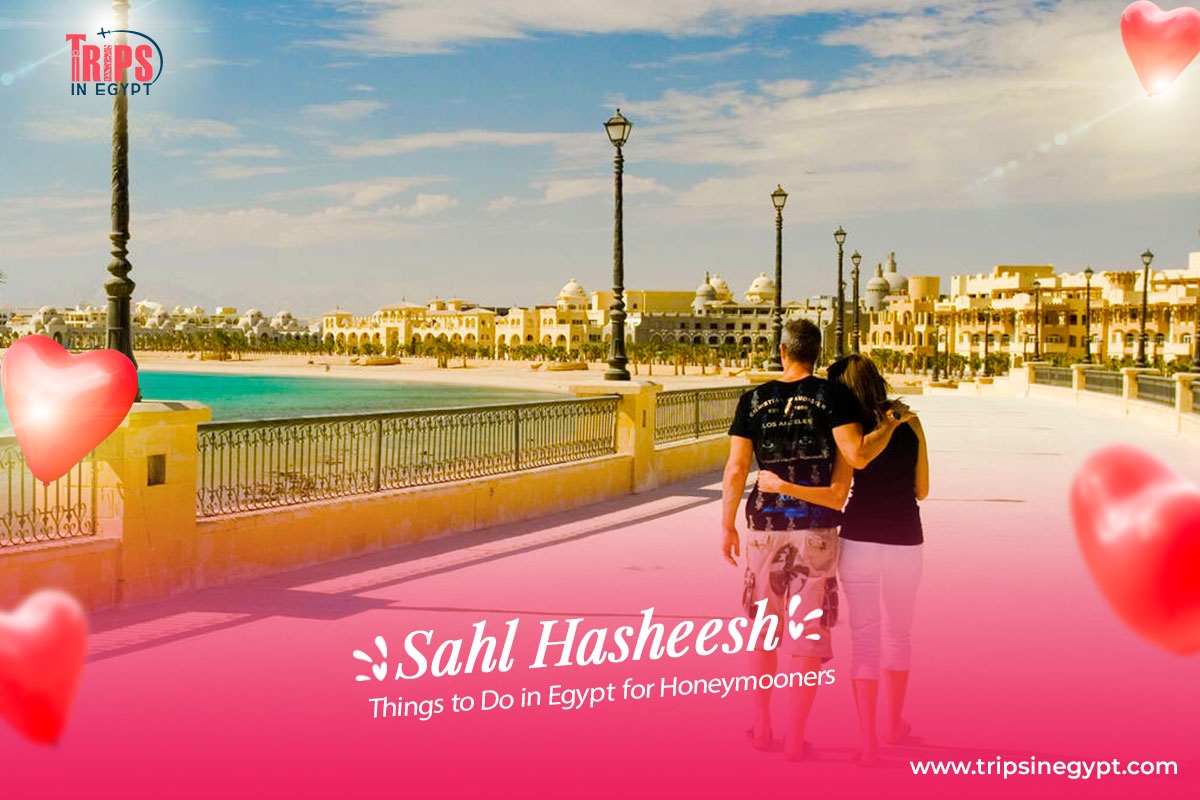 Do you dream of discovering a hidden place that will make your honeymoon unforgettable? If yes then Sahl Hasheesh is the best place to celebrate your love with your sweetheart! This marvelous destination is located on the Red Sea coast between Sharm El Sheikh and Hurghada, so it will surely give you a unique experience that will refresh your body. Explore the breathtaking beauty of Sahl Hasheesh where the sea and the mountains create a wonderful view of nature, and enjoy the breathtaking views that will captivate your eyes and your heart; it is really a paradise of fun and has many activities that suit honeymooners.
You will be amazed by one of the main attractions of Sahl Hasheesh, which is the Sunken City. It is a submerged replica of an ancient Egyptian city that lies under the waters of the Red Sea. Explore this amazing site by snorkeling or diving and see the columns and temples. It is a unique opportunity to discover a hidden treasure. If you are looking for more adventure, you can also try some of the water sports that are available in Sahl Hasheesh, you can enjoy windsurfing, kite surfing, parasailing, jet skiing, banana boat, water skiing, or take a boat trip to some of the amazing islands and enjoy the sun. You will have a lot of fun and excitement with your partner as you experience the excitement of these activities. You can walk with your love along the promenade and see the shops, cafes, restaurants, and bars that offer different types of international and local cuisines and enjoy entertainment options. Sahl Hasheesh is a perfect choice for honeymooners and a precious wonder of the Red Sea, and it is ranked among the most popular honeymoon destinations in the world. Just imagine spending some quality time with your partner and enjoying the atmosphere of Sahl Hasheesh.

8. Love Vibes Grow in Alexandria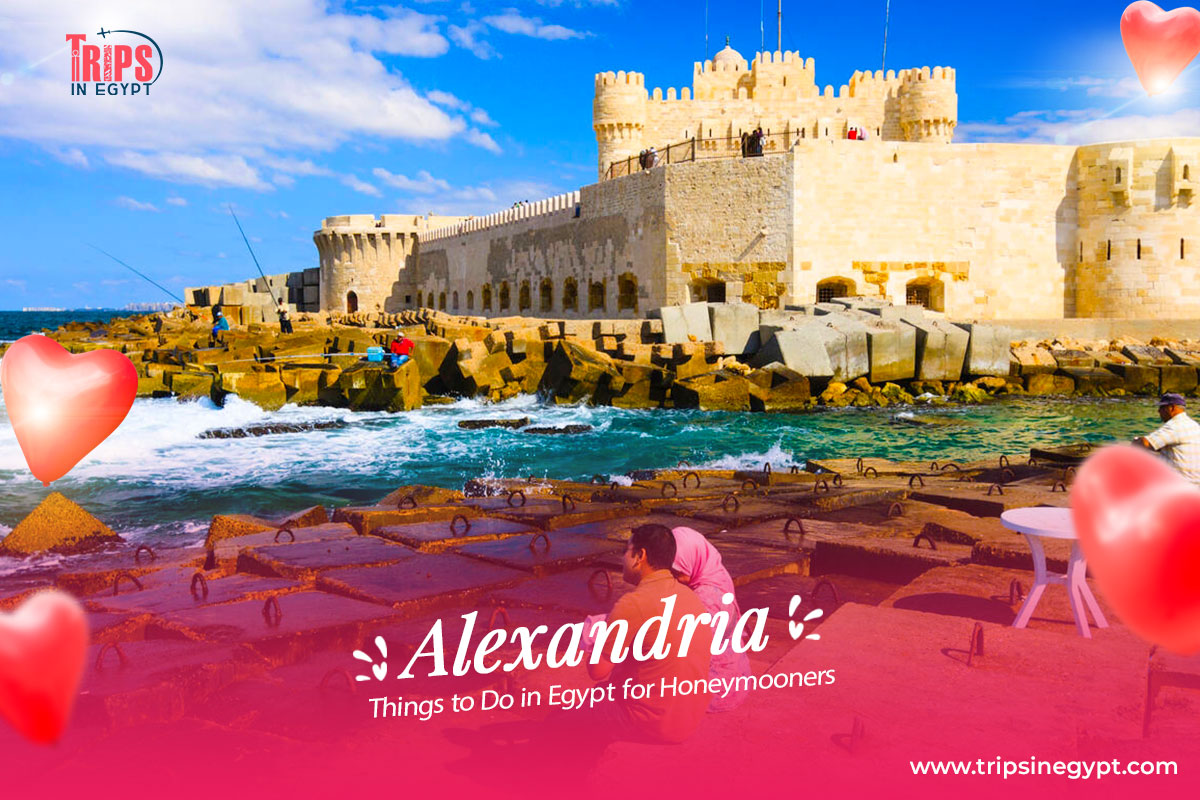 Alexandria is a dream destination for honeymooners who want to experience the best of the Mediterranean Sea. This city has it all such as breathtaking beaches, crystal-clear waters, history, cuisine, and lively nightlife. Alexandria also has the largest library in the world, which is a sign of its historical importance. You will be amazed by the natural beauty that surrounds you and the memories that you will make as you visit the Qaitbay Citadel. It is a symbol of lasting love and a perfect destination for your honeymoon. You will also uncover amazing things to do in Alexandria when you explore its secret places, you can visit Haramlek (Al-Montazah) which is the royal palace, and enter the world of royalty that once filled this lovely seaside city. You can enjoy a guided tour that shows you the royal garden of King Farouk, and the palaces that have seen many stories of love if you want a truly royal experience.
Another reason why Alexandria is a great choice for your honeymoon is its delicious cuisine. You will be able to taste the flavors of Egypt as you dine in some of the best restaurants in the city, and you can try famous seafood dishes such as Sayadiya, Bamia, Hawawshi, Kebda Eskandrani, and Shorba. You can also enjoy traditional Egyptian desserts such as Basbousa, Kunafa, goulash, and om Ali. You can enjoy the nightlife in some of the bars and clubs in Alexandria and dance to the music of local and international DJs. You can also watch some of the best shows and performances in the theaters of the city, see a play at the Roman Theater, or watch a movie at one of the many cinemas. Alexandria is a perfect destination for your honeymoon because it is easy to get around and explore some of the best of Egypt, you can use different modes of transportation such as taxis, buses, trams, or even bikes. Do not forget to walk at night with your lover along the historic sites by visiting the beautiful Stanley Bridge, and enjoying the romantic vibes that Alexandria creates.

9. Take a Hot Air Balloon in Luxor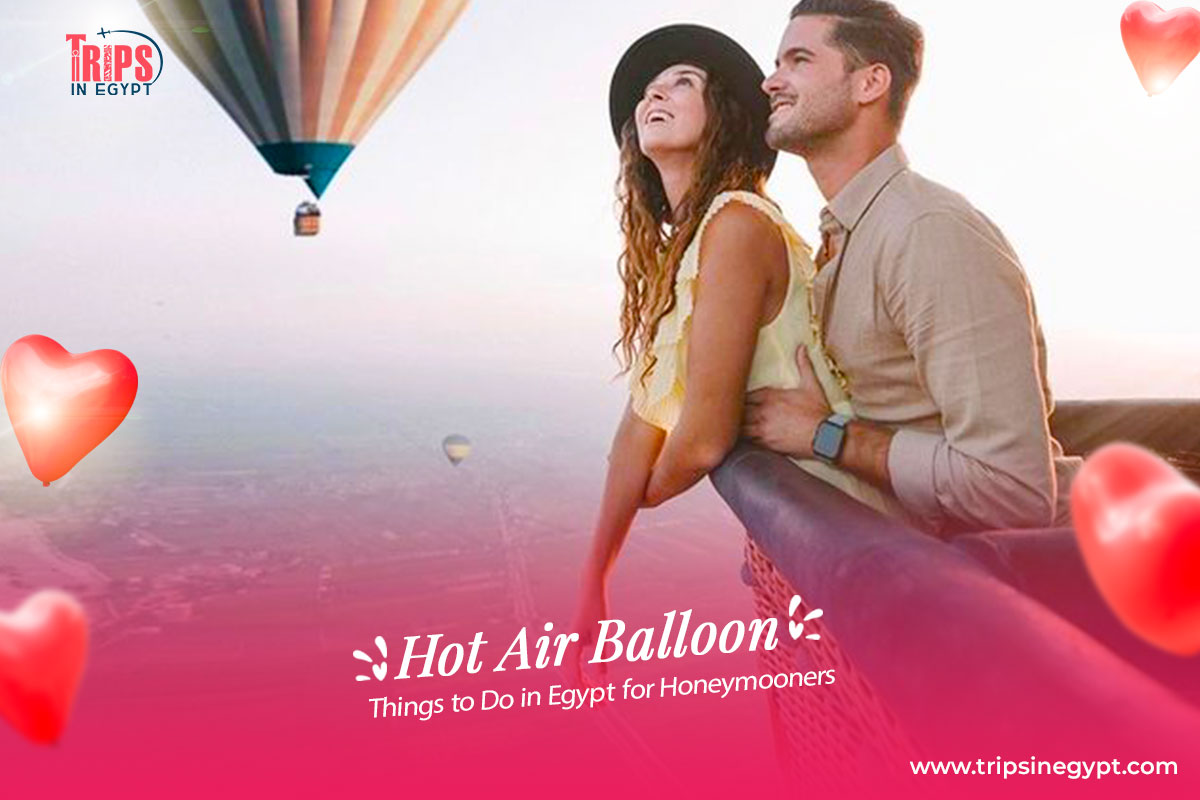 Taking a hot air balloon ride over Luxor is a wonderful way to celebrate your honeymoon; you and your partner will have a romantic and magical experience once you watch the sunrise over the ancient wonders of Egypt. You will see the Valley of the Kings and Karnak which have stood for thousands of years along the banks of the Nile River. The hot air balloon ride in Luxor allows you to see not only the historical monuments but also the unique beauty of Luxor city.
Once you board the balloon, you will enjoy seeing the green fields, and the desert from a high vantage point, and you will be able to take amazing photos and enjoy a panoramic view of the landscape. The experience is quiet and relaxing and ideal for starting your new life as a couple. Safety is taken into consideration during these rides, as there are skilled pilots for your safety and also for an enjoyable journey. The whole trip, from getting ready to landing is handled professionally and will allow you to relax and focus on the romance and beauty of the moment with your partner.

10. Have a Dinner Cruise in the Nile River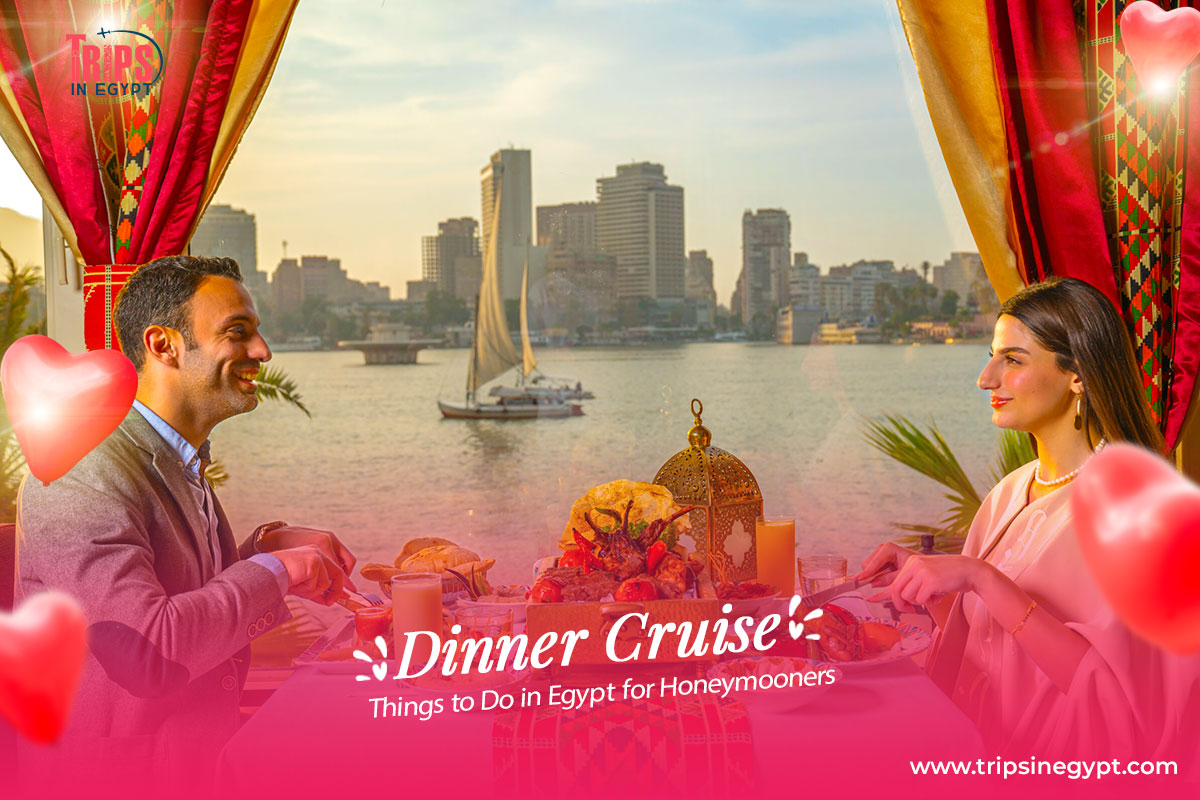 Having a dinner cruise in Cairo is a wonderful way to celebrate your honeymoon with romance. You and your partner will have a lovely time dining on the Nile River and admiring the natural beauty of Cairo.
You will also enjoy authentic Egyptian food and the lively entertainment of belly dancing and the Tannoura show that is accompanied by traditional folklore music. The Dinner Cruise is an amazing experience that blends delicious cuisine and the atmosphere of the Nile River.

11. Camp With Your Beloved One by the Sea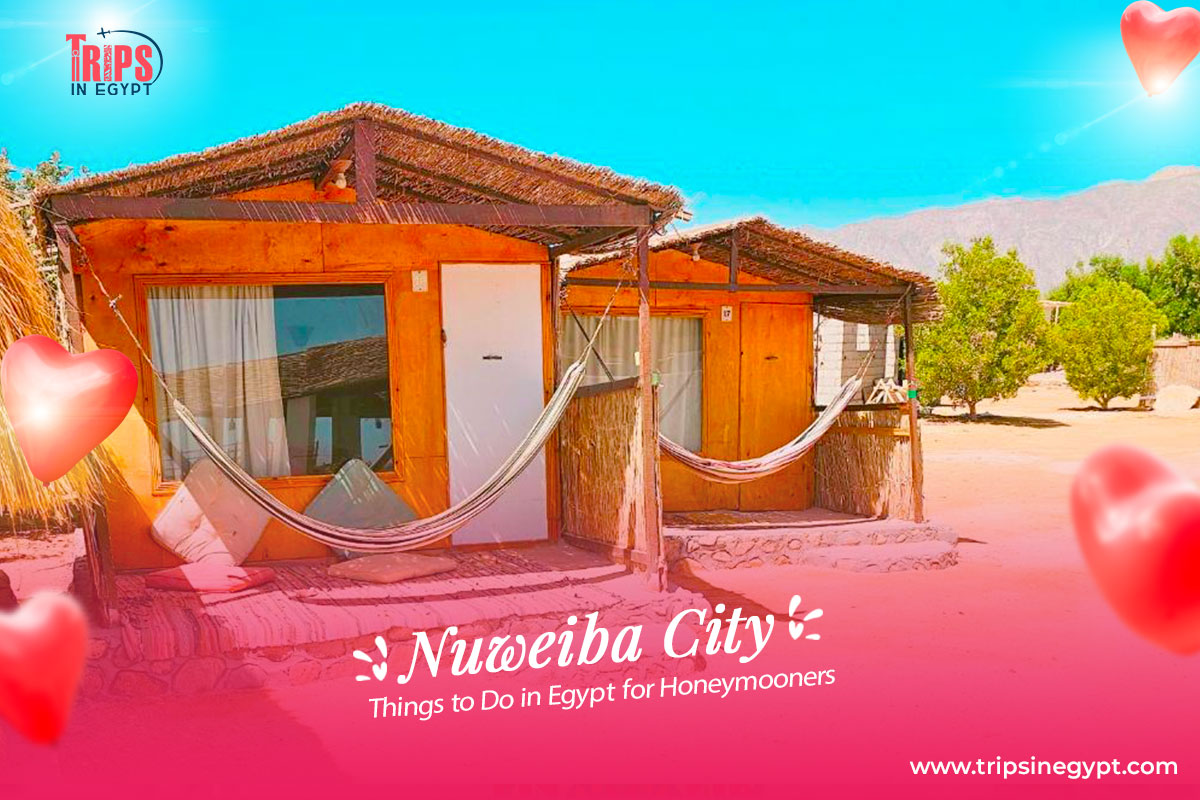 Nuweiba is located on the Eastern side of the Sinai Peninsula where the mountains and the sea create a breathtaking landscape. You will be amazed by the sound of the waves on the shore, as you wake up to a magnificent view of the mountains and the sea. The unique beauty of Nuweiba lies in its unspoiled scenery which offers a romantic atmosphere for your honeymoon. The peaceful environment and the clean beaches create a calm atmosphere where you and your partner can focus on each other and the special moments you share by spending nights under a starry sky and cuddling by a fire, it is a slice of heaven for couples who want to make unforgettable memories.
Snorkeling and diving are some of the best activities that you can enjoy in Nuweiba if you want to witness the beauty of nature underwater. You can also take a safari trip to the Colored Canyon, where you can witness the rock formations and the different shades of colors. You can also taste their delicious cuisine such as the lamb tagine with fresh bread. You can also visit the historical sites in Nuweiba such as the Castle Zaman which dates back to the 12th century.

Eternal Romance: Honeymoon Escapes in Egypt
Egypt is a wonderful honeymoon destination for newlyweds, and our Egypt Honeymoon packages are here to offer you a chance to explore the best of Cairo, including the Great Pyramids of Giza, Khan El Khalili Bazaar, the Egyptian Museum, and many more. You can also enjoy our Nile River Cruise between the glorious cities of Luxor and Aswan, where you can visit the most famous landmarks of Upper Egypt. You will also enjoy the breathtaking resorts of Hurghada, Sharm El Sheik, El Gouna, and Marsa Alam, as there are many exciting activities like diving, snorkeling, flyboarding, surfing, and more where every newlywed will have an entertaining time.
You can book your most suitable Egypt Honeymoon package now and live the honeymoon of your dreams. Please do not wait any longer; contact our operation department to make your honeymoon in Egypt a reality and create memories with your soulmate in this magical land.
FAQ
What Should I Wear While Being in Egypt?
You should wear whatever you want. It is advised to wear something light from cotton or linen, comfortable and put on sunblock during your time in Egypt in the summer and wear comfortable footwear like a closed-toe shoe to sustain the sandy terrain.
What to Pack for Your Egypt Tour?
You should bring a brimmed hat and sunglasses if you not used to the Egyptian sun &pack everything you could ever need and put in a small bag so you could move easily between your destinations.
Are All Nile Cruises Available at Any Time?
Yes, it is available all years. as the Nile from Aswan to Luxor takes three to four days of sailing on Monday, Wednesday and Friday for the total cost of 600$ and the Nile cruise from Luxor to Aswan take four to five days in Saturday, Monday and Thursday for the coast of 650$.
We have experience in vacation planning for more than 10 years & our staff consists of the most professional operators, guides and drivers who dedicate all of their time & effort create the perfect vacation. All of our tours are customized by Travel, Financial & Time advisors to fit your every possible need during your time in egypt. we always keep in mind that your safety & comfort are our main priority until you return home.
Is it safe to travel to Egypt?
Yes, it is absolutely safe to travel to egypt, You will feel secure in Egypt as the current atmosphere of the country is very peaceful after the government took powerful measures like restructuring the entire tourist police to include all the important and tourist attractions in Egypt and construct an entire environment dedicated for ensuring the lives of all tourists.
What are Egypt's Visa Requirements?
They are very simples, If you want to apply for a Visa On Arrival that lasts for 30 days then you should be one of the eligible countries(check the link), have a valid passport with at least 6 months remaining and pay 25$ USD entry fee in cash. As for the E-Visa for 30 days, you should have a valid passport for at least 8 months, complete the online application, pay the e-visa fee then print the e-visa to later be presented to the airport border guard. You could be one of the countries eligible for a free visa for 90 days.
What is the Weather is Like?
The temperature of Egypt ranges from 37c to 14 c, Summer in Egypt is somehow hot and winter is cool and mild but sometimes it becomes cold at night. The average of low temperatures vary from 9.5 ¡ÆC in the wintertime to 23 ¡ÆC in the summertime and average high temperatures vary from 17 ¡ÆC in the wintertime to 32 ¡ÆC in the summertime while the temperature is moderate all along the coasts.
What is the Best Time of Visit Egypt?
It is known the best time to travel to Egypt is in the winter from September to April as the climate becomes a bit tropical, a warm atmosphere with a winter breeze. You will also be notified a week before your trip if the weather is unsafe or if any changes have been made.
Should I Give Tips in Egypt?
It is totally up to you, but if you choose to you can tip the servers at your restaurant 5-10% by handing it to them directly and 5 Egyptian Pounds as a general tip of anyone.
Can I Enter the Pyramids?
Yes, you can enter the pyramids for the small fee of 20$.
How to Enjoy Egypt During Ramadan?
Ramadan is a special time of year for Muslims that should be celebrated by non-Muslims and feel the essence of the Islamic culture. You can fast with the Muslim or just observe but you are always welcome to join the celebrations and festivals.