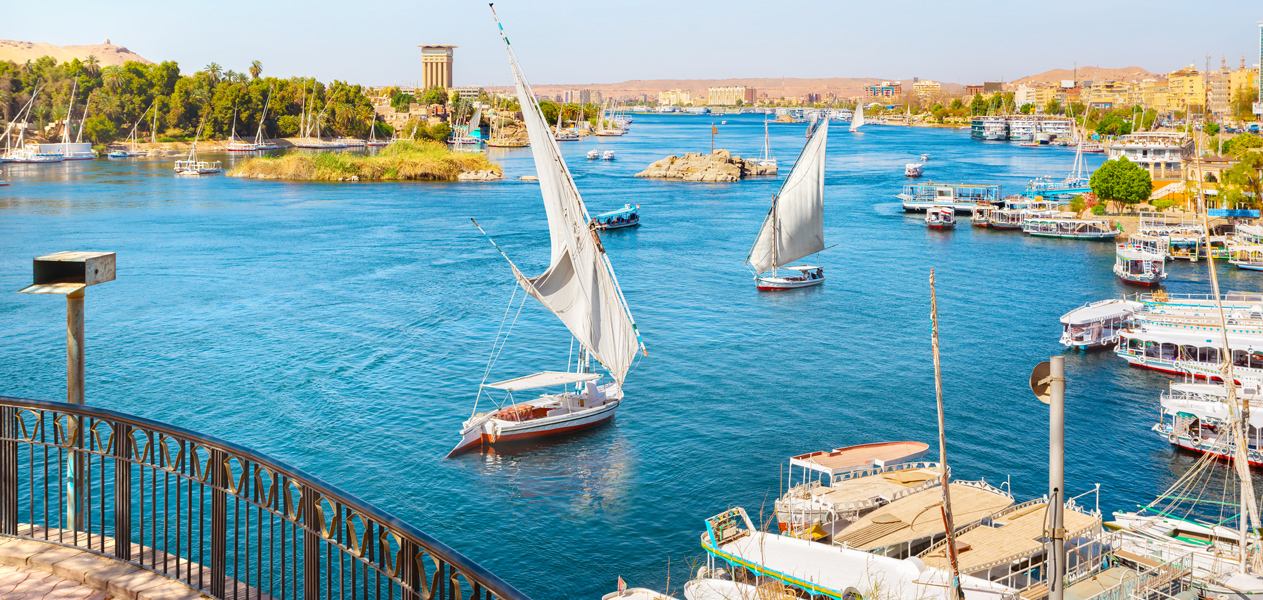 Aswan "The Nubian City"
The History of Aswan
Aswan has always been a city of great importance, it is considered to be a central market although it's the smallest of the three touristic cities on the Nile, it used to be Ancient Egyptian's gateway to Africa and was in the ancient time a garrison town for the military campaigns against Nubia. Here is all the info about Aswan:

Where is Aswan Located?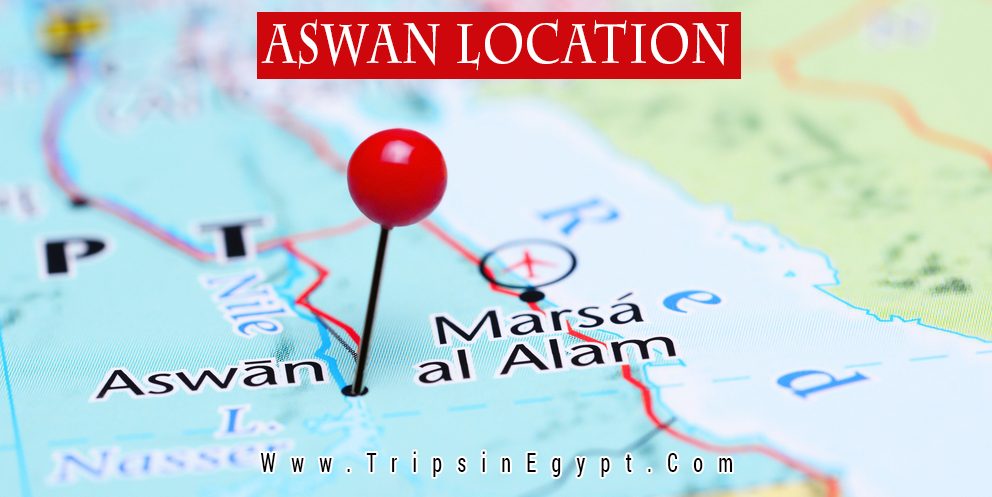 It's a city in the south of Egypt that is located 680km south of Cairo just below Lake Nasser and Aswan High Dam, it has a population of 275000, it has a large population of Nubian people, the Nile is 650m above Aswan.


Facts About Aswan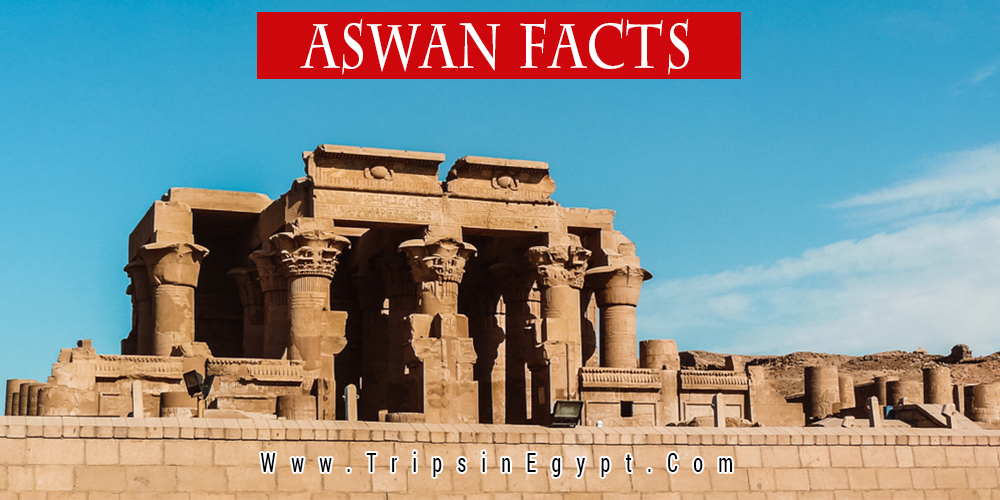 It is the ancient city of "Swenett", a name that derived from an ancient goddess, who was identified later as Eileithyia by the Greeks. Swenett was the southernmost town in Egypt, it was also important as a military station as under every dynasty, it was a garrison town. its location was an object of great interest to the Ancient geographers.
It was so important as it controlled all communications of the Nile, the tombs in Aswan play also great importance as they represent the old and middle kingdoms that are opened for visitors today so that they have an insight into the greatness of the Ancient civilization. There were fields of Syenite granite, quarried for the wealth of shrines and monuments around the country, including many pyramids, which makes it a unique touristic place.


Aswan Climate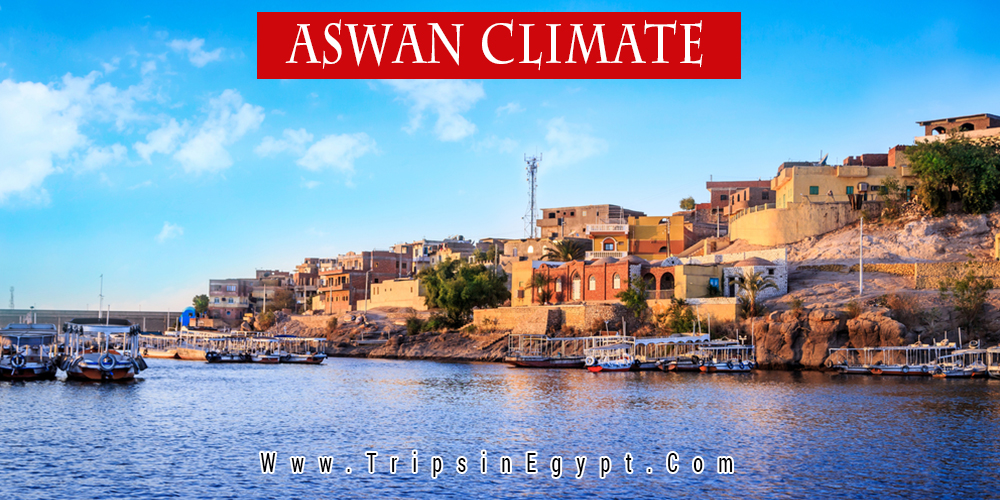 Aswan has a hot desert climate just like other countries in Egypt. It has the driest and hottest climate compared with other cities. The average of its temperature is above 40c in summer. It is sunny most of the year and clears which makes it fascinating and unique in all seasons of the year. Here are the average temperatures of Aswan along the year:
|   | Jan | Feb | Mar | Apr | May | June | July | Aug | Sept | Oct | Nov | Dec |
| --- | --- | --- | --- | --- | --- | --- | --- | --- | --- | --- | --- | --- |
| Avg. Temperature (°C) | 16.9 | 18.5 | 22.1 | 27.5 | 31.9 | 33.4 | 34.4 | 34.2 | 32.3 | 28.7 | 23.4 | 18.6 |
| Min. Temperature (°C) | 9.9 | 10.8 | 14.4 | 19.1 | 23.7 | 25.3 | 26.7 | 26.6 | 24.6 | 21.4 | 16 | 11.8 |
| Max. Temperature (°C) | 23.9 | 26.2 | 29.9 | 35.9 | 40.1 | 41.6 | 42.2 | 41.9 | 40.1 | 36.1 | 30.9 | 25.4 |
Note: All the degrees are up for a slight chance due to sudden unexpected changes in the climate.


Best Attractions in Aswan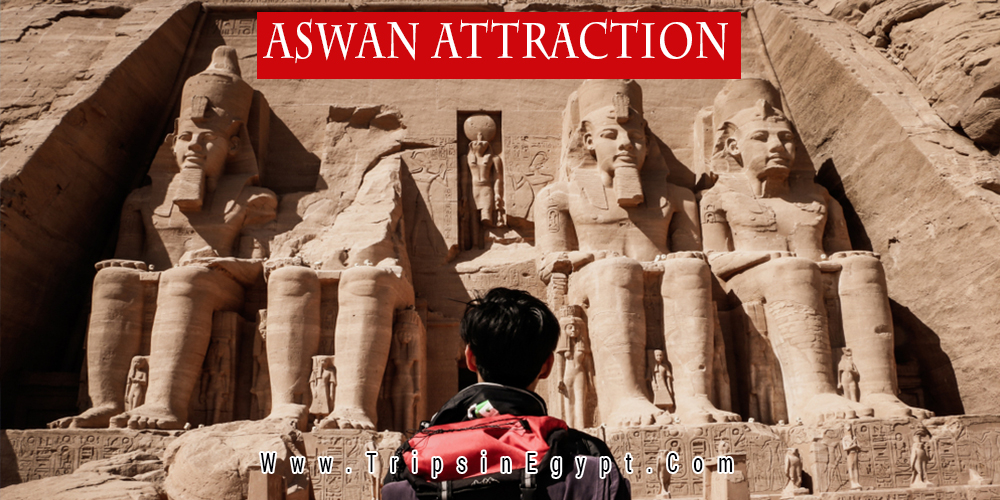 Philae Temple: was built by the Ancient Egyptians for the goddess Isis, the wife of Osiris and the mother of Horus, who are the three prominent ancients representing the Shakespearean drama. It was started by Ptolemy II and completed by the Roman Emperors.
The Unfinished Obelisk: is the largest ancient obelisk that was built by Queen Hatshepsut as a complement to the Lateran Obelisk.
Aswan High Dam: This is an embankment dam that was built in Aswan between 1960 and 1970. It helped in the agricultural process and in providing many jobs for youth in Egypt. It provides water for about 33600km of irrigation land.
Abu Simbel Temple: is a unique place, located southwest of Aswan about 240 kilometers Abu Simbel is an ancient temple complex, Abu Simbel originally consist of two temples cut into a solid rock cliff one of them refers to King Ramses II, and the other built for his wife Queen Nefertari.
Nubian Village: is a charming village inhabited by Nubian indigenous. There is nothing more enjoyable than a visit to a Nubian Village in Aswan and seeing the Nubian culture 'up close it is truly a lovely experience with unparalleled colorful painted houses and happy smiley people.
Edfu Temple: is a majestic Egyptian temple located on the west bank of the Nile in Aswan. It was built between 237 and 57 BC and is considered one of the best-preserved ancient monuments in Egypt.
Kom Ombo Temple: is an exceptional temple in Aswan Governorate. It was constructed by the Ptolemaic from 180 BC to 47 BC. The temple of Kom Ombo is dedicated to Horus the falcon-headed deity and Sobek the crocodile deity.
Nubian Museum: is located in the southern part of Aswan. It contains remarkable Nubian treasures that have survived before the flooding of Nubia.
The Fatimid Cemetery: is located over a small hill and contains 80 tombs that date from the seventh to the 12th century A.D.
Ferial Garden: is located in the middle of the city. A very interesting place that has emphatic views along the River Nile from both directions.
That's not all, there are also hidden attractions in Aswan, So Take your exploration tools and head to uncover the best-hidden attractions in Aswan.

Things to Do in Aswan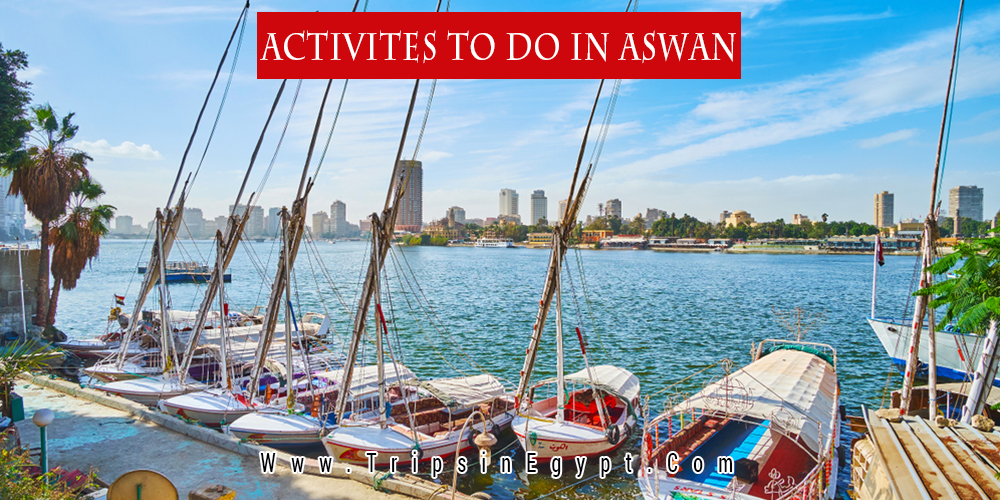 Enjoy Egypt Nile cruise packages: this allows you to have a closer look at discovering the fabulous beauty of Egypt while enjoying the beautiful weather.
Having a trip to Abu Simbel from Aswan: permits you to visit the two masterpieces of the Ancients that were built during the reign of Ramses II. Everything about these two statues is gorgeous starting from the paintings, the hand-carved pillars, carvings, and many other things that make Abu Simbel one of a kind.
A tour to the Monastery of St.Simeon: which was dedicated to the Coptic saint Abba Hendra. It was constructed in the 7th century.
-Having a camel ride; that lets you be in the Ancient sites to enjoy the beautiful Nubian surroundings of the desert.
A Nile Felucca to Kitchener's Island: is the home to the most spectacular gardens in the world. It's considered to be Aswan's second significant island that was given as a gift to king Kitchener for his efforts in the Sudan Campaign.
Explore Edfu and Kom-Ombo temples from Aswan.
There are other gorgeous activities to do through our Aswan day tours. Also, you can visit Aswan another best destinations in Egypt through our Egypt vacation packages, check it, and choose your dream vacation in the land of pharaohs.
FAQ
What Should I Wear While Being in Egypt?
You should wear whatever you want. It is advised to wear something light from cotton or linen, comfortable and put on sunblock during your time in Egypt in the summer and wear comfortable footwear like a closed-toe shoe to sustain the sandy terrain.
What to Pack for Your Egypt Tour?
You should bring a brimmed hat and sunglasses if you not used to the Egyptian sun &pack everything you could ever need and put in a small bag so you could move easily between your destinations.
Are All Nile Cruises Available at Any Time?
Yes, it is available all years. as the Nile from Aswan to Luxor takes three to four days of sailing on Monday, Wednesday and Friday for the total cost of 600$ and the Nile cruise from Luxor to Aswan take four to five days in Saturday, Monday and Thursday for the coast of 650$.
We have experience in vacation planning for more than 10 years & our staff consists of the most professional operators, guides and drivers who dedicate all of their time & effort create the perfect vacation. All of our tours are customized by Travel, Financial & Time advisors to fit your every possible need during your time in egypt. we always keep in mind that your safety & comfort are our main priority until you return home.
Is it safe to travel to Egypt?
Yes, it is absolutely safe to travel to egypt, You will feel secure in Egypt as the current atmosphere of the country is very peaceful after the government took powerful measures like restructuring the entire tourist police to include all the important and tourist attractions in Egypt and construct an entire environment dedicated for ensuring the lives of all tourists.
What are Egypt's Visa Requirements?
They are very simples, If you want to apply for a Visa On Arrival that lasts for 30 days then you should be one of the eligible countries(check the link), have a valid passport with at least 6 months remaining and pay 25$ USD entry fee in cash. As for the E-Visa for 30 days, you should have a valid passport for at least 8 months, complete the online application, pay the e-visa fee then print the e-visa to later be presented to the airport border guard. You could be one of the countries eligible for a free visa for 90 days.
What is the Weather is Like?
The temperature of Egypt ranges from 37c to 14 c, Summer in Egypt is somehow hot and winter is cool and mild but sometimes it becomes cold at night. The average of low temperatures vary from 9.5 ¡ÆC in the wintertime to 23 ¡ÆC in the summertime and average high temperatures vary from 17 ¡ÆC in the wintertime to 32 ¡ÆC in the summertime while the temperature is moderate all along the coasts.
What is the Best Time of Visit Egypt?
It is known the best time to travel to Egypt is in the winter from September to April as the climate becomes a bit tropical, a warm atmosphere with a winter breeze. You will also be notified a week before your trip if the weather is unsafe or if any changes have been made.
Should I Give Tips in Egypt?
It is totally up to you, but if you choose to you can tip the servers at your restaurant 5-10% by handing it to them directly and 5 Egyptian Pounds as a general tip of anyone.
Can I Enter the Pyramids?
Yes, you can enter the pyramids for the small fee of 20$.
How to Enjoy Egypt During Ramadan?
Ramadan is a special time of year for Muslims that should be celebrated by non-Muslims and feel the essence of the Islamic culture. You can fast with the Muslim or just observe but you are always welcome to join the celebrations and festivals.