The History of El-Moez Street
El-Moez street is an outstanding street that was known in Islamic Cairo as Al Moez Ldin Allah Al Fatimi Street. The street is named after the fourth Caliph of the Fatimid Dynasty and the 14th Ismaili imam who reigned from 953 to 975, Al Moez Ldin Allah Al Fatimi. The national government held some renovations in the structure of the street and to the buildings inside it making the street look like an open museum for tourists.


El-Moez Street Location
El-Moez street location starts from Bab Al-Futuh in the north to Bab Zuweila in the south. Its northern part extends from Al-Hakim mosque to the spice market in Al-Azhar Street whereas its southern part extends from the Ghuriya complex to the Bab Zuweila.


The Rehabilitation Project of El-Moez Street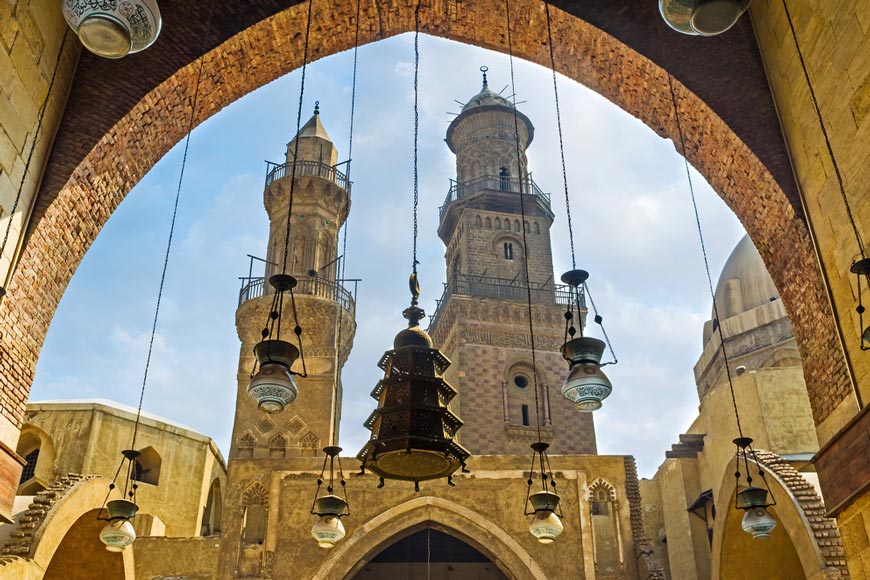 A lot of changes have been held in the construction of the original street. El-Moez street has been repaved and the government restored about 34 monuments along the street as an attempt to make it an irresistible tourist site in Islamic Cairo. There has been also a concentration over the lightening of the street at night so that additional light has been added to throw the focus on the buildings of the street.
Among the terrific buildings in the street, there is:
Al-Hakim Bi Amr Allah Mosque: This mosque was named after the great 6th Caliph of the Fatimid dynasty. It consists of a rectangle that contains four walkways, which surround a courtyard. It was built by the Fatimid vizier Gawhar El-Seiqilli. The most interesting thing about this mosque is its two Minarets, the earliest surviving ones in the city and they attract both locals & foreigners.


Historical Buildings of El-Moez Street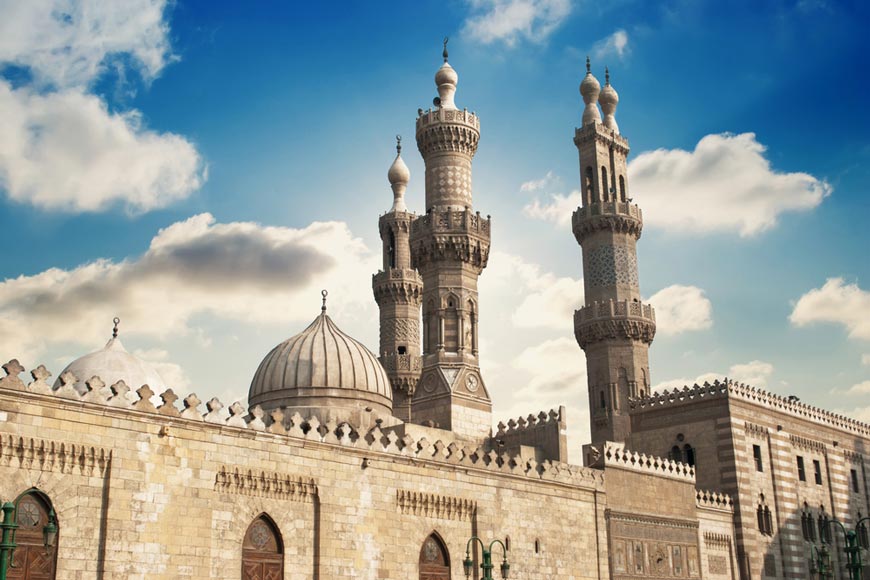 The area around this street and the street itself has many historical buildings. Those buildings are from Amr Ibn El-As era to the different Fatimid, Mamluk, Ayyubid, Ottoman eras and over to & Mohammed Ali's era. In order to discover the great Egyptian culture, you have to pay a visit to El-Moez Street. While walking along the street, you'll find terrific historical cafés, shops, carts, and many other interesting Egyptian symbols. The art used in the construction of the street and its buildings reflect the exquisite history of Egypt during different periods of time.
Discover the Best Places of El-Moez Street from It's North:
| Place Name | Construction Date |  Place Image |
| --- | --- | --- |
| Mosque of Al Hakim bi Amr Allah | 1013 | |
| Wikala of Qaytbay | 1481 | |
| Mausoleum of Ahmad Al-Qazid | 1335 | |
| Sabil-Kuttab of Oda Bashi | 1673 | |
| Mosque of Abu Bakr Muzhir | 1480 | |
| Mosque of Sulayman Agha al-Silahdar | 1839 | |
| Bayt al-Suhaymi | 1648-1796 | |
| Sabil Qitas | 1630 | |
| Khanqah of Baybar al-Gashankir | 1310 | |
| Mosque of al-Aqmar | 1125 | |
| Madrasa of Qarasunqur | 1300 | |
| Sabil-Kuttab of Abdel Rahman Katkhuda | 1744 | |
| Mosque of Gamal al-Din Ustadar | 1407 | |
| Musafirkhana Palace | 1788 | |
| Qasr Bashtak | 1339 | |
| Madrasa of Amir Mithqal | 1363 | |
| Mosque of Mahmoud Moharram | 1792 | |
| Sabil of Ismail Pasha | 1828 | |
| Madrasa of Al-Kamil Ayyub | 1229 | |
| Madrasa of Barquq | 1386 | |
| Madrasa of Tatar Al-Higaziya | 1348 | |
| Qa'a of Al-Muwaqqi | 1350 | |
| Madrasa of Al-Nasir Muhammad | 1304 | |
| The complex of Qalawun | 1285 | |
| Maq'ad Of Mamay Al-Sayfi | 1496 | |
| Mosque of Taghri Bardi | 1440 | |
| Sabil-Kuttab of Khusraw Pasha | 1535 | |
| Madrasa of Al-Salih Ayyb | 1250 | |
| Wikala of Gamal Al-Din Al-Dhahabi | 1637 | |
| Mosque of Sayyidna Al-Husseyn | 1154 | |
| Wikala of Sulayman Agha Al-Silihdar | 1838 | |
Discover The Best Places of El-Moez Street from Its South:
| Place Name | Construction Date |  Place Image |
| --- | --- | --- |
| Mosque of Shaykh Ali Al-Mutahhar | 1744 | |
| Mosque of Al-Azhar | 970 | |
| Mosque of Abu Dahab | 1774 | |
| Madrasa of Sultan Al-Ghuri | 1505 | |
| Wikala of Al-Ghuri | 1505 | |
| Sabil-Kuttab and Wikala of Qaytbay | 1477 | |
| House of Zaynab Khatun | 1713 | |
| House of Sitt Wasila | 1664 | |
| Mosque of Al-Ayni | 1411 | |
| House of Gamal Al-Din Al-Dhahabi | 1634 | |
| Fakahani Mosque | 1735 | |
| Sabil of Tusun Pasha | 1820 | |
| Mosque of Muayyad | 1420 | |
| Wikala and Sabil of Nafisa Bayda | 1796 | |
| Takiya of Al-Gulshani | 1524 | |
| Zawiya of Farag Ibn Barquq | 1408 | |
| Mosque of Salih Tala'i | 1160 | |
| Qasaba of Radwan Bey | 1650 | |

Explore Best Attractions Around Egypt
When you talk about El-Moez Street,  you are in front of a unique artistic Islamic open-museum … you will never find anything like it in the world. So if you admired this attraction and want to explore it in person, so we arrange various Cairo day tours to this street in addition to amazing other destinations in Egypt through our Egypt tour packages. Don't miss the chance and book us now: