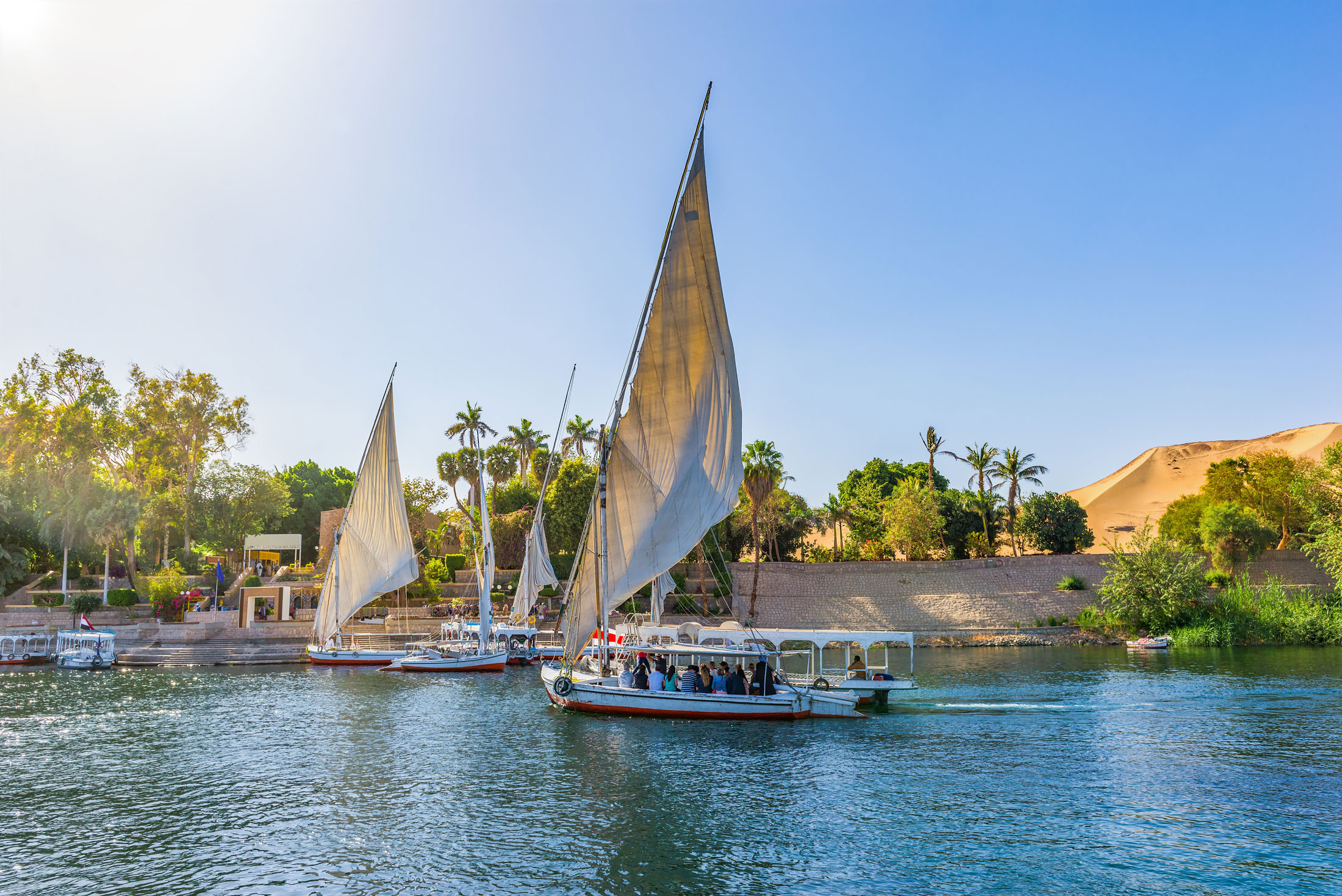 How Many Days Should Spend in Aswan
The beautiful Aswan is situated in Upper Egypt, which is in the south of the country, and was known as Syene in ancient Egypt. The unique culture of Aswan is one-of-a-kind with its people, and wherever you go in Aswan, you are still surrounded by the natural beauty, magnificent gardens, hundreds of feluccas cruising, and the great Nile River. There are tourists from all over the world who visit this beautiful city just to experience its culture, relax on the Nile River, visit ancient archaeological sites, and enjoy its breathtaking beauty.
Aswan is really a wonderful place to enjoy your trip to Egypt, and there are many more opportunities to witness its temples and pharaohs! If you continue reading our attractive article and follow even half of our recommendations, you will have the perfect experience in Aswan. Are you ready? If "Yes" then come on!!!

How Many Days Should You Spend in Aswan City?
The answer to how many days you should spend in Aswan City question depends on your interests and budget. You should spend in this wonderful city at least two full days to enjoy its incredible attractions such as the amazing Philae temple, the Unfinished Obelisk, and the High Dam in the first day. It is a must to explore the impressive Abu Simbel Temple on the second day. If you have enough time to enjoy the breathtaking attractions of Nubia, then you should visit the Nubian Museum, and the Nubian village to learn more about this unique culture of Nubia.
The beautiful Aswan is located on the east bank of the Nile River, this wonderful city is a relaxed city that will capture your heart, and not just to mention your imagination. This amazing city is worth the precious time and money it takes to travel there, as well as the money it takes to have a fantastic experience in Aswan. Properly enjoying your trip to Aswan is essential just to make sure that your trip is truly a once-in-a-lifetime experience. Trips in Egypt team presents in this article the best itinerary you can follow in Aswan to enjoy the ancient Egyptian landmarks that have stood the test of time and continue to amaze us to this day. 

Day One: A Journey through Time and Culture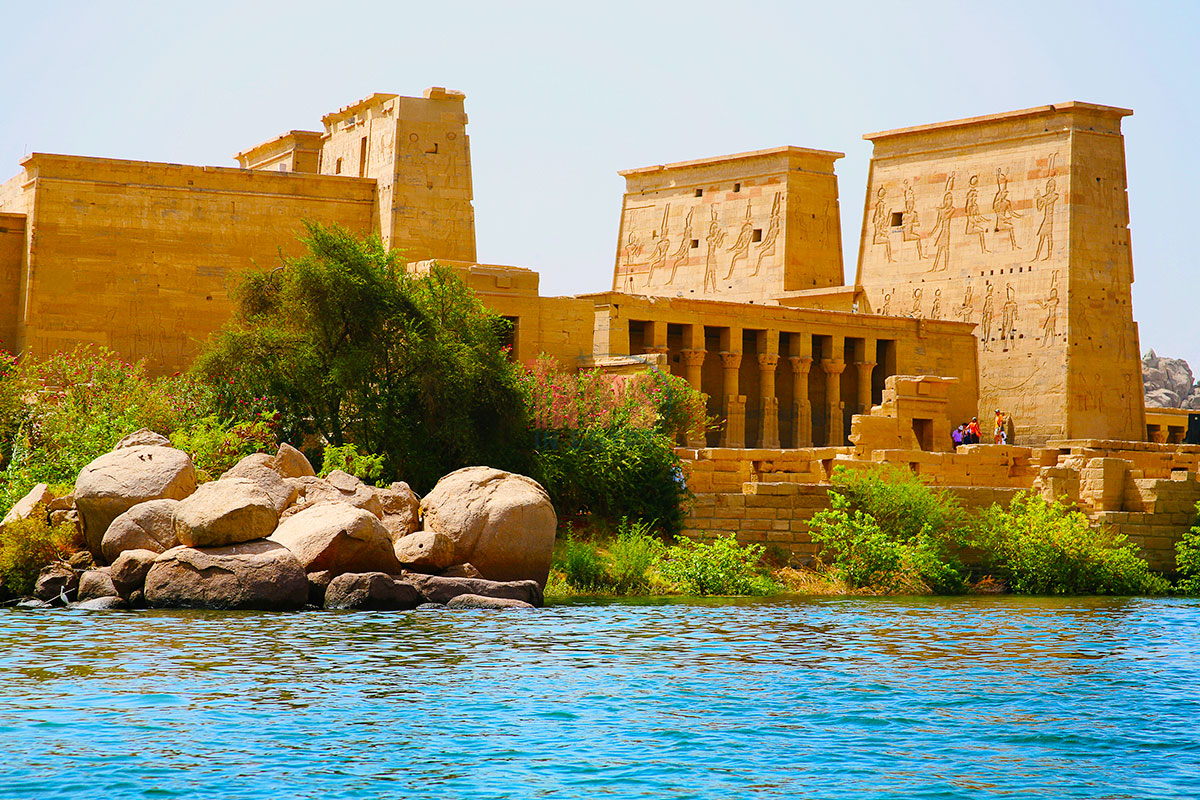 Enjoy your breakfast at your hotel, then get ready to join your tour guide to visit:
Philae Temple
This impressive temple is one of the most gorgeous temples in Egypt, as is found on Aglika Island which lies just south of the old Aswan Dam, and you must take a felucca to arrive at the temple. Philae temple grew to prominence as the center of the goddess Isis' cult during the Ptolemaic Dynasty. This important complex was one of the final sites where the old religion thrived after Christianity arrived in Egypt and was the major temple on the island that was then worshipped as a church by early Christians. The Temple of Isis is the primary attraction at the complex, and there are also other smaller temples in the area on the island that are worth exploring such as the Birth House (Mammisi), the Kiosk of Trajan, the Temple of Hathor, the Temple of Imhotep, the Chapel of Osiris, the Inner Sanctuary (The Holy of Holies) and The Nilometer.
Aswan High Dam
Aswan High Dam is one of the world's largest dams and is found in the heart of the Egyptian desert. The Aswan High Dam "Saad El-Aali", traps the great Nile River in Lake Nasser, the world's third biggest reservoir. During the rainy season, Aswan High Dam gathers floodwater and releases it, and it also generates a huge quantity of electricity which is more than 10 billion kilowatt-hours each year. Do you know what the most impressive thing is? This quantity is enough to run over a million televisions for twenty years!
Lunch Meal
Enjoy your lunch at a local restaurant in Aswan before visiting:
The Unfinished Obelisk
What are obelisks in ancient Egypt? The obelisks are great structures of Ancient Egyptian engineering and are seen around temple entrances. So, what happened to the Unfinished Obelisk in Aswan City which left an unfinished? Perhaps they were overconfident in their talents, as it would have been a third larger than any previously raised obelisk had the construction been completed, while it was being removed from the bedrock, a massive fissure that had appeared. The Unfinished Obelisk now serves as an open-air museum into Ancient Egyptian construction processes.
Aswan Souq
Aswan Souk is a beautiful market that sells African and Egyptian items, the souq of Aswan is also known as "Sharia as-Souq" and it sells the cheapest souvenirs. You can find in Aswan Souq Perfumes, henna powder, spices, T-shirts, peanuts, dried hibiscus flowers, and Ancient Egyptian souvenirs. In back alleyways, sellers have Nubian antiquities including talismans, Sudanese swords, skullcaps, spices, carpets, baskets, and mummified animals like crocodiles.
You will be transferred to your hotel for an overnight stay.

Day Two: The Great Temples of Abu Simbel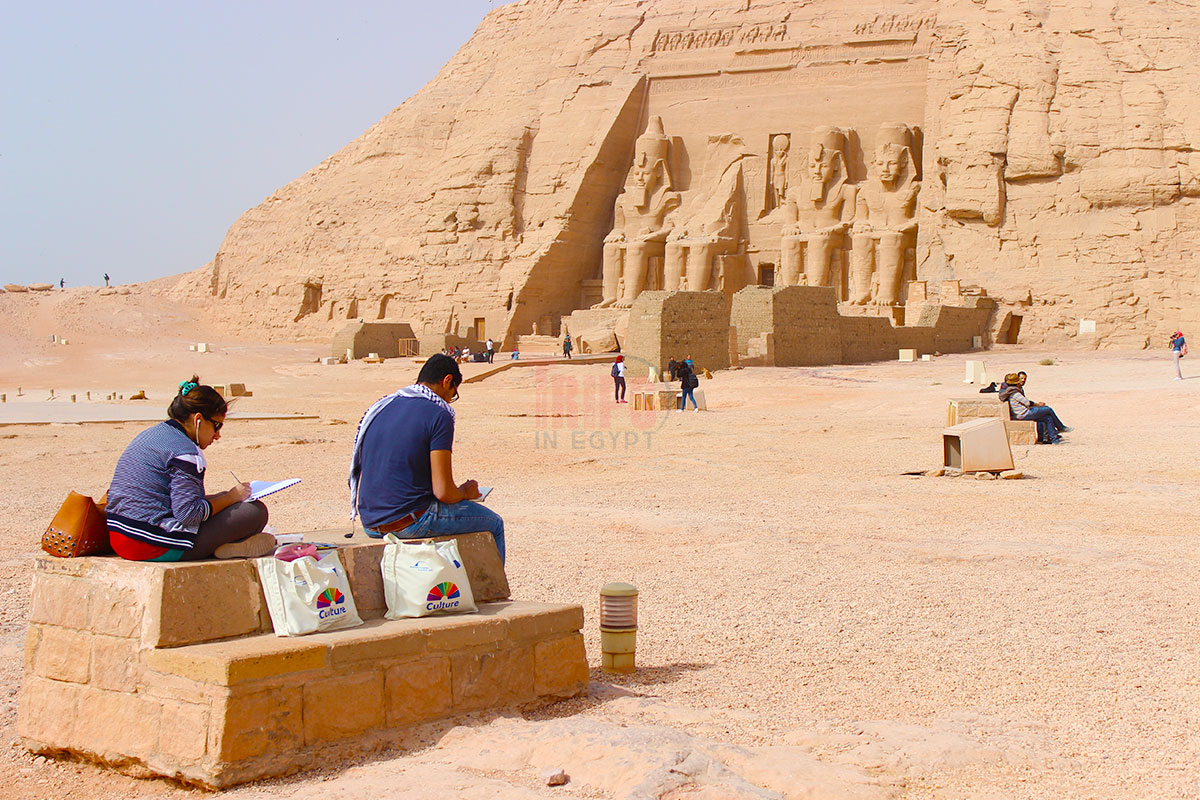 You will have your breakfast box in the early morning, and then you will be transferred to explore the Temples of Ramses II:
Abu Simbel Temples
The Great Temple of Ramses II and the Temple of Hathor overlook Lake Nasser and are some of the most beautiful and famous structures in Egypt. The Temples of Abu Simbel were intended to represent the power of Egypt's rulers to anybody who saw them, the four statues protecting the gateway to the greater of these temples are the biggest structures from the Pharaonic era that have survived to the day and age. You should take an early excursion to arrive in time to watch the sunrise over the desert, it is really worth waking up early for!
Lunch Meal
Have your tasty lunch before transferring back to your hotel.

Day Three: Enjoy some wonders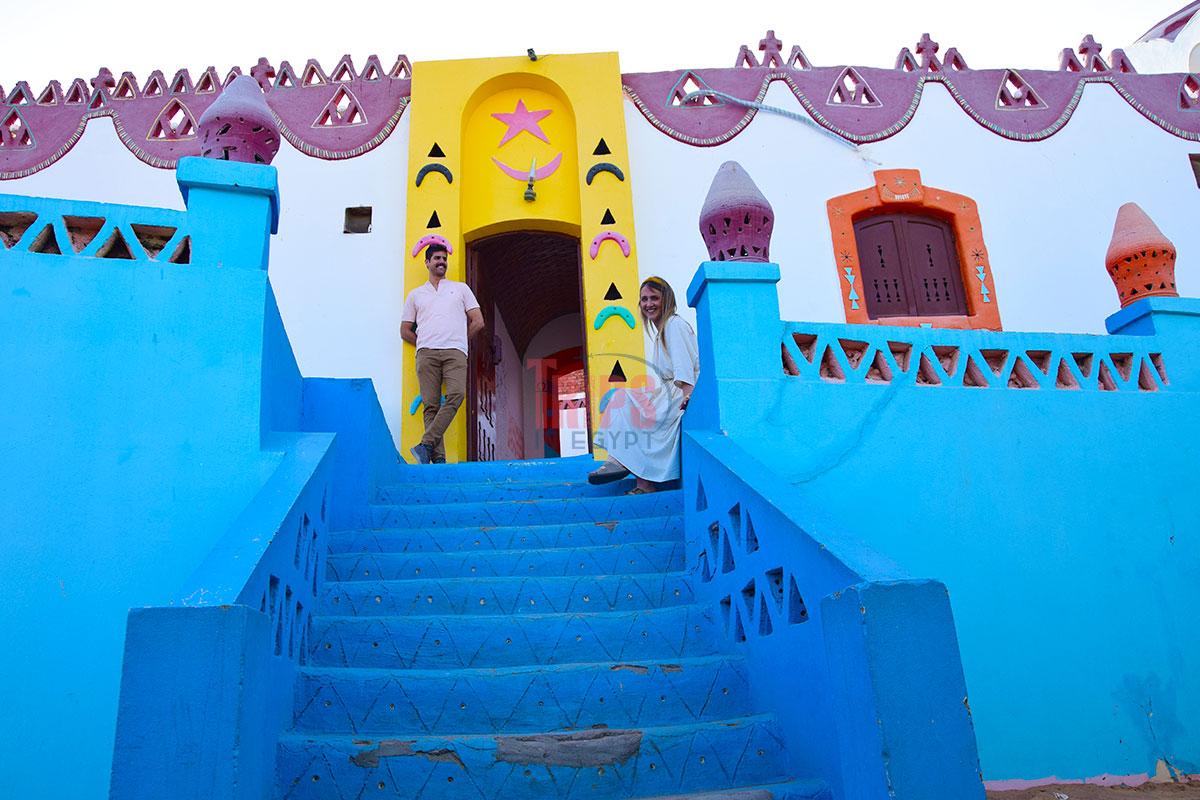 After having your breakfast, enjoy witnessing:
The Nubian Museum
The Nubian Museum in Aswan has three thousand Egyptian antiquities including Pharaonic, Geological, Roman, Coptic, and Islamic. The Nubian Museum contains ninety rare monumental artifacts, while the internal halls of the great museum have over fifty invaluable pieces dating back to pre-historic times, more than a hundred pieces from the Islamic era, more than five hundred pieces from the Pharaonic period, one hundred and forty pieces from the Nubian era, fifty-two from the Coptic era, and three hundred and forty pieces that show the history of Aswan.
Lunch Meal
Enjoy your Egyptian lunch before visiting:
The Nubian Village
You will be amazed by the natural paradise of this amazing village as it is filled with unique natural beauty and wonderful colors and with unique people who have their unique way of customs and traditions. The Nubia has amazing handcrafted crafts, wonderful colors, and jewelry showing many types of art that can be found at Aswan's Nubian Museum. Do not miss visiting this amazing attraction to explore the Nubian village's blessings.
Elephantine Island
This breathtaking island is a popular Aswan attraction that is floating on the Nile River. The amazing island held a strategic location in guarding Ancient Egypt's southern frontiers, and during the 6th dynasty, which lasted more than three thousand years, it was also the worship center of the god "Khnum" This wonderful island is teeming with archaeological sites and old massive remains just waiting to be uncovered. The granite entryway of an Alexander the Great temple was discovered intact and two columns erected by Ramses II were discovered.
The End of Your Trip in Aswan
Aswan City is a true wonder and has plenty to offer any traveler, so if you want to enjoy relaxation, and explore the ancient history of Egypt, contact our operations department. Trips In Egypt Team will arrange your unforgettable trip to Aswan and make your dream trip memorable!

Conclusion
Aswan City is a true wonder in Egypt and it has plenty of so many historical sites, and enjoyable activities to offer any traveler, so if you want to seek relaxation, and peace of mind, and explore the ancient history of Egypt, just make sure that these attractions are on the top of your planning list of must-sees. Check out our majestic Aswan day tours to book your unforgettable adventure in Aswan to Philae Temple, the Unfinished Obelisk, Abu Simbel Temples, and many more attractions that you will be amazed by. Trips In Egypt Team surely will make your dream trip to Aswan memorable!
FAQ
What Should I Wear While Being in Egypt?
You should wear whatever you want. It is advised to wear something light from cotton or linen, comfortable and put on sunblock during your time in Egypt in the summer and wear comfortable footwear like a closed-toe shoe to sustain the sandy terrain.
What to Pack for Your Egypt Tour?
You should bring a brimmed hat and sunglasses if you not used to the Egyptian sun &pack everything you could ever need and put in a small bag so you could move easily between your destinations.
Are All Nile Cruises Available at Any Time?
Yes, it is available all years. as the Nile from Aswan to Luxor takes three to four days of sailing on Monday, Wednesday and Friday for the total cost of 600$ and the Nile cruise from Luxor to Aswan take four to five days in Saturday, Monday and Thursday for the coast of 650$.
We have experience in vacation planning for more than 10 years & our staff consists of the most professional operators, guides and drivers who dedicate all of their time & effort create the perfect vacation. All of our tours are customized by Travel, Financial & Time advisors to fit your every possible need during your time in egypt. we always keep in mind that your safety & comfort are our main priority until you return home.
Is it safe to travel to Egypt?
Yes, it is absolutely safe to travel to egypt, You will feel secure in Egypt as the current atmosphere of the country is very peaceful after the government took powerful measures like restructuring the entire tourist police to include all the important and tourist attractions in Egypt and construct an entire environment dedicated for ensuring the lives of all tourists.
What are Egypt's Visa Requirements?
They are very simples, If you want to apply for a Visa On Arrival that lasts for 30 days then you should be one of the eligible countries(check the link), have a valid passport with at least 6 months remaining and pay 25$ USD entry fee in cash. As for the E-Visa for 30 days, you should have a valid passport for at least 8 months, complete the online application, pay the e-visa fee then print the e-visa to later be presented to the airport border guard. You could be one of the countries eligible for a free visa for 90 days.
What is the Weather is Like?
The temperature of Egypt ranges from 37c to 14 c, Summer in Egypt is somehow hot and winter is cool and mild but sometimes it becomes cold at night. The average of low temperatures vary from 9.5 ¡ÆC in the wintertime to 23 ¡ÆC in the summertime and average high temperatures vary from 17 ¡ÆC in the wintertime to 32 ¡ÆC in the summertime while the temperature is moderate all along the coasts.
What is the Best Time of Visit Egypt?
It is known the best time to travel to Egypt is in the winter from September to April as the climate becomes a bit tropical, a warm atmosphere with a winter breeze. You will also be notified a week before your trip if the weather is unsafe or if any changes have been made.
Should I Give Tips in Egypt?
It is totally up to you, but if you choose to you can tip the servers at your restaurant 5-10% by handing it to them directly and 5 Egyptian Pounds as a general tip of anyone.
Can I Enter the Pyramids?
Yes, you can enter the pyramids for the small fee of 20$.
How to Enjoy Egypt During Ramadan?
Ramadan is a special time of year for Muslims that should be celebrated by non-Muslims and feel the essence of the Islamic culture. You can fast with the Muslim or just observe but you are always welcome to join the celebrations and festivals.