Fascinating Egypt Itinerary 9 Days – Stunning 9 Days Egypt Tour
Wander around some of the most magnificent sightseeing in Egypt through booking one of our Egypt itinerary 9 days and head towards the most impressive landmarks that are located in Cairo, Luxor, Aswan, Alexandria, in addition to having the chance to visit one of the most interesting coastal city in Egypt "Hurghada" to relax and have a lot of fun when booking one of our 9 days Egypt tour to visit all of the great sights which you have always heard about and surprisingly. You also have the opportunity to board one of our 5* Egypt Nile cruise packages to sail in the Nile River and to visit many of the most beautiful attractions in Luxor & Aswan and if course it is a chance that can't be missed. If you determine when you would like to spend your 9 Days in Egypt then contact us ASAP to get the best rate of the tour plus having the ability to customize your tour itinerary yourself to add extra sites and also to remove any sites you don't want to visit and that is why you are the one in control, contact us and book your next trip to Egypt.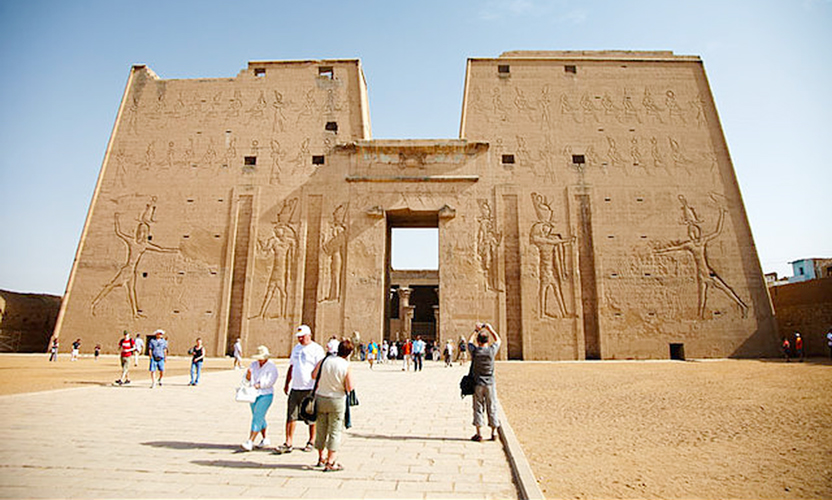 From

950

$ / PERSON
Wonderful 9 Days Egypt Tour to Cairo, Nile Cruise & Alexandria Don't miss the chance to savor the whole nine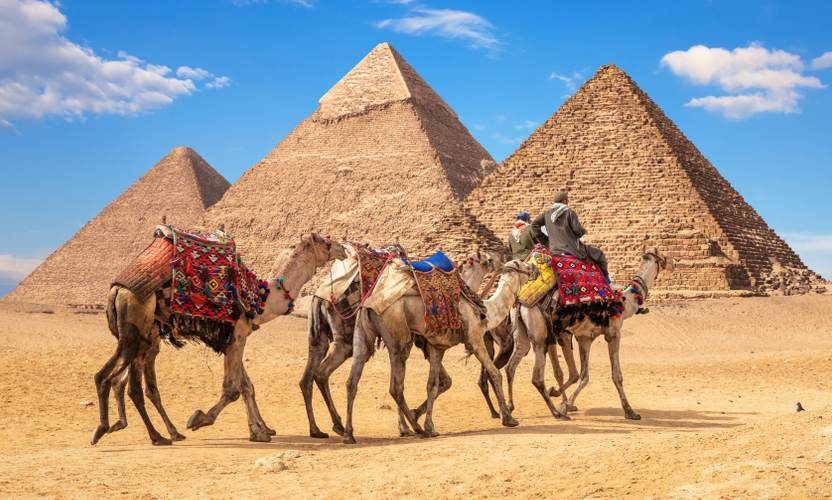 From

850

$ / PERSON
Charming 9 Days Cairo, Alexandria & Sharm El Sheikh If you are looking for the ideal vacation in Egypt, then
From

975

$ / PERSON
Unforgettable 9 Days Cairo, Luxor & Hurghada Tour Package Many people around the world spend their time looking or planning
Discover What You Can Do Through Our Egypt Itinerary 9 Days!!
Egypt itinerary 9 days is totally acceptable to visit some of the majestic attractions in the most essential Egyptian cities and here are some of the most recommended tours for 9 days in Egypt:
First Tour: 9 Days Cairo, Luxor, And Hurghada Tour Package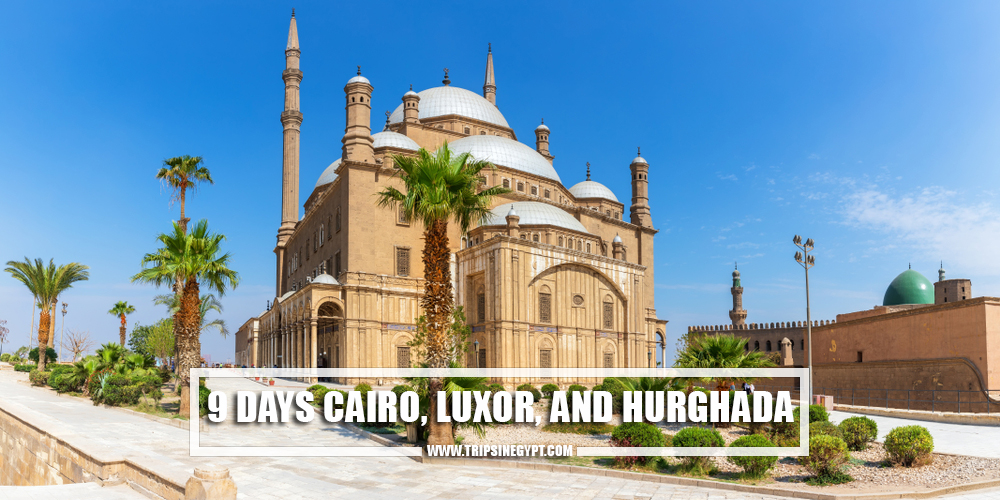 Our Egypt Itinerary 9 days offer a unique opportunity to enjoy the beauty of the Egyptian monuments in Cairo & Luxor in addition to a relaxation tour in the coastal city of Hurghada which is classified to be one of the most interesting cities that is famous for its restaurants, diving & snorkeling sites. Among The Places That You Can Visit With Your Private Tour Guide: The incredible Giza pyramids complex with its great pyramids of Khufu, Khafre, and Menkaure. You will also visit Saqqara step pyramid, the terrific Egyptian Museum, the amazing Salah El Din Citadel & Mohamed Ali mosque, and of course, we can't let you miss the chance to doing some shopping in the largest open-air market that is called "Khan El-Khalili Bazaar". Then you will catch your flight to Luxor to enjoy a fascinating day tour to check some of the best Luxor attractions such as Valley of the Kings, Colossi of Memnon, Hatshepsut Temple, and the amazing Karnak Temple and finally, you will enjoy snorkeling & safari excursions in Hurghada and that is how you are going to enjoy at the most.
Second Tour: 9 Days Cairo, Alexandria, and Nile Cruise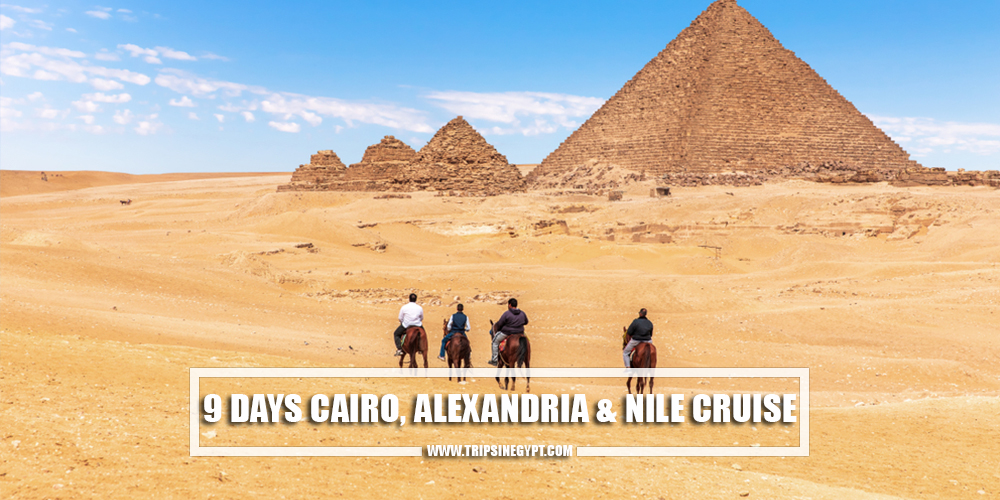 You will enjoy a lot with what this trip has to offer for you as you will visit some remarkable highlights in Cairo such as Giza Pyramids, the amazing Egyptian Museum and you will head in a totally private tour to check some of the incredible attractions in Alexandria such as the Catacomb of Alexandria, Pompey's Pillar, Alexandria Library, and we will let you witness the glory of Qaitbey Citadel. If you thought that it is the end, think again as now you will check-in one of our splendid 5* Nile Cruises to discover the terrific highlights in Luxor, Aswan, and in between including Philae Temple, Aswan High Dam, The Unfinished Obelisk, Kom Ombo & Edfu Temples, and in Luxor, you will visit some of its best chosen highlights in its east & west banks including Valley of the Kings, Colossi of Memnon, Karnak Temple, and a lot of other activities & places that you can discover through our itinerary.
Third Tour: 9 Days Cairo, Alexandria, and Sharm El-Sheikh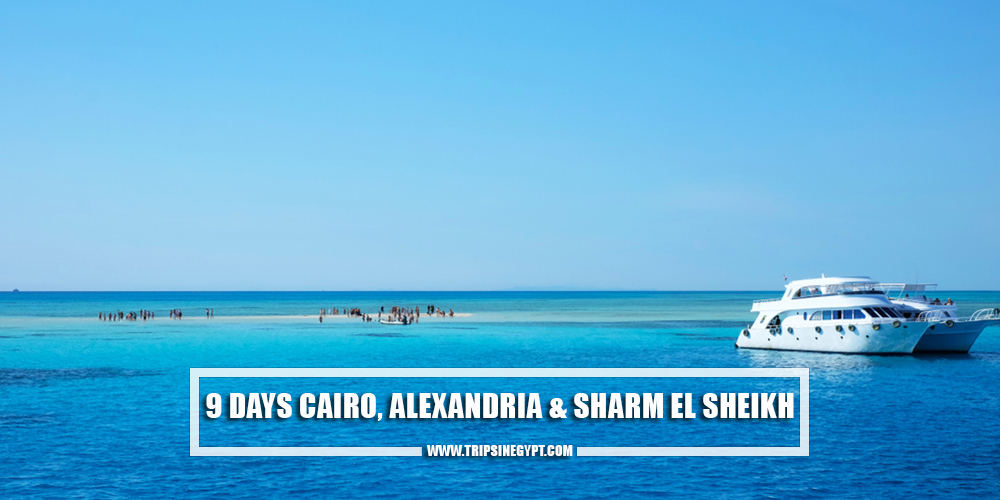 With our 9 days Egypt tours, you will be able to spend 5 nights in Cairo in a 5* Hotel and this will offer you the opportunity to visit some of the adorable attractions in Cairo & Alexandria including Giza Pyramids Complex, the Egyptian Museum, the amazing monuments in both cities like the great citadel of Qaitbey, the mesmerizing Mohamed Ali Mosque & Salah El-Din Citadel and you will enjoy a romantic tour to the beaches of Sharm where you will relax, enjoy a safari & a snorkeling Excursion. Imagine that you can do all of this in only 9 days tour in Egypt with a very reasonable price, do you still hesitated!!
Why Choose "Trips in Egypt" To Arrange Your Egypt Itinerary 9 Days!!
"Trips in Egypt" tries to reach a maximum level of proficiency and that is why you will find with us the best private tours customized especially for you and your family with all of the desired services that you may want to have while being in Egypt plus providing a method of direct contact 24/7 so that you contact us anytime you need help. Our prices are unparallel as the satisfaction of our customers is all that we seek, so book your Egypt itinerary 9 days with us and know that you are in safe hands.