Outstanding Information About The Nile Cruise in Egypt
Egypt is considered one of the most common tourist countries which attract people from all over the world because of its historical highlights which allow you to follow the footsteps of the Ancients and know all about their social life, how they used to construct their buildings, and how they achieved such incredible achievements. There is a truly fabulous way you can follow in order to visit as possible landmarks as you can in Egypt and here is the golden key "Nile Cruises".
You'll surely get surprised from the amount of attractions & landmarks that you'll get the chance to visit while spending your vacation in Egypt including some memorable tombs, some fascinating temples, breathtaking monuments and much more than this & all of this will be while boarding a floating hotel that offers the most desirable facilities & services that you may need.

Nile Cruise Schedule and Types
Nile cruises are your best way to visit a great part of Egypt's destinations on board of floating hotels with the best possible services and you'll get surprised after checking the truly reasonable prices of such tours. There are famous four types of Egypt's Nile cruises:
Nile Cruise from Luxor to Aswan

Pickup Point: Luxor.
Drop Point: Aswan.
Duration: 8 Days/ 7 Nights or 5 Days / 4 Nights.
Availability: Saturdays, Mondays, and Thursdays.

You'll be able while boarding such Nile cruises to visit the east & west banks of Luxor and their spectacular attractions in addition to sailing to Edfu then Kom Ombo, and finally sailing to Aswan to witness its true adorable highlights.

Nile Cruise from Aswan to Luxor

Pickup Point: Aswan.
Drop Point: Luxor.
Duration: 8 Days/ 7 Nights or 4 Days / 3 Nights.
Availability: Mondays, Wednesdays, and Fridays.

While booking such Nile Cruises, you'll visit Aswan attractions, sail to Kom Ombo then Edfu, and finally sail to Luxor to visit its major landmarks.

Luxury Dahabiya Nile Cruise

Pickup Point: Luxor or Aswan.
Drop Point: Aswan or Luxor.
Duration: 5 Days / 4 Nights or 4 Days / 3 Nights.
Availability: Every Day.

Dahabiya Nile cruise gives you a great experience for sailing on the river Nile which allows you to discover the enchanting sites of ancient Egypt in a luxury way. Dahabiya Nile cruise takes you on a luxury small Nile cruise boat where you can enjoy the romance of the past with modern comfort and convenience that you dreamt of.

Lake Nasser Nile Cruise

Pickup Point: Aswan or Abu Simbel.
Drop Point: Abu Simbel or Aswan.
Duration: 5 Days/ 4 Nights or 4 Days / 3 Nights.
Availability: Mondays, Wednesdays, and Fridays.

Through Lake Nasser Nile cruise, you will enjoy a timeless journey through the fable of Nubia on a luxurious cruise across the serene waters of Lake Nasser where you will explore the hidden temples located behind the Aswan dam as well as Abu Simbel.

Facilities on the Nile Cruise
The best thing about Egypt Nile cruises is that they contain onboard the best things that you may need and you won't have a chance to carry with you. If you booked a luxury Nile Cruise, it will have the facilities of a normal 5* Hotel including:
1- An amazing swimming pool, a totally relaxing sun deck and in addition to this, you will have your own en-suite, A.C cabins and it will be great to book your own cabin on the upper deck.
2- You will find all of the needed facilities onboard Nile cruise starting from restaurants, sun deck, and a lot of interesting things that will make your accommodation truly one of its kind.
3- Most of the cabins are equipped with twin bedded cabins with their own private facilities like a private bath with bathtub, hairdryer, Large panoramic opening windows, LED TV within house music and video channels, and a safe box in each cabin.
4- Surprisingly that is not all as there is much other interesting staff of the board of a Nile cruise including internal telephone, a fridge, Telephone system with international calls, Mini Bar & room service, Doctor on calls onboard, Gymnasium, Laundry service & housekeeping.
5- If you are searching for the best place to relax on comfortable sofas, the lounge bar will be the best choice for you. You can enjoy it there with a cocktail before dinner and spend a magical night full of entertainment in the evening.
6- The Plunge pool on the sundeck of the Nile Cruise has exceptional beds & towels and there are some chairs & tables in a shaded area so that you can relax at the most.
7- That is not all as there is also a shop on the board of Nile Cruises in Egypt where you will have the ability to buy some essentials & souvenirs.

The Top Attractions to Visit Through Nile Cruise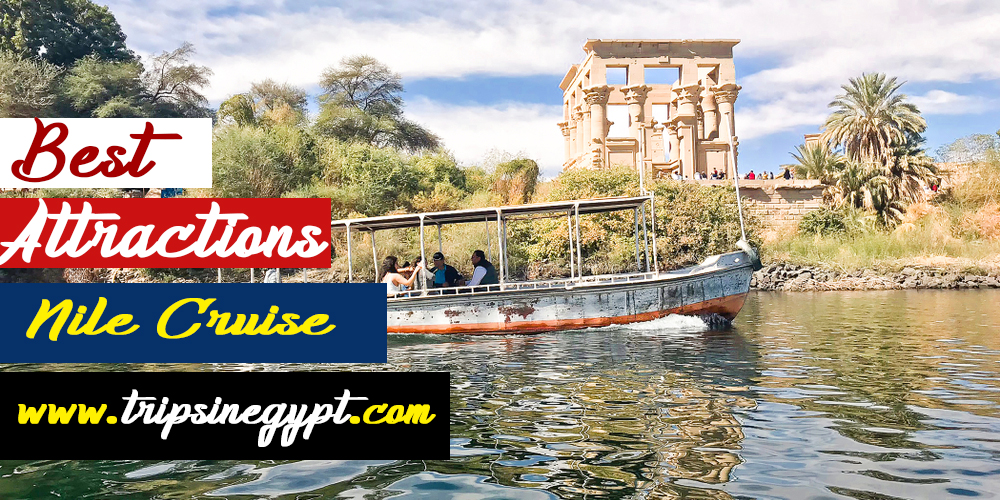 Almost of Nile cruises happened on Upper Egypt between Luxor and Aswan, it's worth experiencing where you can relax on the boarding of the cruise and see the enchanting beauty of the banks of the Nile. Here some  information about two-cities:
Luxor – The Capital of Ancient Egypt
Luxor is known with its true masterpieces monuments that can be counted to be more than one-third of the world's monuments and of course this is enough to let you imagine the number of unbelievable tourist sites that you can witness while heading to such a city.
You can head to the east bank of Luxor where you will visit some remarkable temples which are called "Karnak & Luxor temples". They were built by a lot of pharaohs and they witness a lot of changes to reach their current construction.
Then, you'll need to be transferred to the West Bank, which will amaze you with its tiptop landmarks including the majestic Hatshepsut temple of the Queen who ruled Egypt for a period more than any other Queen, and of course you'll get the need to visit the last resting place of Egypt's pharaohs and it is located in Valley of the Kings, the site where you'll find tombs of Tutankhamun, Ramesses II, Seti I, and many other rulers whose tombs narrate the majority of their achievements through the inscriptions above them.
You will also have the ability to visit Colossi of Memnon, the last lasting pieces of the mortuary temple of Amenhotep III, and don't forget to let your tour guide tell you about what happened to the temple of Amenhotep. And last but not least, you'll also head to Abydos & Dandara temples, where you'll act like a true adventurer, trying to discover all about the secrets of pharaohs.
Aswan – The Nubian City
The city where everything is unique and impressive, whether its Nubians, its attractions, its adorable customs, and much more. While being in Aswan, you can join your private tour guide who will take you to its most attractive temple "Philae Temple" that was once dedicated to Isis "The Ancient Deity of Love" and know all the mysteries that revolve around such a magnificent religious place.
And no need to mention "Aswan High Dam", which is considered one of the most important Egyptian achievements in Aswan that helped in securing such a protected environment for the Egyptians and saving a lot of the pharaonic achievements from floods. And you can also visit the memorable Unfinished obelisk that was intended to be one of the largest Obelisks to be ever built by the Egyptian Pharaohs and to be more particular by Queen Hatshepsut.
Last but not least, there is no visit to Aswan that can be completed without heading to the biggest and most exquisite temples of Ramesses II & his wife Nefertari in Abu Simbel. Abu Simbel temples are two fascinating temples that have been built to commemorate the pharaoh with his victories & his love for his beloved wife.

Board Your Way to The Heavens with Our Egypt Nile Cruise Packages
Finally, "Trips in Egypt" offer stunning Nile cruise packages to open the past gates and discover the history of ancient Pharaohs, or you can check our Egypt tour packages which include boarding one of our 5* Nile cruises beside to visiting the other destinations such as Cairo, Alexandria, and Hurghada.
Now check out best Nile cruises and don't hesitate and contact our tour operators to get the best itinerary to Egypt with the best services and affordable prices: