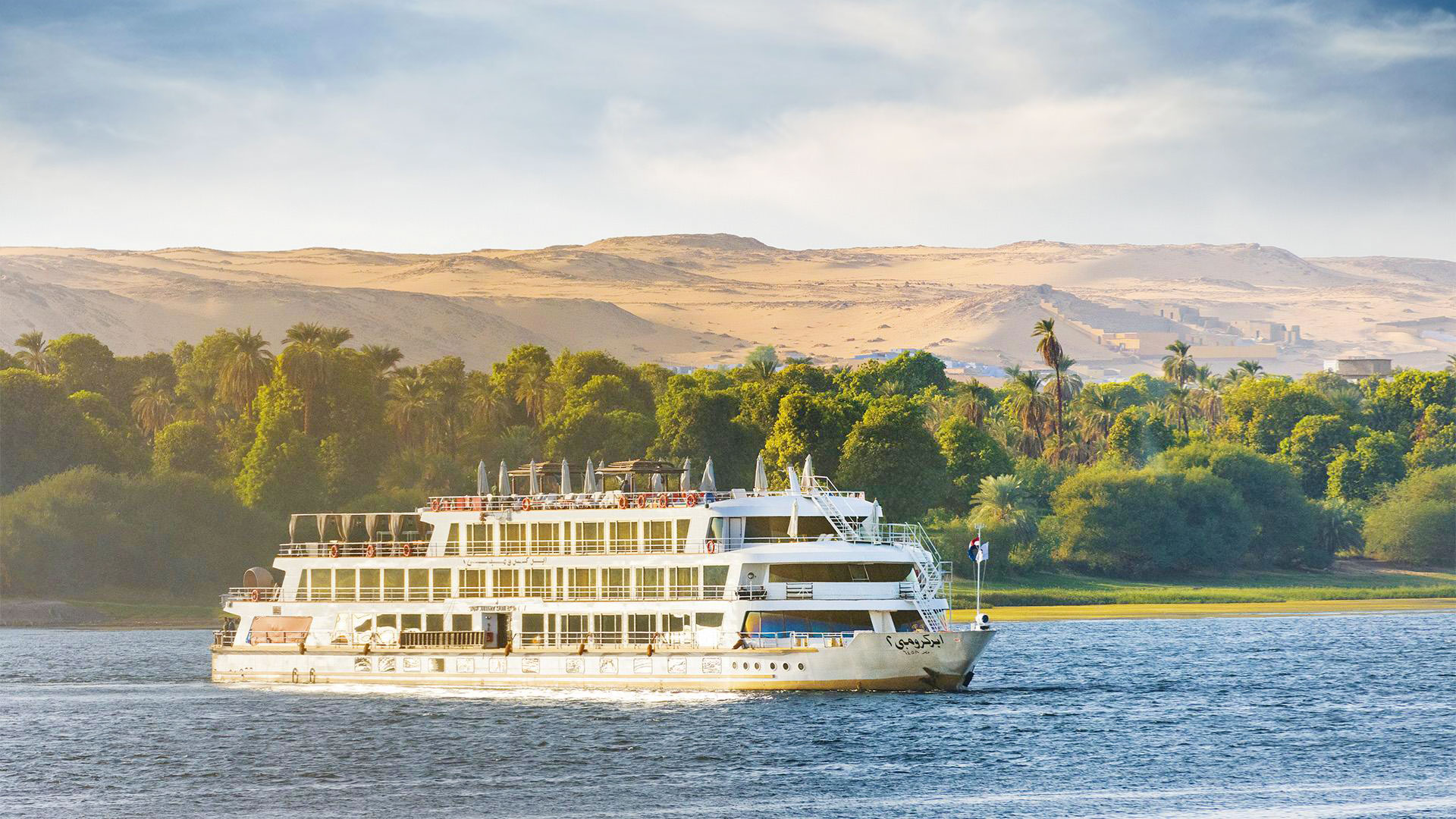 Best Activities to Do While Taking Nile River Cruise
Experience the journey of a lifetime as you set sail on a captivating Nile Cruise through the heart of Egypt. Discover a world where ancient wonders and modern luxuries converge seamlessly, offering you an unforgettable blend of history and indulgence, and get ready to be mesmerized as you encounter the iconic attractions that have enthralled travelers for centuries from the Valley of the Kings to the spellbinding temples of Luxor and the serene beauty of Aswan. Embrace the sun-kissed skies and gentle breezes of Upper Egypt, where the weather is as inviting as the landscapes themselves.
Get yourself lost in the opulence and comfort of your Nile Cruise, where you will find an array of world-class amenities, sumptuous dining options, and impeccable service. Let yourself be swept away by the timeless charm and grandeur of ancient Egyptian civilization, all while enjoying the unparalleled luxury and relaxation that a Nile Cruise offers. During your stay in Egypt, you will create treasured memories as you embark on this amazing adventure along the legendary Nile, where every moment is designed to exceed your wildest dreams. Our article has all the answers to the most common questions that any traveler needs before booking a Nile Cruise, its duration, activities to do on board, facilities, and many more.

List of Activities to Experience During the Nile Cruise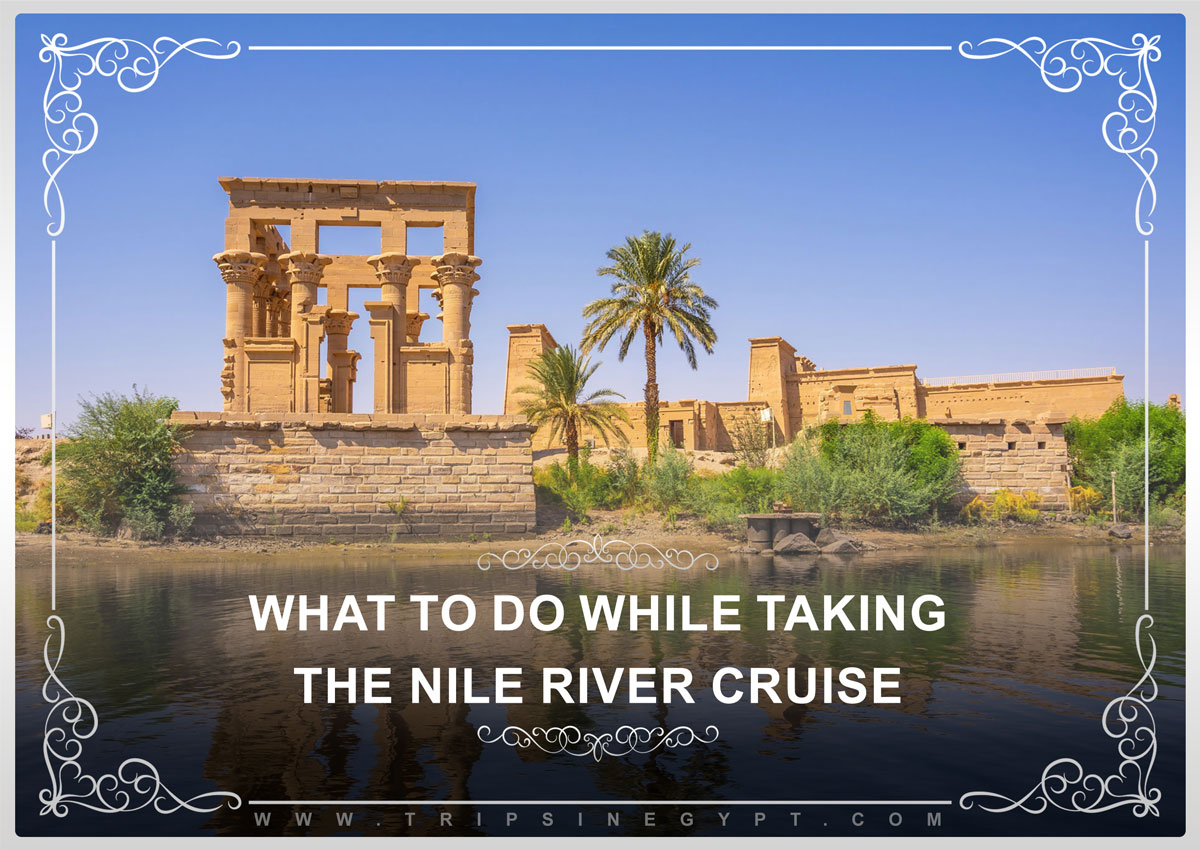 Taking a Nile Cruise in Egypt is a journey that immerses travelers in the very essence of ancient history. This extraordinary adventure takes you on a meandering voyage through time, where the tranquil waters of the Nile River bear witness to the captivating convergence of breathtaking landscapes and iconic archaeological wonders. As you sail through this timeless waterway, prepare to be enchanted by the unparalleled experiences that await you after cruising the Nile River.
1. Ancient Egyptian Temples Exploration: As you cruise along the tranquil waters, get yourself lost in the magical experience of temple exploration. Step back in time as you wander through the colossal columns and intricately carved walls of temples like Karnak, Luxor, Edfu, and Kom Ombo, and trace the footsteps of pharaohs, kings, and queens of this unbelievable civilization.
 2. Tomb Excursions: Experience the thrill of exploring legendary sites like the Valley of the Kings and the Valley of the Queens and witness the breathtaking tombs of pharaohs and queens such as Tutankhamun, Ramses II, and Nerfertari and unlock the mysteries of Egypt's illustrious past.
3. Indulging in Egyptian Cuisine: Delight in fragrant spices, succulent grilled meats, and a variety of delectable vegetarian dishes, all expertly well-prepared. From Koshari, Mahshi, Fatta, and hearty ful medames to creamy Basbousa and Kounafa desserts, this culinary adventure will immerse you in the rich heritage of Egypt.
4. Traditional Dance Show: Get yourself lost in the captivating rhythms and graceful movements of traditional dance shows, where dazzling performers transport you to a realm of timeless elegance, fill your heart with joy, and leave you with memories to treasure forever.
 5. Local Market Exploration: While enjoying a Nile cruise in Egypt, you will have fantastic opportunities to explore the vibrant local markets. In Aswan and Luxor markets, where vibrant colors, exotic spices, and traditional handicrafts create an enchanting experience.
6. Onshore Explorations: Step ashore to explore hidden treasures, and uncover archaeological marvels such as Abu Simbel Temples, Kom Ombo, and Edfu Temple, visiting these destinations will create memories that will last a lifetime.
7. Nightly Entertainment: Enjoy amazing nights of entertainment as vibrant belly dancers sway to the hypnotic rhythms, while skilled musicians fill the air with melodies that transport you where history and spectacle merge, and create an evening of sheer delight and cultural immersion.
8. Enjoying Air Balloon: In the golden embrace of dawn, the mystical city of Luxor reveals its secret gateway to the skies through the wondrous Hot Air Balloon that will transcend your earthly boundaries.
9. Onboard Relaxation: On board, you can expect a rejuvenating experience that will help you unwind and find tranquility as the atmosphere is crafted to create a peaceful environment. Your time on board promises to be a blissful escape from the stresses of everyday life.
10. Capturing Moments: As you soak in the timeless beauty of the Nile's shores, be prepared to capture the enchanting blend of history, natural splendor, and the joyous laughter of fellow travelers, and create a mesmerizing backdrop for your lens.

Facilities to Experience While Boarding the Nile Cruise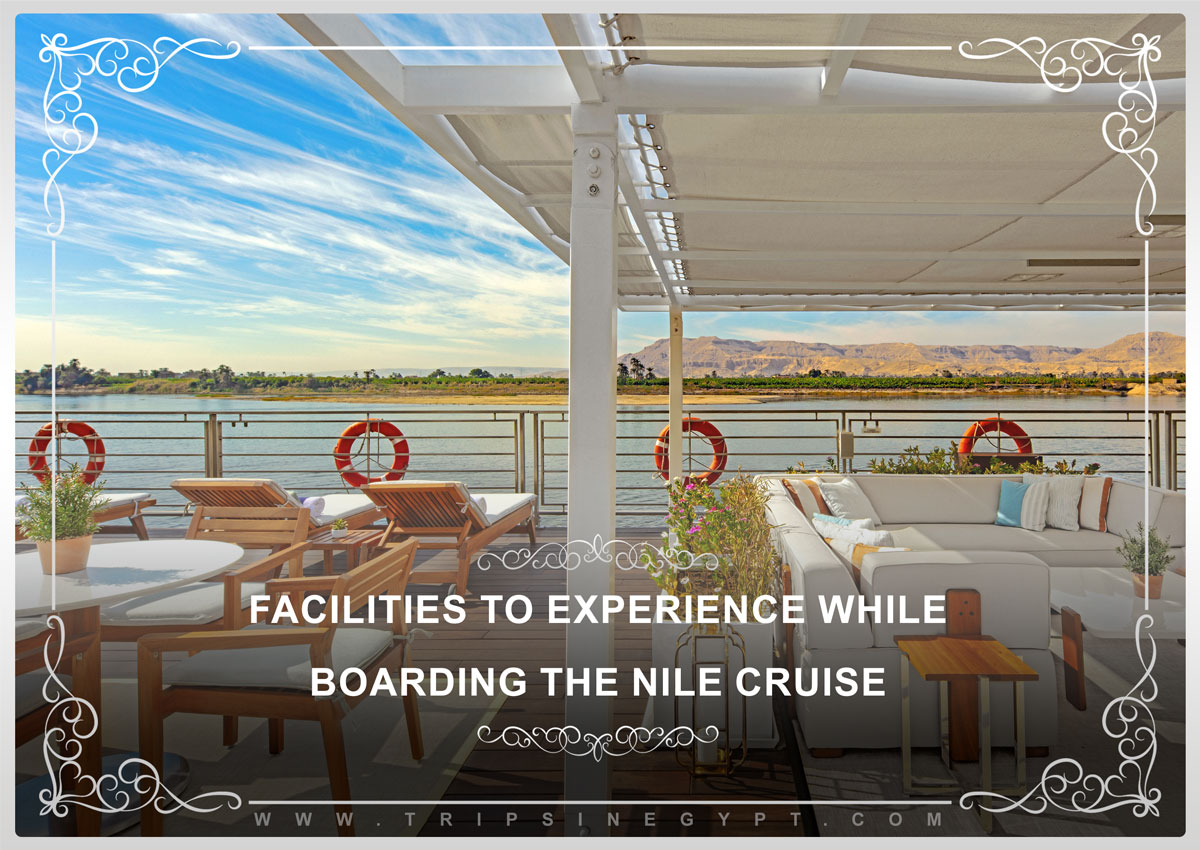 Explore the majestic journey along the legendary Nile River, where enchantment and opulence blend seamlessly.
Luxurious Cabins: Immerse yourself in lavish comfort within our meticulously designed suites, and breathtaking panoramic views of the Nile.
Gourmet Dining: Delight in a culinary extravaganza as our expert chefs prepare a delectable array of international and local cuisines.
Sun Deck and Pool: Bask in the glorious Egyptian sun on our sun deck, complete with a sparkling pool.
Spa and Wellness Center: Indulge in pure relaxation as our world-class spa pampers you with rejuvenating treatments and therapies.
Onboard Entertainment: Enjoy captivating entertainment throughout your cruise, from live music performances to cultural shows.
Boutique Shopping: Discover treasures and souvenirs at our onboard boutique shops.
Excursion Options: Explore the iconic temples of Luxor and Karnak, and unravel the mysteries of the Valley of the Kings.
Fitness Center: Stay active and energized in our fitness center, which ensures a workout experience like no other.
Bars and Lounges: Unwind with a selection of premium beverages that offer a perfect setting to relax and socialize.
Customer care available 24/7: Our dedicated and knowledgeable team is available all around the clock to cater to your every need.
Kid-Friendly Facilities: We offer a range of amenities and activities tailored to entertain and engage our young travelers.
Wi-Fi Connectivity: Stay connected with the world while sailing along the Nile, so you can share your extraordinary journey with loved ones.
Captivating Nightly Events: End your day in style with our enchanting nightly events, featuring live music, traditional dance performances, and themed parties.
You can also discover essential Nile Cruise tips and explore the must-see highlights of this iconic Egyptian adventure. Make the most of your journey along the historic Nile with expert insights and recommendations.
How Long Does the Nile Cruise Take?
The Nile Cruise is a magical experience that takes you on a voyage through history and natural wonders from three nights to eight nights. The most common tours are between Luxor and Aswan, or vice versa, covering the main attractions in Upper Egypt. Immerse yourself in the timeless beauty of Egypt as the Nile Cruise carries you away, and let the Nile Cruises be your gateway to a truly unforgettable adventure. Find out the ideal duration for your Nile Cruise adventure with our comprehensive guide "How Many Days Do You Need on A Nile Cruise".
What Is the Best Time of Year to Cruise in Egypt?
A Nile Cruise offers an amazing opportunity to discover the ancient wonders of Egypt, but the ideal time for your journey depends on various factors like your budget, preferences, and heat tolerance. The best time for a Nile Cruise 2023 is from November to February when the weather is milder and more pleasant. During this time, you can enjoy the picturesque vistas of the Nile River and its surroundings, explore temples and monuments, and immerse yourself in the culture of Egypt.

Conclusion
Taking everything into account, taking a Nile cruise in Egypt is a truly amazing experience that will leave you in awe of the country's rich history and breathtaking landscapes. The Nile Cruises provides unparalleled comfort, ensuring you relax in style while savoring delectable cuisine and enjoying world-class amenities. Experience the magic of Egypt with Trips In Egypt with our round-the-clock operation department to ensure your every need is met. Contact us now, so we can make your dream tour into a flawless reality.
FAQ
What Should I Wear While Being in Egypt?
You should wear whatever you want. It is advised to wear something light from cotton or linen, comfortable and put on sunblock during your time in Egypt in the summer and wear comfortable footwear like a closed-toe shoe to sustain the sandy terrain.
What to Pack for Your Egypt Tour?
You should bring a brimmed hat and sunglasses if you not used to the Egyptian sun &pack everything you could ever need and put in a small bag so you could move easily between your destinations.
Are All Nile Cruises Available at Any Time?
Yes, it is available all years. as the Nile from Aswan to Luxor takes three to four days of sailing on Monday, Wednesday and Friday for the total cost of 600$ and the Nile cruise from Luxor to Aswan take four to five days in Saturday, Monday and Thursday for the coast of 650$.
We have experience in vacation planning for more than 10 years & our staff consists of the most professional operators, guides and drivers who dedicate all of their time & effort create the perfect vacation. All of our tours are customized by Travel, Financial & Time advisors to fit your every possible need during your time in egypt. we always keep in mind that your safety & comfort are our main priority until you return home.
Is it safe to travel to Egypt?
Yes, it is absolutely safe to travel to egypt, You will feel secure in Egypt as the current atmosphere of the country is very peaceful after the government took powerful measures like restructuring the entire tourist police to include all the important and tourist attractions in Egypt and construct an entire environment dedicated for ensuring the lives of all tourists.
What are Egypt's Visa Requirements?
They are very simples, If you want to apply for a Visa On Arrival that lasts for 30 days then you should be one of the eligible countries(check the link), have a valid passport with at least 6 months remaining and pay 25$ USD entry fee in cash. As for the E-Visa for 30 days, you should have a valid passport for at least 8 months, complete the online application, pay the e-visa fee then print the e-visa to later be presented to the airport border guard. You could be one of the countries eligible for a free visa for 90 days.
What is the Weather is Like?
The temperature of Egypt ranges from 37c to 14 c, Summer in Egypt is somehow hot and winter is cool and mild but sometimes it becomes cold at night. The average of low temperatures vary from 9.5 ¡ÆC in the wintertime to 23 ¡ÆC in the summertime and average high temperatures vary from 17 ¡ÆC in the wintertime to 32 ¡ÆC in the summertime while the temperature is moderate all along the coasts.
What is the Best Time of Visit Egypt?
It is known the best time to travel to Egypt is in the winter from September to April as the climate becomes a bit tropical, a warm atmosphere with a winter breeze. You will also be notified a week before your trip if the weather is unsafe or if any changes have been made.
Should I Give Tips in Egypt?
It is totally up to you, but if you choose to you can tip the servers at your restaurant 5-10% by handing it to them directly and 5 Egyptian Pounds as a general tip of anyone.
Can I Enter the Pyramids?
Yes, you can enter the pyramids for the small fee of 20$.
How to Enjoy Egypt During Ramadan?
Ramadan is a special time of year for Muslims that should be celebrated by non-Muslims and feel the essence of the Islamic culture. You can fast with the Muslim or just observe but you are always welcome to join the celebrations and festivals.