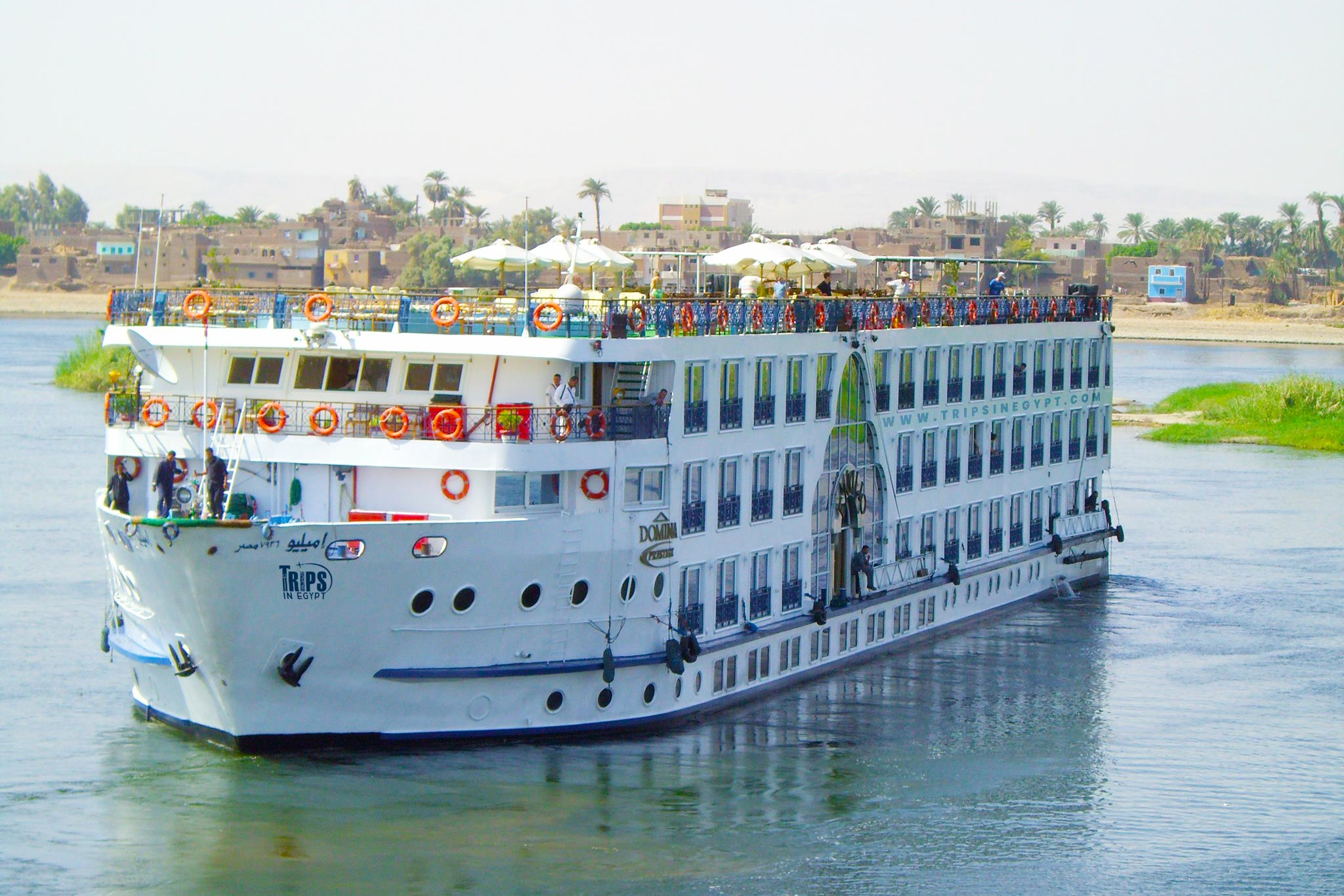 How Many Days Do You Need On A Nile Cruise
Welcome to Egypt, home of pharaohs and pyramids! A heavenly place steeped in history, civilization, and culture where it has long been a bucket-list destination for tourists worldwide. What is a better way to explore this incredible country than taking a Nile River cruise? Just imagine drifting down the longest River in the world, surrounded by breathtaking views, while uncovering the secrets of Ancient Egypt from the legendary temples of Luxor to Abu Simbel.
A Nile River cruise offers an unforgettable journey through time that will make you want to get back to Egypt for amazing experiences more and more, so. Relax, sit back, and let us take you on a journey through the land of the pharaohs on an exciting experience on our Nile cruises. We will go through our article to let you know more about the many tips and highlights of Nile cruises in Egypt, the ideal time to go on a Nile cruise, availability, amenities, and prices to help you pick the best trip suited for you.
Our article was written by a highly experienced team of tour operators, tour guides, and travel consultants with over two decades of expertise in the tourist industry, so. Make sure you are in a safe hand in Egypt.

How Long Does A Nile Cruise Take?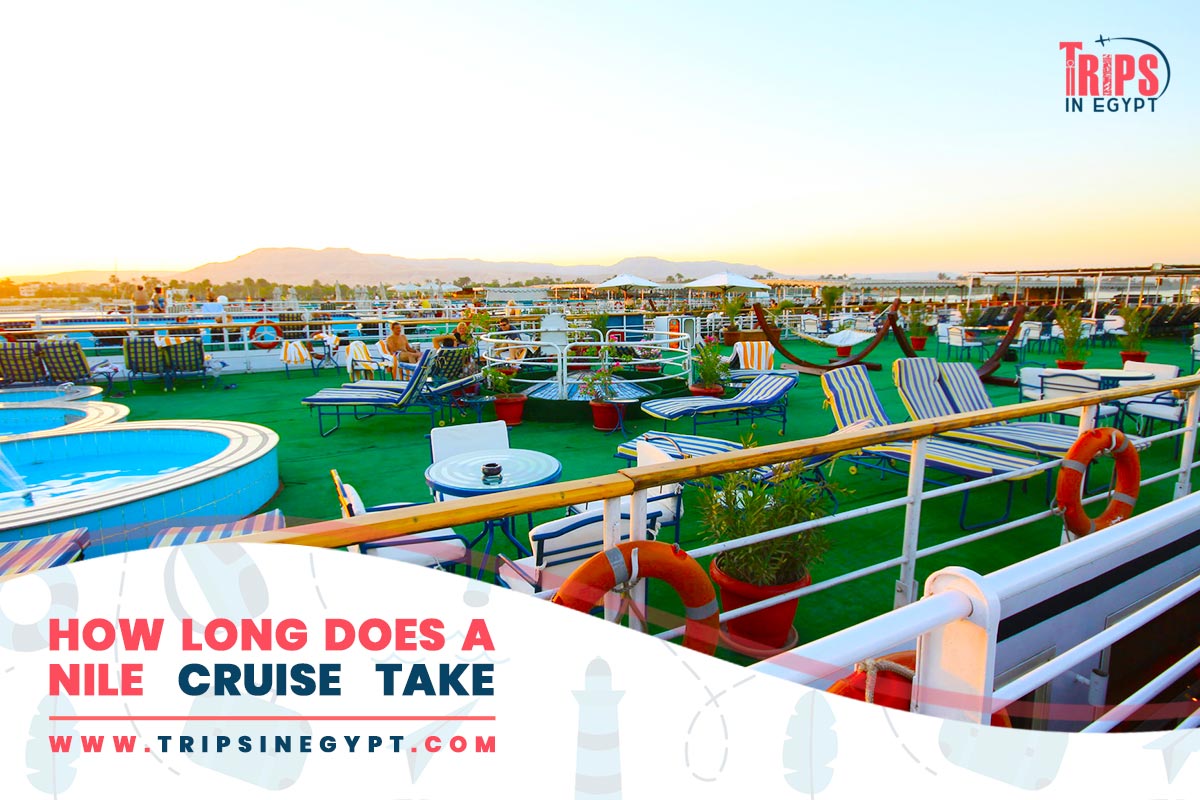 Nile River cruises have a regular schedule that differs from one destination to another:
If you started your tour from Luxor to Aswan, then you will have four nights/ five days Nile cruise from Luxor (This tour is available on Saturdays, Mondays, and Thursdays only). You will witness the following:
East bank
West bank
Edfu temple and Kom Ombo temple
Aswan
If you started your tour from Aswan to Luxor then you will have only three nights/ four days Nile River cruise from Aswan (This tour is available on Fridays and Wednesdays only). You will witness the following:
Aswan
Kom Ombo temple and Edfu temple
Luxor
If you look for more relaxation and enjoyment, then you will spend seven nights/ eight days Nile cruise whether from Aswan or Luxor (This tour is available on Saturdays, Mondays, and Thursdays from Luxor & Fridays and Wednesdays from Aswan). you will follow this schedule:
East bank
Free day on board
Edfu temple and Kom Ombo temple
Aswan
Abu Simbel
Sailing back to Kom Ombo temple
West bank
Checking out
Choose the most suitable Nile cruise for you and contact our operation department now so we can start arranging your tour immediately.

How to Choose A Nile River Cruise in Egypt?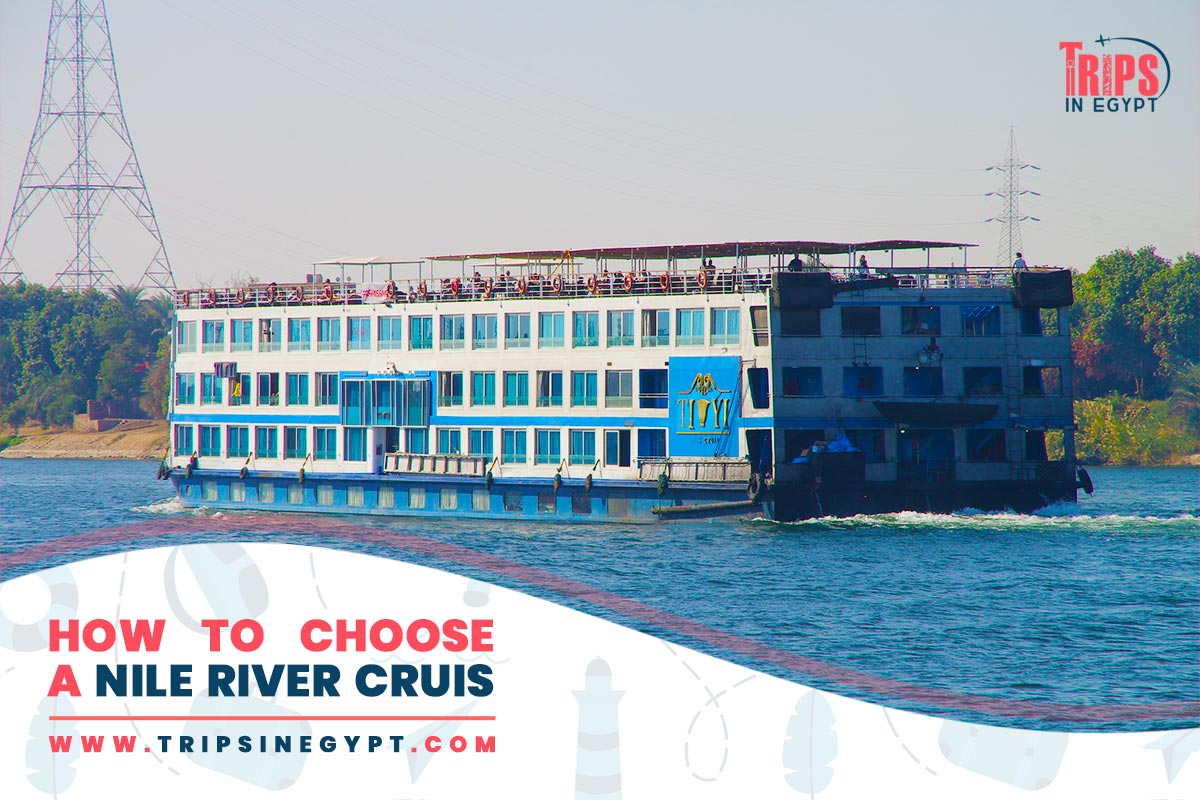 Egypt is an excellent choice for a Nile cruise because it provides a variety of ways to explore its magnificent river. There is something for everyone's budget, from luxury Nile cruises to feluccas. There are many types of Nile cruises in Egypt, catering to different budgets depending on one's preferences. Here are the most four popular Nile Cruises in Egypt:
1- Luxury Nile River Cruises: Luxury Nile cruises provide an upscale experience, complete with spacious accommodations, exquisite meals, and personalized service. The cuisine, service, and furnishings are of greater quality than on other Nile River cruises in Egypt.
2- Deluxe Nile Cruises: These Deluxe Nile Cruises are an ideal way for those seeking a budget Nile Cruises, with basic amenities, simple cabins, and many facilities.
3- The Dahabiya Nile Cruises: The Dahabiya Nile Cruises are classic sailboats that provide a one-of-a-kind and totally private experience, with a restricted number of staterooms (up to eight cabins) and individualized service.
4- Felucca Nile Cruises: These traditional sailboats are perfect for travelers looking for an authentic Egyptian experience, with more rustic and adventurous vibes.

Whichever type of Nile cruise you will pick, make sure that you will be able to enjoy Egypt's breathtaking attractions and rich history in a really remarkable way for many years to come. Nile cruises in Egypt have something for every traveler.

Things You Should Know Before Boarding Nile River Cruises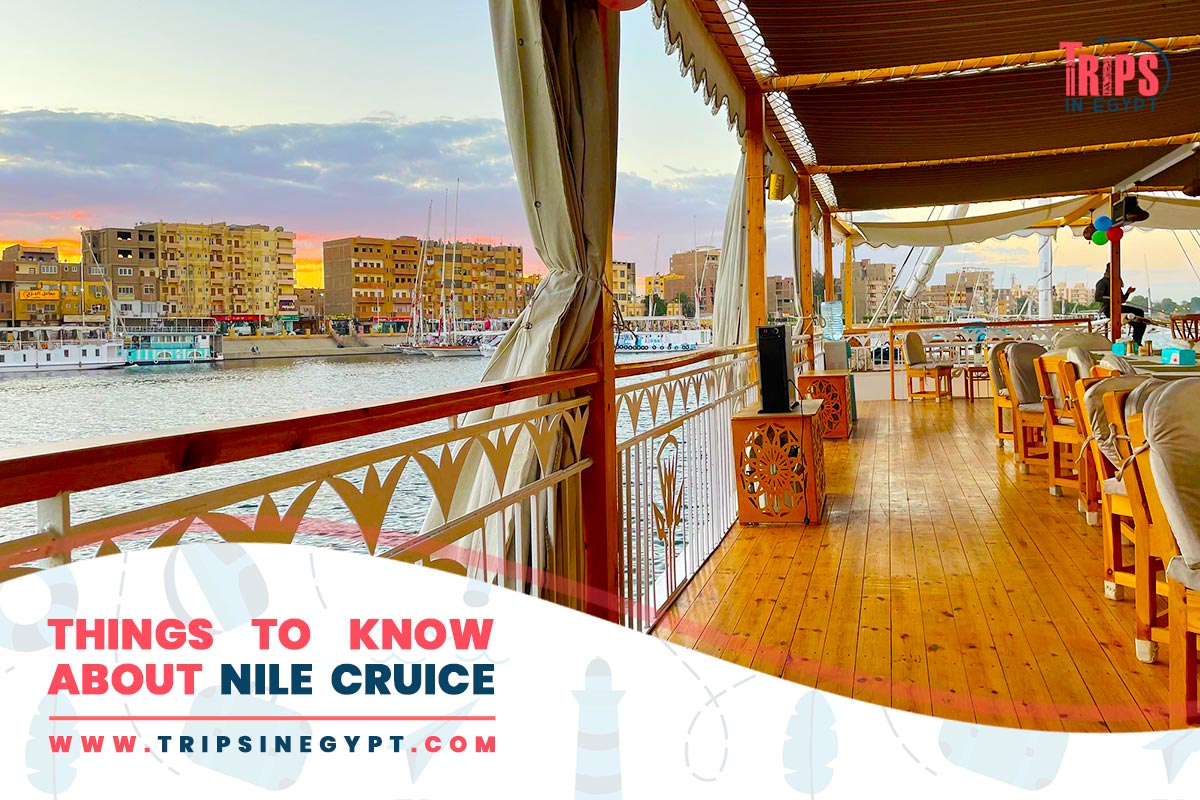 If you're planning to book a Nile cruise in Egypt, there are some important factors to consider. Knowing how to enjoy a Nile cruise can make your trip memorable and unforgettable. Here are some key things to keep in mind when planning your Nile cruise adventure.
Timing: The best time to take a Nile cruise in Egypt is during the cooler months between April and October when the temperature is warm most of these months.
Cruise Length: Nile cruises in Egypt can range from three nights to fifteen nights. First, think of how much time you would spend on the board.
Itinerary: Decide which attractions you want to enjoy along the Nile River and choose an itinerary that fits your interests and preferences.
The Type of the Nile Cruise: As mentioned above, there are four types of Nile cruises in Egypt to choose from, depending on your budget and preferences, define your budget and then choose the most suited Nile Cruise suited to you.
Reviews: Look for reviews on TripAdvisor from previous travelers to get a sense of different experiences from different travelers to make sure of the quality of service provided by the company.
Safety: Be careful to check the safety record of the Nile cruise line you like, as well as the safety of the regions you will be visiting along the Nile River.
By taking these factors into your consideration, make sure that you have chosen the best Nile River cruise for your interests and needs. If you're looking for more information about the Nile cruise, feel free to research further or seek assistance from a trusted travel agency. Trips In Egypt wish you a safe and enjoyable experience exploring the magic of Egypt through the Nile River.

Top Deluxe Nile River Cruises in Egypt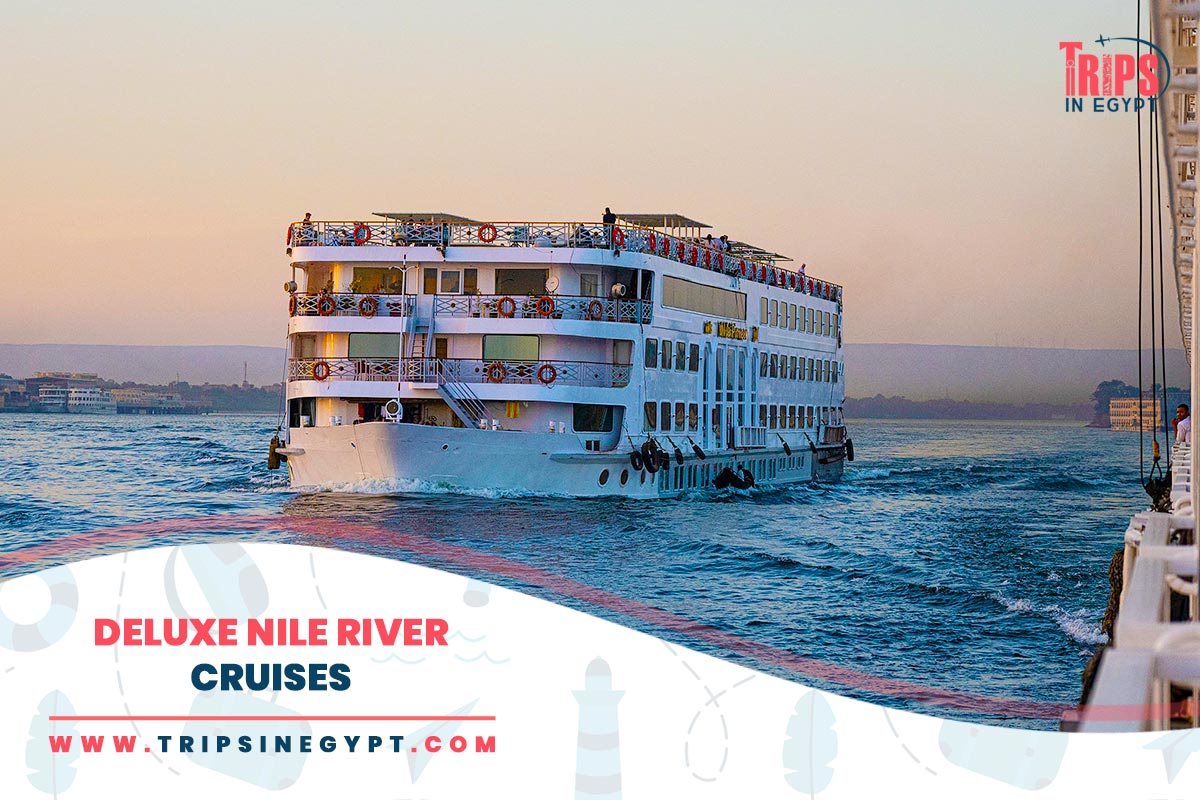 Deluxe Nile cruises provide an unforgettable opportunity to enjoy the magnificence of the Nile cruise. Cabins that are both comfy and beautiful.
1- Radmis I
2- Concerto
3- Alyassa
4- Amwaj
5- Blue Shadow
6- Hapi V
7- Kahila
8- Miss Egypt
9- Nile Goddess
10- Nile Premium
11- Nile Style
12- Princess Sara II
13- Royal La Terrasse
14- Royal Princess
15- Steigenberger Minerva
16- Al-Jamila
17- M/S Nile Dolphin
18- Jan Crown Jewel
19- Crown Empress
20- Monte Carlo
21- Ritz
22- M/S Le Fayan
23- Blue Shadow II
24- AlHambara

Top Luxury Nile River Cruises in Egypt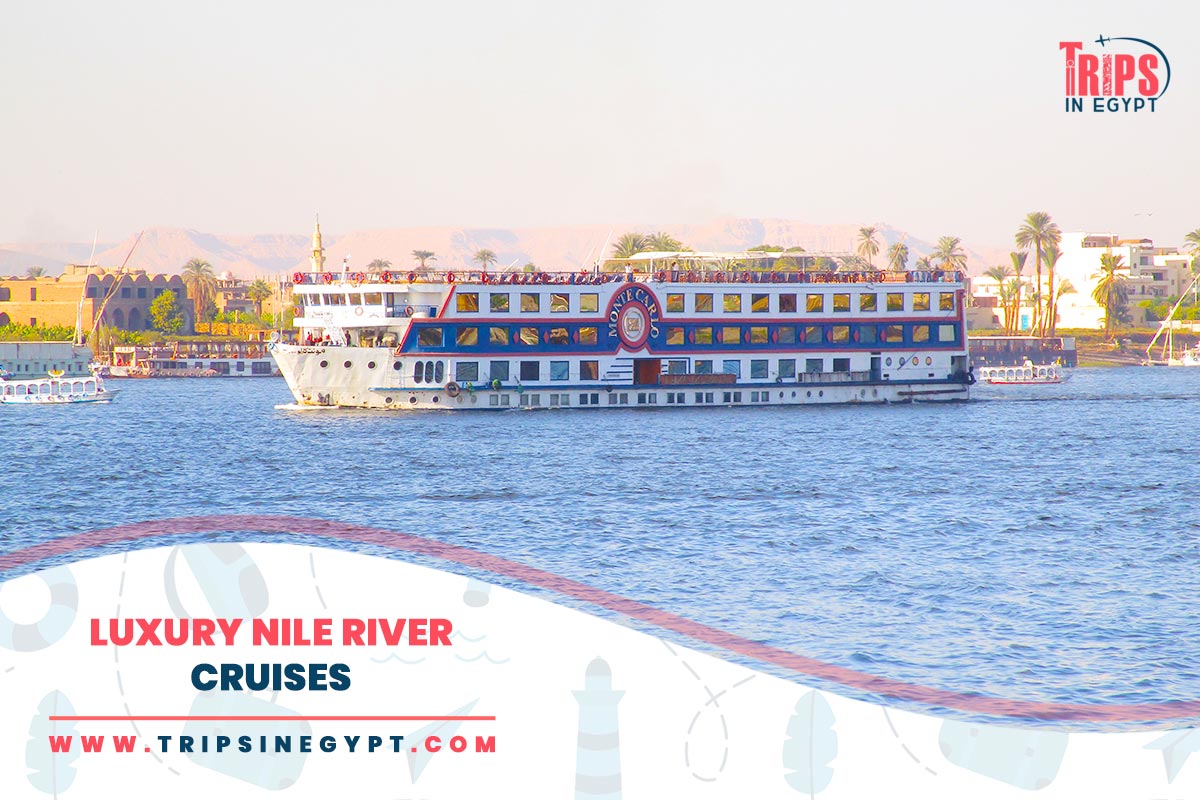 Luxury Nile cruises are more expensive than Deluxe Nile Cruises, as they provide a higher level of luxury and service.
1- Alexander the Great
2- Jaz Senator
3- Movenpick MS Royal Lili
4- MS Acamar
5- MS Esplanade
6- MS Farah
7- MS Mayfair
8- MS Tulip
9- Sonesta Star Goddess
10- Sanctuary Sun Boat II
11- Oberoi Zahra
12- MS Darakum
13- Sonesta St George
14- MS Nile Plaza
15- Sanctuary Zein Nile Chateau
16- Sonesta Moon Goddess
17- Movenpick MS Sun Ray
18- SS Sudan
19- AmaDahlia
20- SS Sphinx
21- SS Misr
22- Viking Osiris
23- La Flaneuse du Nil
24- Sanctuary Sun Boat III
25- RV Da Vinci
26- River Tosca

Is The Nile River Cruise Worth It?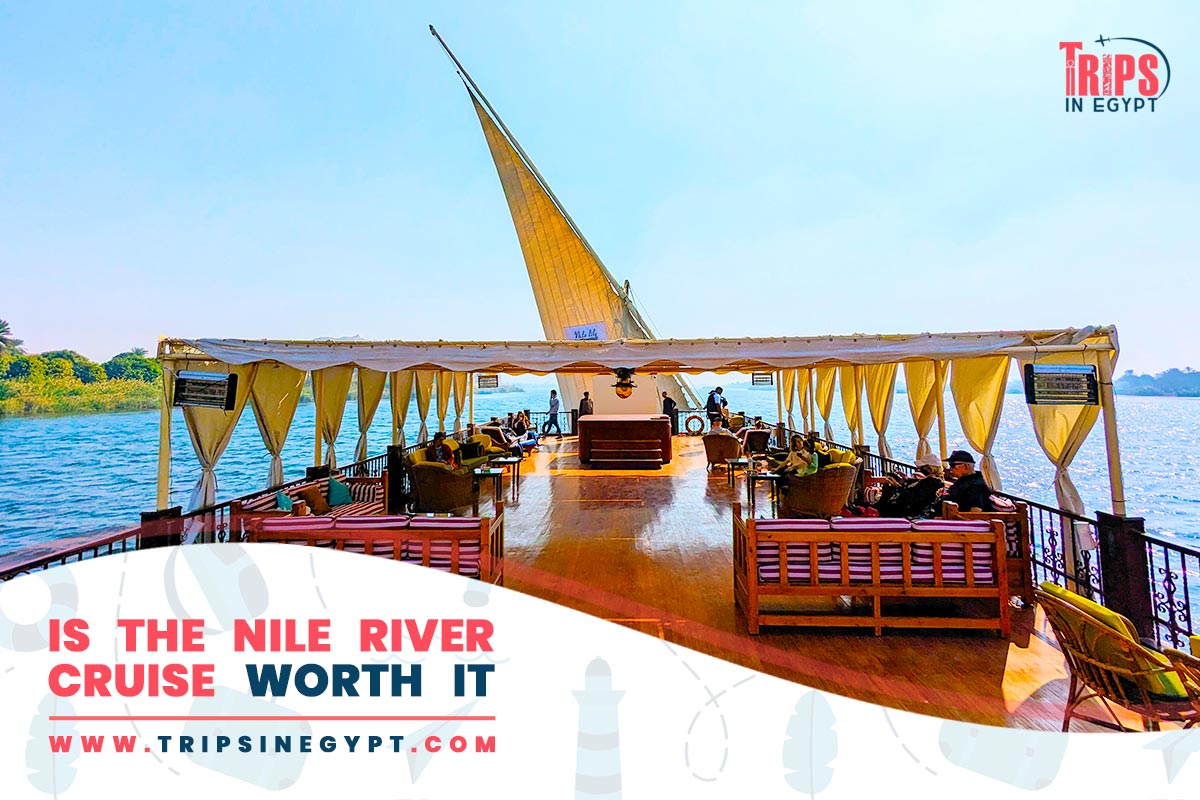 Nile River cruises in Egypt offer a unique and enjoyable way to experience the history of the country mixture of breathtaking views of beautiful nature. Here are some of the key advantages of taking a Nile cruise:
Convenience: A Nile River cruise allows you to experience many of the most famous monuments and attractions while cruising in a comfort and a high style in the Nile River.
Comfortable Accommodations: Nile River cruises include comfortable accommodations with many facilities like air conditioning, private toilets, swimming pools, and spas.
All-Inclusive: Many Nile cruises are all-inclusive, meaning that meals, accommodations, and activities are included in the price, making budgeting much less.
Beautiful Views: Taking a Nile River Cruise is the best way to enjoy a breathtakingly beautiful river, and a Nile cruise offers stunning views of Egypt's landscapes, cities, and temples as well.
Guided Tours: Most Nile cruises offer tour guides to the ancient temples and archaeological attractions along the Nile River, allowing travelers to gain a better grasp of Egypt's rich history and culture.
Cultural Immersion: A Nile cruise allows for a more immersive cultural experience, as travelers get to interact with local people, try local cuisine, and learn about the customs and traditions of Egypt.
Fitness Facilities: Nile cruises in Egypt offer fitness facilities, such as gyms or yoga classes, allowing travelers to stay active and healthy while enjoying their trip.
Entertainment: Many Nile cruises feature entertainment, such as live music, dance performances, or cultural shows, providing a fun and engaging way to learn more about the culture and history of Ancient Egypt.
To brief, a Nile cruise in Egypt is a once-in-a-lifetime experience that provides a unique combination of ease, comfort, and cultural immersion, making it a popular choice for travelers from all over the world.

Facilities on the Nile River Cruises in Egypt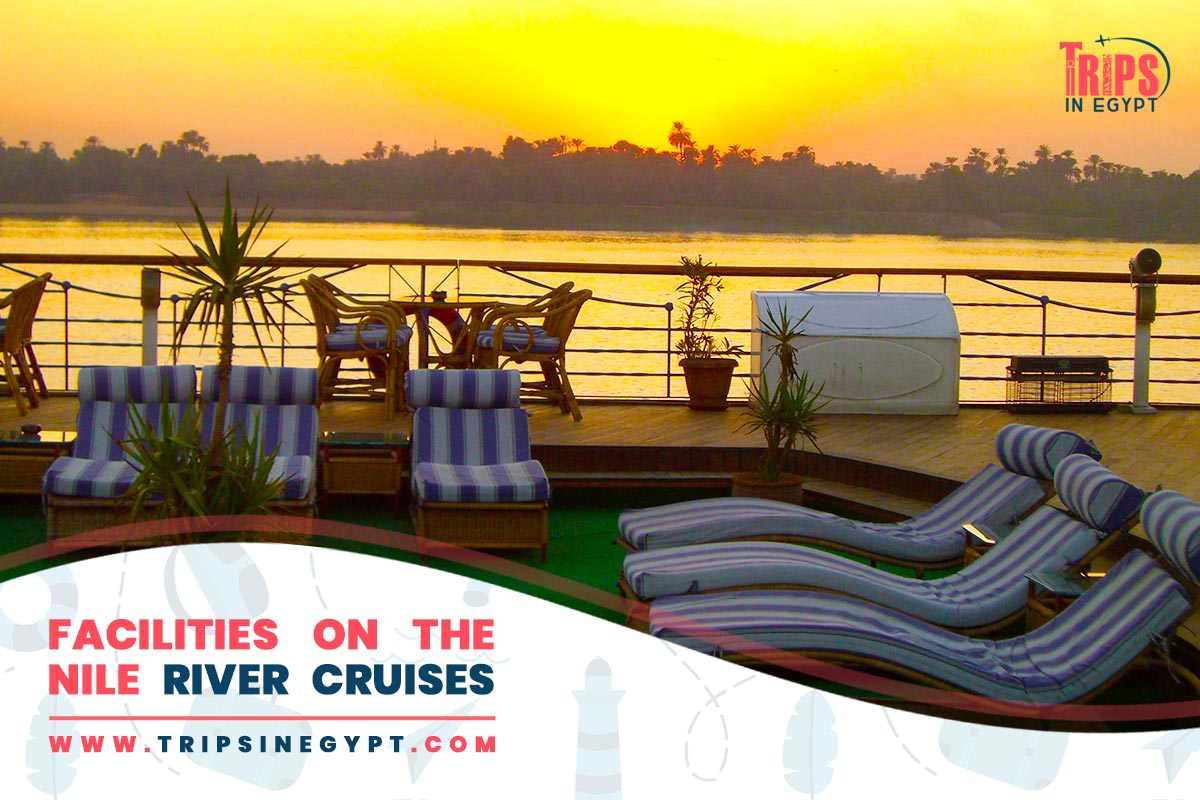 Each unit has a private bath with a hairdryer
A large panoramic window.
All cabins have air conditioning.
There are non-smoking accommodations available.
Doctors on call.
Sat TV.
Bar.
House Keeping services are all available.
Shaded sundecks.
Swimming pool.
A safe box in each cabin.
Gymnasium.
Galabia Party.
Dinning lounges.
Music systems.
Free Wi-Fi.
Satellite Phone.
Dancing performances.
beauty salon
Bazaar shop.
Restaurants.
Spa.
Mini fridges in each cabin.

The Ultimate Cruise Packing List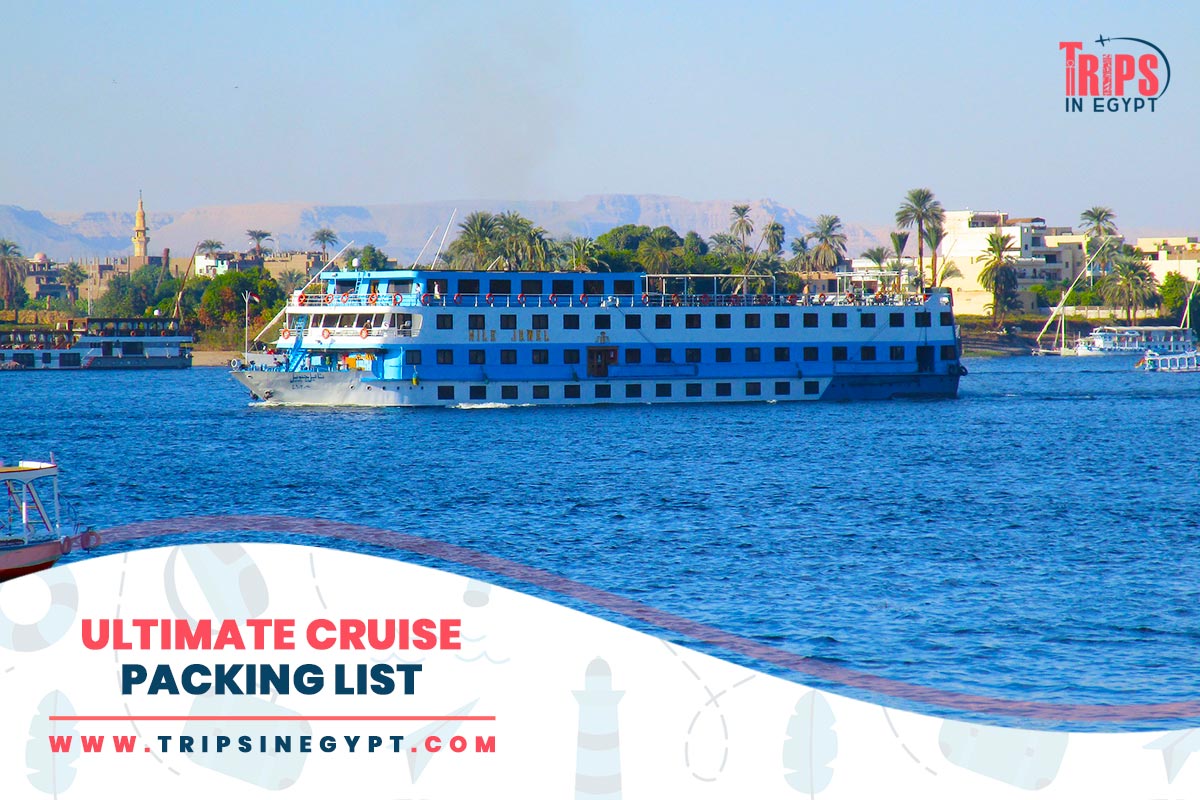 A local SIM card: Some Nile Cruises offer free Wi-Fi to their guests, while others do not, Trips In Egypt recommends buying a local SIM Card to costs around $12 per card.
Sunblock: Sunblock is an important item to pick before cursing to protect your skin from the heat.
Comfortable shoes: You should carry a pair of shoes for your comfort while visiting historical sites.
Sunglasses: Bring your sunglasses with you, to protect your eyes from the sun.
Power adapter: The "Poweradd charger," which has two USB ports and three-prong outlets, is the most recommended.
Skincare: It is important to bring your skincare with you; you will obtain shampoos and soaps on the board, but the quality will not be the same.
West bag: Do not forget to bring a west bag with you to keep your money inside it.
A digital camera: Egypt is rich with magnificent and amazing attractions that you should not miss photographing.
Medication: Trips In Egypt highly recommends having a first-aid kit consisting of medications such as upset stomach, pain relievers, and headache relievers, as well as sea bands to assist you to overcome motion sickness.
Hand sanitizer: Keeping a hand sanitizer is the greatest method to keep healthy, and it has always been the most important item to stay safe when traveling.
A good book: Nile River Cruise is the greatest spot to read since you may rest while reading your favorite novels or other e-books.

Destination to Visit While Cursing Down the Nile River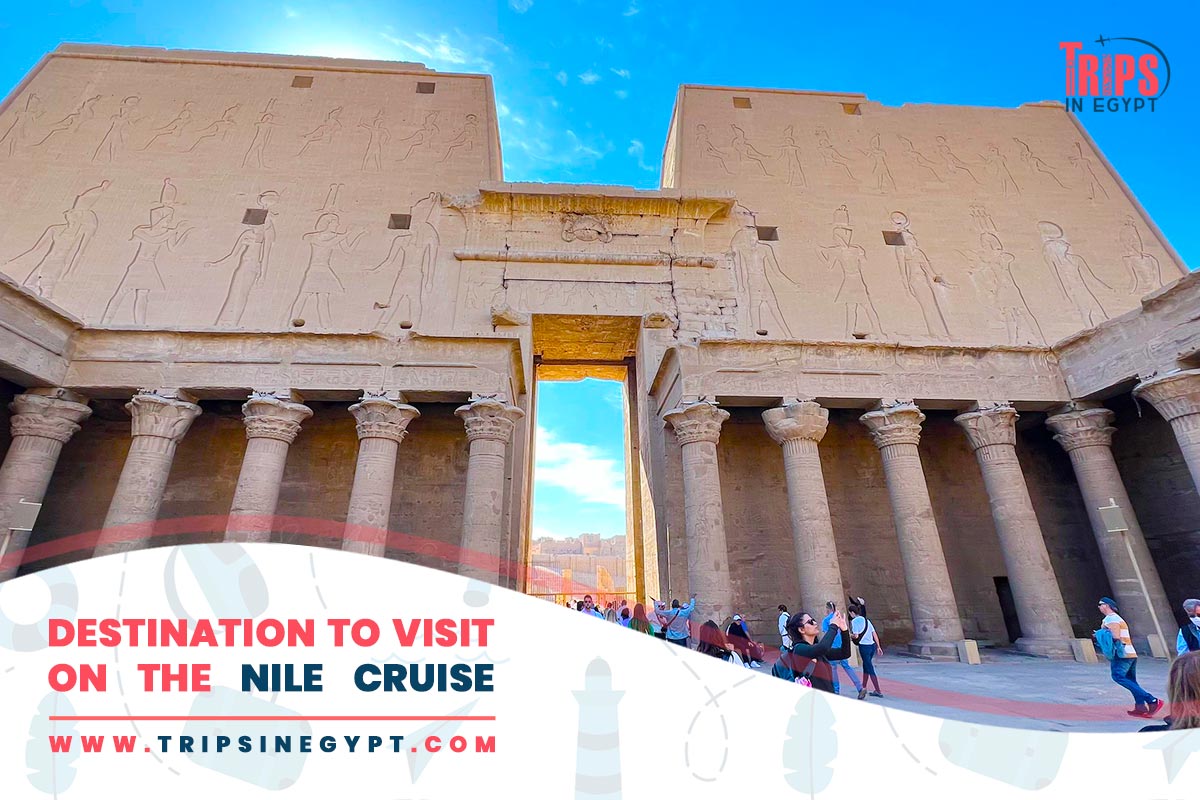 Are you planning to take a Nile River cruise along the Nile River in Egypt? It is your chance to visit some of the most iconic and historic sites in the whole world!
Take a trip to Luxor and explore the Valley of the Kings, where the tombs of pharaohs like Tutankhamun and Ramses II can be found, and do not miss a trip to the valley of the Queens where is the tomb of Queen Hatshepsut. Plus, the temples of Karnak and Luxor, with their towering columns and elaborate sculptures, will astound you. If you are a night lover, then it is the perfect decision to explore the temple of Luxor at night and enjoy the Egyptian vibes at night.
Cruise to Aswan and visit the majestic Philae Temple, dedicated to the Goddess Isis, Aswan High Dam, Abu Simbel, the Elephantine Island, the temple of "Esna" which is dedicated to God "Khnum" the God of the water, and the Nile, or take a trip to the Nubian Village from Aswan for a taste of traditional culture. A Nile River cruise in Egypt will undoubtedly be an amazing experience.

Conclusion
To summarize, Nile River cruises in Egypt are an adventure of a lifetime, from the awe-inspiring temples and tombs to the vibrant markets in Aswan such as Aswan Souq, and the lively culture in the Nubian village.
The breathtaking attractions and cultural immersion that come with a Nile cruise make it an amazing experience that you will remember for many years to come. A Nile River cruise in Egypt is the ideal way to pamper your senses and fulfill your wanderlust, whether you are a history buff, a cultural enthusiast, or simply looking for a unique and unforgettable holiday.
Contact our operation department now to make your dream come true. We are here for you 24/7 just for achieving your dreams.
FAQ
What Should I Wear While Being in Egypt?
You should wear whatever you want. It is advised to wear something light from cotton or linen, comfortable and put on sunblock during your time in Egypt in the summer and wear comfortable footwear like a closed-toe shoe to sustain the sandy terrain.
What to Pack for Your Egypt Tour?
You should bring a brimmed hat and sunglasses if you not used to the Egyptian sun &pack everything you could ever need and put in a small bag so you could move easily between your destinations.
Are All Nile Cruises Available at Any Time?
Yes, it is available all years. as the Nile from Aswan to Luxor takes three to four days of sailing on Monday, Wednesday and Friday for the total cost of 600$ and the Nile cruise from Luxor to Aswan take four to five days in Saturday, Monday and Thursday for the coast of 650$.
We have experience in vacation planning for more than 10 years & our staff consists of the most professional operators, guides and drivers who dedicate all of their time & effort create the perfect vacation. All of our tours are customized by Travel, Financial & Time advisors to fit your every possible need during your time in egypt. we always keep in mind that your safety & comfort are our main priority until you return home.
Is it safe to travel to Egypt?
Yes, it is absolutely safe to travel to egypt, You will feel secure in Egypt as the current atmosphere of the country is very peaceful after the government took powerful measures like restructuring the entire tourist police to include all the important and tourist attractions in Egypt and construct an entire environment dedicated for ensuring the lives of all tourists.
What are Egypt's Visa Requirements?
They are very simples, If you want to apply for a Visa On Arrival that lasts for 30 days then you should be one of the eligible countries(check the link), have a valid passport with at least 6 months remaining and pay 25$ USD entry fee in cash. As for the E-Visa for 30 days, you should have a valid passport for at least 8 months, complete the online application, pay the e-visa fee then print the e-visa to later be presented to the airport border guard. You could be one of the countries eligible for a free visa for 90 days.
What is the Weather is Like?
The temperature of Egypt ranges from 37c to 14 c, Summer in Egypt is somehow hot and winter is cool and mild but sometimes it becomes cold at night. The average of low temperatures vary from 9.5 ¡ÆC in the wintertime to 23 ¡ÆC in the summertime and average high temperatures vary from 17 ¡ÆC in the wintertime to 32 ¡ÆC in the summertime while the temperature is moderate all along the coasts.
What is the Best Time of Visit Egypt?
It is known the best time to travel to Egypt is in the winter from September to April as the climate becomes a bit tropical, a warm atmosphere with a winter breeze. You will also be notified a week before your trip if the weather is unsafe or if any changes have been made.
Should I Give Tips in Egypt?
It is totally up to you, but if you choose to you can tip the servers at your restaurant 5-10% by handing it to them directly and 5 Egyptian Pounds as a general tip of anyone.
Can I Enter the Pyramids?
Yes, you can enter the pyramids for the small fee of 20$.
How to Enjoy Egypt During Ramadan?
Ramadan is a special time of year for Muslims that should be celebrated by non-Muslims and feel the essence of the Islamic culture. You can fast with the Muslim or just observe but you are always welcome to join the celebrations and festivals.