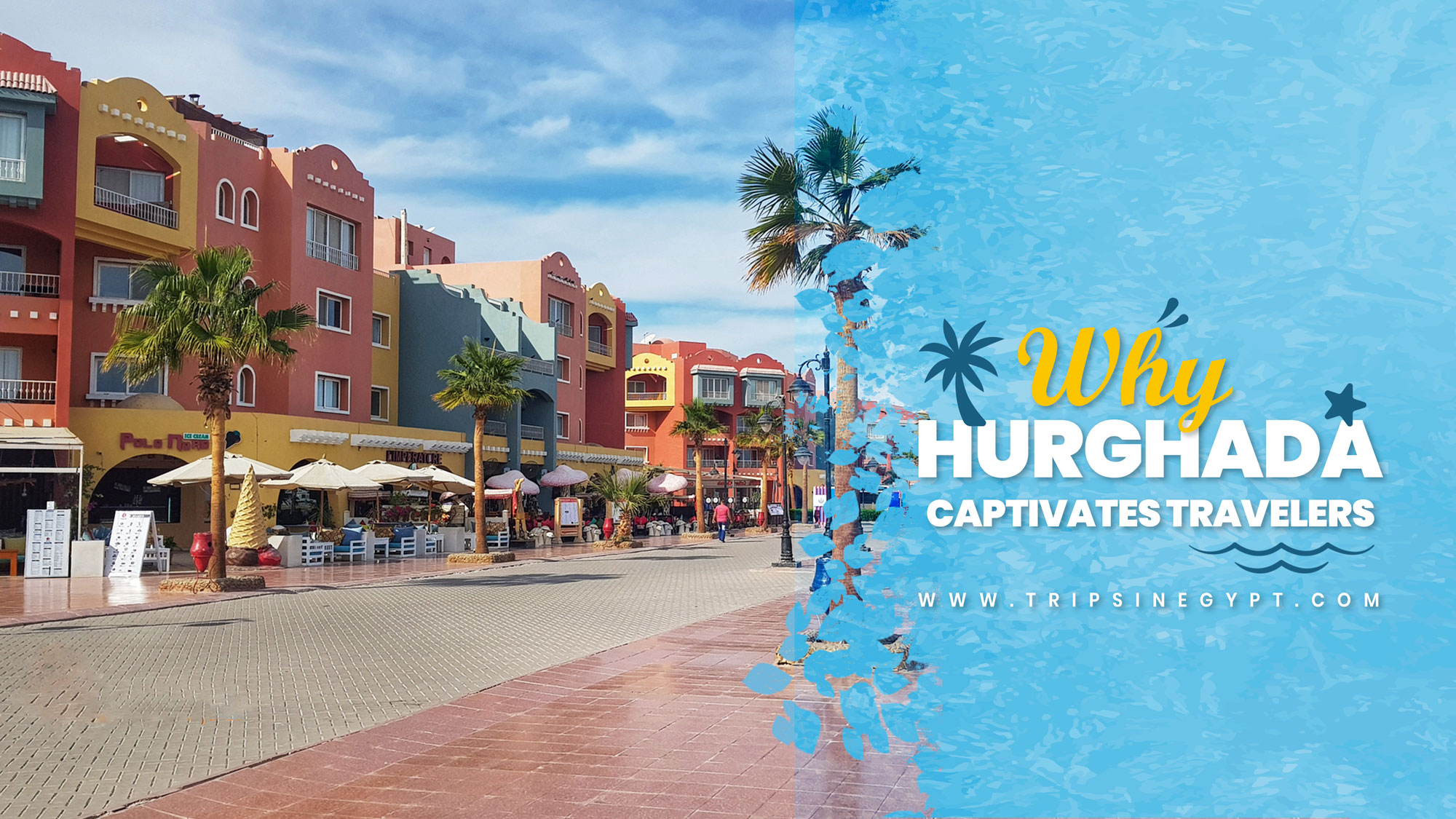 Why Hurghada Captivates Travelers?
Hurghada, Egypt's coastal gem, orchestrates a symphony of beauty. Its azure waters dance with vibrant corals, an aquatic ballet. The golden sands harmonize with majestic desert vistas, a picturesque masterpiece. Amidst this natural grandeur, Hurghada's culture and warmth serenade your senses. In this article, we reveal the unique beauty that captivates travelers from all over the world to this coastal paradise. Experience the amazing fusion of ancient history, breathtaking scenery, and colorful marine life that makes Hurghada a unique destination.

Hurghada's Setting Provides A Serene Break From Urbanity
Hurghada, situated on the eastern shore of Egypt along the beautiful Red Sea, this wonderful city is a captivating coastal city that is well-known for its amazing beaches and clear waters. Hurghada is an ideal destination in Egypt for travelers and those who enjoy water activities. Hurghada is located about 462 kilometers southeast of Cairo, the capital of Egypt, and it offers a peaceful escape from urban life. Also, the distance between Luxor and Hurghada is about 300 kilometers, so traveling between these two cities offers the advantage of experiencing diverse attractions such as the Valley of the Kings. This journey allows travelers to explore both the rich history and the natural beauty of Egypt.
With its strategic location on the Red Sea, There are many spots in Hurghada for diving and snorkeling as it has amazing coral reefs and a diverse marine ecosystem. Moreover, its unique location allows easy access to other coastal destinations like Marsa Alam and other cities which offers travelers unforgettable experiences. Hurghada offers a vibrant nightlife, excellent dining options, and water sports activities which makes it offer something exciting to do for everyone. Whether you seek thrilling adventures or a serene retreat in picturesque surroundings, the location of Hurghada on the Red Sea guarantees an unforgettable Egyptian experience.

Hurghada Weather Refreshing Vacation Vibe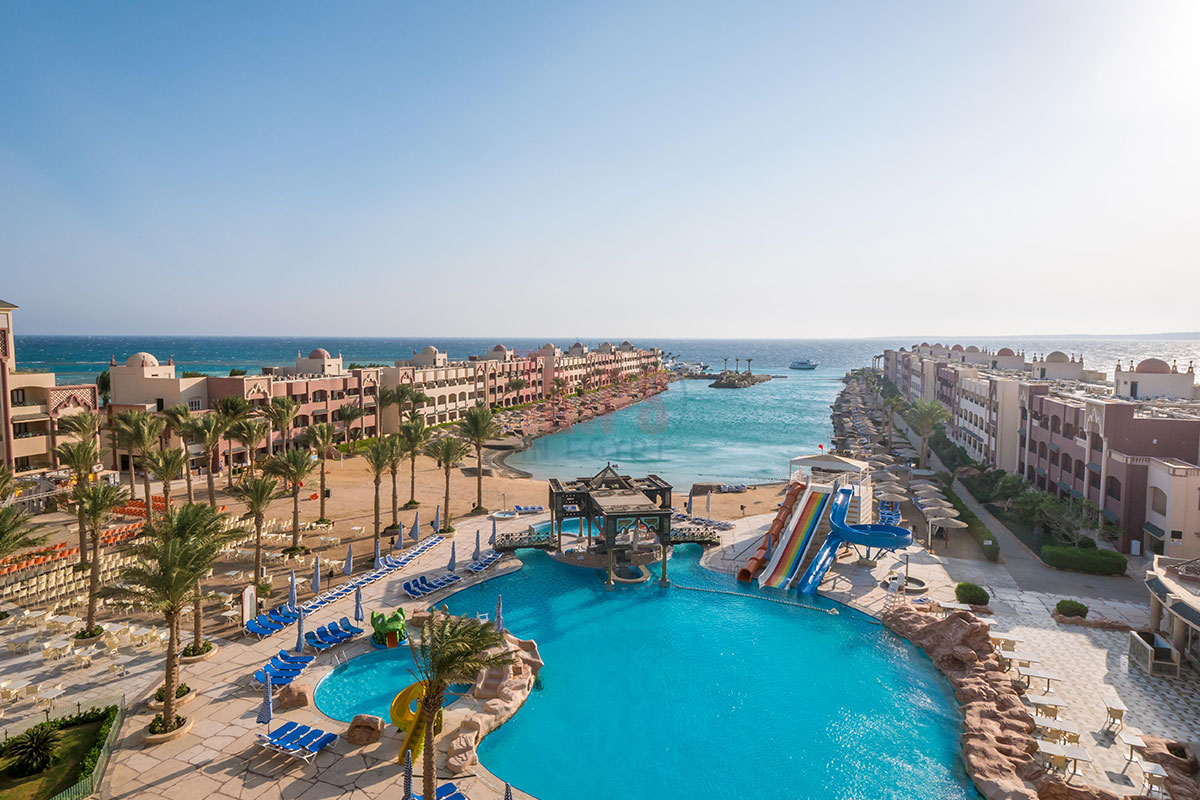 Hurghada enjoys a subtropical desert climate with very little rainfall and plenty of sunshine throughout the year. The best time to visit Hurghada depends on your preference, if you like scorching heat, go between April and October, and if you prefer a more comfortable warmth, go during the winter months. July is the hottest month with an average high of 39 C and an average low of 29 C. January is the coolest month with an average high of 22 C and an average low of 12 C, and it is also the driest month with no rain and 31 sunny days.
Hurghada receives very little rainfall throughout the year, and the abundance of sunshine makes it a perfect destination for tourists seeking warm weather and clear skies. The proximity of the Red Sea provides a cooling effect during the hottest months that attracts visitors to its beautiful beaches and resorts. To truly enjoy Hurghada to the fullest, read how to enjoy Hurghada, unwind, and savor every moment of your trip.

Hurghada Has Stunning Beach Escapes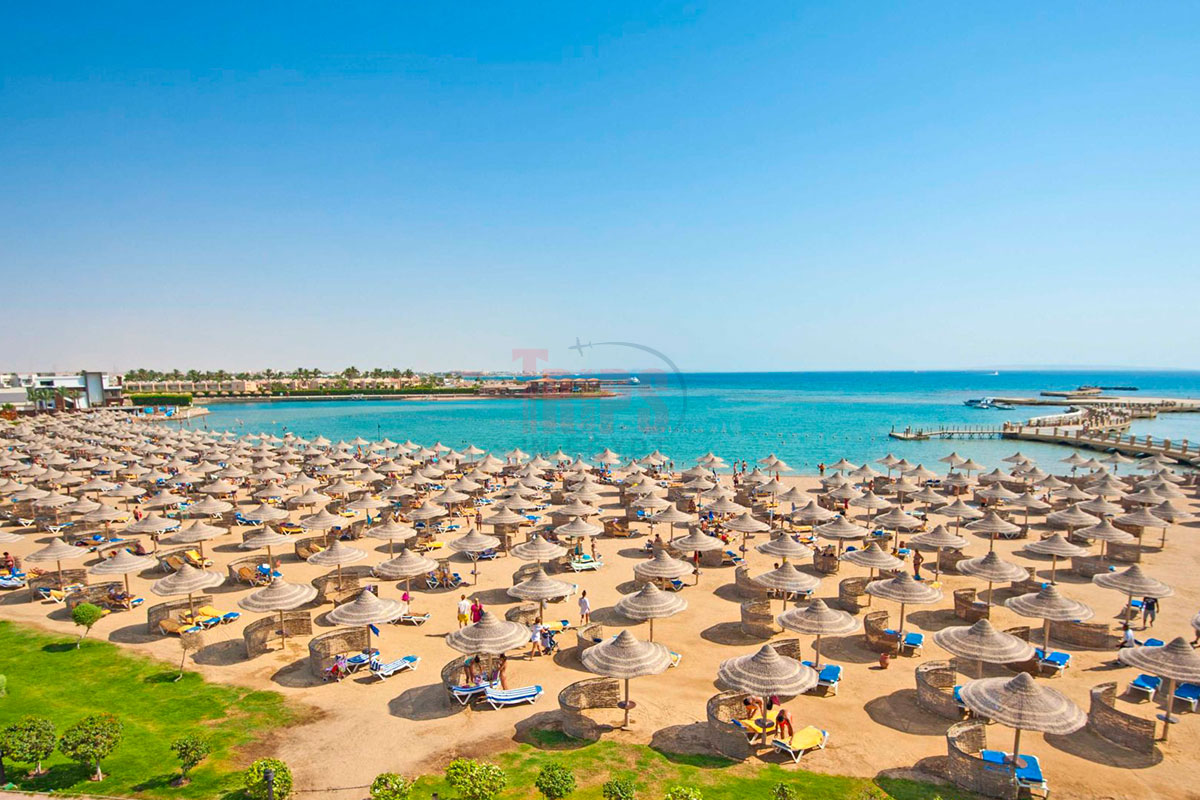 There are many beaches in Hurghada that draw tourists from all over the world. The immaculate coasts feature soft, white sands and clear, blue & green waters. The lively coral reefs near the shore provide an amazing snorkeling and diving experience that will let you explore a rich underwater world full of colorful fish and plants. With a perfect mix of natural beauty and lavish resorts, Hurghada offers a memorable beach vacation that will make you want to get back for more and more. Here are some of the wonderful beaches in the world that are located in Hurghada.
1. Mahmya Beach
Mahmya Beach is a breathtaking paradise that charms visitors with its pure beauty and clear waters. Mahmya Beach is located on Giftun Island, this isolated oasis offers a peaceful retreat from the busy city life with its soft, snowy white sands and gently waving palm trees, the beach radiates a calm atmosphere that calms the mind. Snorkeling lovers will be amazed by the lively marine life and colorful coral reefs just a few meters from the shore. Mahmya Beach is a perfect place to relax and make unforgettable memories.
2. Orange Beach
Orange Beach is a mesmerizing coastal jewel that is famous for its stunning beauty and a range of options that suit the needs of every traveler. The beach features wonderful golden sands that touch the clear blue waters of the Red Sea and form a scenic and welcoming setting for relaxation and fun. Sun lovers can enjoy the warm Egyptian sun while thrill seekers can try exciting water sports such as snorkeling and scuba diving to discover colorful coral reefs full of marine life. For those looking for peace, the calm of the atmosphere offers a perfect getaway to relax and listen to the gentle sounds of waves hitting the shore. With a variety of beachside resorts, cafes, and beach bars, visitors can taste delicious local food while enjoying the amazing sunsets that fill the sky in a harmony of colors that make Orange Beach a true paradise for vacationers from all backgrounds.
3. Sahl Hasheesh Beach
This immaculate stretch of sandy paradise has clear waters that offer a perfect setting for sun lovers. What makes Sahl Hasheesh truly unique is its unspoiled beauty, untouched by mass tourism that ensures a peaceful and quiet escape from the noise and stress of everyday life. As the sun goes down, watch the sky light up with shades of orange and pink, creating a magical atmosphere that is nothing short of breathtaking. For adventure-seekers, the surrounding landscape offers chances for thrilling desert safaris and camel rides that add a touch of discovery to your beach retreat. Relax under waving palm trees, enjoy delicious seafood dishes at beachside restaurants, or soak in the warm Egyptian sun. Escape to this amazing oasis and experience a true piece of paradise that will make you want more.
4. Makadi Bay
Makadi Bay is an amazing destination located between the captivating eastern desert and the inviting sea. This area is one of the top diving spots of Hurghada for its inshore reef that is home to a variety of exotic marine creatures. With its close proximity to Sahl Hasheesh and being just 23 km away from The International Airport of Hurghada "One of the Main Airports in Egypt", it is easily accessible for travelers. This picturesque bay offers a peaceful atmosphere, high-quality hotels, exceptional dining options, and breathtaking natural beauty. Makadi Bay is a true paradise for those seeking relaxation and nature exploration in Hurghada.
5. Soma Bay
On the east coast of the Red Sea, about 45 kilometers south of Hurghada, lies Soma Bay, a wonderful resort destination with spectacular natural scenery. The place features immaculate white-sand beaches, turquoise waters, and rich marine life. The resort provides a variety of deluxe amenities, such as top-notch hotels, spas, golf courses, and water sports centers, guaranteeing a pleasant and satisfying stay for guests. Soma Bay is known to tourists as a secluded and tranquil destination, perfect for unwinding and having fun. Tourists are attracted by its year-round mild weather and superb conditions for windsurfing and kitesurfing. Whether looking for a calm getaway or exciting water adventures, Soma Bay has become a top destination for those who want to experience the beauty of the Red Sea.
6. Giftun Island
Giftun Island is a beautiful paradise with clear waters and colorful marine life. The Island is a favorite spot for diving and snorkeling lovers as it has various facilities, such as comfortable beach huts, beach chairs, and umbrellas for visitors to rest and enjoy the sun. With its green vegetation and sand dunes, Giftun Island offers wonderful scenery for nature lovers looking for a peaceful escape. The island has several amazing beaches, such as Mahmya Beach and Paradise Beach, with soft white sands and tempting waters that are perfect for swimming and water sports. Giftun Island offers a scenic getaway for travelers who want to explore the beauty of the coastal wonders.
7. Old Vic Beach
The beach is tucked away in a secluded spot that is surrounded by lush greenery and clear blue water. The Beach offers a peaceful and relaxing environment with clean sand and calm waves, and it is a popular destination for nature lovers and travelers who appreciate its pristine beauty and quiet atmosphere. Visitors can enjoy pure nature and connect with their surroundings as it is a rare find among travelers who want to avoid the crowds and noise of other tourist places. The beach has a unique charm that appeals to those who are looking for a genuine and serene beach experience. Old Vic Beach attracts adventurers who want to explore the hidden beauty of the island and experience the simple joys of nature. Old Vic Beach is one of the best secrets on the Island and a perfect destination for travelers who want to enjoy a quiet and beautiful coastal escape where they can admire the natural beauty of an untouched paradise.
8. Beach Albatros Resort
This resort is a tranquil paradise that showcases the gorgeous beauty of the Red Sea, you can see it only 20 miles away from the center of Hurghada and 9 km from the Airport. The resort offers excellent accommodations with amazing views, charming restaurants, and various entertainment options for both kids and adults, and guests can have fun with a variety of activities, including water sports for thrill seekers. The resort also has relaxing spas for pampering and refreshing that ensure a luxurious and unforgettable stay for every traveler. With the calm atmosphere and numerous amenities of the resorts, this destination guarantees a remarkable vacation experience.

Hurghada Marine Life Is a Natural Artistic Masterpiece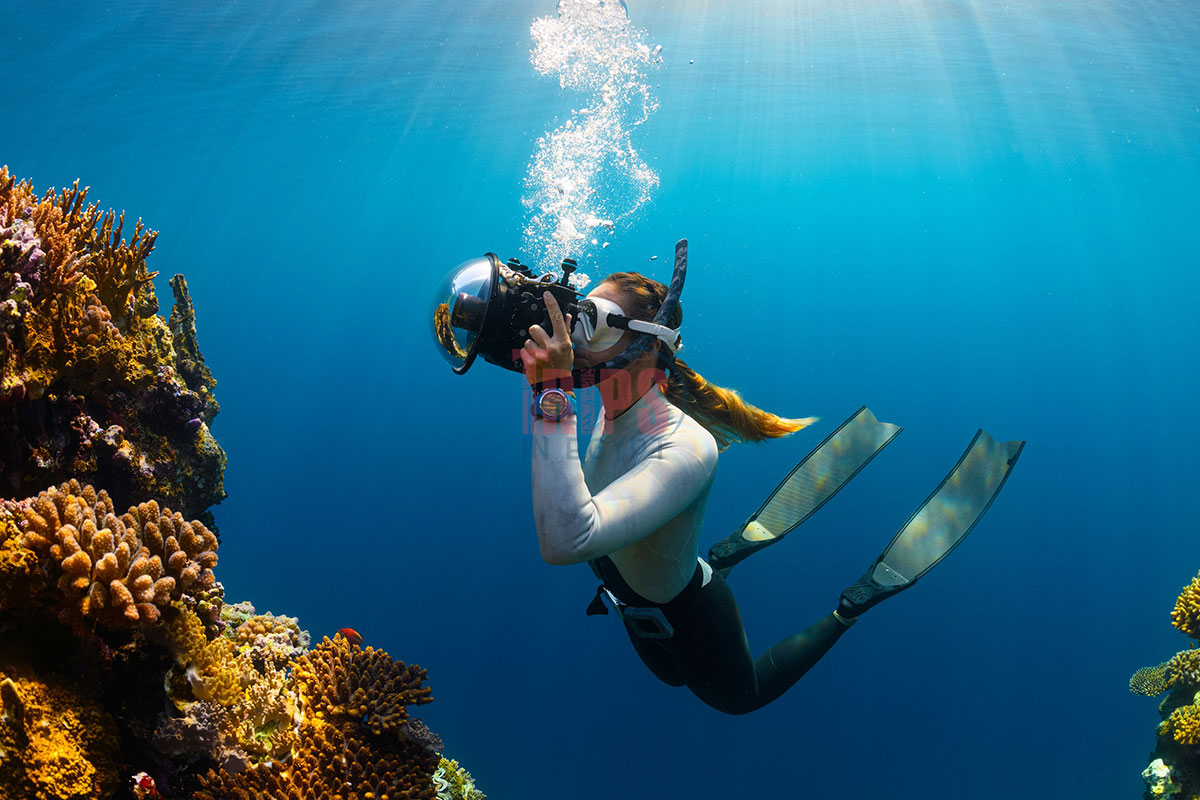 You are about to enter a world where colors are vivid, where the ocean floor is a masterpiece of the artistry of nature, and where the variety of life under the sea astonishes you. This is the marine wonderland, a place where reality meets fantasy, and where your dreams of underwater splendor come true. You plunge into the blue waters, feeling the warm sea embrace you. As you look below the surface, you discover a whole new universe waiting for you. Fish of all shapes and sizes swim gracefully, each fish dressed in its own bright shades, adds a touch of color to the marine orchestra.
And then, there are the coral reefs which are a living mosaic of forms and dimensions that extend as far as the eye can see. Soft corals wave like delicate dancers while hard corals create an intricate maze of underwater metropolises. As you explore this underwater domain, you will meet some of the most amazing marine species on the planet. Elegant rays soar effortlessly, their wings creating a heavenly shadow against the sun's golden beams. Friendly dolphins may accompany you on your aquatic adventure, inviting you to join in their happiness and endless energy.
The marine life of Hurghada is proof of the strength of nature, and it reminds us of our duty to protect and conserve these precious waters for generations to come. Hurghada's marine life is a gift, an invitation to explore, and an opportunity to connect with the limitless beauty of nature.

Hurghada Has the Best Activities Like Snorkeling, Diving, and Sightseeing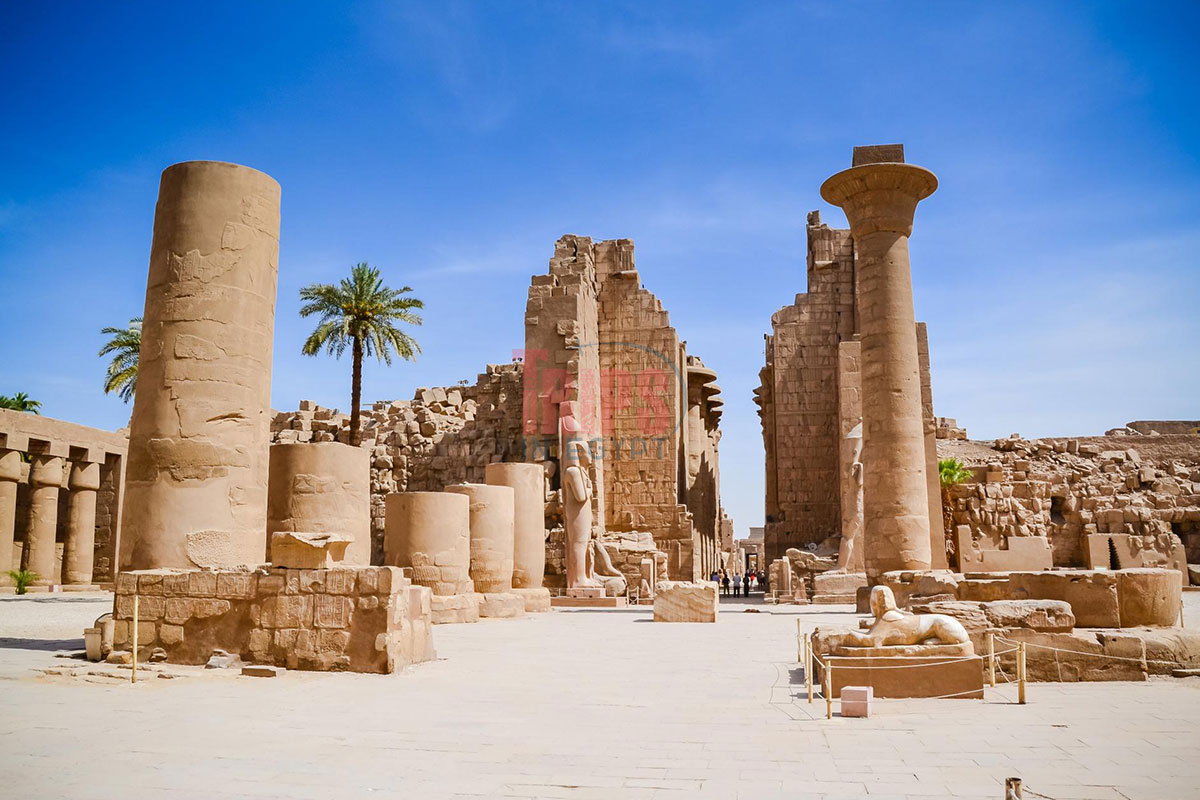 There are many things to do in Hurghada, a coastal gem along the Red Sea that promises an array of unforgettable experiences for travelers. From thrilling water adventures to a rich tapestry of culture and history, this Egyptian destination has something to captivate every visitor. Here, you will discover a treasure trove of experiences that cater to every traveler's desires and curiosities.
1. Snorkel In One Of The Best Snorkeling Destinations In The World
If you love exploring the underwater world, Hurghada is the place for you. Hurghada is one of the top destinations for snorkeling and scuba diving as it has crystal clear waters of the Red Sea and rich marine life, including stunning coral reefs. You can choose from many amazing spots to snorkel near Hurghada such as Utopia Island, where you can see the coral reefs, Makadi Beach which is famous for its transparent waters, and Giftun Islands National Park is full of green waters and incredible sea creatures like dolphins. You can also join a snorkeling tour from Hurghada that will provide you with everything you need to have a great snorkeling experience, as well as safety tips and precautions. You will board a boat, and enjoy the amazing views. You can find snorkeling activities starting from 22$ USD in Hurghada and some of them may include lunch and transportation.
2. Take A Boat to Orange Bay
Experience the beauty of Orange Bay, a sandy paradise on Giftun Island, where you can relax on beach swings and hammocks. Enjoy a scenic boat ride on the Red Sea, admire the views of the resorts and beaches along the coast, and arrive at Orange Bay, where you can have fun in the water with snorkeling, swimming, and other activities. You can also explore the amazing coral reefs and marine life with a guided tour under the sea. Orange Bay is a great place for families with children, who can play safely in the water and on the sand. You can book a boat tour from Hurghada Marina, which will take you to Orange Bay in about 20 minutes and may also include lunch on board, dolphin encounters, and other exciting water experiences.
2. Plan A Day Tour to Luxor
Four hours to the south of Hurghada lies Luxor, a city that showcases two magnificent sites: Luxor Temple and Karnak Temple. These ancient structures reveal the history and culture of the Egyptian civilization, as well as the secrets of their temples and tombs. Karnak Temple is the second-largest temple complex in the world and has been standing for more than two millennia. Luxor Temple, which dates back to 1400 BC, is believed to be the site where kings were crowned. On the west bank of the Nile lies the Valley of the Kings, where many of Thebe's rulers were buried. There are around 60 tombs in this area, each with its own story and design such as Tutankhamun, Ramses II, and Seti I.
3. Go Down To The Depths On A Submarine In Hurghada
Experience a thrilling adventure in Hurghada by going inside a submarine and diving 22 meters under the sea. Explore the underwater world of the Red Sea, and see the amazing marine life and coral reefs that live there. Some submarines can hold up to 44 people and are operated by 2-4 experts, these are called semi-submarines, and they do not go too deep. Listen to the professionals who travel with you, as they tell you interesting facts about what you see around the submarine. Many tours can take 1-3 hours, and some experiences can also offer extra activities such as paragliding and jet-skiing.
4. Plan A Day Tour To Cairo
Cairo is the biggest city in Africa and has many UNESCO World Heritage Sites such as the famous Pyramids of Giza. You can easily plan a day trip to Cairo from Hurghada, which is about one hour away by plane. Book a tour that will take you to see the Pyramids of Giza, and visit the Egyptian Museum, Khan El-Khalili, and Al-Muizz Street to discover the rich history of these places. Learn about how the ancient Egyptians mummified their bodies, and take a photo with the iconic pyramids and a camel in the background. You can choose from private tours or group tours, which include transportation from your hotel to the pyramids, and the entry fees in Cairo.
5. Enjoy The Best Beaches & Restaurants
To enjoy the best beaches and restaurants during your vacation, start by researching beach destinations that align with your interests and preferences. Once you've chosen the right beach, plan activities such as water sports or relaxation, and pack beach essentials like sunscreen and hats.  Try Alex Beach Club Restaurant, a cozy place with white furniture and a white pergola next to the beach, ideal for a romantic evening of drinks and chat. Enjoy a variety of fresh dishes that are made with quality ingredients from the local area. If you are traveling with family or with a group of friends, Blue Beach Club is the perfect place to suit different tastes and occasions.
6. Practice Kitesurfing In El-Gouna
Learn kite surfing with an experienced instructor, as you go to the lagoon where the water is shallow enough to practice the sport safely, whether you are a beginner or an expert. Have fun with a group of people in a kite surfing class, and cheer each other on as you start getting your balance through the water. Many kite surfing classes are very affordable, starting from $80 USD and including the equipment, insurance, instructors, and beach facilities. Do not forget to bring a pair of sunglasses, sunscreen, and suitable footwear.
7. End Your Evening Stargazing
Book a stargazing tour that will take you and your friends to the best places to see the stars in Hurghada. Enjoy the view of the clear night sky, filled with constellations and bright stars. The stargazing tours include transportation, which will take you to the Hurghada desert around sunset time, to arrive at the stargazing site. Get ready for a night of serene sky-watching in a comfortable setting, learning about the fascinating facts about the stars and planets, shared with you by an expert astronomer. It is a wonderful chance not only for stargazing but being in the desert at night that is surrounded by magical silence.
8. Enjoy The Desert Safari
Explore the desert in many ways from riding a camel to driving a quad tour under the clear blue sky of Egypt. Relax with tea and snacks in between your adventures and get ready for more fun in the sand. You can choose a half-day or a full-day safari from Hurghada by Quad, and focus on one activity or try more than two. Most safaris include transportation in an air-conditioned car, guides, and snacks. Tips are not included, so bring some cash with you.
9. Visit Mini Egypt Park
See the famous landmarks of Egypt in miniature form at the Mini Egypt Park from Hurghada, where more than 50 artists have created scaled-down replicas of historical monuments. You can pose with the tiny versions of the Roman Amphitheater, The New Theater of Alexandria, El Montazah Palace, and The Cairo Tower, and pretend to hold a pyramid or other iconic Egyptian structures in your hand. The Mini Egypt Park is a fun attraction for visitors of all ages, especially children, if you do not have time to visit all the real sites, you can get a glimpse of them at this museum. You need to book your tickets online to enter the museum, or you can book a guided tour online, which will include a guide and transportation.

Conclusion
Hurghada is a city that invites you to enjoy the beauty of the Red Sea, whether you are on the beach, in the streets, or in the old town of El Dahar. You can experience the culture, history, and nature of this place in many ways from a Bedouin dinner under the stars to a stroll along the Red Sea.
Let the Trips In Egypt Team help you plan your next trip to the Red Sea, where you can enjoy the sun, the sand, and relaxation. Hurghada excursions offer a gateway to a world of wonder and adventure along the mesmerizing Red Sea coast of Egypt. From the vibrant coral reefs to the rich cultural experiences, this destination has something for every traveler. Hurghada excursions are an invitation to discover the beauty, mystery, and excitement that this coastal paradise has to offer, making it a must-visit destination for any adventurer.
FAQ
What Should I Wear While Being in Egypt?
You should wear whatever you want. It is advised to wear something light from cotton or linen, comfortable and put on sunblock during your time in Egypt in the summer and wear comfortable footwear like a closed-toe shoe to sustain the sandy terrain.
What to Pack for Your Egypt Tour?
You should bring a brimmed hat and sunglasses if you not used to the Egyptian sun &pack everything you could ever need and put in a small bag so you could move easily between your destinations.
Are All Nile Cruises Available at Any Time?
Yes, it is available all years. as the Nile from Aswan to Luxor takes three to four days of sailing on Monday, Wednesday and Friday for the total cost of 600$ and the Nile cruise from Luxor to Aswan take four to five days in Saturday, Monday and Thursday for the coast of 650$.
We have experience in vacation planning for more than 10 years & our staff consists of the most professional operators, guides and drivers who dedicate all of their time & effort create the perfect vacation. All of our tours are customized by Travel, Financial & Time advisors to fit your every possible need during your time in egypt. we always keep in mind that your safety & comfort are our main priority until you return home.
Is it safe to travel to Egypt?
Yes, it is absolutely safe to travel to egypt, You will feel secure in Egypt as the current atmosphere of the country is very peaceful after the government took powerful measures like restructuring the entire tourist police to include all the important and tourist attractions in Egypt and construct an entire environment dedicated for ensuring the lives of all tourists.
What are Egypt's Visa Requirements?
They are very simples, If you want to apply for a Visa On Arrival that lasts for 30 days then you should be one of the eligible countries(check the link), have a valid passport with at least 6 months remaining and pay 25$ USD entry fee in cash. As for the E-Visa for 30 days, you should have a valid passport for at least 8 months, complete the online application, pay the e-visa fee then print the e-visa to later be presented to the airport border guard. You could be one of the countries eligible for a free visa for 90 days.
What is the Weather is Like?
The temperature of Egypt ranges from 37c to 14 c, Summer in Egypt is somehow hot and winter is cool and mild but sometimes it becomes cold at night. The average of low temperatures vary from 9.5 ¡ÆC in the wintertime to 23 ¡ÆC in the summertime and average high temperatures vary from 17 ¡ÆC in the wintertime to 32 ¡ÆC in the summertime while the temperature is moderate all along the coasts.
What is the Best Time of Visit Egypt?
It is known the best time to travel to Egypt is in the winter from September to April as the climate becomes a bit tropical, a warm atmosphere with a winter breeze. You will also be notified a week before your trip if the weather is unsafe or if any changes have been made.
Should I Give Tips in Egypt?
It is totally up to you, but if you choose to you can tip the servers at your restaurant 5-10% by handing it to them directly and 5 Egyptian Pounds as a general tip of anyone.
Can I Enter the Pyramids?
Yes, you can enter the pyramids for the small fee of 20$.
How to Enjoy Egypt During Ramadan?
Ramadan is a special time of year for Muslims that should be celebrated by non-Muslims and feel the essence of the Islamic culture. You can fast with the Muslim or just observe but you are always welcome to join the celebrations and festivals.