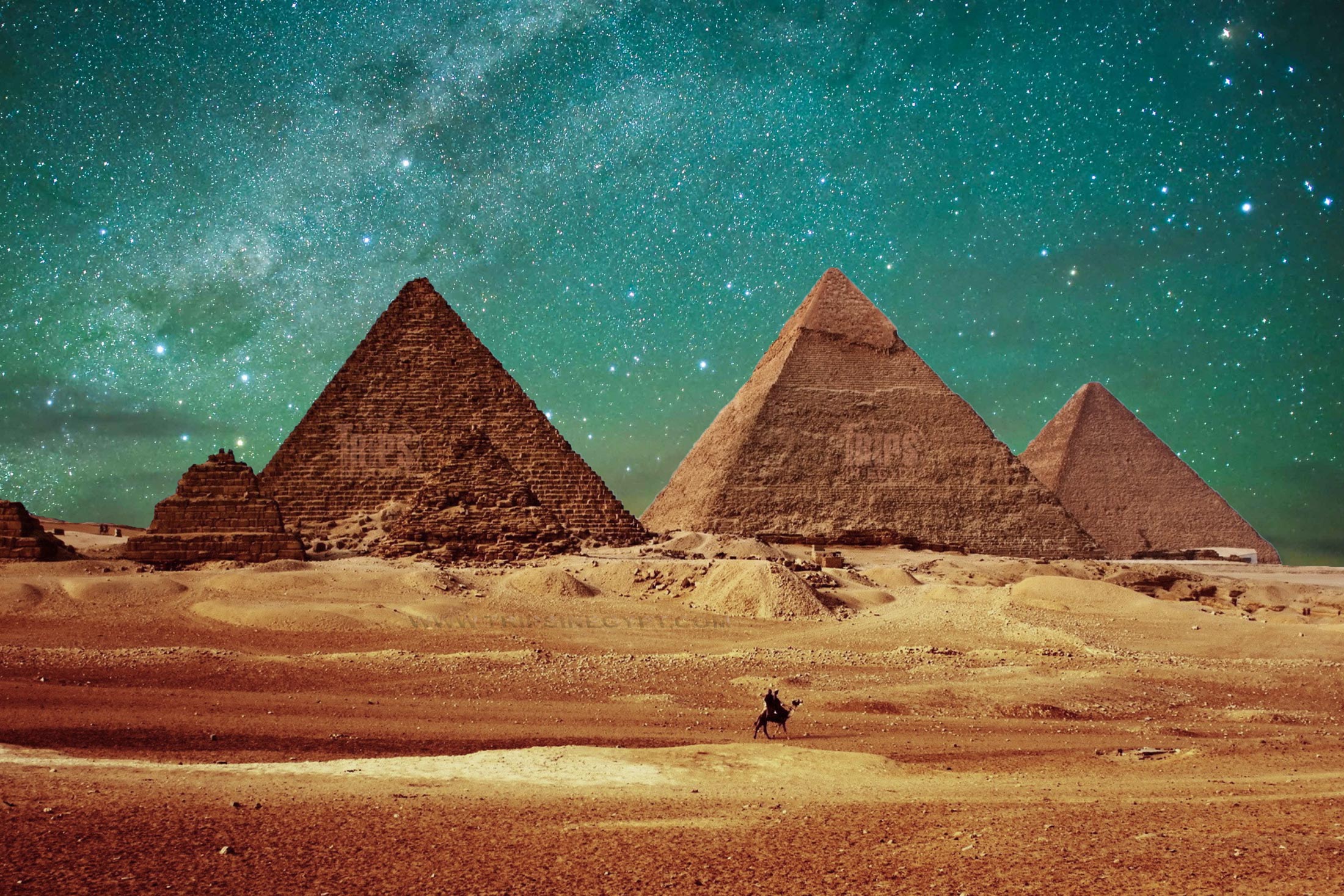 How to Enjoy Stargazing in Egypt
Egypt has long been a prime destination for stargazers of all ages, as Egypt is truly a unique place to experience the night skies, which are free from pollution. Egypt provides a unique chance to observe the stars and constellations in all their beauty. To witness the Milky Way, the brightest star, the meteor showers, and the mysterious planets, all you need to do is to travel to Egypt and enjoy stargazing vibes.
Egyptian attractions, such as the Great Pyramids of Giza plateau provide a great opportunity for stargazers to witness the amazing sky at night in the presence of some of the most iconic ancient structures. Egypt has become an ideal destination for astronomers and stargazing lovers, as there is no pollution, no crowding, and it has unique degrees of darkness, Egypt offers an ideal opportunity to study and observe the stars and planets. Astronomers have the chance to observe stars and even distances that can't be seen in normal areas.
With the right equipment and knowledge, stargazing in Egypt can be a truly unforgettable experience, so. Whether you are an astronomer or a stargazing lover, Egypt is the perfect place to indulge in a night of stargazing. Our article today will provide you with enough information to help you to choose the best attraction in Egypt to stargaze.

What is So Special About "Stargazing" in Egypt?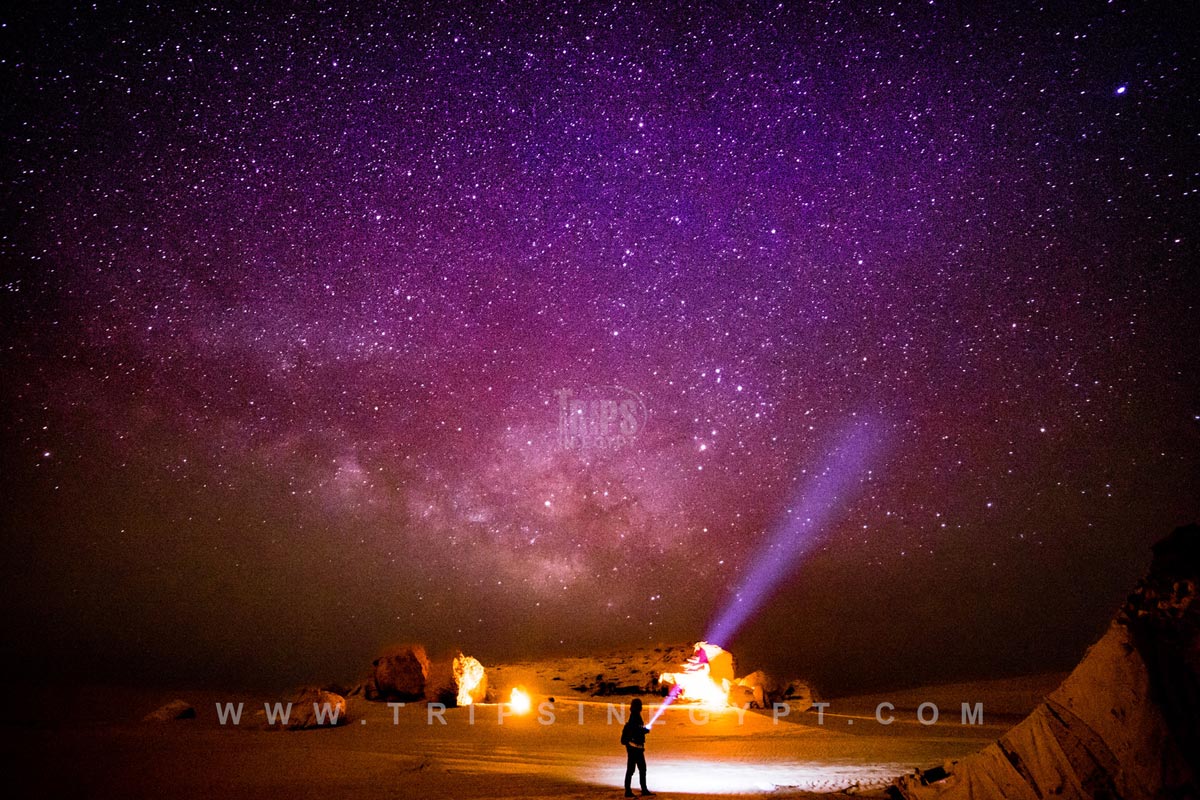 Stargazing in Egypt is an experience like no other. The night sky of the desert which is free from pollution is a stunning sight to look at, with a seemingly infinite number of stars, the sky becomes a majestic show. 
Egypt has opened spaces that are hard to find anywhere and that's what makes Egypt unique in stargazing. Besides amazing and breathtaking attractions, just add to this wonderful experience many historical sites and Bedouin drinks, which provide you with a unique culture that will last with you forever; whether you are a passionate or a student, Egypt will drive you to heaven with its attractions to explore beyond the stargazing.

Best Places to Stargaze in Egypt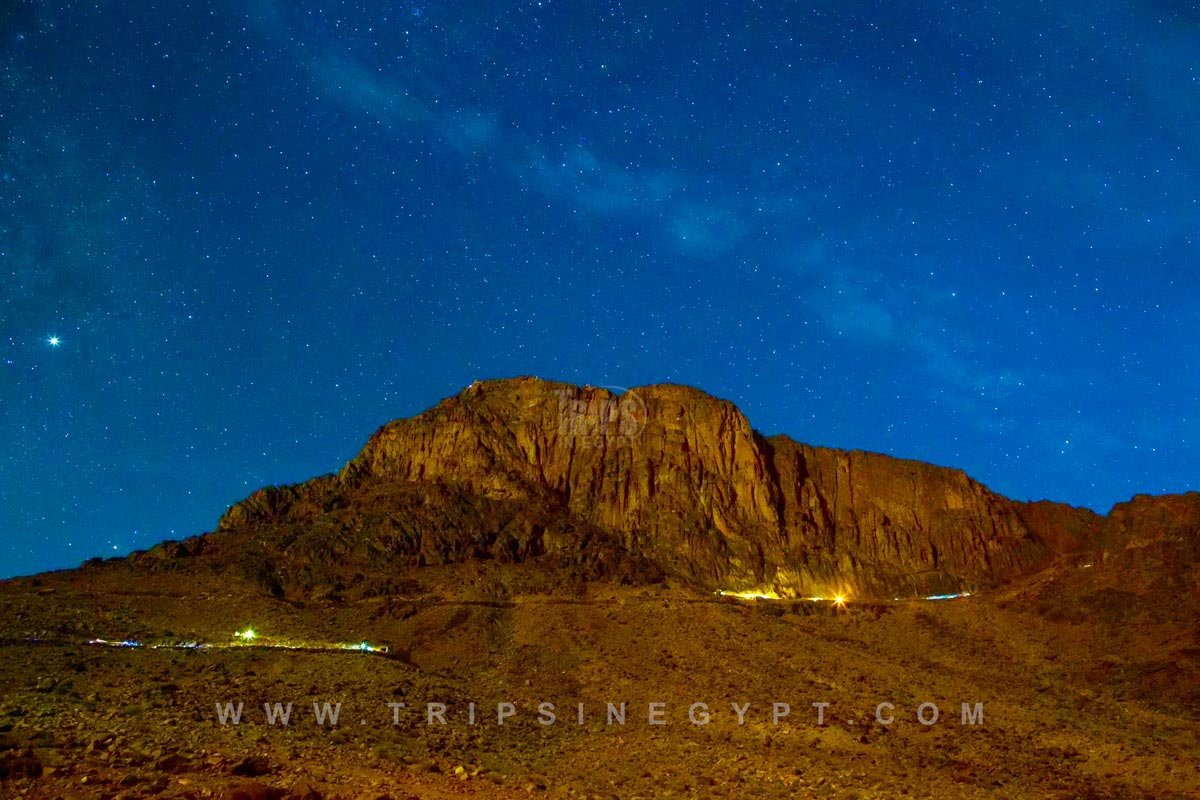 1. Giza Plateau
Stargazing in the Giza pyramids is a breathtaking sight to behold! This experience is a perfect way to contemplate the greatness of the universe and explore the beauty of the sky at night. The pyramids offer a unique ideal point that makes you observe the stars and the meteor shower. Stargazing at the pyramids has captivated travelers and locals for thousands of years, as it has a special flavor by witnessing the beauty of the sky and the greatness of the Pharaoh together in one place.
As you lay beneath the stars of the Pyramids, you can contemplate the fascinating questions of the universe, such as the origin of time, the meaning of life, and the evolution of the universe. Stargazing in the pyramids will leave you with a deep appreciation for the beauty and mystery of the sky during the night, and with a newfound sense of peace.
2. Fayoum
Stargazing in Fayoum is an amazing experience that offers a unique and unforgettable experience. Fayoum is Located 100 kilometers from Cairo, and about an hour and a half via car. Fayoum oasis offers a perfect opportunity to watch stars in a crystal clear sky and a warm night with the least light and minimal noise that will make the night sky even more beautiful. 
Whether you are looking for answers or just want to enjoy the weather, Fayoum is the most suitable place for you, Fayoum is perfect for stargazing, with the perfect level of darkness, natural beauty, and a museum that offers a glimpse of the history of the area in whole. On a clear night, you can see a vast array of stars, planets, and galaxies, which makes it an incredible experience.
3. The White Desert
Stargazing in the White desert is a special experience. The vast expanse of white sand, mixed with the night sky full of stars, creates breathtaking vibes. The Milky Way can be seen stretching across the sky at night, and constellations can be easily identified. The white desert provides a calming and perfect atmosphere for stargazing. The White desert is the perfect place to be alone with your thoughts and to take in the beauty of the sky at night.
The experience of stargazing in the white desert is something that will stay with you for a lifetime. You can be sure that each time you visit Egypt, you will find something new and beautiful to admire in sky night.
4. Sharm El-Sheikh
Experience the beauty and breathtaking view of the night sky from the zone of Sharm El-Sheikh is one of the best places in the world to go stargazing as it has many attractions to stargaze such as "Saint Catherine, Moussa Mountain….etc". When you stargaze into the night sky, you can appreciate its beauty as it glimmers and sparkles in the night.
Observe the celestial bodies and the different constellations, be mesmerized by the Milky Way and the stars that make up its shape, and appreciate the beauty of the universe. Sharm El Sheikh is also the perfect place to take photographs of the night sky, for an exciting experience, you can try astrophotography and take pictures of galaxies.
5. Nuweiba
Stargazing in Nuweiba is a magical experience. Nuweiba is a coastal town in the east of Sainai, and it is located on the coast of the Gulf of Aqaba. The best time to go stargazing in Naweiba is during the winter months when the night sky is at its clearest, during these months, visitors can see the Milky Way, while the planets and the meteor shower can also be seen. Stargazing in Naweiba is a mesmerizing experience; as the night sky is filled with breathtaking sights. It is one of the most perfect places to relax and meditate on the beauty of the night sky.

What to Pack Before Stargazing in Egypt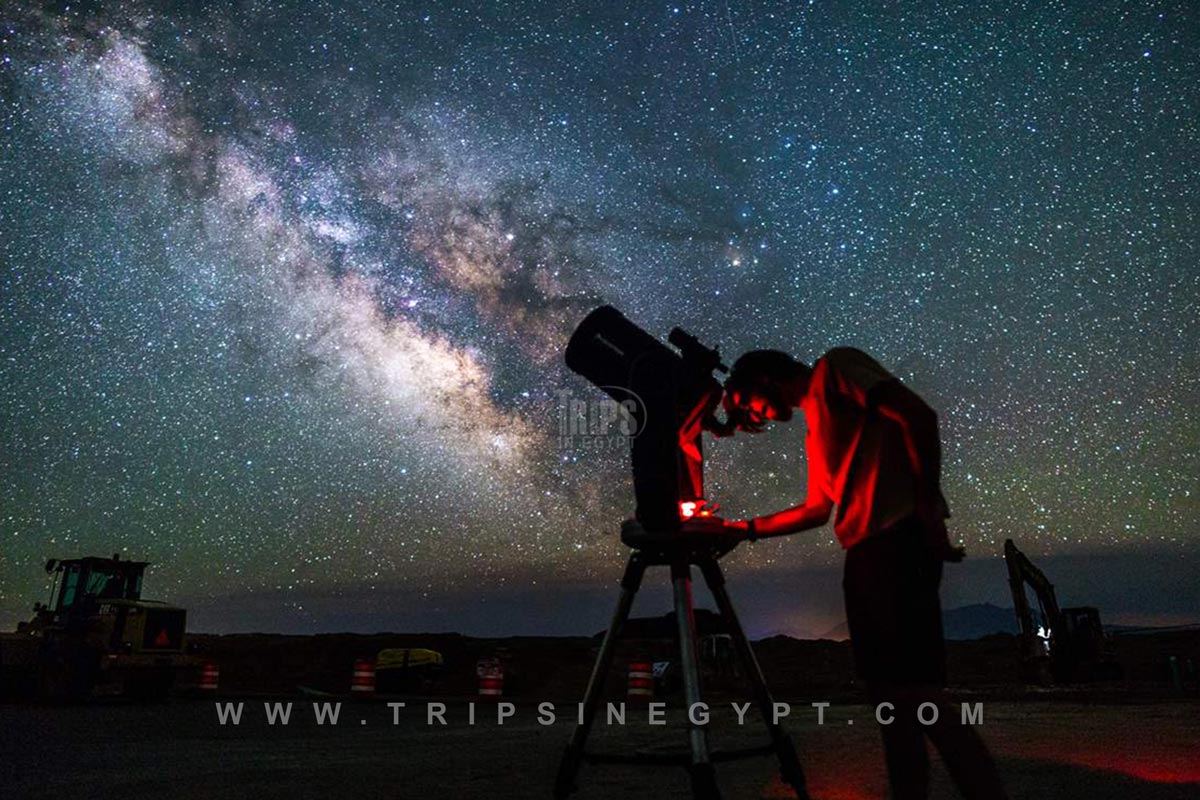 Before you go stargazing, make sure to pack the following items: 
Telescope: A Telescope will help you to see stars in more detail, and to get the best views of the night sky.
Your Family/Partner: Do not miss trying this experience with whom you love to share this amazing experience with you.
Blanket: to keep your body warm at night. 
Chair: to help you to relax and stay comfortable for long periods.
Red Lamp: This will help you to read star maps and other materials without affecting your vision.
Insect Repellent: to keep away mosquitoes that might disturb your experience.
Notebook: write down any observations or notes about your experience. 
Digital Camera: to capture photos of the night sky and memorize your experience for a lifetime.
Snack And Bottle of Water: To keep your energy.
Check the Weather Before Going to Stargaze: Bring some clothes to keep you warm especially if you are planning to go in the winter months.
Socks/Hand Warmer: If you are planning to stargaze during the months of winter.
Applications: You can also consult star charts and astronomy apps to help you locate the constellations.
Booking with Trips in Egypt will provide you with an unforgettable experience in stargazing as we are specialized in arranging tours since 2002.

Best Time to Stargaze in Egypt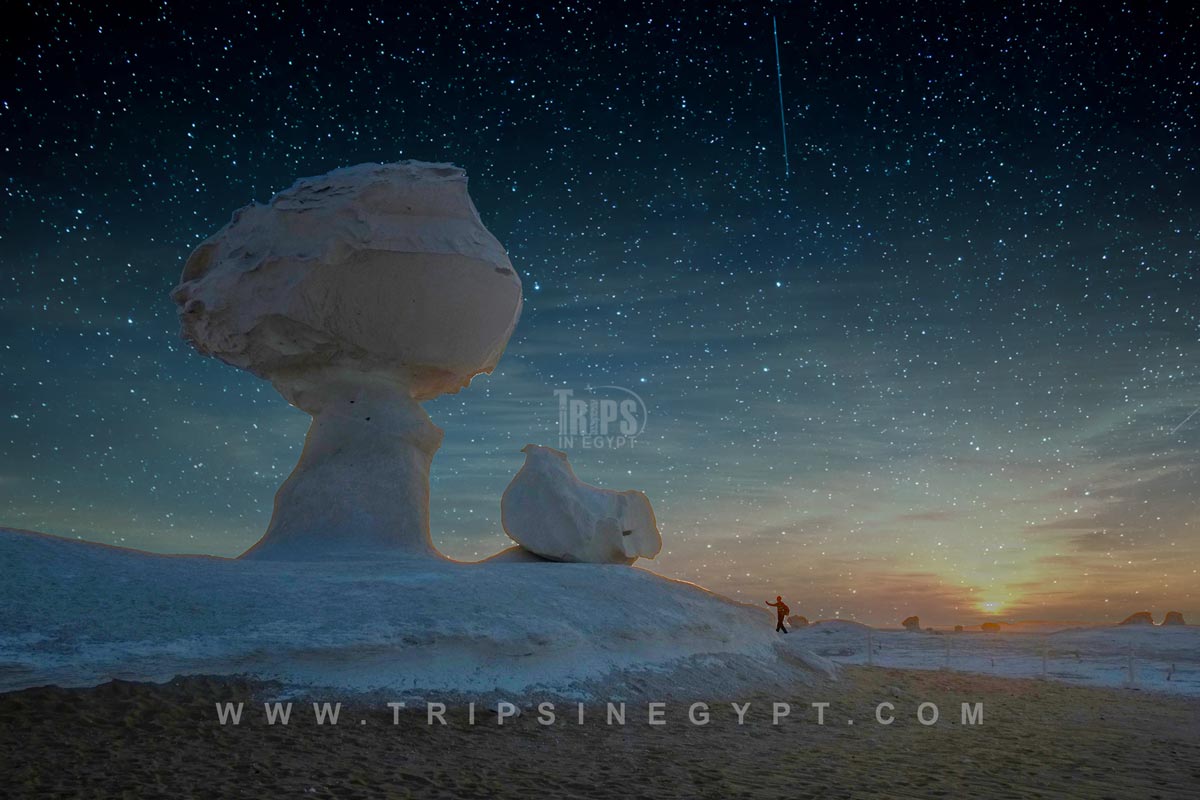 Stargazing in Egypt is an incredible experience. With its great pyramids and vast desert sands, Egypt is a magical place to observe the stars. For a truly unforgettable stargazing experience, it's important to plan your journey well with a specialized travel agency to arrange it well. First, choose a time when there is darkness, and make sure to check the weather forecast for the area, we highly recommend stargazing from January to October, from 12:00 am to 05:00 am. Second, do not forget to take enough time to appreciate the beauty of the desert and the stars! Stargazing in Egypt is an unforgettable experience that will last with you forever.

Conclusion
In light of these attractions, Stargazing in Egypt is an unforgettable experience that provides an opportunity to observe the stars and planets in a way that cannot be experienced when stargazing in another country due to its unique attractions. Stargazing in Egypt can be done either in your own or through our travel agency as Trips In Egypt has professional Egyptologists, telescopes, and the required experiences which are available to help you get the most out of your experience. No matter where you go, the ancient stars of Egypt will captivate and inspire you to explore the night sky in all its beauty.
FAQ
What Should I Wear While Being in Egypt?
You should wear whatever you want. It is advised to wear something light from cotton or linen, comfortable and put on sunblock during your time in Egypt in the summer and wear comfortable footwear like a closed-toe shoe to sustain the sandy terrain.
What to Pack for Your Egypt Tour?
You should bring a brimmed hat and sunglasses if you not used to the Egyptian sun &pack everything you could ever need and put in a small bag so you could move easily between your destinations.
Are All Nile Cruises Available at Any Time?
Yes, it is available all years. as the Nile from Aswan to Luxor takes three to four days of sailing on Monday, Wednesday and Friday for the total cost of 600$ and the Nile cruise from Luxor to Aswan take four to five days in Saturday, Monday and Thursday for the coast of 650$.
We have experience in vacation planning for more than 10 years & our staff consists of the most professional operators, guides and drivers who dedicate all of their time & effort create the perfect vacation. All of our tours are customized by Travel, Financial & Time advisors to fit your every possible need during your time in egypt. we always keep in mind that your safety & comfort are our main priority until you return home.
Is it safe to travel to Egypt?
Yes, it is absolutely safe to travel to egypt, You will feel secure in Egypt as the current atmosphere of the country is very peaceful after the government took powerful measures like restructuring the entire tourist police to include all the important and tourist attractions in Egypt and construct an entire environment dedicated for ensuring the lives of all tourists.
What are Egypt's Visa Requirements?
They are very simples, If you want to apply for a Visa On Arrival that lasts for 30 days then you should be one of the eligible countries(check the link), have a valid passport with at least 6 months remaining and pay 25$ USD entry fee in cash. As for the E-Visa for 30 days, you should have a valid passport for at least 8 months, complete the online application, pay the e-visa fee then print the e-visa to later be presented to the airport border guard. You could be one of the countries eligible for a free visa for 90 days.
What is the Weather is Like?
The temperature of Egypt ranges from 37c to 14 c, Summer in Egypt is somehow hot and winter is cool and mild but sometimes it becomes cold at night. The average of low temperatures vary from 9.5 ¡ÆC in the wintertime to 23 ¡ÆC in the summertime and average high temperatures vary from 17 ¡ÆC in the wintertime to 32 ¡ÆC in the summertime while the temperature is moderate all along the coasts.
What is the Best Time of Visit Egypt?
It is known the best time to travel to Egypt is in the winter from September to April as the climate becomes a bit tropical, a warm atmosphere with a winter breeze. You will also be notified a week before your trip if the weather is unsafe or if any changes have been made.
Should I Give Tips in Egypt?
It is totally up to you, but if you choose to you can tip the servers at your restaurant 5-10% by handing it to them directly and 5 Egyptian Pounds as a general tip of anyone.
Can I Enter the Pyramids?
Yes, you can enter the pyramids for the small fee of 20$.
How to Enjoy Egypt During Ramadan?
Ramadan is a special time of year for Muslims that should be celebrated by non-Muslims and feel the essence of the Islamic culture. You can fast with the Muslim or just observe but you are always welcome to join the celebrations and festivals.