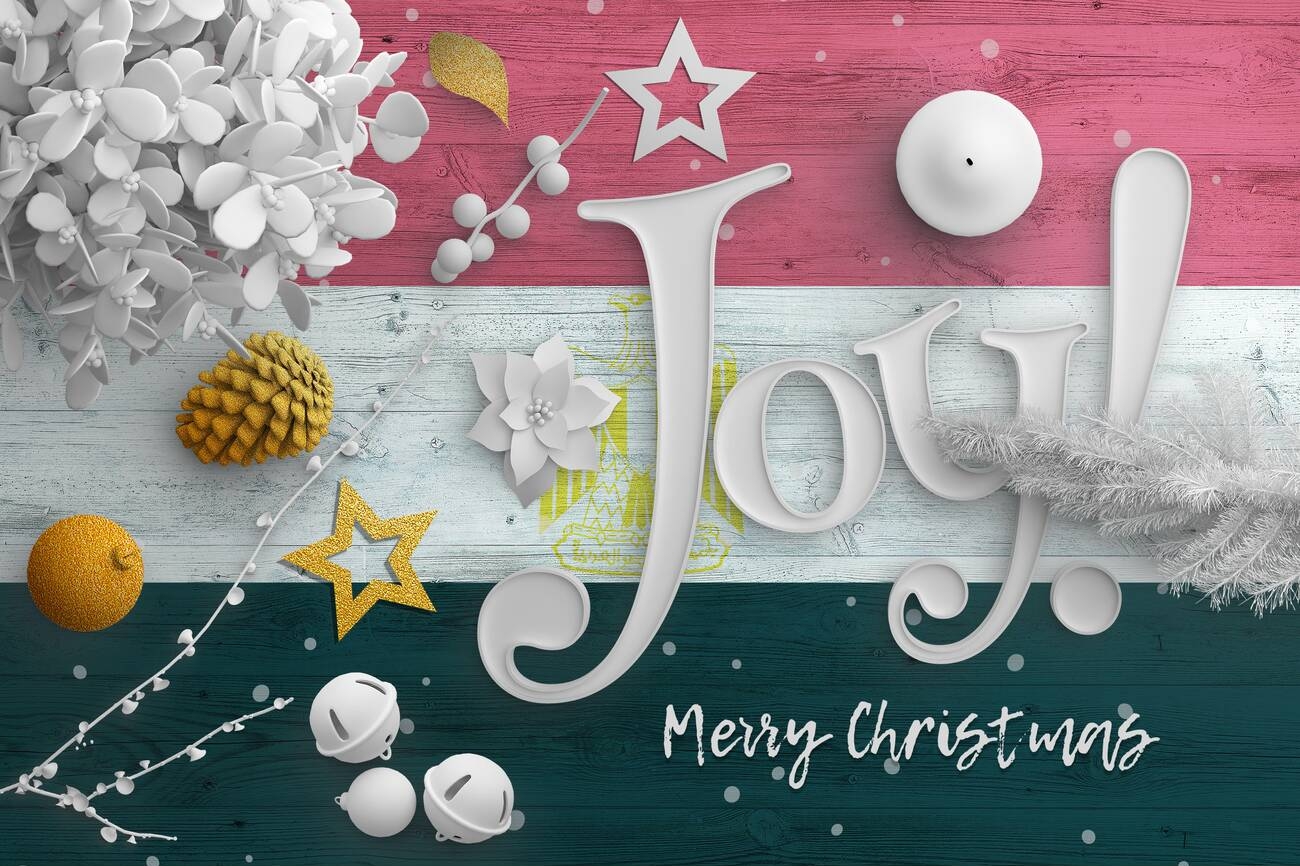 Best Places to Visit in Egypt During the Christmas
Christmas in Egypt is a sacred occasion for Coptic Christians and Muslims alike, and they celebrate it twice. You will discover the wonders of Christmas on a sacred land where you can enjoy Egyptian history and culture blended with breathtaking attractions. Escape the cold and snowy winter and celebrate a warm and sunny Christmas beside the Great Pyramids, where you can experience the magic of a different land as Egypt is a popular destination for those who wish to discover its heritage and wonderful landscapes.
You will enjoy our attractive lines in this article as we will show you the best places to celebrate Christmas in Egypt, and how you can enjoy Christmas among its iconic festives and traditions in Egypt. Below are the top places to celebrate Christmas in Egypt:

1. The Giza Pyramids Complex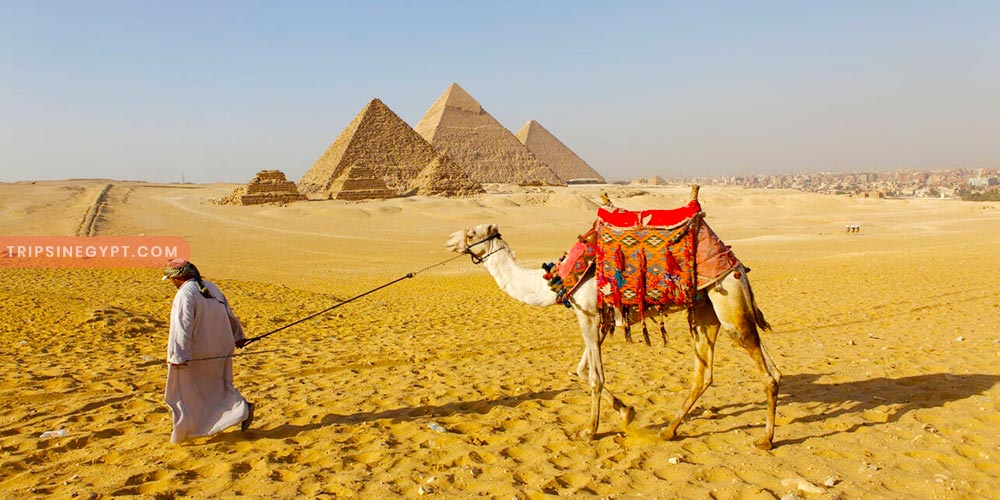 One of the greatest ways to spend Christmas is to visit the Giza Pyramids Complex where you can wonder about the ancient wonders of the world. The Great Pyramid of Khufu, the Pyramid of Khafre, and the Pyramid of Menkaure stand tall and proud. The weather is mild and pleasant which allows you to take beautiful pictures of the pyramids against the clear blue sky.
You can also get lost in the Egyptian culture of this ancient civilization while enjoying the Egyptian vibes and meeting other travelers from all over the world. Besides visiting one of the seventh wonders of the world, you will witness the Sphinx guard the ancient secrets that Plateau awaits your visit. In the complex, you can celebrate Christmas among the pyramids, it is a rare and unforgettable way to enjoy Christmas.

2. The Grand Egyptian Museum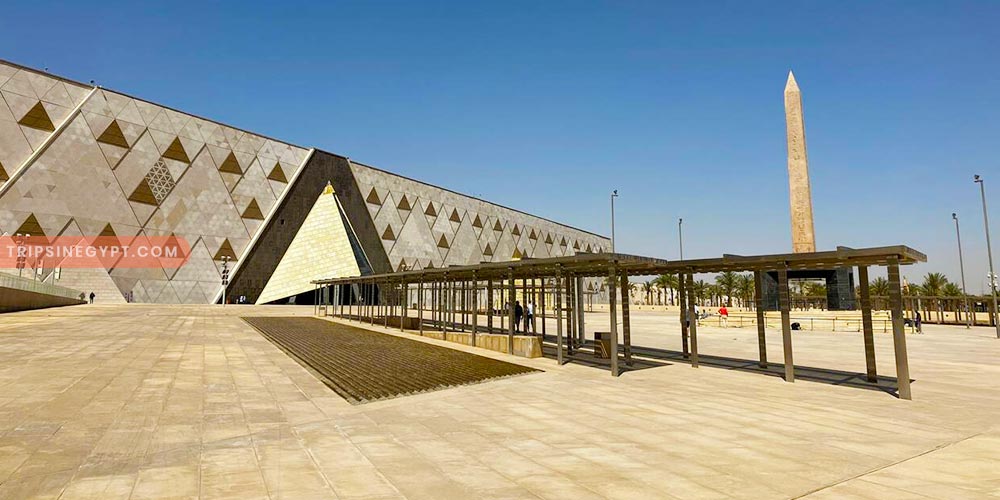 If you love ancient Egypt, you will love visiting the Grand Egyptian Museum during Christmas. This museum is one of the biggest in the world, and it has amazing collections of old Egyptian treasures that you can learn a lot about. The museum is also very festive during Christmas, with beautiful decorations, so, you can also enjoy the warm weather in Egypt, while other places are cold and snowy.
Christmas is a great time to discover Egyptian history, and the Grand Egyptian Museum is the best place to do that. You can see the famous Tutankhamun exhibit and many other wonders of the ancient world and feel the spirit of the pharaohs and their achievements. By visiting the GEM, You will have an amazing experience magically.

3. The Valley of the Kings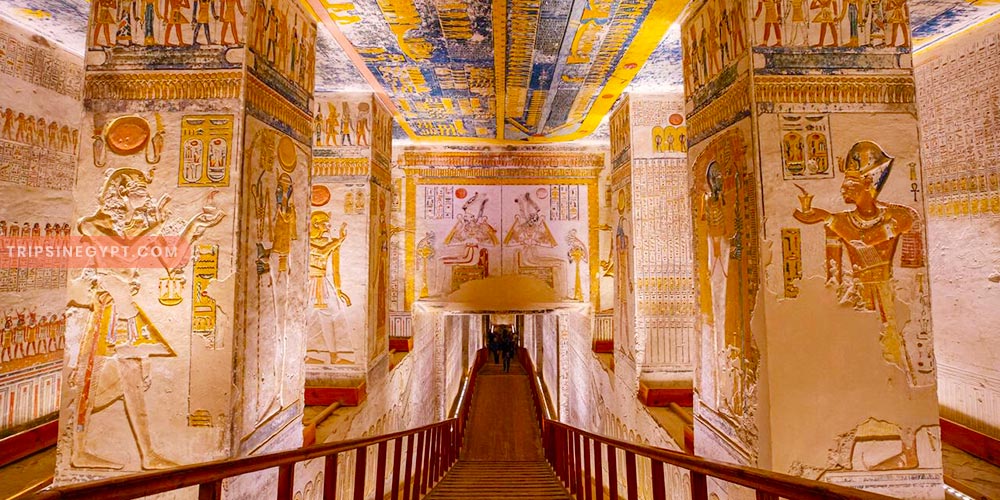 If you are looking for a winter wonderland destination to enjoy, then, you should not miss visiting the Valley of the Kings. This Valley is where the ancient rulers of Egypt rest in their tombs which have been hidden from the world for centuries such as King Tutankhamun, Seti I, and Ramesses II. You can also join the Egyptians in celebrating Christmas which provides joy and happiness to our country, Christmas is the greatest time to see the magnificent sights, however, they are all set to welcome people from all around the world.
You will be astounded within the Valley as you wonder at the artworks and calligraphy that decorate the tomb which still teach us stories about the pharaohs, their gods, and goddesses. The Valley of the Kings is the best destination for experiencing history and magic as well as witnessing the beauty and mystery of a civilization that changed history.

4. Philae Temple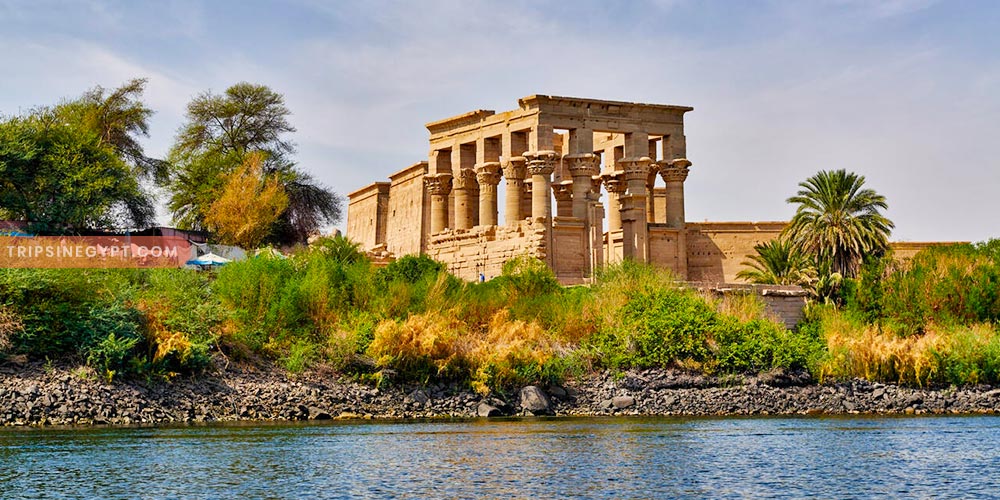 You will great experience that will result from visiting Philae Temple around Christmas as this impressive temple provides a distinctive location that increases the celebratory vibes because it is located on an island in the Nile River, and this time of year has nice weather which makes this attraction more enjoyable.
The temple of Philae is in a perfect position and is significant due to its historical importance and well-preserved architecture which provide a fascinating peek look ancient Egyptian civilization. The mythical "The Myth of Osiris" which has remained timeless for a very long time still exists and is visible across the golden walls of Philae Temple.

5. Aswan High Dam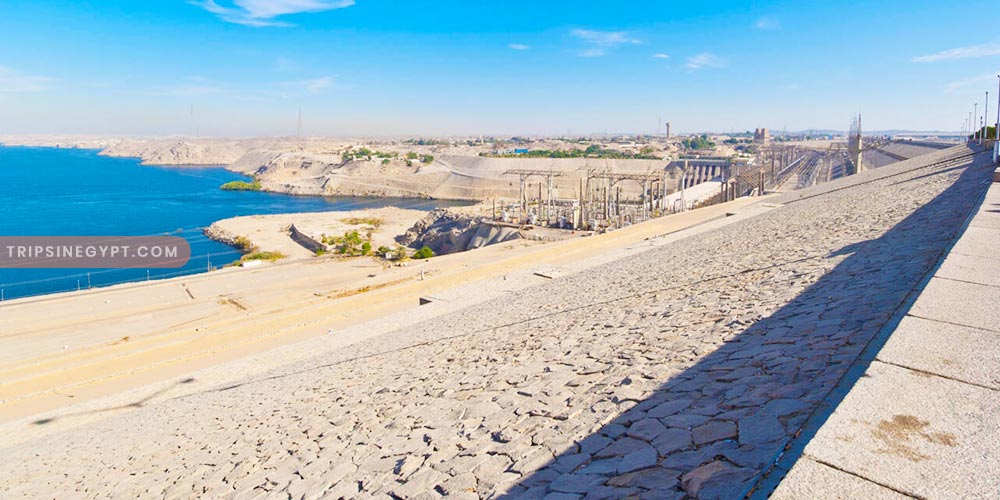 Aswan High Dam is a great feat of modern engineering and a testimony to the capacity of Egyptians to use the Nile River for its benefit. The Dam of Aswan helps control the levels of the Nile River and protects the city from floods from 1971 to the day and age.
You can tour the dam during Christmas and discover its amazing history and the huge efforts made by the Egyptian government and international partners to build it. This great construction has helped in increasing agricultural production and providing electricity to millions of Egyptians which improved the economic growth of the country.

6. Karnak Temple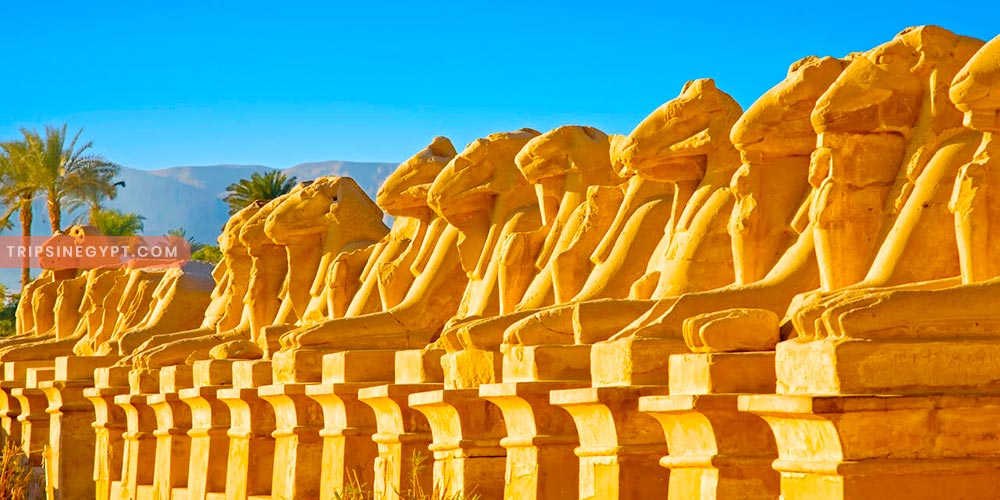 Karnak Temple Complex is a wonderful sight to behold at any time of the year, especially during Christmas. The temple of Karnak is one of the largest and most beautiful ancient monuments in the world, and it has a great history that ranges over thousands of years. If you want to enjoy one of the oldest and most important sacred places in Egypt, then you should visit Karnak Temple at Christmas time.
Karnak Temple was built more than 4,000 years ago and was dedicated to "Amun" the god of Egyptian gods and the powerful god of the ancient Egyptians. You will be amazed by the wonderful pillars and statues that show the skill and faith of the ancient people. The weather in Luxor is nice during Christmas which makes it a great time to explore the temple and enjoy its amazing parts.

7. Luxor Temple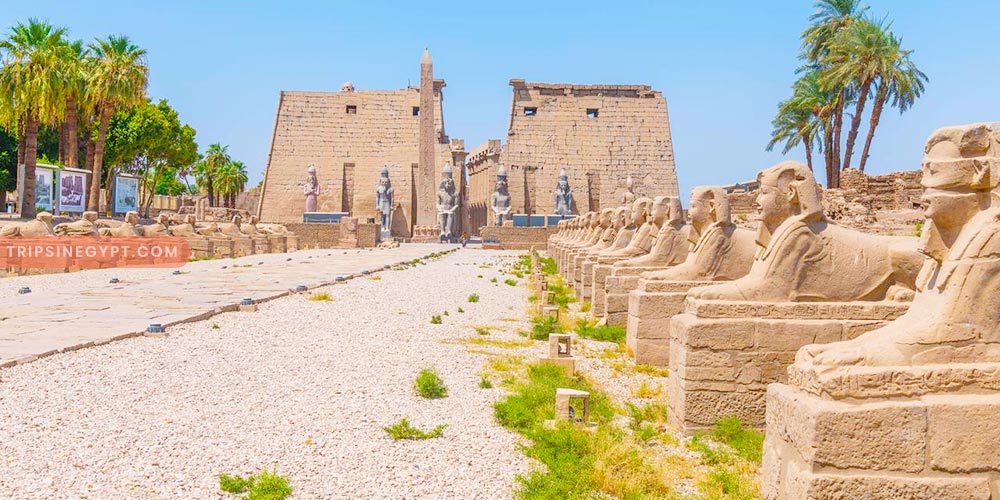 Just imagine spending Christmas in Luxor Temple which is one of the most ancient monuments of Egypt. You will be fascinated by the magic of the festive lights and decorations that garnish the temple which create a contrast between the old and the new.
You will learn about the civilization that built this temple thousands of years ago, and feel their presence in every stone and carving. Luxor has everything you need for a comfortable and memorable stay from welcoming hotels to delicious cuisine, it is really a wonderful idea that you will never regret.

8. The Unfinished Obelisk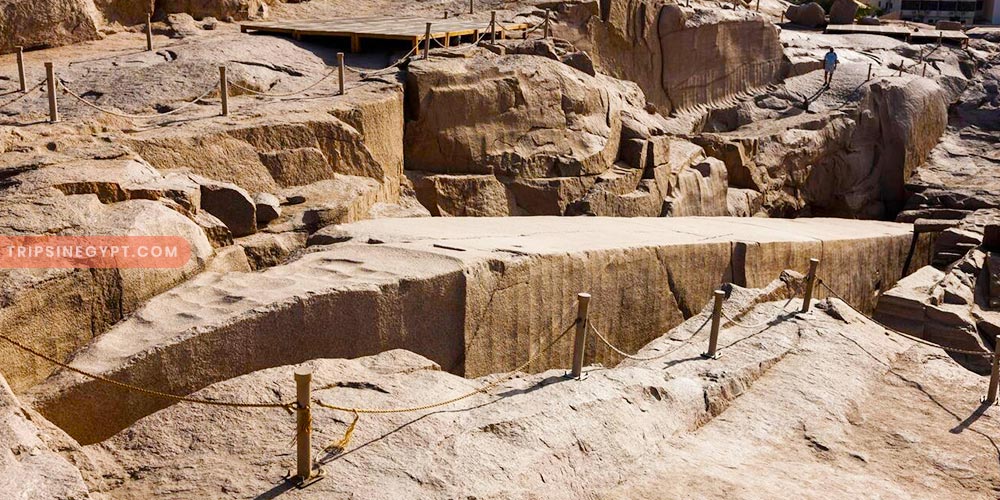 This ancient site belongs to the New Kingdom of Egypt around 1500 BC during the region of Queen Hatshepsut (1507–1458 BC), and it shows closely the famous Obelisk that was never completed due to cracks that formed during its carving.
The Unfinished Obelisk is a great attraction for tourists who want to witness its enormous dimensions and learn more about ancient Egyptian culture and technology.

9. Hatshepsut Temple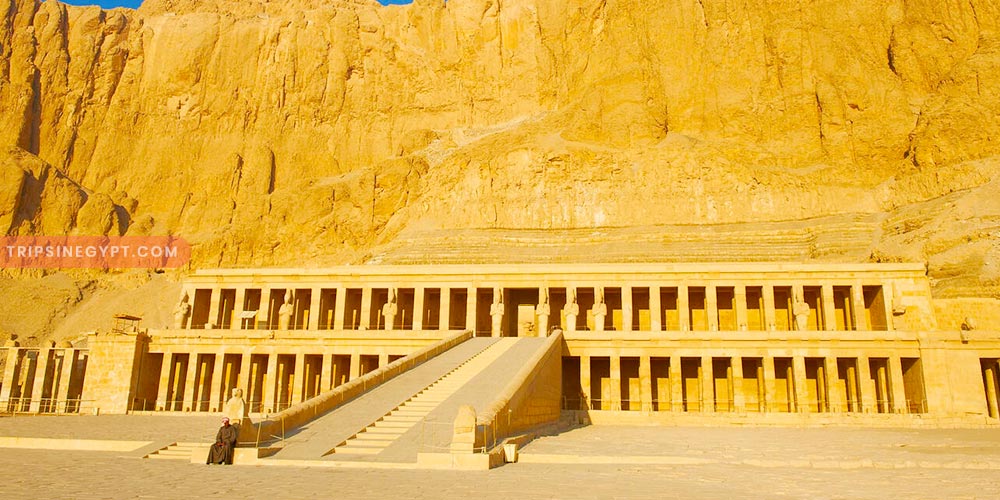 Imagine traveling back in time to the 15th century BC when a powerful female pharaoh ruled over ancient Egypt. That is what you can experience when you visit the Hatshepsut Temple, a great monument that stands in Luxor. This temple is not only a historical treasure, but also an architectural masterpiece with its elegant terraces, columns, and carvings that tell the story of the region of Queen Hatshepsut.
The atmosphere of the temple's mystery and wonder will make you feel like you are part of a sacred and ancient world where anything is possible. Hatshepsut Temple is a must-see destination for anyone who wants to discover the beauty of ancient Egypt.

10. Khan El-Khalili Bazaar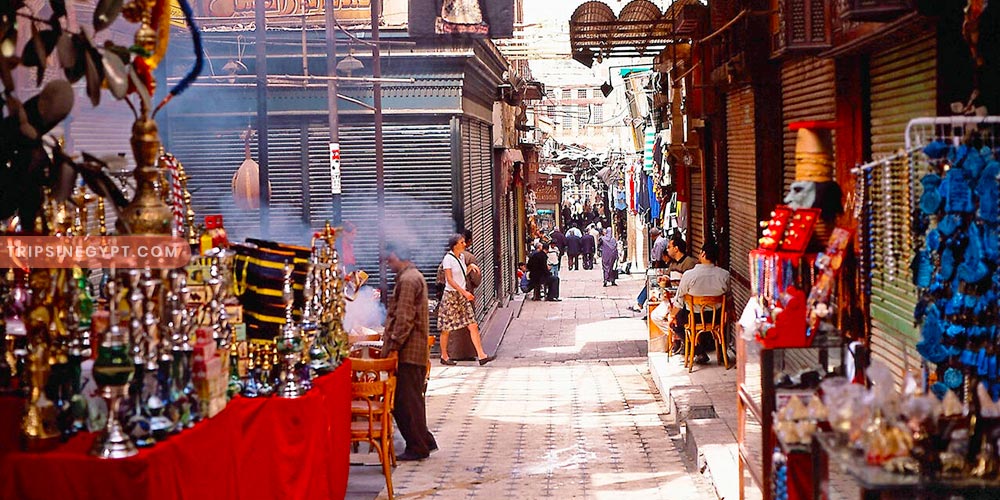 Your visit to Khan El Khalili during the holidays will be a special and exciting experience. Seasonal decorations and lighting of the bazaar during the Christmas season make the Egyptian vibes even more incredible. You will also find unique and cultural souvenirs for your loved ones made with love and you can choose from a wide variety of souvenirs.
Your holiday will have a more authentic feel if you connect with Egyptian merchants and see the energetic interactions between customers and sellers. The moderate weather of December makes exploring Khan El Khalili at Christmas is more enjoyable experience.

11. Al-Muizz Street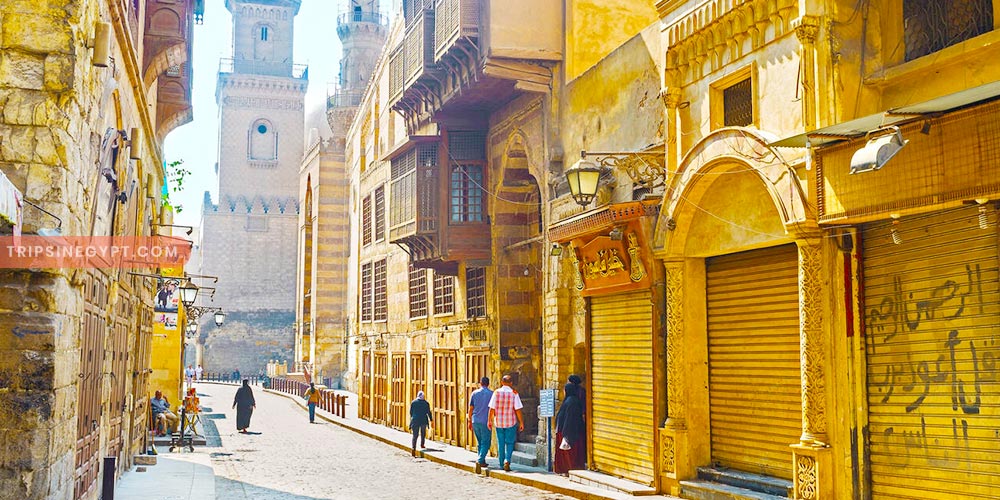 Al-Muizz Street has a great history and amazing Islamic architecture that contrast with the festival mood. Christmas is the best time to visit Cairo where travelers can share in outdoor exploration while the street life shows the cultural varying of the beautiful city and your joyful holiday in Egypt.
Once you celebrate the local traditions and festivities halfway through the ancient buildings, it creates a holiday experience that is unforgettable and enjoyable.

12. The Egyptian Museum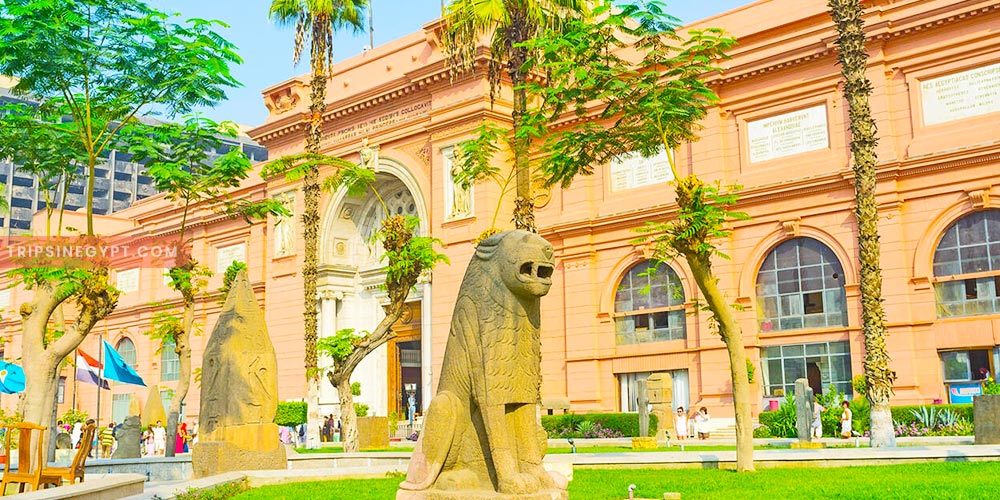 The Egyptian Museum in Cairo offers a unique opportunity for you to discover the secrets and treasures of this fascinating land. The museum contains over 120,000 artifacts that cover different periods and dynasties of ancient Egypt. Once you walk through the amazing halls of the museum, you will be amazed by the great collections of gold, jewels, statues, and paintings that show the culture of ancient Egypt. You will witness the amazing sarcophagi of pharaohs and Queens, the wonderful jewelry and cosmetics of royal women, and the monumental statues of Gods and kings.
You will also learn about the daily life, beliefs, and customs of ordinary Egyptians who celebrated many ancient Egyptian festivals and rituals throughout the year. The Egyptian Museum offers a special experience during the holiday season, as you can enjoy the Christmas atmosphere and connect with the past in a great way.

13. The Colossi of Memnon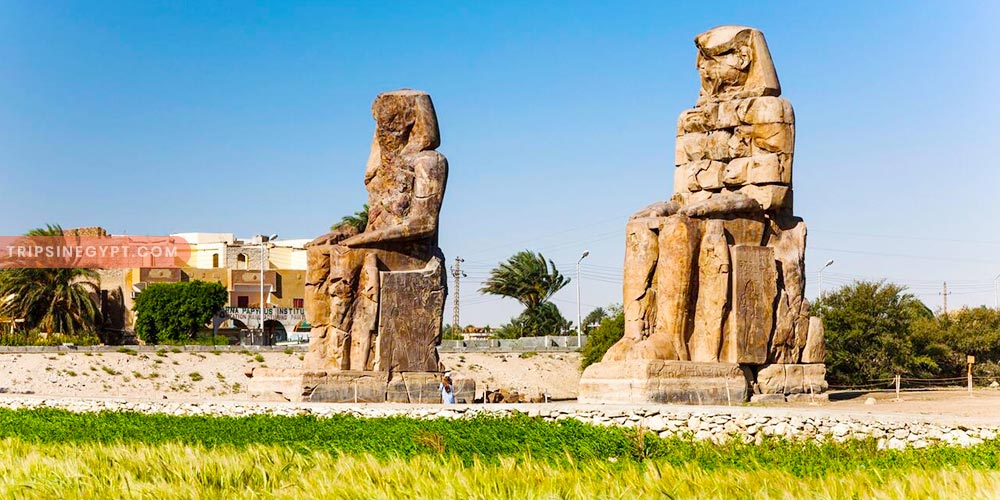 The two giant statues of the Pharaoh Amenhotep III were constructed on the west bank of the Nile River in Luxor. The Colossi of Memnon were built around 1350 BC and they are about 60 feet tall and used to watch over the entrance to the mortuary temple of the Pharaoh.
Your visit to the Colossi of Memnon during Christmas can be a wonderful experience as you can enjoy the nice weather in Luxor and explore the historical sites, and you can also feel the wonder that the site inspires.

14. The Hanging Church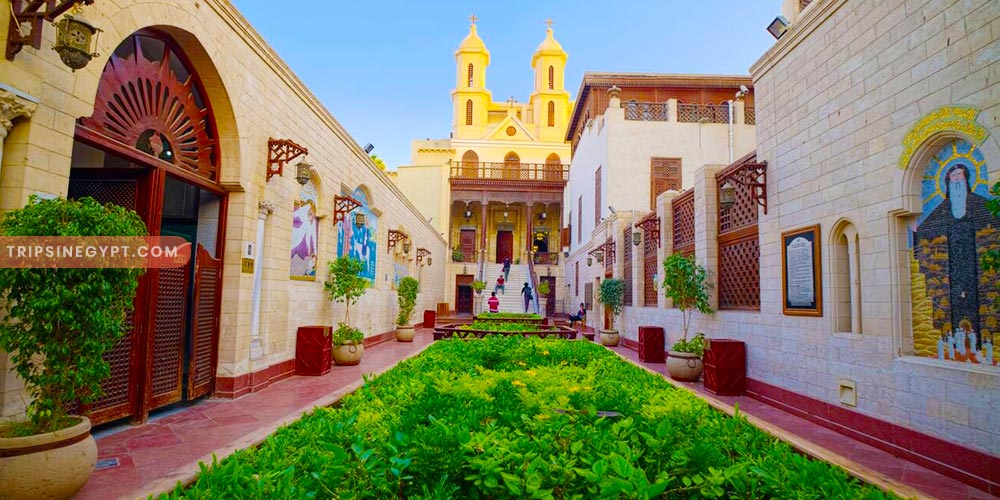 If you want to experience one of the great places in Cairo during Christmas, you should not miss visiting the Hanging Church in Cairo. This old church is a symbol of Coptic Christianity and witnessed many historical events, the church has a wonderful design that makes it look like it is hanging in the air.
The church is decorated with colorful lights and decorations during Christmas, so you can also join a Christmas service and enjoy the mix of music, and faith that shows the Egyptian culture of the Coptic if you want to learn more about Coptic Christian practices.

15. Qaitbay Citadel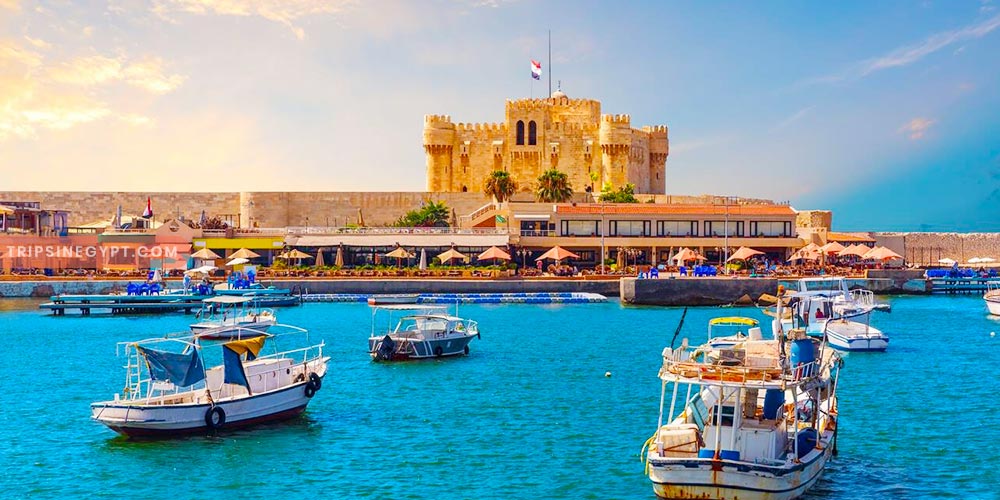 Qaitbay Citadel is a great fortress that was built by Sultan Qaitbay in the 15th century on the shores of Alexandria and it welcomes travelers every day to discover its secrets. The citadel is a masterpiece of Egyptian architecture and a witness to centuries of maritime glory and cultural diversification.
As you wander through its ancient stone passages and gaze at its breathtaking views, you will feel like you have stepped into another world. The contrast between the mood of the past and present of the citadels will make your Christmas visit more exciting, just imagine spending your Christmas in a place where history and beauty meet.

16. Alexandria Library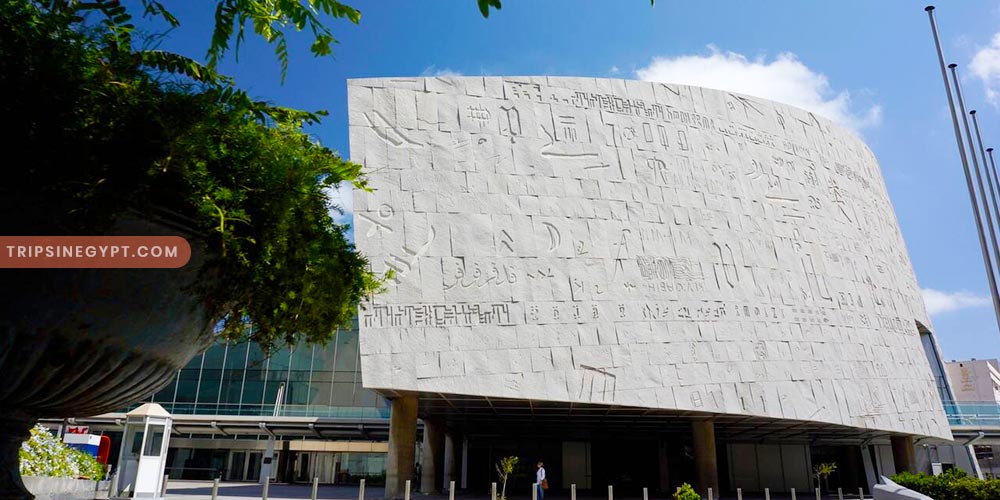 The modern Bibliotheca Alexandrina is a library and cultural center in Alexandria. Alexandria Library is one of the most renowned libraries of antiquity and it shows its amazing collection of books, manuscripts, and exhibitions that display the history of Alexandria as a hub of knowledge and learning in the whole world.
You can enjoy a special cultural and educational experience by visiting the library during the Christmas season, as you can witness how the Christmas spirit blends with the intellectual legacy that Alexandria has been famous for throughout history.

17. Hurghada Beaches
Hurghada is a dream destination for a perfect Christmas vacation, just imagine escaping the cold and snow and celebrating the season in a sunny paradise. The beaches of Hurghada are breathtaking with soft white sand and clear blue water that sparkle in the sunlight, you can relax on the beach, enjoy the views, and feel the warmth of the sun on your skin.
You can also explore the amazing underwater world of the Red Sea where you can see colorful fish by snorkeling and diving which are great ways to experience the beauty of marine life. Hurghada also offers an amazing cultural experience where you can enjoy interacting with the locals, shop at the markets, enjoy the nightlife, and taste delicious Egyptian food. Hurghada is a place where you can have a beautiful, and unforgettable Christmas holiday.

What Can You Expect on the Nile Cruises and Hotels During Christmas?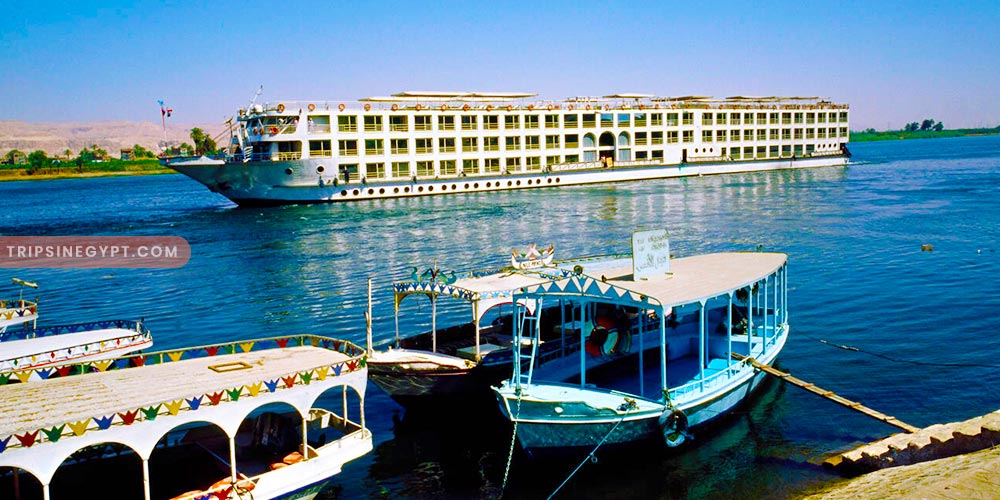 There are many Nile River cruises and hotels in Egypt that offer special celebrations for Christmas on the 24th of December. These amazing cruises and hotels provide for tourists from around the world and they recognize that Christmas is a significant holiday for them.
The celebrations may not be as extravagant as in other areas of the world, however, you can expect to see festival decorations, special meals, dances, music, and some entertainment to commemorate this historic day.

What Unspoken Rules Should You Follow in Egypt during Christmas?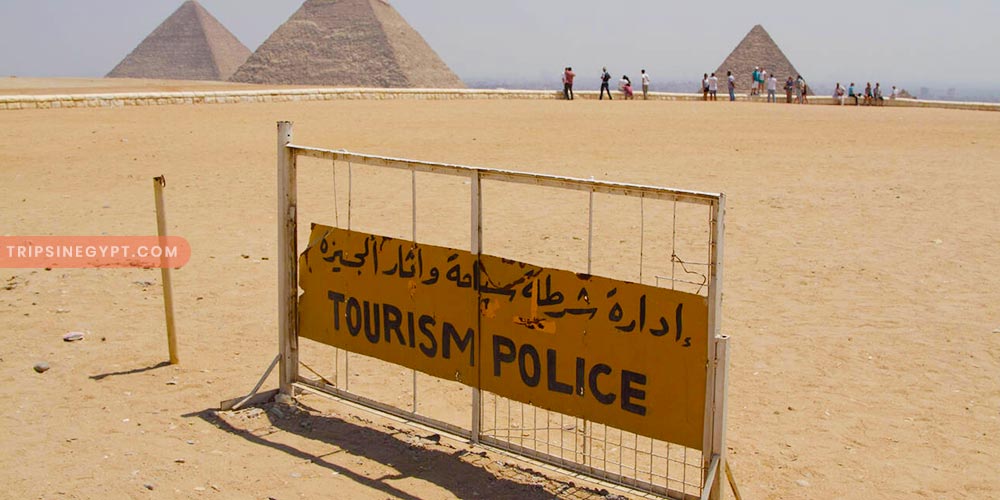 It is important to be aware of and respect the local culture and customs of Egypt when visiting or engaging with the Egyptians. There are many of these "Unspoken Rules" that may not be officially enforced, but following them will help you demonstrate appreciation for the local way of life and create beneficial relationships. Here are a few general travel tips to follow in Egypt:
Egypt is a conservative country, therefore dressing modestly is appropriate while visiting religious places in Egypt or more traditional locations, so men and women should avoid wearing clothes that are too exposing.
The handshake is common when greeting someone, but between people of the same gender, so it is a good way to slightly nod and smile as it is acceptable for greeting people of the opposite gender.
Overt behaviors of love such as kissing or hugging should be avoided in public however, holding hands is appropriate behavior for married couples.
It is traditional to remove your shoes before entering Egyptian houses and religious sites. 
Egyptians are well-known for their hospitality so if you are welcomed to the home of someone, it is a gentle way to provide a nice gift for the host such as sweets or fruit.
The left hand is regarded as less clean in Islamic culture than the right, for greetings, eating, and giving or receiving objects, always use your right hand.
Bargaining is prevalent at markets and street stalls, but it is important to do so with respect and a polite demeanor.
Egypt is a great Muslim country, so it is important to respect Islamic practices and customs, you should avoid visiting mosques during prayer hours, and dress modestly while visiting religious locations.
Tipping to restaurant servers, taxi drivers, and tour guides is customary, so check with local traditions or check our article Tipping in Egypt guide for advice on suitable tipping amounts.
Life in Egypt may proceed at a slower pace than you are used to in your conversations and daily tasks, so practice patience.
Egyptian traffic may be hectic, and crossing the street might be difficult, so look for natives who are crossing and follow their lead.
It is considered disrespectful to point with your index finger. 
Egyptians have more personal space than some Western societies, so do not be startled if people go closer to you during conversations. 
You should wash your hands before and after eating with your hands.
You should show deference and respect to older individuals such as allowing them to enter elevators first, and giving them your seat if needed. 
Always get permission before photographing the people, especially in more conservative places or at religious locations, however, photography may be prohibited in some areas, so obey any warnings or restrictions.
When you enter or depart a room, it is customary to greet everyone with "Salam Alaikum" (peace be upon you) and return to their pleasantries with "Wa Alaikum Al Salam" (and peace be upon you too).
Finally, it is best to use alcohol in Egypt in moderation, and in places where it is legal, choose trustworthy places that hold alcohol licenses such as hotels, bars, and restaurants, and always be conscious of your areas and avoid public drinking or impolite behavior.

Christmas in the Land of the Pharaohs
Egypt is a fascinating destination for celebrating Christmas as it mixes ancient history and Christmas vibes. The country lights up with colorful decorations during Christmas on its old monuments and is ready to greet visitors from all over the world with its friendly culture.
Through our Egypt Christmas Holidays, you can experience the beauty of Egyptian Christmas traditions and enjoy the markets and breathtaking views that make this holiday in Egypt a memorable one.
FAQ
What Should I Wear While Being in Egypt?
You should wear whatever you want. It is advised to wear something light from cotton or linen, comfortable and put on sunblock during your time in Egypt in the summer and wear comfortable footwear like a closed-toe shoe to sustain the sandy terrain.
What to Pack for Your Egypt Tour?
You should bring a brimmed hat and sunglasses if you not used to the Egyptian sun &pack everything you could ever need and put in a small bag so you could move easily between your destinations.
Are All Nile Cruises Available at Any Time?
Yes, it is available all years. as the Nile from Aswan to Luxor takes three to four days of sailing on Monday, Wednesday and Friday for the total cost of 600$ and the Nile cruise from Luxor to Aswan take four to five days in Saturday, Monday and Thursday for the coast of 650$.
We have experience in vacation planning for more than 10 years & our staff consists of the most professional operators, guides and drivers who dedicate all of their time & effort create the perfect vacation. All of our tours are customized by Travel, Financial & Time advisors to fit your every possible need during your time in egypt. we always keep in mind that your safety & comfort are our main priority until you return home.
Is it safe to travel to Egypt?
Yes, it is absolutely safe to travel to egypt, You will feel secure in Egypt as the current atmosphere of the country is very peaceful after the government took powerful measures like restructuring the entire tourist police to include all the important and tourist attractions in Egypt and construct an entire environment dedicated for ensuring the lives of all tourists.
What are Egypt's Visa Requirements?
They are very simples, If you want to apply for a Visa On Arrival that lasts for 30 days then you should be one of the eligible countries(check the link), have a valid passport with at least 6 months remaining and pay 25$ USD entry fee in cash. As for the E-Visa for 30 days, you should have a valid passport for at least 8 months, complete the online application, pay the e-visa fee then print the e-visa to later be presented to the airport border guard. You could be one of the countries eligible for a free visa for 90 days.
What is the Weather is Like?
The temperature of Egypt ranges from 37c to 14 c, Summer in Egypt is somehow hot and winter is cool and mild but sometimes it becomes cold at night. The average of low temperatures vary from 9.5 ¡ÆC in the wintertime to 23 ¡ÆC in the summertime and average high temperatures vary from 17 ¡ÆC in the wintertime to 32 ¡ÆC in the summertime while the temperature is moderate all along the coasts.
What is the Best Time of Visit Egypt?
It is known the best time to travel to Egypt is in the winter from September to April as the climate becomes a bit tropical, a warm atmosphere with a winter breeze. You will also be notified a week before your trip if the weather is unsafe or if any changes have been made.
Should I Give Tips in Egypt?
It is totally up to you, but if you choose to you can tip the servers at your restaurant 5-10% by handing it to them directly and 5 Egyptian Pounds as a general tip of anyone.
Can I Enter the Pyramids?
Yes, you can enter the pyramids for the small fee of 20$.
How to Enjoy Egypt During Ramadan?
Ramadan is a special time of year for Muslims that should be celebrated by non-Muslims and feel the essence of the Islamic culture. You can fast with the Muslim or just observe but you are always welcome to join the celebrations and festivals.