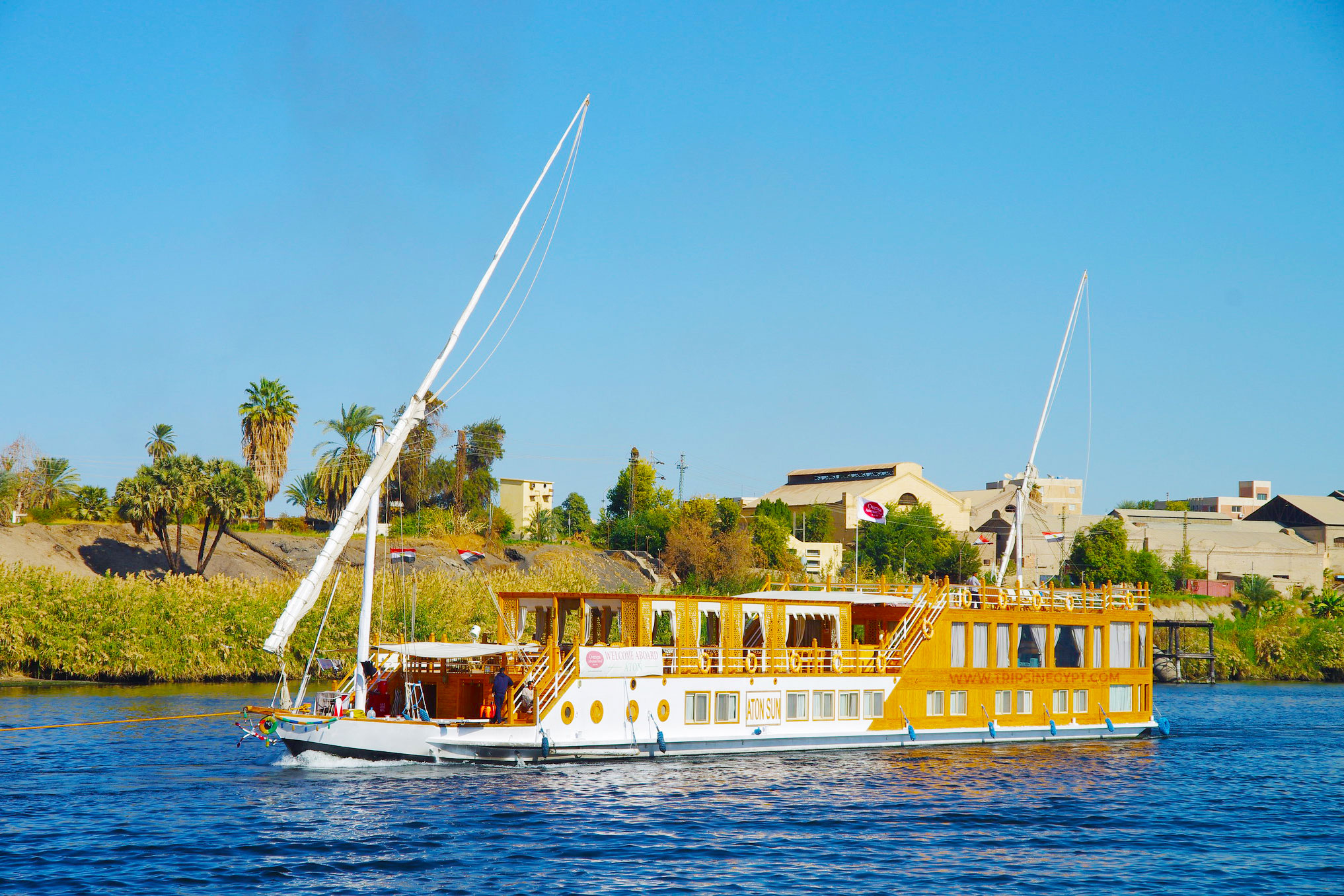 How to Enjoy Dahabiya Nile Cruise 2023
The Dahabiya Nile cruises are a marvelous way for travelers to uncover the mysteries of Ancient Egypt, as it is a unique and luxurious way to experience the wonders of Ancient civilization and the Nile River as well. Unlike the large, crowded Nile River cruises, the Dahabiya offers a more personalized experience with only up to sixteen to twenty travelers maximum, you will travel with a private and relaxed vibe.
The Dahabiya Nile cruise is a traditional wooden sailing boat that is equipped with all the modern amenities you would expect from deluxe to luxury Nile cruises, offering a chance to enjoy the beautiful scenery and culture of Egypt in a very comfortable and private setting. The Dahabiya Nile cruise has been used for centuries as a way to transport goods and people along the Nile River. Our article will help you to know more about this unique transport, its facilities, destination, different types, and how to arrange a Dahabiya Nile cruise.

What is Mean Dahabiya?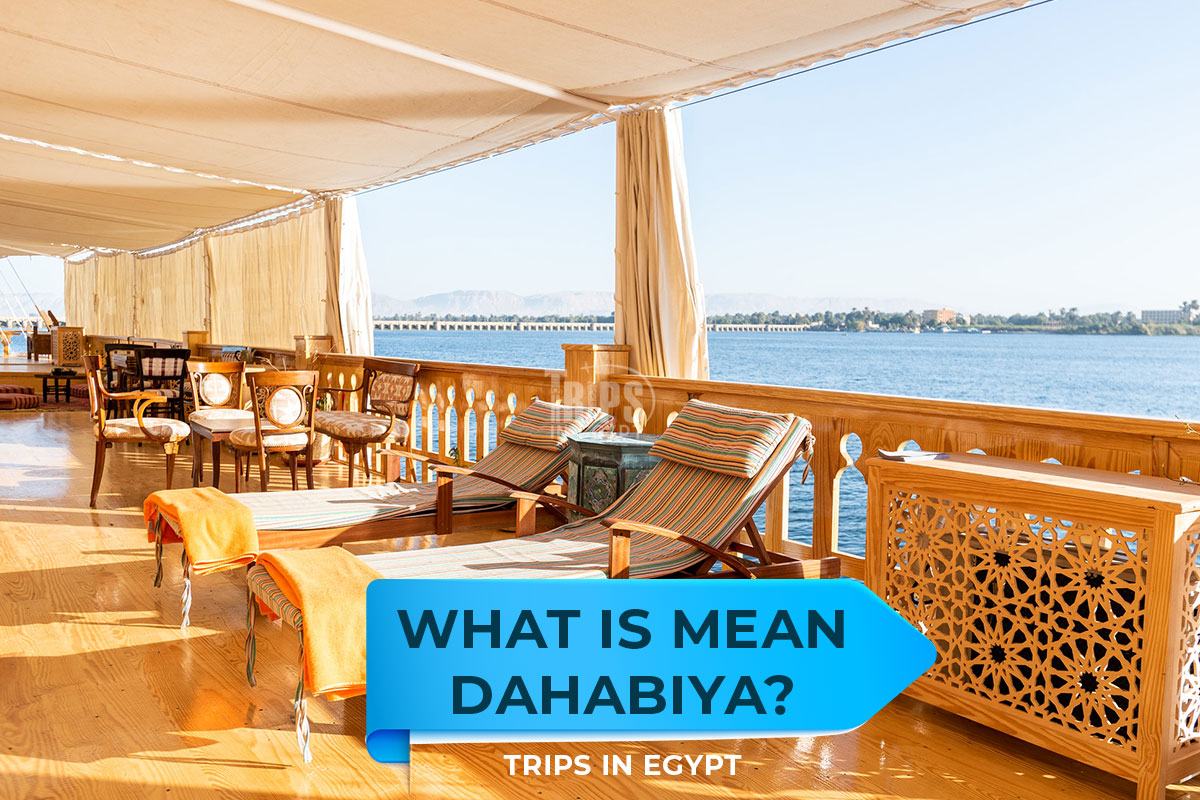 The Dahabiya, which means "The Golden One" in Arabic, is a luxurious boat sailing in the Nile River. A Dahabiya Nile cruise is a luxurious way to explore the Nile River in Egypt. These traditional sailboats offer a slower pace than larger cruise ships, allowing guests to fully immerse in the ancient history and culture of Egypt, with a small number of cabins, personalized service, and gourmet cuisine, Dahabiya cruises offer a more exclusive experience.
Guests can visit lesser-known sites along the Nile, such as Ancient temples, tombs, and local villages, and enjoy activities like guided tours, traditional music and dance performances, and sunset on the deck of the Nile cruise, without exaggeration, you will feel like you are a Paranoiac king in the middle of the Dahabiya Nile cruises.

The Reasons to Pick the Dahabiya Nile Cruises in Egypt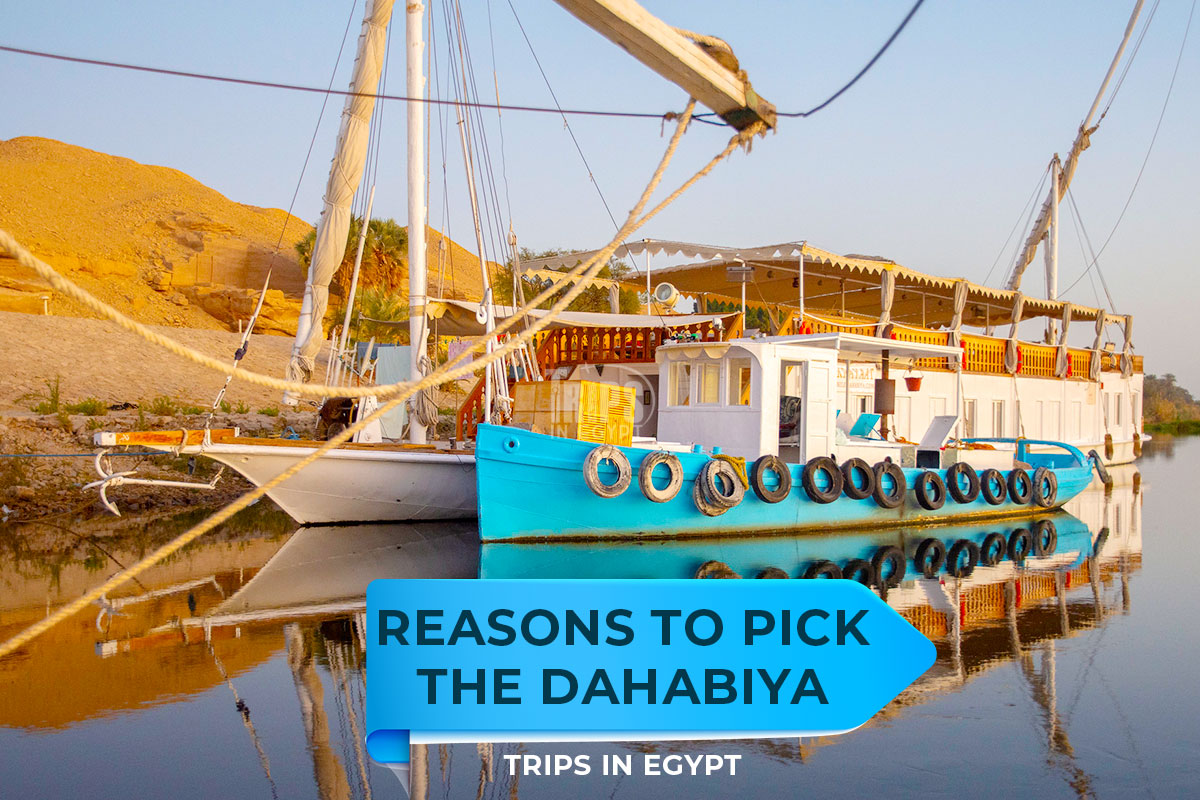 There are several benefits to taking a Dahabiya Nile cruise in Egypt, including:
Intimate and personalized experience: With a limited number of travelers and cabins, a Dahabiya Nile cruise offers a personalized experience with qualified service from the crew.
Unique sightseeing: The small size of the Dahabiya Nile cruise allows travelers to lesser-known sites along the Nile, offering a more unique and authentic experience of Egypt.
Luxurious accommodations: Dahabiya Nile cruises offer luxurious cabins with private bathrooms and air conditioning rooms, as well as comfortable lounges and dining rooms.
Gourmet cuisine: Travelers can enjoy gourmet cuisine made with fresh and local ingredients, often with a mix of international and Egyptian flavors.
Expert guidance: An Egyptologist is often on board the Dahabiya to provide expert guidance on the history and culture of the sites visited, enhancing the overall experience.
Relaxing vibes: The slower pace of the Dahabiya Nile Cruises allows for a more relaxing vibe, with plenty of time to unwind on the sundeck or enjoy a spa treatment.
The Dahabiya Nile Cruises are not motorized: Just imagine! No engines! You will enjoy only the sound of the nice breeze of the Nile River.

Facilities on the Dahabiya Nile Cruises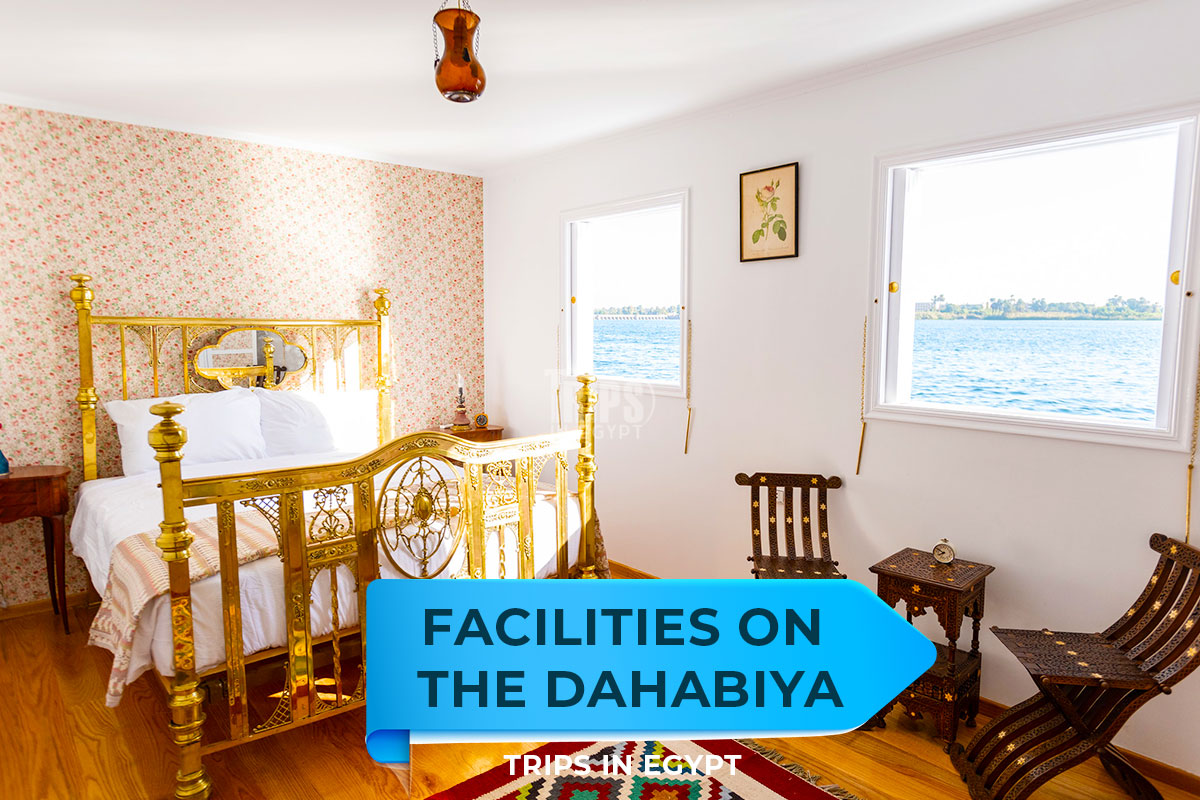 Large panoramic windows.
Shaded sundecks.
All Cabins are Air-Conditioned.
Music systems.
The Dahabiya Nile Cruise is small.
Private cruise suitable for small groups, friends, and small families.
Minibar.
Nightly shows.
Private shower with a hair dryer.
Mini fridge for each cabin.
A Restaurant.
There are non-smoking cabins.
Doctors on calls.
Dining lounges.
Safe Box in each cabin.
Laundry and House Keeping.
A motorboat to pull the Dahabiya Nile Cruise in case the wind is calm.
Sun Deck.
Bazaar shop.
Full Fire Safety measures.

Food and Drink on the Dahabiya Nile Cruises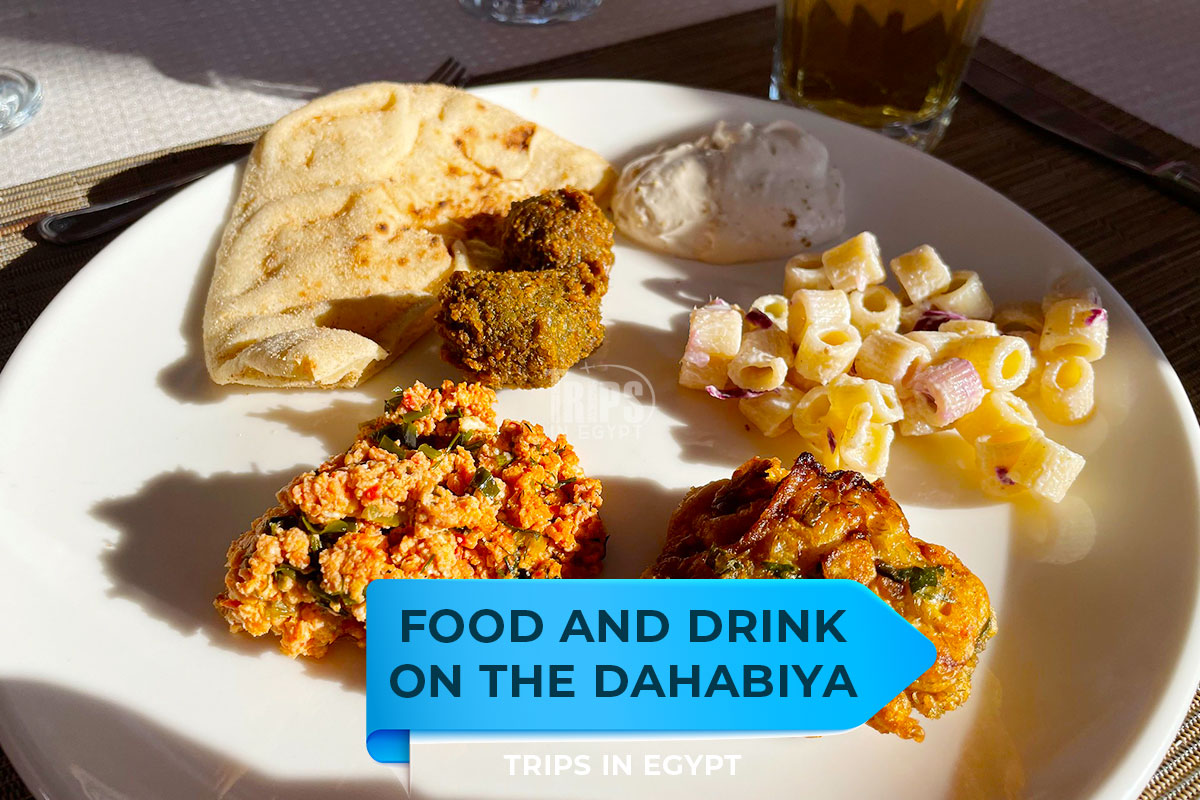 There are several ways to serve meals on the Dahabiya Nile Cruise such as:
Full board basis
All meals are included in your itinerary in an open buffet or through a menu, you will be able to choose the most suitable for you. Food and drinks are served with a fixed timetable. The quality of food and drinks depends on which cruise you are on.
All-inclusive basis
There are a few Dahabiya Nile Cruises that include an all-inclusive basis on it such as spending seven nights on a Luxury Nile Cruise, it is somehow expensive but it offers juice, tea, coffee, local Alcoholics, and hot drinks.
Set menu basis
Some Cruises offer a set menu basis, these menu offers two or three bases (fish, meat, and chicken) combined with macaroni, rice, and salad. You will choose only from this limited menu.

Sustainability of the Dahabiya Nile Cruises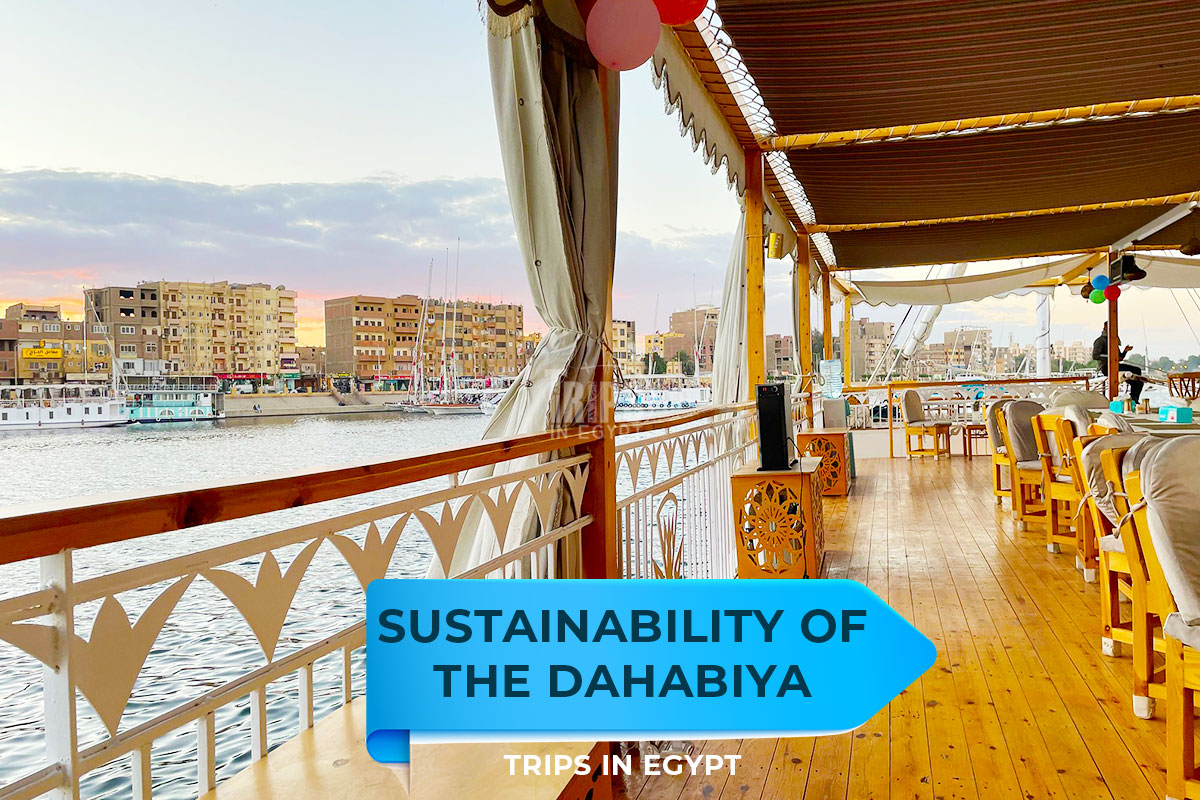 The sustainability of Dahabiya Nile cruises in Egypt is an important factor to be considered, while the tourism industry in the world can have negative impacts on the community, Dahabiya Nile Cruises have these positive impacts on the environment.
These impacts happen by supporting local communities through the use of reducing the carbon footprint which is associated with importing goods from different regions.
Additionally, the Dahabiya Nile cruises prioritize responsible waste management practices, such as recycling and proper disposal of waste. They also use eco-friendly cleaning products and minimize single-use plastics on board.
Furthermore, Dahabiya Nile cruises operate with a smaller number of travelers as they are a maximum of twelve travelers, reducing the impact on the Nile River, and it uses alternative energy sources, such as solar panels, to reduce its carbon footprint.
Overall, while tourism can have negative impacts on the local communities, Dahabiya Nile cruises can improve sustainability through responsible practices and support of Egyptian local communities.

Entertainment of the Dahabiya Nile Cruises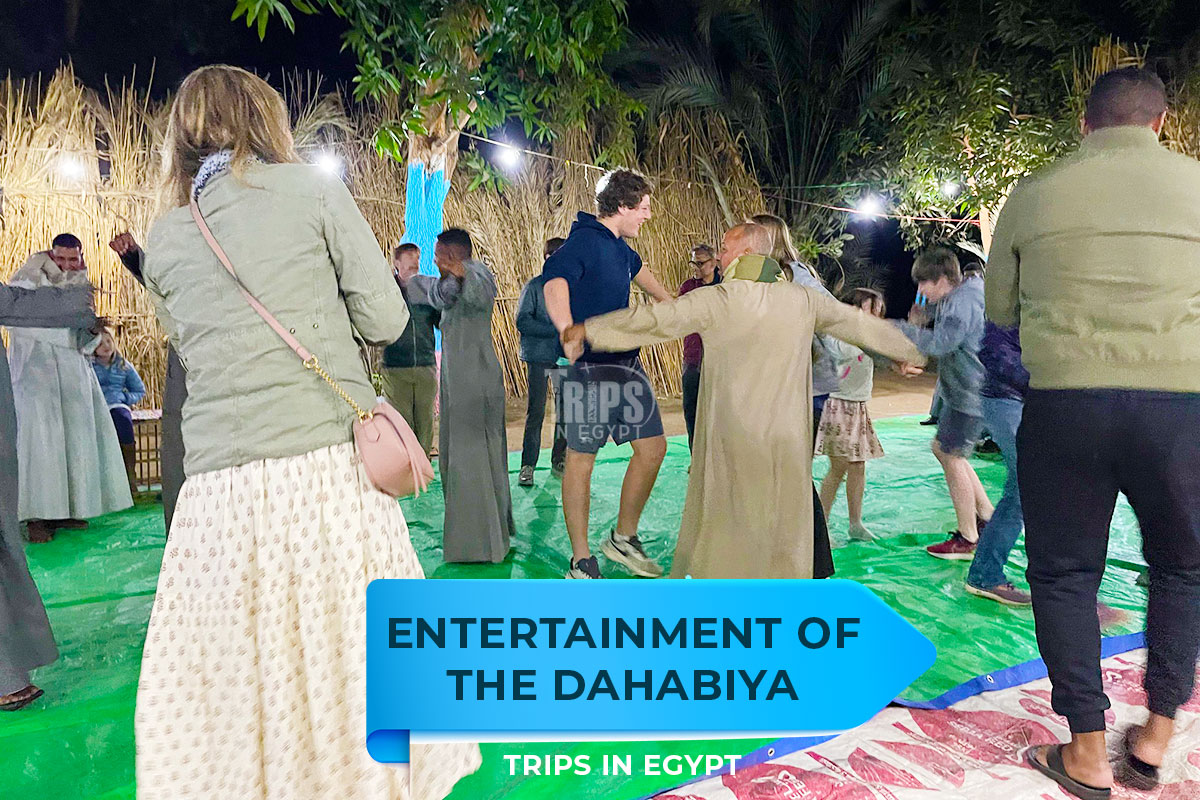 Most of the Dahabiya Nile Cruises have discotheques such as Galabiya parties, belly dance shows, and Nubian shows. Every night on the Dahabiya Nile Cruise there is a different program which is different from Dahabiya Cruise to other one.
Galabiya party: Get ready to have an Egyptian experience by dressing like Egyptian men and wearing local Galabiya. Galabiya will cost you 10:15 $, and if you do not want to buy one, you can hire one from the bazaar shop on board the Dahabiya.
Cocktail party: This party happens usually on the first night on the Daabiya, as the crew offers free drinks to the guests and introduces themselves. Do NOT FORGET TO WEAR FORMAL CLOTHES DURING COCKTAIL PARTY.
Nubian show: Enjoy watching and sharing Nubian dancers in their local clothes. Nubian shows have singers, belly dancing shows, and local bands.
Kindly note that these entailments vary from one Dahabiya Nile Cruise to another. The Golden Rule is NOTHING FOR FREE.!!

Destinations of the Dahabiya Nile Cruises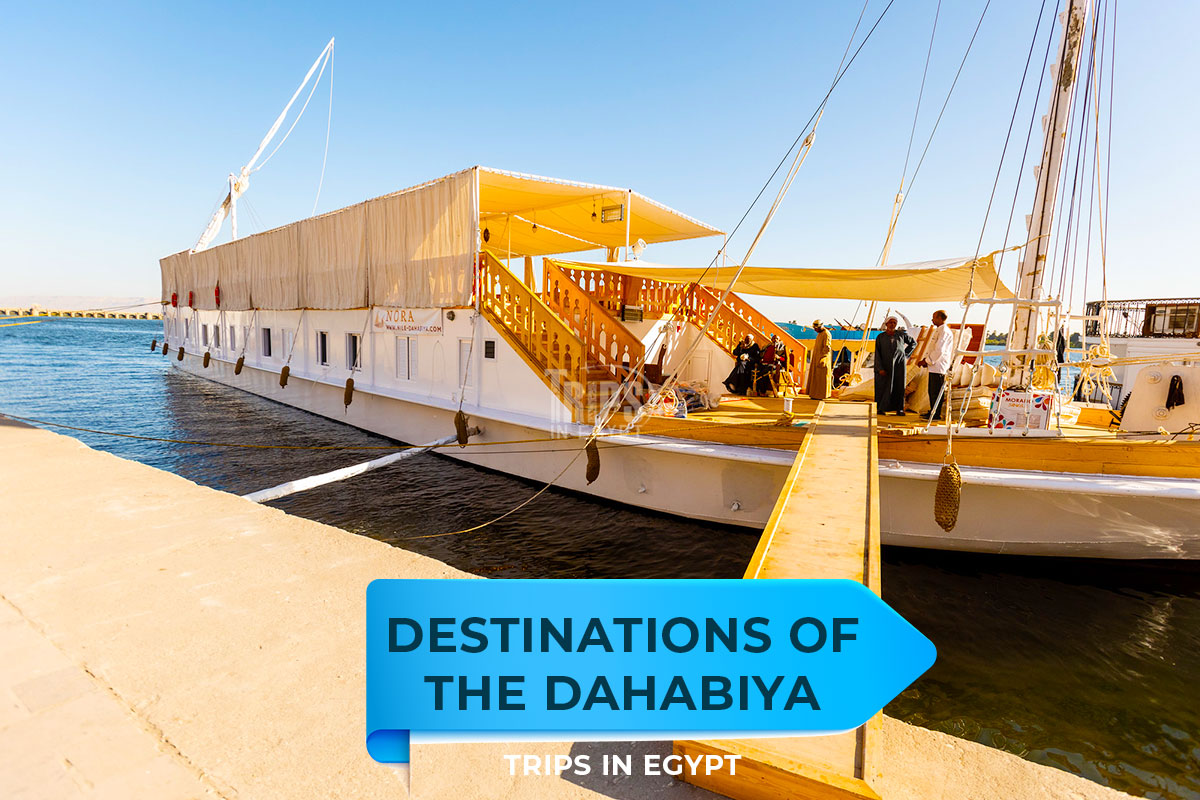 The Dahabiya Nile cruises will offer an unforgettable experience showcasing the wonders of Upper Egypt. Trips In Egypt will offer the finest sense of privacy for its dear clients by visiting the following attractions:
Upon your arrival to the beautiful Luxor city, you will meet our Egyptologist to take you on an amazing tour to visit some of the most important monuments in the world, as Luxor contains two-thirds of the monuments of the world. On the first day, you will visit "Karnak temple" and then we will drive you to our Dahabiya Nile cruise to check in and relax.
On the night, our tour guide will pick you up from the Nile Cruise to visit "Luxor temple" by night, enjoy the night and stars vibes mixed with historical attraction. After enjoying your tour, we will drive you back to your Dahabiya Nile Cruise.
On the second day, you will visit the west bank of Luxor, which contains "The Valley of the Kings, Hatshepsut temple, and Colossi of Memnon".
On the third day, you will visit the most important two temples in Egypt, "Edfu temple which was built between 237- 57 BC), and became the most preserved temple in Egypt. You will visit also the "Kom Ombo temple" which was built between (180 - 47 BC) for the cult of " Horus the Elder".
You will enjoy witnessing the Great "The temples of Abu Simbel", these statues were built by the Pharaoh "Ramses the Great" in 1200 BC. This temple was built for the cult of God "Amun" and to honor him and "Ptah", and a showcase of his battle of Kadesh.
On the last day of the magical Dahabiya Nile Cruise, you will be able to visit the most important attractions in Aswan such as "Aswan High Dam" which was built in 1960-1970 AD to produce electricity, save flood water, and improve the economy of Egypt. "The Unfinished Obelisk" this Obelisk was built by Queen Hatshepsut in (1508-1458 BC) which is a testament to the excellent skills of ancient Egyptians. Plus, you will visit "Philae temple", this massive temple was built by King Ptolemy II in 280 BC, to keep the myth of God "Osiris".

Conclusion
To come to the point, the Dahabiya Nile River cruises in Egypt offer a unique and luxurious way to experience the country's rich history and culture. These luxurious sailing boats provide a comfortable and intimate setting for exploring the ancient wonders of Egypt along the Nile River, from the temples of Karnak and Luxor to the amazing attractions of Aswan.
The Dahabiya Nile cruises allow for a more authentic experience compared to the large numbers of travelers. Travelers can enjoy delicious meals prepared on board, as well as activities such as visiting local markets and small villages. Plus, taking part in traditional cultural performances.
Overall, the Dahabiya Nile cruises are an ideal choice for travelers seeking a one-of-a-kind adventure that combines luxury and culture in a stunning natural setting, with a specialized travel agency such as Trips In Egypt, qualified guides, personalized service, and breathtaking views of the Dahabiya, this type of Nile cruises are sure to leave a lasting impression on the traveler who experiences such a tour.
Contact our operation department now so that they can arrange the most suitable Dahabiya Nile cruise for you. Get ready for the most incredible adventure of your life!!
FAQ
What Should I Wear While Being in Egypt?
You should wear whatever you want. It is advised to wear something light from cotton or linen, comfortable and put on sunblock during your time in Egypt in the summer and wear comfortable footwear like a closed-toe shoe to sustain the sandy terrain.
What to Pack for Your Egypt Tour?
You should bring a brimmed hat and sunglasses if you not used to the Egyptian sun &pack everything you could ever need and put in a small bag so you could move easily between your destinations.
Are All Nile Cruises Available at Any Time?
Yes, it is available all years. as the Nile from Aswan to Luxor takes three to four days of sailing on Monday, Wednesday and Friday for the total cost of 600$ and the Nile cruise from Luxor to Aswan take four to five days in Saturday, Monday and Thursday for the coast of 650$.
We have experience in vacation planning for more than 10 years & our staff consists of the most professional operators, guides and drivers who dedicate all of their time & effort create the perfect vacation. All of our tours are customized by Travel, Financial & Time advisors to fit your every possible need during your time in egypt. we always keep in mind that your safety & comfort are our main priority until you return home.
Is it safe to travel to Egypt?
Yes, it is absolutely safe to travel to egypt, You will feel secure in Egypt as the current atmosphere of the country is very peaceful after the government took powerful measures like restructuring the entire tourist police to include all the important and tourist attractions in Egypt and construct an entire environment dedicated for ensuring the lives of all tourists.
What are Egypt's Visa Requirements?
They are very simples, If you want to apply for a Visa On Arrival that lasts for 30 days then you should be one of the eligible countries(check the link), have a valid passport with at least 6 months remaining and pay 25$ USD entry fee in cash. As for the E-Visa for 30 days, you should have a valid passport for at least 8 months, complete the online application, pay the e-visa fee then print the e-visa to later be presented to the airport border guard. You could be one of the countries eligible for a free visa for 90 days.
What is the Weather is Like?
The temperature of Egypt ranges from 37c to 14 c, Summer in Egypt is somehow hot and winter is cool and mild but sometimes it becomes cold at night. The average of low temperatures vary from 9.5 ¡ÆC in the wintertime to 23 ¡ÆC in the summertime and average high temperatures vary from 17 ¡ÆC in the wintertime to 32 ¡ÆC in the summertime while the temperature is moderate all along the coasts.
What is the Best Time of Visit Egypt?
It is known the best time to travel to Egypt is in the winter from September to April as the climate becomes a bit tropical, a warm atmosphere with a winter breeze. You will also be notified a week before your trip if the weather is unsafe or if any changes have been made.
Should I Give Tips in Egypt?
It is totally up to you, but if you choose to you can tip the servers at your restaurant 5-10% by handing it to them directly and 5 Egyptian Pounds as a general tip of anyone.
Can I Enter the Pyramids?
Yes, you can enter the pyramids for the small fee of 20$.
How to Enjoy Egypt During Ramadan?
Ramadan is a special time of year for Muslims that should be celebrated by non-Muslims and feel the essence of the Islamic culture. You can fast with the Muslim or just observe but you are always welcome to join the celebrations and festivals.