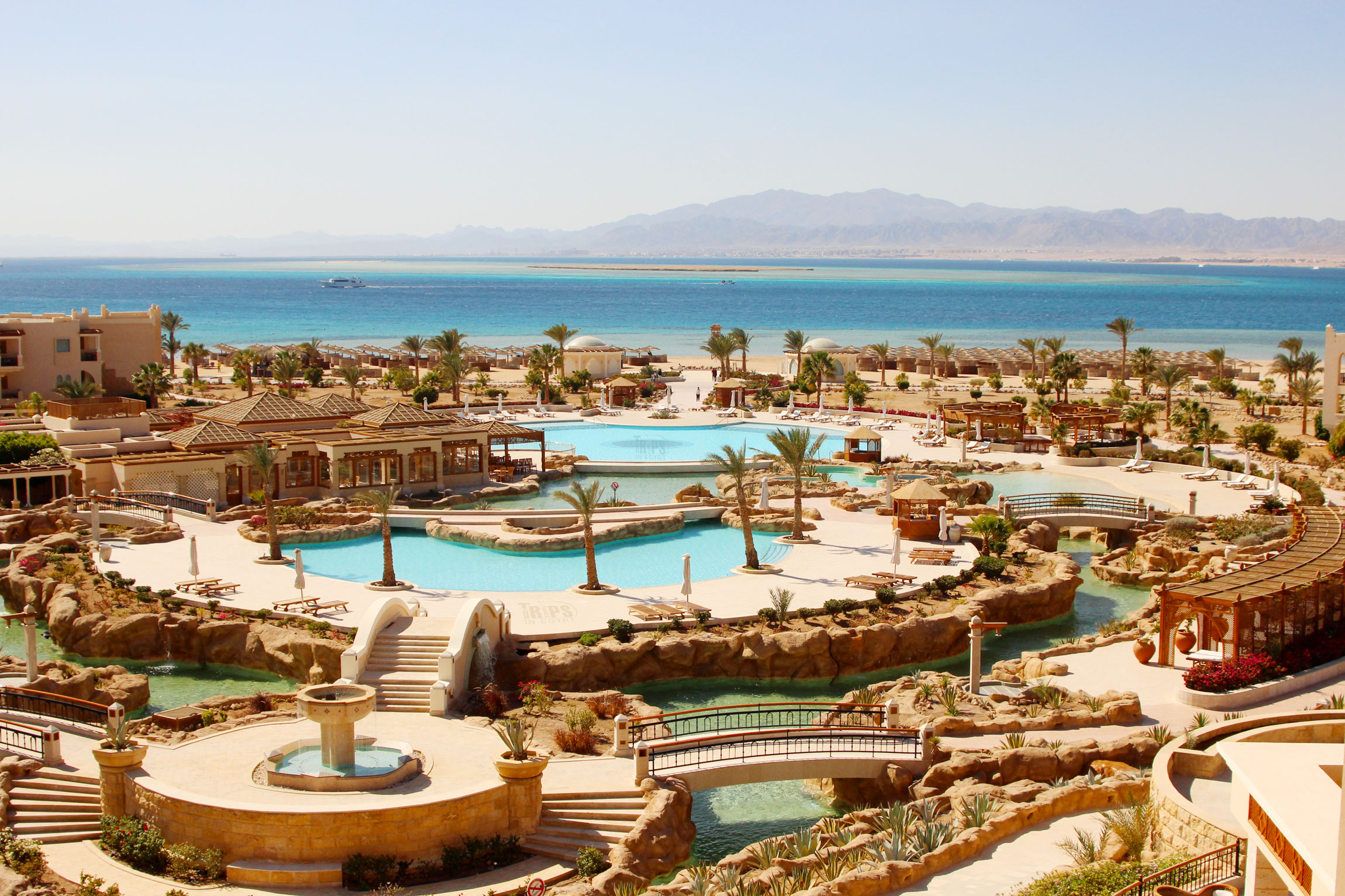 Soma Bay
Soma Bay is a wonderful resort situated on the eastern shores of Egypt, just a four-hour flight from central Europe, and only thirty minutes from Hurghada International Airport by car. This attraction offers unbelievable views of crystal clear waters, along with ten million square meters of white sand beaches for visitors to enjoy. The resort has several activities to keep guests adore it the most, from snorkeling to windsurfing, diving, sailing, and many more to do in.
Soma Bay has many luxury hotels, medical tourism, spas, and Gyms to choose from, providing relaxing vibes and perfect hospitality. Moreover, Soma Bay also offers a variety of shopping and dining experiences to share, ensuring that all your needs are met while you are in Soma Bay. Whether you are looking for a romantic getaway or a family vacation, Soma Bay offers something for everyone. Our article today will help you to know more about this heavenly site, its location, the best time to spend it, the best activities to do, how to book, and much more.

Location of Soma Bay
Soma Bay is a breathtaking resort located on the Red Sea Coast in Egypt, exactly 28 km north of Safaga port, 45 km south of Hurghada International Airport, and only four hours from Europe by flight.
This magical coastal city is surrounded by the waters of the red sea from all directions, with a 7 km private road providing access through a single controlled entry gate. Soma Bay is situated in the Red Sea Governorate, with a latitude of 26.8354° or 26° 50' 7". Soma Bay has five compounds which were divided into these areas "Wadi Jebal, Bay Central, Mesca, Reed Town, and Bay West".

Best Activities & Things to Do in Soma Bay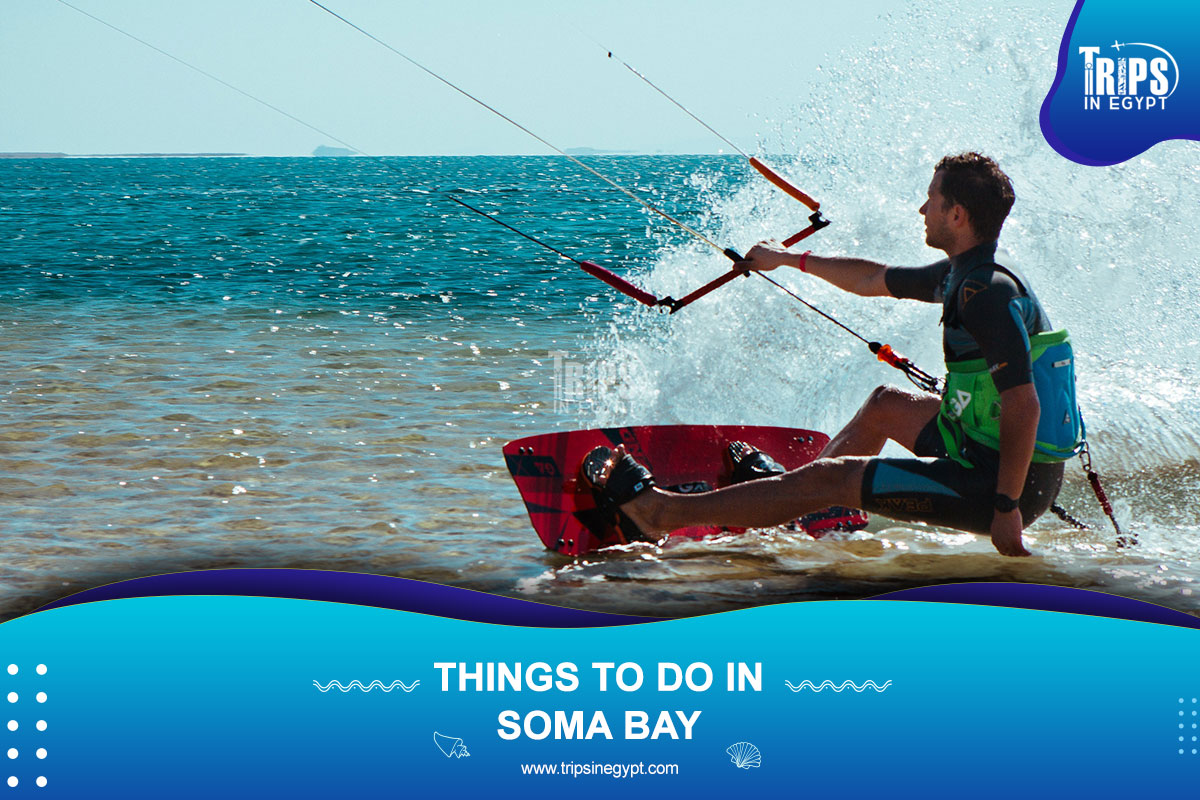 Soma Bay offers a range of activities to keep visitors entertained during their stay in Hurghada such as:
- Snorkeling and Diving: The reefs in Soma Bay are very attractive, and surrounded by colors. Enjoy practicing your favorite hobby in the largest house reef in the Red Sea.
- Safaris: Experiencing an amazing desert safari from Soma Bay by a quad bike is such witnessing the beauty of the western desert. Trips In Egypt will arrange a special tour for you by visiting a Bedouin village, enjoying Bedouin tea, tasting Egypt's traditional food, spending a nice time with the Bedouin, and sharing in a fantastic show.
- Kitesurfing: This activity ranked one of the top three spots worldwide in Soma Bay, enjoy your favorite sport under the guidance of a professional team of instructors with 7BFT Kite House. Soma Bay will make your experiences truly magical as you will enjoy them in a piece of paradise.
- Spas: Breathe a better life into your body with a relaxing massage during your stay in Soma Bay, as they are 65 spas on this site to recharge your energy with access to the Jacuzzi, steam bath, and sauna.
- Horse Ride: Riding on the back of a horse in Soma Bay will make you discover the rare beauty and amazing nature of the Red Sea. Enjoy feeling like a real Arabic.
- Visiting Local Museums and Galleries: Hurghada museum is the first museum of antiques of its kind in the Red Sea, as it is a result of the ministry of tourism and antiques. This construction contains two thousand artifacts that tell various stories about Egypt, from Ancient Egypt, Jewish, Geo-Roman, Christian, Islamic and modern eras.
- Shopping Tours: Senzo mall is the only shopping mall of its kind, as it has many local stores, international brands, Food courts, a kids' area, an amusement park for the children, live music, a hypermarket, and kid's events.
- Nile River Cruises from Soma Bay: Egypt is the perfect destination for taking a Nile cruise as it offers more relaxation by exploring its magical river. Trips In Egypt will help you to choose the most suitable Nile cruise for you, based on which category you prefer. Our driver will pick you up from your hotel in Soma Bay to Luxor city where you will start your tour, as it includes two-thirds of the monuments of the world such as Karnak temple, Valley of the Kings & the temple of Hatshepsut, then you will continue exploring Upper Egypt passing by visiting Kom Ombo, and Edfu temples, Abu Simbel, the High Dam, and Philae temple. After enjoying your tour, our driver will drive you back to your hotel in Soma Bay.
- Cairo Tour from Soma Bay: Hurghada has strategic importance as it is near the most important sites in Egypt, Trips In Egypt is offering wonderful trips that you will never forget, as you will be picked up from your hotel in Soma Bay to visit one of the seven wonders of the world "The Great Pyramids" in addition, the Egyptian Museum, Khan El-Khalili, and El-Muizz Street, then we will drop you off at your hotel in Soma Bay without any hassle. Trips in Egypt provide two options for our dear clients to go on, first, to travel by flight, and Second by A.C vehicle. IT'S YOUR TURN NOW.
- Luxor Trip from Soma Bay: Trips In Egypt offers unforgettable tours to Luxor by witnessing the Glory of the capital of ancient Egypt through a day tour to Luxor or an overnight stay in our hotels if you are a night lover to enjoy spending time by visiting Luxor temple at night. You will be visiting the east and west banks which include visiting the following attractions "Karnak temple, Luxor temple, Valley of the Kings, Hatshepsut temple, and Colossi of Memnon" and driving you back to your hotel in Soma Bay.
There is something for everyone in Soma Bay, making it the perfect attraction for a relaxing vacation.

Best Time to Visit Soma Bay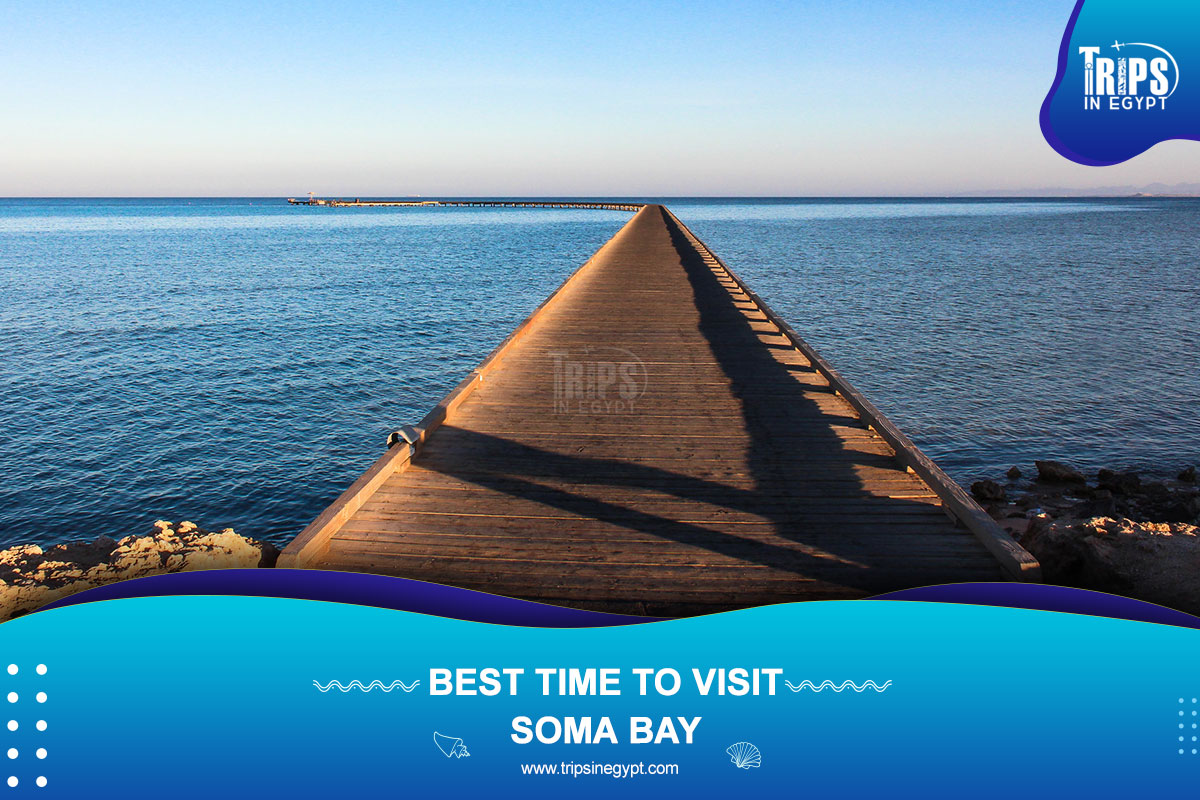 The best weather in Soma Bay is generally warm and pretty well most of the year, but the best time is considered to be between October and March. This is the winter season in Egypt and temperatures are typically mild (around 25°C). However, it is advisable to check the local weather forecast before planning your trip to Soma Bay.

Amazing Hotels in Soma Bay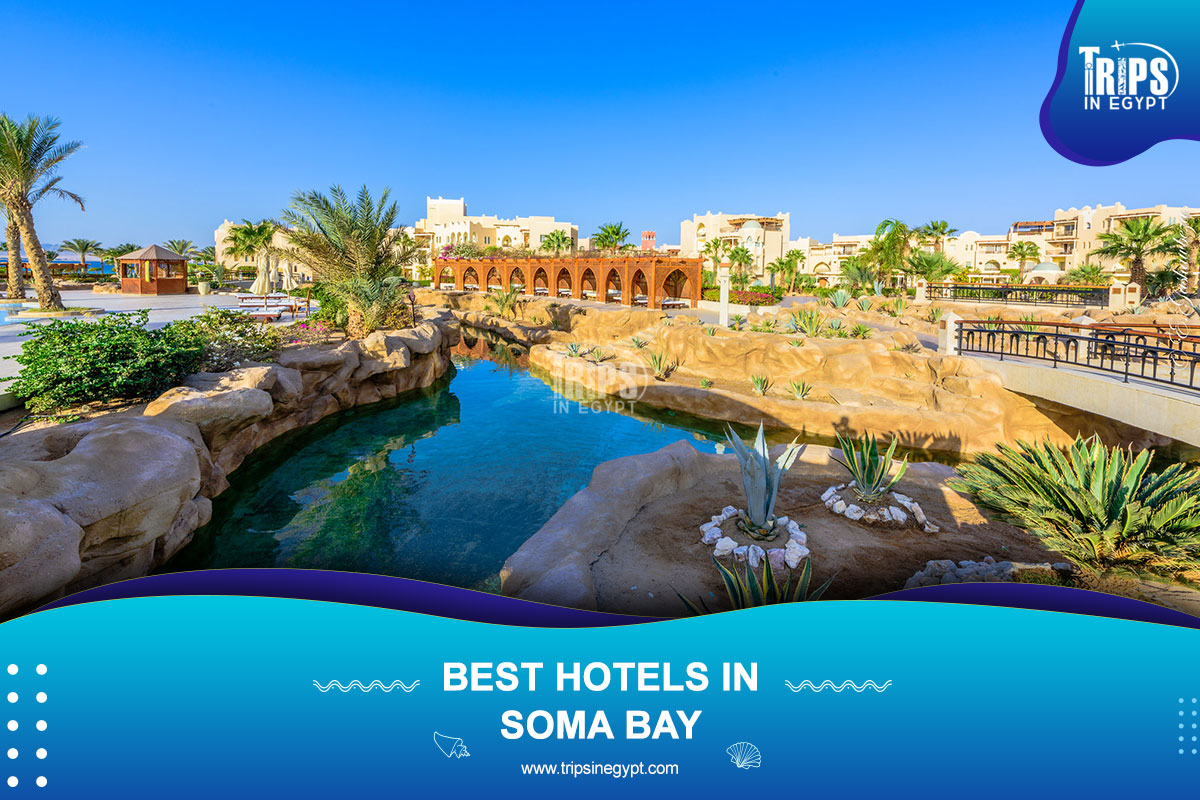 Soma Bay is home to a wealth of luxurious hotels, from the five-star Kempinski Hotel to the four-star Solymar Soma Beach. There is something to suit everyone's budget, not only does the area boast a variety of amenities, but many of the hotels have also been highly rated by our guests. For those looking for the most affordable option, there are the Premier Le Reve Hotel and the Robinson Soma Bay, which keep receiving positive reviews for their high survey.

Best Beaches in Soma Bay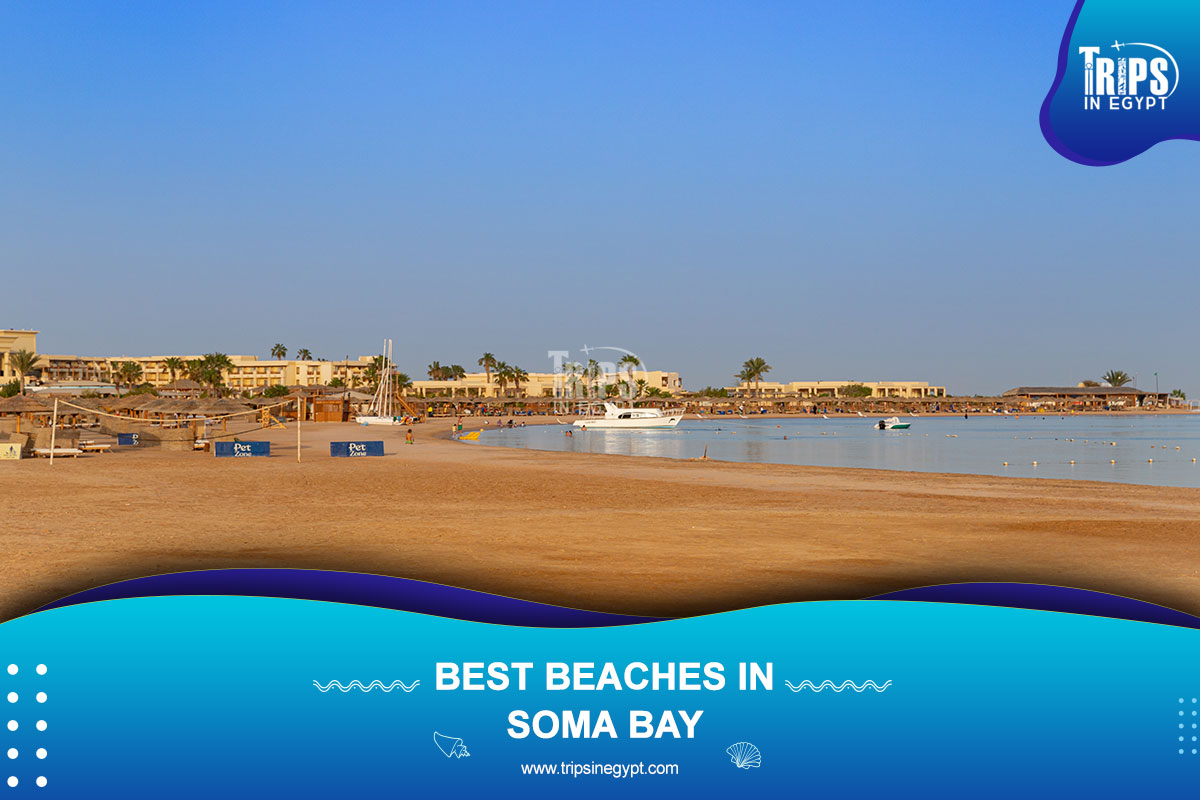 Soma Bay offers some of the most beautiful beaches in the world. The beaches are perfect for snorkeling, sunbath, windsurfing, swimming, and even diving. Whether you are looking for an idyllic spot to get active or relax the beaches of Soma Bay have it all.
This area offers plenty of options for couples and families to explore, with its stunning desert mountain backdrop and world-class golf course.
For those looking to explore the waters, Soma Bay also has several famous beaches, including Cleopatra Beach, Mahmya, Kamareia Beach, Sahl Hasheesh, Paradise, and, Beach Albatros all of which offer pristine white sand and crystal-clear waters.
Whether you are looking to relax on the beach, or explore the area, make sure that Soma Bay is your perfect beach gateway.

Conclusion
In closing, Soma Bay with its clear blue waters and white sandy beaches is the perfect destination to feel you are in heaven. Enjoy your stay in Soma Bay by taking advantage of the many activities available, such as diving, snorkeling, and windsurfing. With the right preparation by Trips In Egypt, this trip can be made into a truly memorable experience for your lifetime.
Contact us now to arrange unforgettable Egypt vacation packages including Soma Bay or from Soma Bay to an overnight stay in Cairo or Alexandria, a day tour to Luxor, an overnight stay in Luxor or Aswan, or spending a special time exploring Upper Egypt from Hurghada. Trips in Egypt is committed to making your tour safe, and unforgettable.
FAQ
What Should I Wear While Being in Egypt?
You should wear whatever you want. It is advised to wear something light from cotton or linen, comfortable and put on sunblock during your time in Egypt in the summer and wear comfortable footwear like a closed-toe shoe to sustain the sandy terrain.
What to Pack for Your Egypt Tour?
You should bring a brimmed hat and sunglasses if you not used to the Egyptian sun &pack everything you could ever need and put in a small bag so you could move easily between your destinations.
Are All Nile Cruises Available at Any Time?
Yes, it is available all years. as the Nile from Aswan to Luxor takes three to four days of sailing on Monday, Wednesday and Friday for the total cost of 600$ and the Nile cruise from Luxor to Aswan take four to five days in Saturday, Monday and Thursday for the coast of 650$.
We have experience in vacation planning for more than 10 years & our staff consists of the most professional operators, guides and drivers who dedicate all of their time & effort create the perfect vacation. All of our tours are customized by Travel, Financial & Time advisors to fit your every possible need during your time in egypt. we always keep in mind that your safety & comfort are our main priority until you return home.
Is it safe to travel to Egypt?
Yes, it is absolutely safe to travel to egypt, You will feel secure in Egypt as the current atmosphere of the country is very peaceful after the government took powerful measures like restructuring the entire tourist police to include all the important and tourist attractions in Egypt and construct an entire environment dedicated for ensuring the lives of all tourists.
What are Egypt's Visa Requirements?
They are very simples, If you want to apply for a Visa On Arrival that lasts for 30 days then you should be one of the eligible countries(check the link), have a valid passport with at least 6 months remaining and pay 25$ USD entry fee in cash. As for the E-Visa for 30 days, you should have a valid passport for at least 8 months, complete the online application, pay the e-visa fee then print the e-visa to later be presented to the airport border guard. You could be one of the countries eligible for a free visa for 90 days.
What is the Weather is Like?
The temperature of Egypt ranges from 37c to 14 c, Summer in Egypt is somehow hot and winter is cool and mild but sometimes it becomes cold at night. The average of low temperatures vary from 9.5 ¡ÆC in the wintertime to 23 ¡ÆC in the summertime and average high temperatures vary from 17 ¡ÆC in the wintertime to 32 ¡ÆC in the summertime while the temperature is moderate all along the coasts.
What is the Best Time of Visit Egypt?
It is known the best time to travel to Egypt is in the winter from September to April as the climate becomes a bit tropical, a warm atmosphere with a winter breeze. You will also be notified a week before your trip if the weather is unsafe or if any changes have been made.
Should I Give Tips in Egypt?
It is totally up to you, but if you choose to you can tip the servers at your restaurant 5-10% by handing it to them directly and 5 Egyptian Pounds as a general tip of anyone.
Can I Enter the Pyramids?
Yes, you can enter the pyramids for the small fee of 20$.
How to Enjoy Egypt During Ramadan?
Ramadan is a special time of year for Muslims that should be celebrated by non-Muslims and feel the essence of the Islamic culture. You can fast with the Muslim or just observe but you are always welcome to join the celebrations and festivals.