There are amazing things to do in Luxor, which is an exceptional city that is called the World's greatest open-air museum but this title reaches nowhere near the true description of such an extraordinary place. The most interesting thing about Luxor city is its amazing monuments that have survived thousands of years ago whose grandeur is incomparable.
Our Luxor Day Tours open some new horizons to the breathtaking beauty of this city besides enjoying the Nile flowing between the modern city & the west bank necropolis, backed by the enigmatic Theban escarpment.
Luxor was actually established in the location of the ancient capital of Egypt "Thebes" and its wealth & Power. Legendary in antiquity began to lure Western travelers from about the end of the 18th century.
Surprisingly, Luxor is believed to contain about one-third of the valuable monuments all over the world and that is why it is one of this Planet's most interesting & the most important tourist destination.
It used to be the largest religious capital in ancient Egypt and that is why it is mainly known with its two religious temples. The Temple of Luxor & the immense Temple of Karnak which is considered the largest temple complex in the universe.
Best Luxor Tourist Attractions To Visit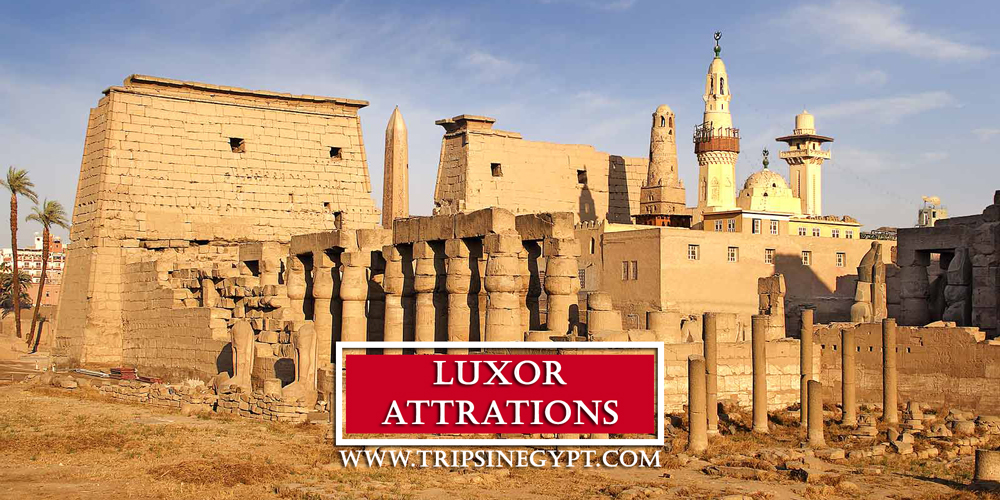 Luxor attractions & landmarks are truly in a league of their own because of the incredible history behind each highlight. For example:
Luxor West Attractions Includes:
The majestic Valley of the Kings that is the home to more than 60 royal tombs of the ancient Egyptian Pharaohs including tombs of Seti I, Ramses IV & Ramses II, and most importantly, the tomb of the young Pharaoh Tutankhamun.
Then you can venture through the gorgeous Valley of the Queens that includes tombs to a large number of women and their children and surely don't forget to marvel at the splendor Mortuary Temple of Queen Hatshepsut who ruled Egypt just like a real Pharaoh and left some amazing achievements in Egypt.
Moreover, you will be able to visit the fascinating twin statues of king Amenhotep III that are called "Colossi of Memnon" and in fact there are many interesting stories & theories that revolve around these two statues especially the story behind their construction, what happened to the mortuary temple of the kings, the story behind their whisper, and how they got destroyed…. many questions, many theories, and more fun for those who seek adventure in the land of Pharaohs.
Luxor East Attractions Includes:
There are the most important attractions that attract thousands of tourists daily to witness their glory and have a look at two of the greatest temples to be ever built by a man. The first temple is called Karnak Temple that is actually a vast temple city that dates back 4000 years ago.
It is the largest religious complex from the ancient world and because of its immense popularity, it features one of the most important tourist sites among our Egypt Day Tours to let you enjoy its beauty and discover all about this amazing construction with you private Egyptologist tour guide. It occupies 3 important temples inside including the sacred enclosures of Amun, his wife Mut, and their son Khansu.
You can't also miss the impressive Luxor Temple that is one of the 6 ancient temples which were founded in the vicinity of Luxor that was mainly constructed for worshipping some ancient deities including Amun, Chons, and Mut.
It was built during the reign of Amenhotep III and it was mainly known as the Southern Sanctuary for the ancient Egyptians. That is not all as it was used as a fortress as well as a headquarters of the Roman government.
The Best Time to Visit Luxor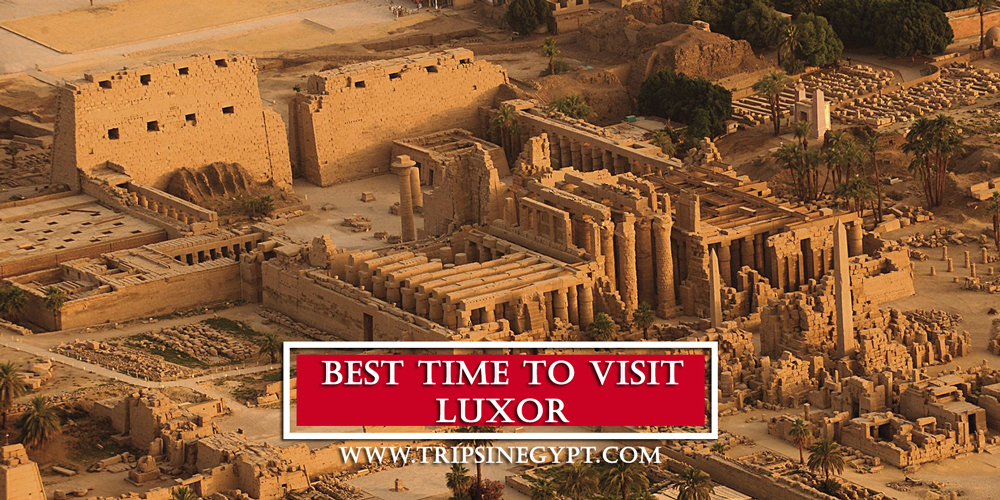 If you would like to the beauty of Luxor then definitely you should visit it between March & April and between October & November as both of these durations offer pleasant temperatures, small crowds, and surely more affordable hotel rates.
To enjoy the coolest weather in Luxor, then you should visit it in winter but you will find it so crowded with tourists and prices get pretty expensive. Try not to visit Luxor in summer as it scores pretty high temperature which won't enable you to enjoy visiting its amazing attractions or even to experience the hypnotic adventure while boarding a Nile Cruise.
Activities You Can Do in Luxor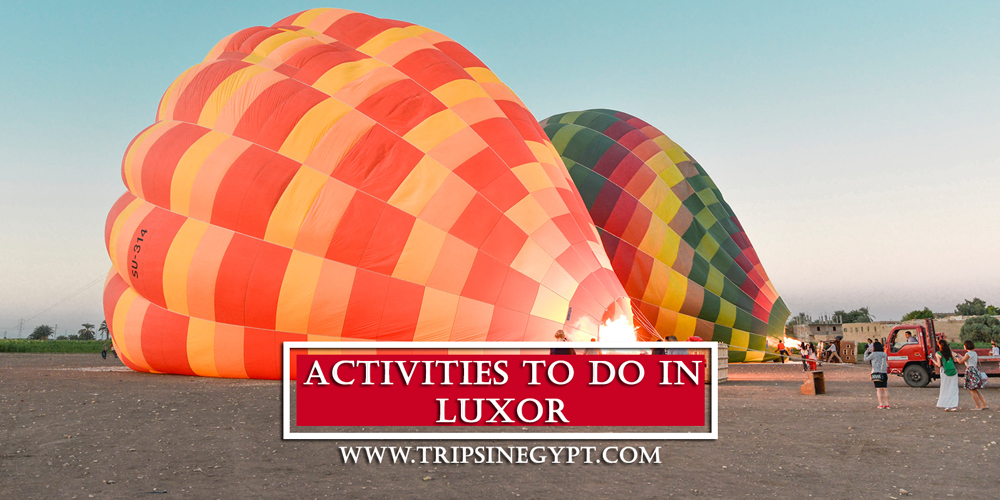 There are many incredible activities that can be done in Luxor including riding a hot air balloon which is such a remarkable venture that enables you to have a ride in the sky of the largest open-air museum.
Each ride takes about 45 minutes and we highly recommend such activity in Luxor. You can also recommend riding a felucca on the Nile through which you will cruise the longest Nile in the world and enjoy a relaxing experience while sailing in the same river in which Queen Cleopatra has sailed many centuries ago.
You can also start touring around some of the amazing attractions in Luxor including Luxor Museum, Dendera, and Abydos Temples to know more about the spectacular culture and civilization of ancient Egypt.
Things to Do in Luxor at Night
Night in Luxor is a magical experience which offers you a totally breathtaking adventure that is totally different from what you can do there for the whole day.
Among the most requested activity that you can enjoy there is heading to Luxor Temple at Night as walking through this temple at night is pretty similar to being in the movie Mummy as its spots will make you feel like you are running down a hallway to get away from someone of the underground.
You can also enjoy Sound & Light Show in Karnak Temple as the performance there relates the history of ancient Thebes with modern Luxor especially while walking in the avenue of Sphinxes there and this event takes about 75 minutes starting from the temples grounds till the last act which is played along the great sacred lake.
 Now you have an exclusive chance to customize your Luxor tours and Egypt tour package with "Trips in Egypt", the travel agency that customizes the best private tours in the land of Pharaohs with some of the best-chosen tour guides and all the desirable services that may be needed to have your lifetime adventure.